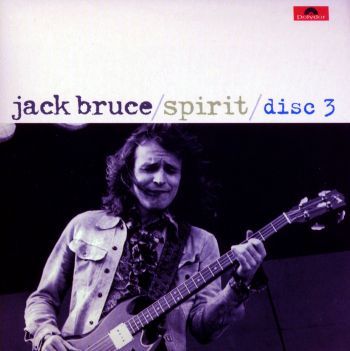 Jack Bruce
-
Spirit
-
Live At The BBC
:
1971 - 1978
(CD3)
-
2008
-
Polydor
There was a time, a long, long time ago, when rock musicians were allowed to be more than just rock musicians. Many forget in fact that the first generation of such artists sprang from backgrounds that took in blues, jazz, classical and even the avant garde. London's early '60s venues rattled to the sounds of trad jazz and chicago blues as well as folk, rock 'n' roll and skiffle. Jack Bruce was most definitely a product of this era. it was only by the end of the decade that he was cornered into behemoth blues rockdom with the supergroup Cream. When the acrimony and work rate saw the band splinter, Eric Clapton turned to heroin and southern rock. and Ginger Baker decided to explore African polyrhythms. But Bruce was somewhat more eclectic. He somehow balanced a career that saw him forge his own songwriter's career (with Pete Brown as his trusted lyricist) and also return to his jazzier roots. This handsome box set draws together some of the peaks of these years that saw him plow a very musicianly furrow. Four outfits accompany Bruce on these recordings of live and studio sessions. Each one, apart from his trio work with John Surman and John Hiseman, mixes players from all backgrounds. The 1971 set includes old boss and black magick aficcianado, Graham Bond, on keyboards as well as future session legend, Chris Spedding, on guitar and John Marshall (Soft Machine) on drums. It's a fine mixture of blues standards, Cream classics and solo numbers from Jack's first solo masterpiece, Songs For A Tailor. By 1974 his restless search for a new band had turned up a stellar cast including Mick Taylor who had recently left the Stones due to his own creative frustrations. Here again the template is just as varied, with Carla Bley (on some questionably dated synth noises) as well as Bruce Gary and Ronnie Leahy. This outfit's flexibility is awesome. turning in knotty numbers including an impromptu version of Tony Williams' Spirit. By 1976 the fusion monster was out of the box, and Bruce was rubbing shoulders with Simon Phillips (drums) and Tony Hymas (keyboards). Bruce uses the opportunity to air some totally new material while still referencing his past with a great version of Born Under A Bad Sign. By this point the ability of musicians to explore was being hampered by an industry more concerned with fiscal returns and niche marketing. A round peg in a square world, Bruce's days as a legend were now numbered. More's the pity. Standing alone in all this are the two sessions completed for Radio 3's Jazz In Britain with Surman and Hiseman. While Hiseman crossed the jazz rock boundaries himself with Coliseum, Surman's out and out jazz chops certainly allow no room for blues cliches. Bruce's bass is wonderfully rich and at home here, with his fretless explorations on the latter session in 1978 proving that he could so easily have become a bona fide pillar of British jazz. It's interesting to compare their 1971 version of Powerhouse Sod - a staple of Bruce's live sets for years- compared with the live version from the same year. The first is a fabulously intuitive piece of free blowing, while the second is a fuzzed out monster. listeners can take their pick as to which one is preferable. It seemed that Jack's very musical erudition would prove to be his undoing. Like Jeff Beck, his restlessness and commitment overrode the commercial gains to be won by the more mainstream Clapton. As a bass player it was always going to be difficult to gather the same plaudits as a hotshot guitarist, yet this excellent collection proves what a versatile player and utterly distinctive singer Bruce really is. It also proves that for a brief spell in the '70s, it was still possible to explore multiple genres without fear of losing or confusing an audience yet to be hung up on styles and fashion. © Chris Jones BBC Review on 2008-04-04 http://www.bbc.co.uk/music/reviews/gc25
[

N.B:

Review refers to the 3 x CD set]
By the late summer of 1976, the phenomenal Jack Bruce had again revised the formation of his band. With Hughie Burns on guitar, Tony Hymas on keyboards and Simon Phillips on drums, Jack began recording his 'How's Tricks' album (released in March 1977). Before Jack began touring to promote the album, he recorded another 'In Concert' programme for BBC Radio 1 at the Paris Theatre on 14th April 1977. This recording (posted here as CD 3), is arguably one of Jack Bruce's best ever live studio recordings. There is a terrific version of William Bell and Booker T. Jones classic "Born Under a Bad Sign" (on Cream's Wheels of Fire' album ), and also a reworked version of "Without a Word" played with newer material like "Lost Inside a Song", "Baby Jane", "Time", "Madhouse", "Something to Live For", and "How's Tricks". Jack recorded Track 12, "Twenty Past Four" with drummer, Jon Hiseman, and saxophonist, John Surman. This track was recorded for BBC Radio 3's "Jazz In Britain - At The Third Stroke" session on 26th June 1978, and broadcast on 4th September 1978. For this session, Jack also recorded two other tracks, "Fifteen Minutes Past Three", and "Ten to Four" which are not included on this post. Many of these Jack Bruce recordings are circulating on various compilation and boots, but the cleaned up audio on this official album @ 320 Kbps is of better quality than most of these other discs. "Spirit - Live At The BBC Disc 3" is
VHR by A.O.O.F.C.
N.B:
Album is posted as 2 separate rar files (Pt.1 is Tracks 1-6, and Pt.2 is Tracks 7-12. Combined files' size amounts to 175 Mb).
If you find time try and listen to the complete 3 x CD box set. Jack Bruce has recorded and contributed to many, many albums, but his "Somethin' Els" is a brilliant album, and often overlooked. Search this blog for related releases
TRACKS / COMPOSERS
CD THREE
1. Madhouse - Jack Bruce, Pete Brown
2. Without A Word - Jack Bruce, Pete Brown
3. Times - Jack Bruce, Pete Brown, Hugh Burns
4. Baby Jane - Hugh Burns
5. Born Under A Bad Sign - William Bell, Booker T. Jones
6. Lost Inside A Song - Jack Bruce, Pete Brown, Hugh Burns
7. Something To Live For - Pete Brown, Tony Hymas
8. How's Tricks - Jack Bruce, Pete Brown
9. Spirit - Tony Williams
10. Out Into The Fields - Jack Bruce, Corky Laing, Leslie West
11. You Burned The Tables On Me - Jack Bruce, Pete Brown
12. Twenty Past Four - Jack Bruce, Jon Hiseman, John Surman
Tracks 1-11 recorded for the BBC Radio One "In Concert" programme at the BBC Paris Theatre on 14th April 1977):
Track 12 was recorded for BBC Radio 3's "Jazz In Britain - At The Third Stroke" session on 26th June 1978, and broadcast on 4th September 1978
MUSICIANS
Jack Bruce - Bass Guitar, Piano, Vocals [Tracks 1-11]: Bass Guitar, String Bass [Track 12]
Hughie Burns - Guitar [Tracks 1-11]
Tony Hymas - Keyboards [Tracks 1-11]
Simon Phillips - Drums, Percussion [Tracks 1-11]
Jon Hiseman - Drums, Percussion [Track 12]
John Surman - Saxophones [Track 12]
BIO
Although some may be tempted to call multi-instrumentalist, songwriter, and composer Jack Bruce a rock & roll musician, blues and jazz are what this innovative musician really loves. As a result, these two genres are at the base of most of the recorded output from a career that goes back to the beginning of London's blues scene in 1962. In that year, he joined Alexis Korner's Blues Incorporated. Throughout the following decades and into the 21st century, Bruce has always been a supreme innovator, pushing himself into uncharted waters with his jazz and folk-rock compositions. Bruce's most famous songs are, in essence, blues tunes: "Sunshine of Your Love," "Strange Brew," "Politician," and "White Room." Bruce's best-known songs remain those he penned for Cream, the legendary blues-rock trio he formed with drummer Ginger Baker and guitarist Eric Clapton in July 1966. Baker and Bruce played together for five years before Clapton came along, and although their trio only lasted until November 1968, the group is credited with changing the face of rock & roll and bringing blues to a worldwide audience. Through their creative arrangements of classic blues tunes like Robert Johnson's "Crossroads," Skip James' "I'm So Glad," Willie Dixon's "Spoonful," and Albert King's "Born Under a Bad Sign," the group helped popularize blues-rock and led the way for similar groups that came about later on, like Led Zeppelin. Bruce was born May 14, 1943, in Lanarkshire, near Glasgow, Scotland. His father was a big jazz fan, and so he includes people like Louis Armstrong and Fats Waller among his earliest influences. He grew up listening to jazz and took up bass and cello as a teen. After three months at the Royal Scottish Academy of Music, he left, disgusted with the politics of music school. After traveling around Europe for a while, he settled into the early blues scene in 1962 in London, where he eventually met drummer Ginger Baker. He played with British blues pioneers Alexis Korner and Graham Bond before leaving in 1965 to join John Mayall's Bluesbreakers, whose guitarist was Eric Clapton. This gave him time to get his chops together without having to practice. With Manfred Mann, who he also played with before forming Cream, Bruce learned about the business of making hit songs. Cream's reputation for long, extended blues jams began at the Fillmore in San Francisco at a concert organized by impresario Bill Graham. Bruce later realized that Cream gave him a chance to succeed as a musician, and admitted that if it weren't for that group, he might never have escaped London. After Cream split up in November 1968, Bruce formed Jack Bruce & Friends with drummer Mitch Mitchell and guitarist Larry Coryell. Recording-wise, Bruce took a different tack away from blues and blues-rock, leaning more in a folk-rock direction with his solo albums Songs for a Tailor (1969), Harmony Row (1971), and Out of the Storm (1974). In 1970 and 1971, he worked with Tony Williams Lifetime before putting together another power trio with guitarist Leslie West and drummer Corky Laing in 1972, simply called West, Bruce & Laing. After working with Frank Zappa on his album Apostrophe in 1974, Bruce was at it again in 1975 with the Jack Bruce Band, whose members included keyboardist Carla Bley and guitarist Mick Taylor. Back on the road in 1980 with Jack Bruce & Friends, the latter version of the group included drummer Billy Cobham, keyboardist David Sancious, and guitarist Clem Clempson, formerly of Humble Pie. In the early '80s, he formed another trio, B.L.T., this time with guitarist Robin Trower, before working with Kip Hanrahan on his three solo albums. Bruce's bluesiest albums include all of his work with Cream, the albums B.L.T. and Truce with Trower, some of his West, Bruce & Laing recordings, and several of his albums from the 1980s and early '90s. These include Willpower (PolyGram, 1989); A Question of Time (Epic Records, 1989), which includes guest performances by Albert Collins, Nicky Hopkins, and Baker; as well as his CMP Records live career-retrospective album, recorded in Cologne, France, Cities of the Heart (1993). Bruce released Monkjack in 1995, an album of his jazz piano compositions which he performs with organist Bernie Worrell, issued on CMP. Bruce recorded the fierce Shadows in the Air in 2001 with a new band called the Cuicoland Express that included Vernon Reid, Worrell, and Robby Ameen, and guest artists Eric Clapton and Dr. John for the CMC International/Sanctuary imprint. Bruce reunited with Robin Trower for 2008's Seven Moons, released on Evangeline Records, following it with Seven Moons Live a year later in 2009. In 2010 Bruce joined the Tony Williams Lifetime Tribute Band with Reid, organist John Medeski, and drummer Cindy Blackman and toured in the late part of the year and in early 2011 to sold-out performances and rave critical reviews. Also in 2011, Pledge Music, a company that pairs fans and artists to fund projects, released Jack Bruce and the Cuicoland Express Live at the Milky Way, from a 2001 concert in Amsterdam. The high-quality recording was provided by Bruce's daughters, who designed the cover as well. © Richard Skelly © 2011 Rovi Corporation. All Rights Reserved http://www.allmusic.com/artist/jack-bruce-p3787/biography