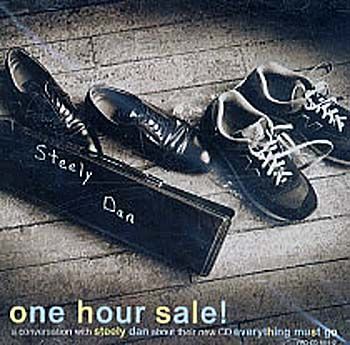 Steely Dan
-
One Hour Sale
-
2003
-
Reprise/Terra Nova PRO-CD
One Hour Sale! is a 2003 Us 15-Track Promo-Only CD featuring an Interview with Walter Becker & Donald Fagen (Steely Dan), and 6 tracks from the "Everything Must Go" album. These "Limited Edition" hour long releases are exclusive "conversations" with various artists issued to radio stations and reviewers ahead of the actual release date. CD's usually feature songs from the newly released CD as well as "live" bonus tracks unavailable elsewhere. The artists are interviewed by Jody Denberg, the program director at Austin's 107.1 KGSR radio. The projects are mastered by Jerry Tubb and Bill Johnson at Terra Nova. This album was aired on 6/10/03, from KGSR radio , Santa Monica. Interspersed between interview and advertising snippets, there are six full tracks on this album from the official EMG release. The tracks "Green Book", "Pixeleen", & "Lunch With Gina" from the official album are not featured on this promo. There is nothing on this particular release as regards bonus or live tracks, and it may only be of interest to die hard Steely Dan fans. This is a 128 Kbps version, but sound quality is quite good.
This album is also available on this blog at a higher bitrate.
Check out full details of the EMG album @
EMG
FULL TRACKS
2 "The Last Mall"
4 "Thing I Miss The Most"
6 "Blues Beach"
9 "Godwhacker"
11 "Slang Of Ages"
14 "Everything Must Go"
N.B:
Tracks 1,3,5,7,8,10,12,& 13 are either advertising blurbs, or interview snippets.