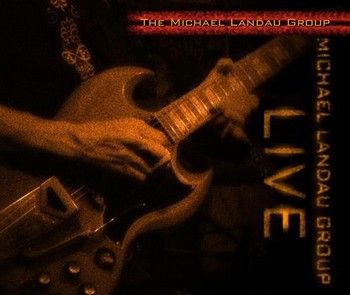 The Michael Landau Group
-
Live
-
2006
-
Provogue
Michael Landau is a widely sought after session player from the Los Angeles area for well over 25 years. He has played with the likes of Rod Stewart, Joni Mitchell and Miles Davis. He is known for his ability to bring across the emotion required by each artist to a level that dwarf lesser lights. This two-CD set featuring his own band, however, fails to match that emotional level. The set is actually a series of live recordings taped over the past 3 years, taken from a variety of performances. It's broken into two sections. Disc one is more of the fiery blues-rock material with Disc 2 containing the more subdued material. Disc one is adequate with six tracks that feature Landau's guitar work. While the fret-blazing is good, the songs themselves are just OK with only the first cut "Worried Life Blues" reaching any kind of enthusiasm as far as my ears were concerned. Far better is the second disc where the more jazz-ier arrangements were of a more inspired variety. © Morley Seaver © 1998 - 2011 Iconoclast Entertainment Group All rights reserved http://www.rocknworld.com/features/07/MichaelLandauGroup.shtml
Its been almost 6 years since Mike Landau's last release and this one is surely to please all guitar fans everywhere because compositionally Mike turns the notch up as well. Just great blues rock and folks it does not get better than this. The master of the tone returns with Abstract Logix recording artist Scott Kinsey on keyboards laying down his organic tones along with monster bassist Jimmy Johnson, Chris Roy and drummers Toss Panos, Gary Novak and Ron Bruner Jr. © 2002-2011 AbstractLogix http://www.abstractlogix.com/xcart/product.php?productid=21704
Guitarist Michael Landau has appeared on countless recordings. In addition to being a studio legend, he's fronted several great bands over the years (such as Burning Water, and the Raging Honkies). He rarely releases "solo" albums however, so when he does it's something to take note of. His latest album, "The Michael Landau Group Live" (Tone Center) is a mixture of vocal and instrumental tunes, and provides an excellent showcase for the variety of styles Landau likes to explore. The 2-disc set is arranged with the blues and heavier stuff up front on disc 1, with the jazzier pieces on disc 2. The songs were all recorded live at The Baked Potato in North Hollywood CA between 2004 and 2006. The other players appearing on the album are Jimmy Johnson and Chris Roy - bass; Toss Panos, Gary Novak, and Ronald Bruner Jr - drums; the always great Scott Kinsey - keys; and Chuck Kavooras - slide guitar (one track). This album is very similar in concept to Landau's last live album, "Live 2000", released in 2001. That album was also a collection of vocal and instrumental pieces, all recorded live at The Baked Potato. Each album has it's strengths, but overall this new release is a more cohesive set of music. The opening track is a blistering version of "Worried Life Blues". Landau always sounds great is these hard blues settings, and he doesn't disappoint here. His solo is a mixture of wicked blues licks, and Landau's trademark herky-jerky phrasing. Another performance that really stands out is "Born in the Rain", which also appeared on the "Live 2000" album. Here Landau plays a real trippy solo with lots of horror movie-sounding tremolo picked motifs. Very intense performance. Disc 2 is where we hear Landau's jazzier writing and playing. "The Mighty SB" is practically a straight-ahead tune, with Landau reeling in his wild-bluesy side in favor of a more introspective, flowing approach. The vocal ballad "Widow" is another disc 2 highlight. In general, the writing on these jazz tunes is very hip and sophisticated. It's a side of Landau we don't see too often. Great stuff. Two of my personal favorite Landau vocal tunes are included in this release as well - "Good Friend" (originally recorded on Landau's "The Star Spangled Banner" album), and "Underwear" (originally recorded on the Raging Honkies album "Boner"). "Good Friend" is pretty faithful to the original, though it's stretched out and includes a nice keyboard solo from Kinsey. "Underwear", on the other hand, is played with a totally different groove than the original studio version. Here's it's done with a laid back half-time feel, whereas the studio version had a fast, driving groove. Another Raging Honkies song, "Why U Lie", received the same dialed-down treatment (with less effective results) on the "Live 2000" album. If you're not familiar with Michael Landau, and you want to see what all the fuss is about, this is the album to get. It really shows off all the facets of his musicianship. Great playing and writing, awesome guitar tones, and his vocals are very strong. The "Live 2000" album is very worthwhile as well, but I think Landau has topped that live collection with this one. © Rich © 2004 - 2011 Rich Murray. All Rights Reserved http://www.guitar-channel.com/rich_murray/2006/11/review_the_mich.html
Good mix of rock, blues rock and jazz/fusion from the incredible guitarist, Michael Landau. Michael's vocals are not great, but his voice has character, his songs are well structured and original, and the album demonstrates a myriad of guitar styles.
The album is posted as two separate 320 Kbps albums (2 separate rar files with a combined size of 230 Mb).
Listen to Michael's "The Star Spangled Banner" album @
MLANDAU/*SB
and Burning Water's "Mood Elevator" album featuring Michael @
BURNWAT/ME
His "Tales from the Bulge" is another great album, with some beautiful understated blues solos in the "less is more" style of Eric Bibb or Robert Cray
TRACKS
CD ONE
1 WORRIED LIFE BLUES
2 THE SUN
3 A PEACEFUL RIDE
4 UNDERWEAR
5 6/8 BLUES
6 BORN IN THE RAIN
CD TWO
1 THE MIGHTY SB
2 GHOULS AND THE GOBLINS
3 WIDOW
4 JOHNNY SWING
5 GOOD FRIEND
6 UNTITLED
All songs written by Michael Landau except "Worried Life Blues" by Maceo Merriweather
MUSICIANS
Michael Landau - Guitar, Vocals
Jimmy Johnson, Chris Roy - Bass
Chuck Kavooras - Slide Guitar on "Worried Life Blues" & "A Peaceful Ride"
Scott Kinsey - Keyboards
Gary Novak, Ronald Bruner Jr., Toss Panos - Drums
BIO
To cover Michael Landau´s career takes a long time. He is one of the most used sessionplayers, he is a fantastic musician. Musician and composer Michael Landau was born and raised in Los Angeles California. He grew up with the music of The Beatles, Jimi Hendrix, Led Zeppelin, Cream and The Band. His grandfather Ernani Bernardi arranged and played the alto sax and clarinet during the "swing era" with the Dorsey Brothers and Benny Goodman. Michael began playing the guitar at age 11. As a teenager he quickly became very interested in jazz and electric jazz music. Weather Report, Pat Martino and Jaco Pastorius were some of his early obsessions. In the mid '70s Michael played in the L.A. dance clubs with an R&B band and toured the west coast with The Robben Ford Band, which included members of the Yellow Jackets, Jimmy Haslip and Russell Ferrante. At age 19 he joined Boz Scaggs for a world tour and by the age of 20 he started to do session work with the help of Steve Lukather and Jeff Porcaro. Some session highlights over the coming years would include Pink Floyd, Miles Davis, Joni Mitchell, BB King, James Taylor, Seal, Ray Charles and Rod Stewart. There is a complete session discography at allmusic.com with over 500 records and soundtracks listed. In 1984 Michael toured again and recorded with Joni Mitchell. This tour was called "The Refuge Of The Roads" with Vinnie Colaiuta, Larry Klein and Russell Ferrante. In 1989 he released his first solo studio album "Tales from the Bulge", an instrumental record initially released in Japan and on "Creatchy" records in the states. Wayne Shorter, Steve Tavaglione, Vinnie Colaiuta, Carlos Vega, David Garfield and Jimmy Johnson were among some of the players on this release. In 1990 he formed the blues-rock band Burning Water with his brother Teddy Landau, David Frazee and Carlos Vega. They put out 4 discs of original material and played in Japan and locally in L.A. It was also around this time that he started to record and tour with James Taylor. In 1993 he won the readers poll for "Best Studio Guitarist" in "Guitar Player Magazine". In 1994 Michael formed The Raging Honkies, a spicy rowdy rock band with Teddy Landau and Abe Laboriel Jr. They released 2 discs and toured in Europe and the US. In 2001 he released a double live album of original material and a studio album "The Star Spangled Banner" on his own label "Unconscious Records". Michael has also produced and or mixed some selected artists and side projects including: Scott Henderson, The Jazz Ministry, Stolen Fish and Freak Juice. He currently tours and performs with The Michael Landau Group, The Wreckers, Robben Ford, The Jazz Ministry, Stolen Fish, Hazey Jane and James Taylor. His most recent project, a double live album will be released on "Tone Center" records in the states, "Mascot Records" in Europe, and "Vega Music" in Japan. [Words from Jazz Network]http://www.bluedesert.dk/michaellandau.htm