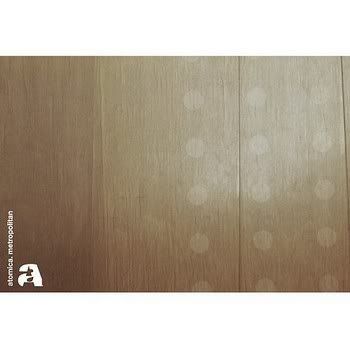 Atomica -
Metropolitan -
2005 -
Positron

A good lo-fi, electronic downtempo album. Atomica, soundwise, have been compared to Portishead, and Lamb. This album does not fall into the same class as "Dummy," or "What Sound," but it is nevertheless, well above the average quality of the hundreds of albums released in this musical genre. Many bands in this genre often, through an overindulgence in sound manipulation produce boring grooves that are forgotten very quickly. Because of this , most of these electronic/trip-hop style groups are inclined to all sound very similar. Not so with Atomica. The quality of the album is abetted by the great vocals of Lauren Cheatham, and the songwriting talents of Wade Alin. "Metropolitan" is refreshingly original, with catchy hooks and intelligent lyrics. There is also a very good jazzy vibe on the album which catches the listener's attention.
TRACKS
One Day in New York City
Delorian
Larsen
Salt
Recent
Quiver
Bittersweet
Sorrow
Pollen
Gun
Worry
MUSICIANS
Lauren Cheatham - Vocals
Wade Alin - Composer/Programmer
Percy Trayanov -Piano, Wurlitzer, Synthesizer, Bass
Matt Cordier - Drums
Elliott Randall - Guitar
REVIEWS
Featuring the haunting vocals of Lauren Cheatham, Atomica is a moody trip-hop project that recalls Portishead and Evanesence in atmosphere, while musically staking its own ground. Programmer and songwriter Wade Alin created this downtempo electronica with keyboardist Percy Trayanov providing expressive piano, Wurlitzer, and synthesizer playing to compliment the evocative mood. There's an orchestral feel to songs like the superb "Sorrow," wrapping Cheatham's intoxicating vocals in swelling strings and forlorn piano melodies. This is a lovely disc that has lasting emotional resonance and well-constructed musical soundscapes. Seek it out and soak it in. © Robbie Gennet © Keyboard
Downtempo vibes and beats are twisted with incredible female vocals for the next branch off of Portishead. Wade Alin is the main songwriter and programmer and he enlisted Lauren Cheatham to provide the backdrop of gorgeous vocals that help recall the aforementioned Portishead, as well as Lamb and Bjork. Trip-hop blended this well with electronica, downtempo, and orchestral rock isn't often properly ordained. But Metropolitan is a new ministry at which to worship stunning and powerful music delivered with a subtleness that betrays its true gifted clout. © J-Sin, Smother.net
Trip-hoppy and kind of jazzy, very stylish electronics and female vocal. Addictive hooks and sophisticated delivery, redolent with meaning. If I didn't loathe the commercial music industry so much I might smell a "hit" here. Alas, I lack sufficent weaselhood to make that proclamation. This is the real shizzle though. © Andrew Fenner, Morbid Outlook
Chicago-based New York City-originating eccentric project Atomica will trigger memories of the best record of urban downtempo, orchestral trip hop and female-fronted pop-electronica that the nineties have given us. The trio's bold and nonchalant approach to the matter evokes rapturing scenarios of fresh yet nostalgic tunes enriched by intense and passionate vocals and visionary lyricism. Portishead, Conjure One (these two above everyone else), Lamb, Bethany Curve, Taxi, Drop the Fear, Rebro and other bands of that type jump to mind immediately, but their music is so un-derivative and eclectic that I am sure you'll be thinking of loads more names that would complement that sentence quite nicely. Atomica have a lot of potential. Emotional and truth-transpiring lyrics, skilled and well-rounded song-writing, powerul and full sound... © Marc Urselli-Schaerer, Chain D.L.K.
"Real" jazz, I mean good jazz, has the ability to be simultaneously current and timeless. It provides opportunities for innovation, and serves as a soundtrack for urban life. Atomica takes that aesthetic to its modern incarnation, adding beats and instrumentation unheard of in the days of the Bop, but which still have that city rhythm. While it would be easy (see "lazy") to write this off as "trip hop", that would be associating it with music that often had more superficiality than brains, which makes so much of that ilk sound dated now. No, this album is another breed. This is deepest emotion laid bare on the floor, with the heart as a centerpiece. With titles like "Quiver", " Bittersweet", "Sorrow", and "Worry", it's obvious that the passions displayed are being melded with a good dose of urban existential alienation... © Haakon Nelson, VIRUS! Magazine
Atomica is one of those groups that convince me to not give up on trip-hop - passionate, melancholy, just yummy. Lauren Cheatham has a rich and lush voice, similar to Tracey Thorn. This band does so much right - the mixing is sweet and clean, and their music is even released under a Creative Commons license. From the 2005 album Metropolitan. © Comfort Music
...Atomica makes lovely, layered, atmospheric, dream pop. These songs are very melodic for this genre. Usually bands such as this tend to rely too much on the toys they're working with and less on actual songwriting. Not so for this band. The melodies are enchanting and haunting. But the toys make lovely sounds as well. This is a great trip-hop, dreamy pop record. © Amy Lotsberg, Collected Sounds
With Atomica, Christ Analogue's Wade Alin and singer Lauren Cheatham have created perhaps the first trip-hop project truly worthy of being compared to Portishead. The similarities are apparent from the laid-back bass groove of opening track "One Day in New York City" to the slow rhythmic throb of "Gun," but Atomica are no slavish imitators. Where Portishead was minimal and beat-driven, letting the vocals carry the melody while the programmed parts confined themselves to the drums and bass line, Alin is much less reticent to add interesting instrumental arrangements. For example, "Larsen" incorporates lush arrangements of sampled strings, while "Salt" adds a hint of vibraphones for a jazzier feel. "Recent," one of Metropolitan's most achingly bittersweet pieces, adds bluesy guitar riffs to the vintage fuzz and electric organs, while "Pollen" and the exquisite "Sorrow" focus on soft piano. Cheatham's contributions as lyricist are also essential to Atomica's distinctiveness, ranging from the concrete melancholy of urban landscapes in "Delorian" to the surreal but evocative wordplay on "Quiver." About as far as can be from Alin's work in Christ Analogue, Atomica is just as intense, albeit in a much subtler way, and Metropolitan is no less than a musical masterpiece. This is mandatory listening for anyone with an interest in trip-hop, chill-out music, and down-tempo grooves.© Matthew Johnson, ReGen Magazine
BIO
Atomica is a union of downtempo beats and stunning female vocals, amplified by an organic warmth generally absent from electronic music. Devised by programmer/songwriter Wade Alin, the writing for Atomica's debut album, Metropolitan, is heavily influenced by his experiences living in New York and by the tone of the city. After relocating to Chicago, Alin began to execute his vision for Atomica and was fortunate enough to happen upon evocative vocalist Lauren Cheatham. Together they began recording the preliminary tracks for Metropolitan, ultimately adding keyboardist Percy Trayanov and drummer Rey Guajardo to the mix Metropolitan maneuvers effortlessly through genres, incorporating elements of trip hop, orchestral, downtempo, and lo-fi, all the while illustrating a compelling story of loss, affliction, collapse and recovery through Alin's unadorned writing approach and Cheatham's impassioned delivery. While fans of Portishead, Bjork, and Lamb are certain to appreciate, Metropolitan introduces a sound that is distinctly Atomica. Copyright © 2008 Atomica. This site is a member of the posiNET network. www.theatomicaproject.com/bio/index.jsp