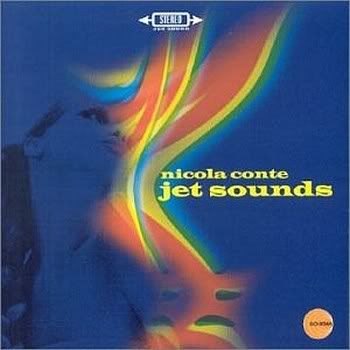 Nicola Conte -
Jet Sounds -
2000 -
Schema
Jet Sounds is a great album. A brilliant sixties/seventies retro lounge acid jazz recording with a rhythmically exciting Italian cinematic nu jazz feel. If you can combine retro with futuristic acid jazz, then this somewhat cryptically describes the sound of this great recording. Check out his brilliant Blue Note album, "Other Directions " for a more serious side to Nicola Conte.
TRACKS
1.Arabesque (3:33)
2.Bossa Per Due (5:50)
3.Dossier Omega (6:31)
4.Il Cherchio Rosso (4:19)
5.Fuoco Fatuo (3:35)
6.Forma 2000 (05:58)
7.Missione A Bombay (4:42)
8.Jazz Pour Dadine (3:50)
9.The In Samba (5:53)
10.La Coda Del Diavolo (4:20)
11.Mambo De Los Dandies (4:36)
12.Jet Sounds (5:17)
13.Trappola Mortale (3:35)
CREDITS
Bass [Contrabass] - Mauro Gargano (tracks: 4, 8)
Bass [Electric] - Stefano Valenzano (tracks: 9, 12)
Drums - Fabio Accardi (tracks: 7)
Flute, Saxophone [Alto] - Gaetano Partipilo (tracks: 6, 8, 9)
Flute, Saxophone [Baritone] - Bruno Marini (tracks: 5, 12)
Guitar - Guido Di Leone (tracks: 3, 9, 12)
Organ - Marco Magno (tracks: 10)
Percussion, Tabla - Pippo D'Ambrosio (tracks: 3, 7)
Piano, Organ - Gianni Lenoci (tracks: 2, 9, 13) , Mirko Signorile (tracks: 4, 10)
Producer, Written-By, Arranged By - Nicola Conte
Saxophone [Tenor] - Francesco Lomangino (tracks: 11)
Sitar - Nicola Nesta (tracks: 3, 7)
Vibraphone - Pasquale Bardaro (tracks: 1, 5, 10)
Vocals - Gabriella Schiavone (tracks: 3) , Manuela Ravaglioli (tracks: 6) , Paola Arnesano (tracks: 2, 9) , Stefania Di Pierro (tracks: 10)
REVIEWS
Wonderful wonderful wonderful -- and one of the best albums we've ever heard of modern bossa and soundtrack grooves! For years, Nicola Conte has been a seminal force in the new Italian scene -- working as a DJ, promoter, producer, and sometimes recording artist under the odd 12" single. This album marks his first full effort -- and after years of bubbling under in the Italian scene, Nicola emerges as one of the most perfect-formed artists we've heard in years. The whole album's a breathtaking mix of 60s bossa, soundtrack, and easy themes -- put together with never a dull moment, and always a focus on the kind of mid and uptempo grooves that have been pushing the Italian and German scenes for the last 5 years. The record features great mixes from a few of Nicola's 12" singles, plus a wealth of excellent new material that really expands his groove wonderfully -- with a totally real, totally honest sound that pushes past the gazillion retro remix throwaway albums that you'll find stuffing the listening stations at the megastores! Tracks include "Fucco Fatuo", "Il Cerchio Rosso", "Dossier Omega", "Trappola Mortale", "Mambo De Los Dandies", "Jazz Pour Dadine", and "The In Samba". We only had this one out of the box for about 3 hours, and we'd already played it twice -- that's how great it is! © 1996-2008, Dusty Groove America, Inc.
A retro aesthetic restyled for the contemporary. The visual and musical references of the Italian productions from the 60's and 70's were transformed for the first time with a sophisticated, almost intellectual approach. The Fez collective from Bari, Italy has gained worldwide recognition for their music and concepts, yet the mind behind it all was that of Nicola Conte. Classically trained, Nicola first became involved in the international new jazz scene as a DJ and record producer. He assembled and designed a sound for the Paolo Achenza Trio, Quintetto X, Fez Combo, Intensive Jazz Sextet, Balanco and many more. Nicola named and gave an identity to the Schema label, possibly the highest profile label in Italy. © 1999-2007 Insound
BIO (Wikipedia)
Nicola Conte is an Italian DJ and producer known for introducing an innovative style of acid jazz that incorporates bossa nova themes, melodies drawn from Italian film scores of the 1960's, easy listening themes, and ethnic Indian music. Conte, a classically-trained musician, is mastermind of a collective of acid jazz revivalists, "The Fez collective," based in the Italian town of Bari, and the Schema label, their record label for promoting their distinctly Italian approach to acid jazz. Conte's first album was Jet Sounds of 2000. The single "Bossa Per Due" gained international recognition and was an underground hit. It was used almost immediately for a prime-time commercial for Acura automobiles. The album was licensed for American distribution by Thievery Corporation's Eighteenth Street Lounge (ESL) label in the summer of 2001 as Bossa Per Due, and was slightly reconfigured version of the Italian Jet Sounds album. This was followed by the Jet Sounds Revisited remix album in late 2002. Two years later, Blue Note's French subsidiary released Conte's next album Other Directions. Conte also produced albums by other artists such as Rosalia De Souza and Paolo Achenza Trio.