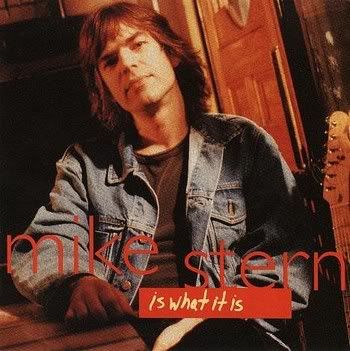 Mike Stern -
Is What It Is -
1994 -
Atlantic

A terrific solo album from the underrated jazz guitarist, Mike Stern, who played in the 1970s for two years with the great Blood, Sweat, and Tears. He has played with many of the world's greatest jazz musicians, and he himself is up there with the best of them. This album earned him a Grammy nomination. It is mainly a jazz/rock album, but has it's pure moments as well. The opener, Swunk is a typical Stern composition with Michael Brecker on tenor sax and a knockout solo. Next, A Little Luck which features some Grade A guitar work. What I Meant To Say is a soaring melodic composition, which demonstrates Mike's guitar virtuousity. Showbizz is a great funky tune. Wherever you are is an acoustic masterpiece which features Harvie Swartz on the upright acoustic bass. Signs is another gem. There is not a dud track on this album. A terrific solo work from the underrated Mike Stern. If you haven't heard any more of the great man's talent, you should buy his outstanding "Standards (And Other Songs" album from 1993.
TRACKS
Swunk
A Little Luck
What I Meant to Say
Showbiz
Believe It
Wherever You Are
Ha Ha Hotel
Signs
55 Dive
All compositions by Mike Stern
MUSICIANS
Ben Perowsky - Drums
Dennis Chambers - Drums
Will Lee - Bass
Jim Beard - Organ, Synthesizer, Organ (Hammond), Piano, Engineer, Wurlitzer, Producer
Michael Brecker - Saxophone
Bob Malach - Saxophone
Mike Stern - Guitar
Harvie Swartz - Bass, Bass (Acoustic)
REVIEWS
At one time swing was just another kind of dance music with a rhythm of utilitarian regularity. It was only in the hands of drummers like Sid Catlett and Sonny Greer that swing acquired enough flexibility to be useful in jazz. Baltimore's Dennis Chambers, a drummer for Parliament-Funkadelic and John Scofield, is now bringing a similar flexibility to another dance music, funk. On Is What It Is, by former Miles Davis guitarist Mike Stern, Chambers proves that funk can be as infinitely variable as swing, and the soloists respond with a rhythmic freedom unusual in fusion. © Geoffrey Himes, amazon.com
Mike Stern is one of the more creative fusion guitarists, playing with the power of rock but often taking sophisticated improvisations. On this passionate set (which consists of nine of his originals), Stern is joined by the keyboards of Jim Beard, bassist Will Lee, Dennis Chambers or Ben Perowsky on drums and (on three songs apiece) the tenors of Michael Brecker and Bob Malach. Overall this is one of Mike Stern's better recordings. © Scott Yanow, All Music Guide
BIO (Wikipedia)
Mike Stern (born January 10, 1953) is an American jazz guitarist. A major player on the scene since his breakthrough days with Miles Davis' comeback band, circa 1981, Stern's sideman credits include work with such jazz icons as saxophonists Stan Getz and Joe Henderson, bassist Jaco Pastorius, guitarists Jim Hall and Pat Martino, trumpeters Tom Harrell, Arturo Sandoval and Tiger Okoshi and saxophonists Michael Brecker, Bob Berg and David Sanborn as well as Steps Ahead and the Brecker Brothers Band. Stern's role of bandleader-composer and recording artist has made his most significant and lasting contribution. He is married to guitarist and vocalist Leni Stern. He is also the half-brother of actress Kyra Sedgwick. At the Berklee College of Music in Boston his focus shifted to jazz. Stern landed a gig with Blood, Sweat & Tears in 1976 and remained with the band for two years, appearing on the BS&T albums More Than Ever and Brand New Day. In 1979, Stern joined Billy Cobham's powerhouse fusion band. Two years later he joined Miles Davis group, making his public debut on June 27, 1981 at the Kix nightclub in Boston (a performance that was documented on the CBS live album, We Want Miles). He remained with Davis through 1983,. From 1983 to 1984 he toured in Jaco Pastorius' Word of Mouth band and in 1985 he returned to Davis for a second tour of duty that lasted close to a year. His solo debut, Upside Downside, was released on Atlantic Records in 1986 It features performances by Pastorius, David Sanborn and Bob Berg. From 1986 through 1988, Mike was a member of Michael Brecker's potent quintet, appearing on Don't Try This At Home. Stern's second Atlantic album, 1988's Time In Place, featured Peter Erskine on drums, Jim Beard on keyboards, Jeff Andrews on bass, Don Alias on percussion and Don Grolnick on organ. He followed with 1989's Jigsaw, which was produced by fellow guitarist Steve Khan and included Mike's menacing Miles Davis tribute, "Chief". In 1989, Stern formed a cooperative touring group with Bob Berg that also included drummer Dennis Chambers and bassist Lincoln Goines. They remained a working unit through 1992 and are featured on Mike's Atlantic release, Odds Or Evens. Stern joined a reunited Brecker Brothers Band in 1992 and became a factor in the success of that popular group for the next two years. His acclaimed and decidedly jazzy 1993 Atlantic release, Standards (And Other Songs) led to Stern being named Best Jazz Guitarist Of The Year by the readers and critics of Guitar Player. He followed that up with 1994's Is What It Is and 1996's Between The Lines, both of which received Grammy nominations. In 1997, Stern returned to a jazzier aesthetic with Give And Take, a looser, more spontaneous session featuring bassist John Patitucci, drummer Jack DeJohnette, percussionist Don Alias and special guests Michael Brecker and David Sanborn. He won the Orville W. Gibson Award for Best Jazz Guitarist. A Mike Stern signature model was manufactured by Yamaha as part of their Pacifica range. The guitar is based on Mike's heavily modified Fender Telecaster.