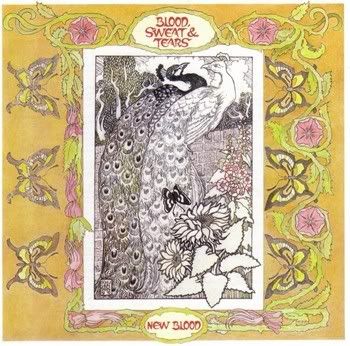 Blood Sweat & Tears - New Blood - 1972 - Columbia


"New Blood" was BS&T's last top 40 album. In 1972, BS&T were undergoing a restructure after the great David Clayton-Thomas had departed. There was a lot of friction in the new line-up on this album led by blind singer Bobby Doyle and featuring the brilliant saxophonist, Joe Henderson. Doyle was dropped in favour of Jerry Fisher, which delayed the album's release. In August of '72, Columbia released "So Long Dixie/"Alone" as a single, which only reached no. 44 on the singles chart. Finally, in October, "New Blood" was released, only reaching no.32 in the album charts.. A second single was released from the album which had no commercial impact. All of this might lead you to believe that the album was not up to par, but arguably, it is one of BS&T's best studio albums, and regarded by many as one of the best jazz rock albums of the early seventies. It is probably fair to say that by 1972, they'd turned more toward jazz, realising that rock audiences were drifting out of their reach. Some music critics have said that through all the numerous band changes, the line - up for "New Blood" was the best in terms of musicianship, vocal styles, and choice of songs, while other people still tried to compare them to the BS&T' that had recorded the brilliant 1969 "Blood, Sweat and Tears " self titled album, which was virtually impossible to better."New Blood" is a great album, and HR by A.O.O.F.C. It is probably one of the last worthwhile releases by BS&T'. Their follow-up '73 album, "No Sweat" is virtually a forgotten album (no.72 Stateside). It is worth listening to "Nuclear Blues," an 1980 album by BS&Tt which in another twist to the ever changing line-up, features David Clayton-Thomas on vocals.This album cannot be compared to the early recordings, but it may well be BS&T's best recording since "New Blood." You can find info on "Nuclear Blues" @ BS&T-NUCLEAR BLUES There is also a good album called "New City" by "Blood, Sweat & Tears featuring David Clayton-Thomas" which is worth checking out.

TRACKS / COMPOSERS

1. Down In The Flood - Bob Dylan
2. Touch Me - Unknown
3. Alone - Jeff Kent
4. Velvet - Steve Katz
5. I Can't Move No Mountains - Robert John, Michael Gately
6. Over The Hill - Dave Bargeron
7. So Long Dixie - Barry Mann & Cynthia Weil
8. Snow Queen - Carole King/Gerry Goffin
9. Maiden Voyage - Herbie Hancock

ALBUM LINE - UP

Jerry Fisher: Lead Vocals (Except "Velvet")
Lew Soloff: Trumpet, Fleugelhorn, Piccolo Trumpet, Vocals
Chuck Winfield: Trumpet, Flueugelhorn, French Horn, Baritone Horn.
Lou Marini Jr.: Soprano, Tenor, and Alto sax. Alto and Soprano Flute,
Piccolo and Vocals
Dave Bargeron: Tenor Trombone, Bass Trombone, Baritone Horn, Tuba, Percussion and Vocals.
George Wadenius: Electric and Spanish guitar and vocals.
Steve Katz: Electric guitar, Acoustic Guitar, 6-String, Harmonica, Electric 12-
String, and vocals. (lead on "Velvet")
Larry Willis: Electric Piano, Hammond organ, and Vocals.
Jim Fielder: Fender Bass and vocals.
Bobby Colomby: Drums, Percussion, and Vocals.
Bobby Doyle: Background vocals on "Touch Me" and "Velvet."
Joe Henderson - Sax

ALBUM COMMENTS [ from www.rdrop.com/users/rickert/blood.html ]

Billboard's Oct. 21, 1972 review read:
New Blood is the well chosen title for this entry in that the package highlights some change in the personnel with lead singer Jerry Fisher, new to the group, showing first-rate quality throughout. The BS&T style is strong on "I Can't Move No Mountains," and "Snow Queen," while "Down In The Flood," "Alone," and "Touch Me," showcase the sound of the new blood. New hit "So Long Dixie" included.
Ross Boissoneau of the All Music Guide Writes:
The first BS&T disc following the departure of lead singer David Clayton- Thomas and chief arrangers Dick Halligan and Fred Lipsius has its moments. The band vocals on "Touch Me" and the arrangement of Herbie Hancock's "Maiden Voyage" are among the highlights, but then there's Bob Dylan's "Down In the Flood" and Steve Katz's "Velvet," about a horse, for Pete's sake. Gerry Goffin and Carole King's "Snow Queen" almost makes up for it, with sensational solos from Dave Bargeron on trombone and Lou Marini Jr. on sax. (c)1996 All Music Guide
Jeremiah Rickert Writes:
The guy who wrote the above review just must not get it. He trashed "Down In The Flood?" That's one of the best tracks on the disc. He makes fun of "Velvet," because it's about a horse? I mean, tell me that folk singers haven't written about stranger things, water barrels, outhouses, and long johns, for example? Sheesh! The rock press really can have no clue sometimes, can't it?

SHORT BIO

Band founded in 1968 by Bobby Colomby (drums; born December 20, 1944, in New York, NY), Steve Katz (guitar, vocals; born May 9, 1945, in Brooklyn, NY), and Al Kooper (keyboards, vocals; born February 5, 1943, in New York); David Clayton-Thomas (lead vocals; born September 13, 1941, in Surrey, England) replaced Kooper in 1969; other early members included Jim Fielder (bass; born October 4, 1947, in Denton, TX), Jerry Hyman (trombone; born May 19, 1947, in Brooklyn), Dick Kalligan (keyboards, trombone, flute; born August 29, 1943, in Troy, NY), Fred Lipsius (alto sax, piano; born November 19, 1943, in New York), Lew Soloff (trumpet, flugelhorn; born February 20, 1944, in Brooklyn), and Chuck Winfield (trumpet, flugelhorn; born February 5, 1943, in Monessen, PA). In 1967 veteran musician Al Kooper began to assemble Blood, Sweat and Tears, the large blues/jazz rock band that had occupied his imagination for many years. A former member of the 1950s pop group the Royal Teens ("Short Shorts"), session musician for Bob Dylan, and member of New York City's Blues Project, Kooper wanted to expand the scope of rock to include the more polite forms of jazz and, simultaneously, to bring jazz to a larger and more general audience. Envisioning a jazz-rock fusion, Kooper recruited musicians with strong jazz and rock backgrounds for his eight-ten member band: guitarist Steve Katz, for instance, was another Blues Project member; drummer Bobby Colomby played for folk-blues singer Odetta; bass player Jim Fielder worked with the Mothers of Invention and Buffalo Springfield; and the group's unusually large horn section (two trumpeters, two trombonists, and a saxophonist) hailed from New York jazz and studio bands. Blood, Sweat and Tears launched its innovative sound with the album Child Is Father to the Man, reinventing the songs of Harry Nilsson, Randy Newman, Carole King, and others through the heavy use of brass and jazz. Recognized as a milestone in rock music, the album nonetheless fell short of commensurate commercial success. Kooper decided to leave the band in favor of record producing (two other members left as well), and many feared the group would fold before it had a chance to get off the ground. Leadership fell to Katz and Colomby; new musicians joined the ranks, and this time the public proved ready for the new ensemble. When Kooper left Blood, Sweat and Tears Canadian rock star David Clayton-Thomas became the band's lead singer--his powerful rasping vocals soon became identified with the group and its subsequent commercial success. With Clayton-Thomas, the 1969 album Blood, Sweat and Tears became a blockbuster hit, the number one LP for seven straight weeks. Introducing three gold singles, the Grammy-winning album remained on the charts for more than two years. The album featured big band jazz-rock arrangements of old and new songs by such artists as Brenda Holloway, Billie Holiday, Laura Nyro, and Steve Winwood; the three cuts "Spinning Wheel," "And When I Die," and "You've Made Me So Very Happy" climbed to the top of the charts. Blood, Sweat and Tears 3, appearing a year later, was nearly as successful, introducing the hit singles "Hi-De-Ho" and "Lucretia MacEvil." At the height of its popularity, the band was enlisted by the U.S. State Department for a 1969 goodwill tour of Yugoslavia, Romania, and Poland. The band's acclaim was short-lived, however; the 1971 single "Go Down Gamblin'" proved to be the group's last big hit. Other horn rock bands had sprung up by then: Chase, the Ides of March, and the highly regarded and commercially successful Chicago Transit Authority (later renamed Chicago). Beset by internal dissent and frequent personnel changes, Blood, Sweat and Tears was dealt a serious blow when Clayton-Thomas left in 1972 to pursue a solo career; engaging a succession of lead singers, the band enjoyed a brief return of popularity when Clayton-Thomas rejoined in 1974. Others pointed to Blood, Sweat and Tears's commercialism as a reason for its steady decline: the group rarely engaged in the improvisation so integral to jazz (duplicating recordings note for note in concert), and many questioned the earnestness of its jazz-rock experiment. Becoming a regular act in Las Vegas, the band was charged with being hollow and pretentious, swapping its original rock audience for older, cabaret-oriented listeners, abandoning--according to The Illustrated Encyclopedia of Rock-- "the very road of rock it set out to re-surface." Still, fans of the group defended its right to evolve, deeming its brassy commercial style worthwhile. Yet others acknowledged that before Blood, Sweat and Tears fell away from Kooper's original vision it was the best of the jazz-rock bands and that it was owed a debt of gratitude for the musical possibilities it opened to those who came after. © Meg Mac Donald , © 2008 Net Industries - All Rights Reserved
Band subject to frequent personnel changes; later members included Dave Bargeron (trombone, tuba, trumpet; born September 6, 1942, in Massachusetts), Jerry Fisher (vocals; born c. 1943 in Dekalb, TX), Tom Malone (trumpet, flugelhorn, trombone, saxes), Lou Marini, Jr. (saxes, flute; born in Charleston, SC), George Wadenius (guitar; born in Sweden), and Larry Willis (keyboards; born c. 1942 in New York). During major reorganization in 1972 lead singer Clayton-Thomas left; he returned in 1974, became co-owner of band's name and catalog, and group has been billed as Blood, Sweat and Tears featuring David Clayton-Thomas since 1975. © 2008 Net Industries - All Rights Reserved

MORE ABOUT BLOOD, SWEAT & TEARS

For a brief period at the end of the '60s and the start of the '70s, Blood, Sweat & Tears , which fused a rock & roll rhythm section to a horn section, held out the promise of a jazz-rock fusion that could storm the pop charts. The band was organized in New York in 1967 out of the remnants of the Blues Project by keyboard player/singer Al Kooper and guitarist Steve Katz of that group and saxophonist Fred Lipsius . The rhythm section consisted of bassist Jim Fielder and drummer Bobby Colomby and the horn section was filled out by trumpeters Randy Brecker and Jerry Weiss and trombonist Dick Halligan . Al Kooper came up with the name when he was on the phone with a promoter, while gazing at a Johnny Cash album cover. The album was called, "Blood Sweat & Tears". The inspiration for the band name did not come from Winston Churchill's quote, "I have nothing to offer but blood, toil, tears and sweat", as was widely reported at the time. Their first gig was at the Village Theater (which later became the Fillmore East) as the opening act for the James Cotton Blues band. A couple of weeks later the band opened for Moby Grape at the Cafe A Go Go. They were a huge success and three record labels were willing to sign the group. They decided to sign Columbia, a label that Kooper already had a relation-ship with. In December 1967 they began recording their first album "Child Is Father To The Man", which was released on February 21 1968. The critics loved it and compared it to the Beatles "Sgt. Pepper" and the Beach Boys "Pet Sounds". The album was considered as a mile stone in rock music and was awarded a Grammy nomination, but only hit # 47 in the charts. Al Kooper began working on the next BS&T album, searching for songs for follow-up material. On the first album, Kooper was given free hands to do what he could for BS&T. On the second album Katz and Colomby wanted to take a more active part in the development of the band and both of them wanted to get a new, better, stronger vocalist. After meeting with Kooper he decided to leave the band after their last gig at the Garrick Theatre in New York. Also Randy Brecker left the band to join the Thad Jones-Mel Lewis Band. He was replaced by Chuck Winfield. Jerry Weiss left as well, his place being taken by Lew Soloff. Dick Halligan took over the organ and Jerry Hyman was added on trombone. Now they started searching for a new singer. Laura Nyro, who happened to be dating Jim Fielder at the time, was invited to a rehearsal, but she decided not to join the band. Steven Stills was also approached, but he was busy working with Al Kooper and Mike Bloomfield on the "Super Sessions" album. Bobby Colomby then told the others of a virtually unknown singer named David Clayton-Thomas, and convinced them that his Blues-tinged style seemed perfect for the band. Clayton-Thomas had some hits in Canada with "the Bossmen" and sang briefly with a band called "Flying Machine". Born in Surrey, England, on Sept. 13th, 1941 as David Henry Thomsett of British-Canadian parents, the family moved to Toronto, Canada when he was age six. David had a troubled adolescence and was jailed a half-dozen times for vagrancy, parole violations and petty theft. While other teenagers in suburban Toronto were attending high school proms, David was a street kid, a loner, sleeping in parked cars, stealing food and clothing, learning how to survive and fight behind bars. When he was at Millbrook Reformatory he learned to play the guitar. An old guitar had been left behind by an outgoing inmate, and David claimed it. He began to practice alone, late into the night, and for the first time in his life he had a dream, a plan for the future. After his release, David made music his life, and steadily honed his skills in one band after another until Blood, Sweat and Tears approached him in 1969. The band also hired James William Guercio to produce their next album. If their first effort was a loose jazz blending melted together with rock, this album had a clearer delineation between jazz and rock. Straight-ahead rock songs and a jazzy part in the middle of each song. This was the formula that really did catch the fancy of the public. The album was released on December 11 1968 and launched three gold singles, "You've Made Me So Very Happy," "And When I Die" and "Spinning Wheel". The L.P. garnered five Grammy awards, including Album of the Year and Best Performance by a Male Vocalist. Suddenly B,S&T were as big as any band could be. Offers poured in for major concerts, TV appearances and jazz and rock festivals from coast to coast. They even played at the original Woodstock Festival. The month following Woodstock they began working on their next album. Before the album was released, they had to make a goodwill tour to East Europe, because Clayton-Thomas who was a Canadian citizen didn't have a green card. The members didn't like the idea of making a goodwill tour for the Nixon-administration but they had no choice if they wanted to keep Clayton-Thomas in the band. The tour was a major disaster. On the fist night, in Bucharest, the young Romanian audience jumped to its feet and shouted "USA". The Police responded by loosing attack German shepherds on the audience. The communist government gave orders to B,S&T, " more jazz ...less rhythm". After the return from the tour, their third album, "Blood, Sweat & Tears 3", struck gold upon it's release. The album contained a lot of high points, such as Goffin-King's "Hi-De-Ho", Laura Nyro's "He's A Runner", Traffic's "40,000 Headmen" and Clayton-Thomas' "Lucretia MacEvil" along with one of Steve Katz finest songs, "The Battle". On the album was also a version of Jagger-Richards' "Sympathy for the Devil", with an arrangement by Dick Halligan. "Hi-De-Ho" was released as a single and reached #14 in the charts. Jazz magazines praise their precision, their arrangements, and their musicianship. Contrary, rock critics call the group "slick and inflexible". Clayton-Thomas replied to the criticism."This band does more free blowing on stage than practically any rock band, but we do it within a very literate and educated framework. A lot of people say, it sounds so precise. Well that's the way these guys play. If you go to Juiliard for five or six years, you learn to play precisely." In September, "Lucretia MacEvil" was released as the next single and peaked at #29 in the charts. November saw the group play its first concert with a full symphony in New Orleans. They also recorded music for a Barbra Steisand, George Segal movie, "The Owl and the Pussycat". In January 1971, the group begin recording its next release in San Francisco. They recruited jazz writer/saxman/composer Don Heckman to co-produce. The sessions seem to drag on, with takes mounting up to the dozens. In a brief break from the recording, Blood, Sweat & Tears became one of the first rock bands to play Las Vegas, for which they received a lot of criticism. The band was charged with being hollow and pretentious, swapping its original rock audience for older, cabaret-oriented listeners. They were called a"lounge act" and that they had sold their soul for the money. Back in the studio again, they ask Al Kooper to come and help out with the album. Kooper, Colomby and Roy Halee co-produced the rest of the album. "B,S&T 4" was released at the end of June and it's the first album with mostly original tunes. It turns gold in a month. This time even the rock critics are impressed. Two singles are released from the album, "Go Down Gamblin'" and "Lisa, Listen To Me", neither of which do well on the pop charts. About this time, the band seemed to split into three separate fractions: the rockers, including most of the rhythm section; the jazzers, Colomby and most of the horn section; and the Vegas star, Clayton-Thomas. Each believes that the band has gone too far in the other direction. In January 1972, the split is total. David Clayton-Thomas leaves the band for a solo career. The decision was mutual, their musical ambitions were too different. Fred Lipsius left the band. The next month David Clayton-Thomas is replaced by the blind singer Bobby Doyle, once leader of the Bobby Doyle Trio. Joe Henderson replaces Fred Lipsius and guitarist George Wadenius, a member of the Swedish group "Made in Sweden", joins the band. The new lineup fails to gel and they start to look for another lead singer. Jerry Fisher is at this time recording singles in New York with "New Design", a subsidiary of Columbia Records (the BS&T label). His newly tracked recording session prompted an invitation to have a jam session with the group. After that, he's invited to join the band. Prior to joining BS&T, Jerry Fisher performed the nightclub circuits in Las Vegas, Tahoe, parts of his native Oklahoma and Texas. He had a sizeable following and was considered by one Texas music critic as "probably the greatest white blues singer in the business". All these changes mean time rehearsing and reorganizing instead of recording and Columbia Records releases a "Greatest hits" package. Eleven selections, seven singles chart entries, plus two album tracks from the celebrated debut album when Al Kooper lead the group, and two more from the Grammy-winning multi-platinum second album.The album contained the singles edits of the songs. The personal changes continued. Joe Henderson is replaced by Lou Marini Jr. Dick Halligan calls it a day and Larry Willis takes over as keyboard player. In the summer of '72, Blood, Sweat & Tears went in the studio again to record a new album. This time they choose mostly covers. At the end of August, the first new material to be released in 13 months, the single "So Long Dixie" is released, but stalls out at #44. The album is released a month later. A discouraged Steve Katz leaves the band along with Chuck Winfield, who is replaced by Tom Malone. There is no replacement for Steve Katz. As touring continued, Blood, Sweat and Tears begin gathering material for yet another album and in the spring of 1973 they are once again in the studio to record. The result "No Sweat" was released in June the same year and contained both originals and cover songs. The album this time is more rocking with "Roller Coaster" released as a single. The LP scores at #42 and another single, "Save Our Ship" is released from the album. The touring continues and so are the personal changes within the band. Longtimer Jim Fielder leaves and is replaced by Ron McClure, Lou Marini JR is replaced by Bill Tillman. Tom Malone leaves and Tony Klatka takes over. Lew Soloff also leaves the band. Jerry LaCroix, formerly a member of the Edgar Winter group, joins the band on sax and flute. He also sings, but Jerry Fisher is still the lead singer. In March and April 1974 the band spend most of the time in the studio for their forthcoming album and in July, "Mirror Image" is released. A song called,"Tell Me That I'm Wrong" is released as a single but only reaches #83. The album flops at #149. Jerry LaCroix didn't feel comfortable within the band, and he couldn't' handle Bobby Colomby. Basically he didn't care for Blood, Sweat and Tears style and he did not like to share lead vocal duties. He was more interested in his solo album "The Second Coming", that he recently had recorded. He once said that one of the reasons for him to join was that they ware going on a world tour and he hadn't seen the world. While they were in Australia he decided to quit. When they came back, he left the group after a gig in Central Park. Luther Kent, a blues singer from New Orleans was recruited as a new leadsinger, together with Jerry Fisher. Luther Kent had been singing with The Greek Fountains, a busy, popular band in demand regionally, then criss-crossed America with his own, 9-piece r&b band, "Blues, Inc". His voice could be described as powerful, rough and whiskey-drenched. Blood, Sweat and Tears never did any recordings with Luther Kent, who eventually quit to form "Trick Bag" with guitarist Charlie Brent. As 1975 began, David Clayton-Thomas returned to Blood, Sweat and Tears. Joe Giorgianni was added on trumpet, flugelhorn and in sessions during February, they recorded new songs for an album. 50 percent cover tunes (Janis Ian, Randy Newman, the Beatles, Blues Image) and 50 percent originals, including a song from one of Clayton-Thomas solo albums ("Yesterday's Music"). The L.P. called "New City" is released in April, and on the cover it says "Blood, Sweat & Tears featuring David Clayton-Thomas", to let people know that now it's the same band that made all those hits a few years ago. It's the first BS&T album in many years to get favourable reviews. Live bookings began to increase in quality and quantity, and the band experienced renewed popularity. Their revival of the Beatles "Got To Get You Into My Life" peaked at US #62, and the album hit #47. During this period, a live album was recorded and released in Europe and Japan as "In Concert". It's the same album that later was released as "Live and Improvised" in the U.S.A. In August 1976, an album called "More Than Ever" was released, but it was a disappointing seller. This was the weakest album they ever have put out, despite guest vocals by Patti Austin. It stalls at #165 and Columbia Records dropped the band. At this time, Bobby Colomby, B,S&T's sole remaining original member calls it a day. In 1977 the band is signed to ABC records and in November the same year, they recorded "Brand New Day". The album garnered positive reviews, but was not a major seller. The group continued to tour and personnel continued to fluctuate. In January 1978, they toured Europe. The band members at that time were, Clayton-Thomas on vocals, Dave Bargeron tuba, Anthony Klatka and Chris Albert trumpet, Gregory Herbert saxophone, Randy Bernsen guitar, Larry Willis keyboards, Neil Stubenhaus bass and Bobby Economou on drums. After a concert in Amsterdam, Gregory Herbert took an overdose of cocaine and died. The band returned home and separated. In late 1979, David Clayton-Thomas reformed a new Canadian version of Blood, Sweat & Tears with Bobby Economou. On guitar he recruited Robert Piltch, one of Canada's finest young guitarists and his brother David on bass. The other members were: Bruce Cassidy from Bruce Cassidy Band on trumpet, and arranger. Earl Seymour - Saxophone, Flute, Vernon Dorge - Alto, soprano sax, flute, Richard Martinez - Organ, piano, clavinet. Signed to MCA Records in 1980, this incarnation of Blood, Sweat & Tears first album was called "Nuclear Blues" and featured cover versions of Jimi Hendrix's "Manic Depression" and Henry Glover's blues classic, "Drown In My Own Tears". But the face of music had drifted away from the style that made Blood, Sweat and Tears popular and the band disbanded again later the same year. The Group faded from view for pretty much the next five years, with Colomby and Clayton-Thomas occasionally getting together for a few live shows here and there. In 1985, David teamed up with hard-driving young manager, Larry Dorr, formerly a tour manager with he band. Larry convinced David that there was still life in the once proud name Blood, Sweat & Tears, and that with the right musicians, good management, and strong leadership, it could once again be an attraction on concert stages around the world. They recruited musical director/trumpeter Steve Guttman, graduate of Oberlin Conservatory of Music, and Blood, Sweat & Tears began performing with prestigious American symphonies like the Detroit, the Houston, the Oklahoma City Symphony Orchestras. Larry Dorr was right. A revitalized BS&T under his direction and David's leadership came storming back to the concert stages of the world, playing international jazz festivals, symphonies, concert halls and casino show rooms. In the late 80's the personnel of the band stabilized and they became a regular group again. Due to legal hassles over use of the name "Blood, Sweat and Tears"' there haven't been any new albums released. In 1994, David Clayton-Thomas and Blood Sweat & Tears horn section: Jerry Sokolow - trumpet, Steve Guttman - trumpet, Tim Ries - Sax and Charlie Gordon - Trombone, made a record with the Hungarian jazz drummer Leslie Mandoki. The album was called "People". In 1996 David Clayton-Thomas was induced into the Canadian Music hall of Fame. and later recorded an album that was called "The Uptown Album". It was recorded live at Ornette Coleman's Harlem studio and was produced by David himself. It was released in Canada in November 1997 and in the US and the rest of the world in January 1998. In 1997 another album called "People In Room no. 8" was released. Later in 1998, David recorded a solo album called "Bloodlines" that featured some of the musicians that had been in Blood Sweat and Tears over the years. Blood, Sweat and Tears continued to tour and even though David Clayton-Thomas is regarded as "the voice of Blood, Sweat & Tears", it is the skill and the musicianship of all those very talented musicians that have passed through the band that made this group so special. In 2007, they were sharing the stage with Chuck Negron, formerly of Three Dog Night, in a series of shows across the US.