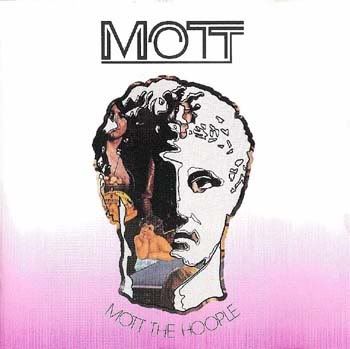 Mott The Hoople -
Mott -
1973 -
Columbia

Remembered by many for their great version of Bowie's "All The Young Dudes," Mott The Hoople have been described as "one of the seminal "glam rock" bands of the 1970's." They had a cult following in the U.S. and U.K. before disbanding in 1976. Although many "glam rock" bands of the mid seventies were very popular, most of them didn't last long as their music was purely a cleverly manipulated type of "pop rock" that sold well, but was quickly forgotten afterwards. T.Rex, Bowie, and Mott The Hoople were notable exceptions, as they had real talent, and were already established since the mid and late sixties, and just happened to be thrown into the "Glam Rock" scene. Bowie, Bolan, Ian Hunter and bands like Cockney Rebel, were more than just artists wearing glitzy make-up ad high platform boots. They could really play and many of them were superb songwriters, and have strongly influenced some of the major rock bands of today. Mott The Hoople had their roots firmly embedded in Rock/R&B and produced some exceptional music. "Mott" is a great rock 'n'roll album which hit the U.S Top 10. Tracks like "All the Way from Memphis," "Honaloochie Boogie" are great rock 'n'roll tunes. This album is HR by
A.O.O.F.C.
Their debut 1969 "Mott the Hoople" album is also worth checking out.
TRACKS
"All the Way from Memphis" – 5:02
"Whizz Kid" – 3:25
"Hymn for the Dudes" (Verden Allen, Hunter) – 5:24
"Honaloochie Boogie" (Hunter, Mick Ralphs) – 2:43
"Violence" (Hunter, Ralphs) – 4:48
"Drivin' Sister" – 3:53
"Ballad of Mott the Hoople (26th March 1972, Zürich)" (Hunter, Dale "Buffin" Griffin, Peter Watts, Ralphs, Allen) – 5:24
"I'm a Cadillac/El Camino Dolo Roso" (Ralphs) – 7:51
"I Wish I Was Your Mother" – 4:52
All songs written by Ian Hunter, except where indicated.
BAND
Mick Ralphs - vocals, guitar
Ian Hunter - vocals, guitar, keyboards
Overend Watts - vocals, bass
Verden Allen - keyboards
Dale Griffin - drums
EXTRA MUSICIANS ON ALBUM
Paul Buckmaster – electric cello on track 4
Mick Hince – bells on track 9
Andy Mackay – saxophone on track 1, 4
Graham Preskett – violin on track 5
Thunder Thighs (Karen Friedman, Dari Lalou, Casey Synge) – backing vocals on track 3
BIO (Wikipedia)
Mott the Hoople were a 1970s English rock band with strong R&B roots. They are best known for the song "All the Young Dudes", which was written for them by their fan David Bowie and which appeared on the 1972 album of the same name. In 1968, Mick Ralphs, Verden Allen, Robert Fisher, Pete "Overend" Watts and Dale "Buffin" Griffin formed a band called Silence, playing near Hereford, England. Adding then lead singer Stan Tippens in 1969, the band recorded early tracks at Rockfield Studios in Monmouth, Wales, later dominated by Love Sculpture and Dave Edmunds. Tippens was injured soon after joining the band and was unable to continue singing, and Fisher moved to the U.S., but the band rallied and eventually signed with Island Records, moving to London to record with Guy Stevens as producer. Stevens changed the band's name to "Mott the Hoople" from a novel of the same name by Willard Manus; the book is about an eccentric who works in a circus freak show. The band also recruited a new singer and boogie piano player, Ian Hunter. Hunter had replied to a music magazine advertisement which read "Singer wanted, must be image-minded and hungry." Tippens became the road manager for the band. Their debut album, Mott the Hoople (1969), was a cult success, and their repertoire included cover versions of "Laugh at Me" (Sonny Bono), and an instrumental cover of "You Really Got Me" (The Kinks). The second album, Mad Shadows (1970), sold poorly and received generally negative reviews; as did Wildlife (1971). Even though the group was building a decent following, the hard-rocking Brain Capers (1971) failed to sell well, and when combined with an aborted UK tour with The Lothringers, the band was close to breaking up. David Bowie had long been a fan of the band, and heard that they were about to split. Bowie persuaded them to stay together, and offered them "Suffragette City" from his then yet-to-be-released Ziggy Stardust album. They refused the song so Bowie wrote "All the Young Dudes" for them instead. Released as a single in July 1972, it was a major success in the UK, with the band using Tippens - who by this time was the band's tour manager - to sing backing vocals during live gigs. A Bowie-produced album, also called All the Young Dudes, sold well. Late in 1972 the band was going to record another Bowie song, "Drive-In Saturday", but their intended arrangement dissatisfied the composer, and their professional relationship effectively ended. Another casualty in the wake of All the Young Dudes was Verden Allen, who departed before the release of their next album, Mott. Mott climbed into the Top Ten of the UK album charts, and became the band's best seller to date in the US. It yielded two UK hits, "Honaloochie Boogie", and "All the Way from Memphis", both featuring Andy Mackay of Roxy Music on saxophone. "All the Way From Memphis" is also featured in the movie Alice Doesn't Live Here Anymore. Mott the Hoople's new-found popularity ultimately helped lead to the band's break-up, perhaps helped along by an exposé in New Musical Express of Tippens' role in singing the chorus of "All the Young Dudes", from a hidden microphone backstage.[citation needed] Ralphs left in 1973 to form Bad Company and was replaced by former Spooky Tooth guitarist Luther Grosvenor. For contractual reasons, he changed his name to Ariel Bender at the suggestion of singer-songwriter Lynsey De Paul for his stint with the band. At the same time, former Love Affair and Morgan member Morgan Fisher joined as keyboardist. In the afterglow of The Hoople (1974), a live album was quickly released, after which Mick Ronson replaced Bender. The end was nigh when both Ronson and Hunter left the group to form a duo. Ray Major and Nigel Benjamin were added to continue the group, which abbreviated its name to "Mott". In 1974, for their tour of America, Mott the Hoople were supported by the band Queen. This tour later provided the inspiration for Queen's 1975 single "Now I'm Here," which contains the lyrics "Down in the city, just Hoople and me."The song became a live favourite of Queen fans and reached #11 in the UK Singles Chart. The tour resulted in a lifelong friendship between the two bands, with Ian Hunter, Mick Ronson and David Bowie performing "All the Young Dudes" at the Freddie Mercury Tribute Concert in 1992. Morgan Fisher went on to play piano on Queen's "Hot Space" tour in 1982, and Brian May, Freddie Mercury and Roger Taylor performed backing vocals on the Ian Hunter solo song "You Nearly Did Me In". May would later cover Mott's "All the Way from Memphis" on his solo album, Another World, with Hunter making a guest appearance. Hunter wrote the book Diary of a Rock'n'Roll Star. It covered the day-to-day life on the band's 1972 winter tour of the USA, covering the ups and downs of life on the road, including tales of David Bowie introducing them onto the stage and joining them to sing backing vocals on "All the Young Dudes", and Hunter's meeting with Keith Moon of The Who who took him in a battered Volkswagen beetle to visit Frank Zappa. It was published 18 months later in June 1974. This lineup released two more albums, Drive On (1975) and Shouting and Pointing (1976), offering a heavy, less Dylanesque taste on the Mott sound, and both of which sold poorly.After Nigel Benjamin quit in 1976, Mott added John Fiddler and became British Lions in 1978, but they soon split as well, similarly without any chart success. Hunter and Ronson worked and toured together sporadically until Ronson's death in 1993. Hunter has continued his solo career. No Mott the Hoople reunion has ever occurred, though negotiations for one were attempted in 1985; all parties have shown some interest at various times in the idea over the last 25 years or so, though recently Hunter has ruled out a full Mott reunion. A full reunion currently seems unlikely, although in 2002 and 2004, Mick Ralphs toured with Ian Hunter, as part of Hunter's backing band. In 1996 K-tel records released a CD called The Best of Mott the Hoople purporting to be re-recordings of the bands hits and new songs by Ian Hunter and Mick Ronson. In actuality, the recording was by a Danny McCulloch and Gerry Chapman (usually going under the band name of The Trybe), consisted of heavy rock versions of Mott's hits and poor original songs, and had nothing at all to do with the original Mott the Hoople. K-tel were subsequently fined for supplying goods with a false description, but the tracks and album continued to circulate under the name Mott the Hoople, often appearing on compilation albums. In 2002, the tracks were released again as "I can't believe it's not Mott the Hoople!", though this time it was credited to The Trybe. In 2005 it was reported in the publication Classic Rock, that Hunter had received the offer of a seven-figure number to re-form the band. In October 2007 at Ian Hunter's concert at the Shepherds Bush Empire, he was joined by Mick Ralphs and Verden Allen for the encore.