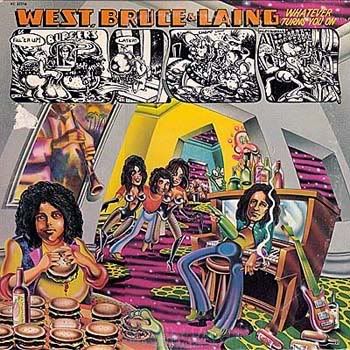 West, Bruce and Laing -
Whatever Turns You On -
1973 -
Columbia Records

Not as good as their debut "Why Dontcha" album, but still an above average album from three great musicians. Leslie West's guitar is excellent, and there are some good tracks on the album. The feeling is there that the album was "hurried," and that with more input, and expansion, it could have been a much better recording. The album never really "gelled," but it is worth a listen. The trio had great potential, and with more time would most likely have produced something special. This album is a 128 Kbps version, so sound quality is omly fair. Comments welcome on this album. Listen to their "Why Dontcha" album, on which West, Bruce and Laing used their musical expertise to much better degree.
TRACKS / COMPOSERS
Side 1
Backfire - Brown, Bruce, Laing, West
Token - Bruce, Laing, West
Shifting Sand - Bruce, Laing, West
November Song - Brown, Bruce, Laing, West
Side 2
Rock 'N' Roll Machine - Bruce, Laing, West
Scotch Crotch - Brown, Bruce, Laing, West
Slow Blues - Bruce, Laing, West
Dirty Shoes - Bruce, Laing, West
Like a Plate - Brown, Bruce, Laing, West
BAND
Leslie West: guitar, vocals
Jack Bruce: bass, vocals, synthesizer, harmonica
Corky Laing: drums
REVIEW
Adding a bit of Procol Harum's sound to the mix is exactly what the doctor ordered for this superior second outing from the decision by Jack Bruce and Leslie West to merge their talents. "Shifting Sands" and the Peter Brown co-written "November Song" are amazing expressions for these artists, who break out of what people expected from them to create something important. Bruce does his best Neil Young in this "Helpless" takeoff, and West's guitar adds the bite that was not part of Buffalo Springfield, but the album jacket is just plain terrible, like the Guess Who's Road Food taken to an extreme. Had this album found its way into the sublime cover to their first effort, Why Dontcha, they might've been taken more seriously by the critical elite of the day. The underground comic art by Joe Petagno is not the beautiful stuff he has produced since, and is not the eye-catching Robert Crumb work that made Big Brother's Cheap Thrills so inviting. Perhaps you can't tell a book by its cover, but that's what marketing departments are for, and the debacle that is the packaging on Whatever Turns You On disguises the on-target music finally starting to jell. "Rock & Roll Machine" is West finding a groove and, yes, Mountain keyboard player Steve Knight could have improved this very good song and brought it to another level. Andy Johns' production is a bit smoother, but he still lacks the finesse of a Denny Cordell or a George Martin. There's none of the sparkle that the Beatles' "Revolution" contained, an element that made hard rock radio-friendly. Jack Bruce, on the other hand, is delivering solid album tracks — the Brown/Bruce/West/Laing composition "Scotch Crotch" could've fit nicely on Disraeli Gears or Wheels of Fire, but not as one of those discs' 45 RPMs. And that's the same problem faced by the Why Dontcha album — great musicians jamming out, but failing to find their way around the maze, failing to write a "Can't Find My Way Home" or a "Tales of Brave Ulysses." "Slow Blues" is a fluid West/Bruce vocal combo with piano and slide guitar — superb fun for these guys, but not expanding beyond what they've given in the past. And while this album may be superior to the first, there's also a complacency, and maybe a feeling by the band that the world owed these journeymen something. For fans, it is a nice addition to the collection and great to listen to for a change of pace. For their careers, it sounds like men with a lot to give treading water. The nature of the record industry — executives wanting three million units out of the box and artists wanting to record on their own terms — wasn't the environment to allow a West, Bruce & Laing five or six more discs to catch a wave. It's too bad, because there was something there. © Joe Viglione, AMG
BIO (Wikipedia)
West, Bruce and Laing were a 1970s United States power trio consisting of Leslie West (guitar and vocals), Corky Laing (drums and vocals) and Jack Bruce (bass and vocals). The trio formed in Chicago during 1972 following the breakup of Mountain, which featured both West and Laing. Bruce had been a member of Cream. They toured extensively and released three albums: Two studio albums of original material Why Dontcha (1972) and Whatever Turns You On (1973), and the live album Live 'n' Kickin' (1974) which featured among other covers a powerful version of the Cream classic song "Politician". They disbanded shortly before the release of Live 'n' Kickin'.