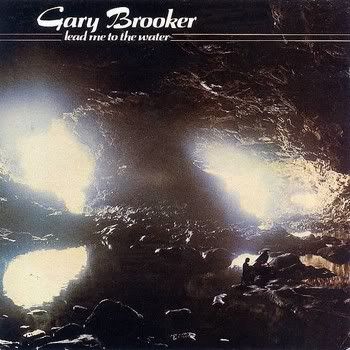 Gary Brooker -
Lead Me To The Water -
1982 -
Mercury

Another overlooked album from the early eighties. This album is as good as anything Procul Harum ever released. Excellent quality R'n'B with a personal touch and a Grade A back-up band, including Phil Collins, Clapton, Albert Lee, George Harrison, and one of the world's greatest drummers, - Henry Spinetti. Check out Procol Harum's great "A Salty Dog" album, and Gary Brooker's hard to find "Within Our House" album.
TRACKS
1. Mineral Man [G.Harrison on slide guitar].
2. Another Way
3. Hang On Rose
4. Home Loving
5. The Cycle
6. Lead Me To The Water
7. The Angler
8. Low Flying Birds
9. Sympathy For The Hard Of Hearing
All tracks composed by Gary Brooker. Album produced by Gary Brooker. Cover photography by Gary Brooker.
MUSICIANS
Phil Collins, Scott Matthews, Henry Spinetti, Steve Holly - Drums
Eric Clapton, Albert Lee, George Harrison, Peter Manu, Tim Renwick - Guitars
Keyboards - Gary Brooker, Phil Aaberg, Chris Stainto - Keyboards
Mel Collins - Saxes
Kent Middleton - Percussion
REVIEWS
Gary Brooker wrote music and lyrics for all the songs on his second album and acted as his own producer, resulting in perhaps his most personal statement as an artist. Unlike No More Fear Of Flying, on which he sometimes just seemed to be the singer on his own record, here Brooker delivered his songs with feeling, enabling him to overcome the star power of his backup musicians, who included Eric Clapton, George Harrison, and Phil Collins. This was partly because Brooker no longer felt the need to separate himself from The Procol Harum sound that was so much a part of his natural musical identity. Brooker's lyrics weren't as philosophical as longtime writing partner Keith Reid's, but they could be just as intriguingly oblique. © William Ruhlmann, All Music Guide
This is a meticulous, carefully-crafted, almost disgustedly professional and disgustedly unexciting... wait, not so fast. That's only the first listen impression. In fact, this is a vast improvement over No More Fear Of Flying, in almost all respects. At the very beginning of the Eighties, Gary spent some time with Eric Clapton, helping him compose and record his material for Another Ticket (easily Eric's best studio effort of the Eighties, before he started slipping into Collins territory); in fact, several of the songs that Brooker wrote for Clapton were rejected at the time, only to make it onto Brooker's own solo album. Friendship is friendship, though, and Clapton returns the favour by playing on selected tracks on here, and he also brings the remains of his band to lend Gary a hand - including ace drummer Henry Spinetti and piano player Chris Stainton. Not to mention friends like George Harrison, who drops by to add some typically Harrisonesque beautiful slide guitar on 'Mineral Man' (how come I can almost spotlessly identify Harrison leadwork any time I hear it? That means the man has a unique style! Hear that, you worthless Harrison bashers?), or Phil Collins, who actually is not responsible for drum machines, as it might seem to some, but, on the contrary, plays some brilliant drum parts. All in all, the conditions are set for a masterpiece; the only thing, maybe, that slightly betrays the album's Eighties' chronology is the added synth touch, but Gary wisely keeps the synth under the control, usually somewhere in the background as a 'supporting' or 'embellishing' element - the songs are almost all piano-based or guitar-based. So how's it working? Well, pretty good for a man who's penned so many songs in his life he simply has nowhere to go but down. Few of the nine songs on here can be called "chef-d'oeuvres", at least, if you're not judging from a devoted Brooker fan position, but I'm pretty sure devoted Brooker fans would praise the album to high heaven, and from their devoted Brooker fan position, they'd probably be right, too. First of all, Gary writes everything himself - everything. That's a first: the first album in his career where all the music and lyrics are exclusively his. Of course, he can't stand competition with Keith Reid, but the good news is, he doesn't even try to ape Keith's style. His lyrics are normal, unpretentious little pictures of everyday life and typical psychological situations - an ode to family life, a rant against 'low flying birds', a lament about a dead person ('Hang On Rose' - I don't know whether it's autobiographic or not), and such-like. So I don't pay much attention to the lyrics, but that's not necessary, the melodies are quite all right as well. If anything, it's the main melodic structure of the album that follows the Procol Harum principle: the musical background and the instrumentation are responsible for the atmosphere, and the vocal melody of the song is responsible for memorability, with unbeatable vocal hooks and everything that goes with 'em. Not that the songs lack diversity, either. No way. The title track, for instance, utilises a poppy reggae beat to good effect. 'Mineral Man' is almost discoish in its essence, but you hardly notice that due to Harrison's slide magic and the funny refrain - 'Well I'm a mineral man, stuck here in the can till I oxidise'. 'Another Way' is dance-poppy, and one of the few tunes that's far more synth-reliant than others, but not in an offending way, and the way it subtly changes tempo makes me value the effort. And the closing track, 'Sympathy For The Hard Of Hearing', is a moving and grandiose epic dedicated to the memory of those who fought and suffered in World War II; its primary distinction is a two-part division, with a slow melancholic part first and a fast rocking part after that, with Phil pounding out the rhythm in such a furious manner he hadn't utilised since at least 'Dancing With The Moonlit Knight'. Unless that happens to be Spinetti on the drums, of course, in which case I've just wasted a few lines of Web space. My favourites, though, would rather include 'The Angler', a very gentle and thought-provoking ballad that begins with a musical quotation from 'Beyond The Pale' and then goes on to synthesize classical instrumentation with a country-rock melody (cute, isn't it? And, indeed, very reminiscent of Procol's style on Exotic Birds And Fruit), and 'Low Flying Birds', a strangely aggressive, dry rocker - note that I, of course, employ 'aggressive' as a very relative term: this ain't no Slayer or even Aerosmith, but it boasts a certain sincere level of irony and energy that many a superficially more 'hard-rockin' artist would lack. Gotta love the powerful jam section in the middle. That said, the very best track on here would have to be 'Home Loving', perhaps the most effective ode to Da Ting ever written. 'Home loving costs you nothing, home loving saves you suffering' - what a banal thought, yet it's deeply true, after all, and that's what all the young punks are gonna return to in the long run, after all. So don't squirm your nose as Gary chants 'I love my Mama, love my Papa, I love my sister and my big bad brother' to this optimistic, cheerful melody, and Eric wails away in the background. Gary's voice never sounded more beautiful. Funny that the song was originally planned for release on Clapton's album - I'd love to hear Eric sing the stuff. All in all, Lead Me To The Water is one of those albums that walk the plank - all they'd need to be a masterpiece would be a few really really outstanding twists of melody, instead, they just prefer to stay on the utmost level of 'normal' and thus tend to evade the public eye, just sit there at the bottom of the pile waiting for a trustworthy guy to come along and shed a tear or two at the inarguably high quality. I suppose some people could call this stuff 'boring' and 'yawn-inducing', but not any more than just about any Procol Harum album. There ain't truly a bad song on here. Now let's have fun with some statistics - what is the percentage of albums released 'round the world that don't have even one bad song on it? Don't come back until you've got an answer. © George Starostin, from Only Solitaire, http://starling.rinet.ru/music/procol.htm#Water
BIO (Wikipedia)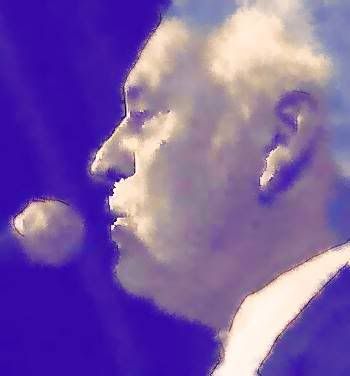 Gary Brooker, MBE, (born 29 May 1945) is an English singer, songwriter, pianist and founder of the rock band Procol Harum. Brooker was appointed Member of the Order of the British Empire in the Queen's Birthday Honours on June 14, 2003 in recognition of his charitable services. Brooker was born Hackney, East London. He grew up in the seaside resort of Southend-on-Sea, Essex, England, as did most of the other founding members of Procol Harum. As a youngster, he learned to play piano, cornet and trombone. Brooker founded The Paramounts in 1962 with his guitarist friend Robin Trower. The band gained respect within the burgeoning 1960s British R 'n' B scene, which yielded The Beatles, The Animals, The Spencer Davis Group, The Rolling Stones, and many others. The Stones, in particular, were Paramounts fans, giving them guest billing on several memorable shows in the early 1960s. In 1966, Brooker founded Procol Harum. "A Whiter Shade of Pale" is the worldwide hit that Procol Harum is best known for, but Brooker's melancholy vocals and emotive, eclectic piano playing were a key part of Procol's musical mix for the entire course of the band's career. In the early years Brooker, Hammond organist Matthew Fisher, and Trower were the guiding musical forces behind the band, but after disparities in style became too much and Fisher and Trower left, Brooker was the clear leader until the band broke up in 1977. Brooker was content to lay low and became the proprietor of the Parrot Inn in Surrey. In 1979, Brooker joined friend and neighbour Eric Clapton's band. With Brooker in the lineup, they released Just One Night, a live recording from Japan and the studio album Another Ticket. Clapton fired the entire band in 1981, but he and Brooker have remained good friends since. Brooker has joined Clapton for several one-off benefit gigs over the years. They still remain neighbours in Ewhurst Surrey UK. Brooker sang lead vocal on the Alan Parsons song "Limelight", on their 1985 album, Stereotomy. A new incarnation of Procol Harum, led by Brooker, and including Fisher for most of the tours from 1991 through 2003, has continued touring the world, celebrating its 40th anniversary in July 2007 with two days of musical revels at St John's Smith Square in London, UK. Brooker also toured with Ringo Starr's All-Starr Band in 1997 and 1999, and he was also a member of Bill Wyman's Rhythm Kings for several years, appearing on three of their albums and touring with the band. In November 2002 he was among musicians and singers participating in the George Harrison tribute concert, Concert for George, at which he took vocals on their version of "Old Brown Shoe". Brooker contributed to Harrison's albums All Things Must Pass, Gone Troppo and Somewhere in England. In April 2005, as the Gary Brooker Ensemble, he played a sell-out charity concert at Guildford Cathedral in aid of the Tsunami appeal, playing a mixture of Procol Harum and solo songs and powerful arrangements of classical and spiritual songs. His guests and supporting artists included Andy Fairweather Low and Paul Jones (ex-Manfred Mann).
MORE ABOUT THE ARTIST
Singer/songwriter/keyboardist Gary Brooker is best known as the leader of Procol Harum. Brooker's first group was the Paramounts, all of whose members turned up in the later group. Procol Harum launched in 1967 with their biggest hit, the U.K. number one/U.S. Top Ten "A Whiter Shade of Pale," which featured Brooker singing the lyrics of Keith Reid over an adaptation of a Bach cantata. Procol Harum went on to release ten albums through 1977, then broke up. Brooker launched a solo career with No More Fear of Flying in 1979, followed by Lead Me to the Water (1982), and Echoes in the Night (1985). He also played in Eric Clapton's backup band. Procol Harum reformed for a new album, The Prodigal Stranger, in 1991. © William Ruhlmann, All Music Guide