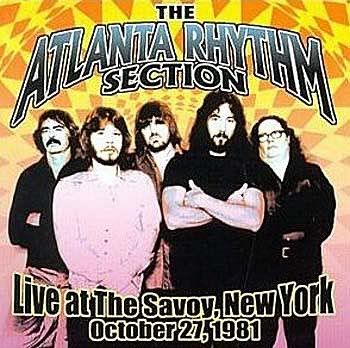 Atlanta Rhythm Section
-
Live at the Savoy, New York October 27, 1981
-
2000
-
Phoenix Gems
Although the album wasn't released until 2000, it dates from 1981, when the ARS were on tour after releasing the "Quinella" album. It was recorded at The Savoy in N. Y. C , so the Southern band despite playing in front of an urban "Yankee" audience, received warm support from the appreciative crowd. This is a good testament to the band's widespread appeal. It's a nice sampling of the band's work, but only an introduction to a lot of great music to be found on their many albums. The recording quality of this live album is only fair, and this post is only a 128 bit rate, so don't expect too much in sound quality. Still, the energy of the band's performance and the collection of great songs makes this a good album.
A.O.O.F.C
would appreciate info on better audio versions of this album. Buy the band's great "Third Annual Pipe Dream" album for a better idea of what their music is all about.
TRACKS / COMPOSERS
"Champagne Jam" (Buie, Cobb, Nix) – 5:17
"I'm Not Gonna Let It Bother Me Tonight" (Buie, Daughtry, Nix) – 5:55
"Homesick" (Buie, Cobb) – 4:54
"Alien" (Buie, Lewis, McRay) – 5:51
"Large Time" (Bailey, Buie, Nix) – 3:05
"Spooky" (Buie, Cobb, Middlebrooks, Shapiro) – 5:13
"Higher" (Buie, Hammond) – 5:09
"Imaginary Lover" (Buie, Daughtry, Nix) – 3:39
"So into You" (Buie, Daughtry, Nix) – 6:03
"Long Tall Sally" (Blackwell, Johnson, Little Richard) – 3:08
BAND
Ronnie Hammond - Vocals, Background Vocals
Barry Bailey - Guitar
Dean Daughtry - Keyboards
J.R. Cobb - Guitar, Background Vocals
Paul Goddard - Bass
Roy Yeager - Drums
REVIEWS
This CD represents a great live recording of this classic Southern boogie band. ARS always showed a level of sophistication and musical taste above and beyond the typical good ole boy bands, and the material here shows that off well. The range of music goes from balladic cuts to bluesy/jazzy jams and classic Southern rock all the way to mainstream AOR performances. Of course, the highlights of the disc are the band's most well-known numbers, "Spooky" and "So Into You." Their cover of "Long Tall Sally" is a great album closer. © Gary Hill, All Music Guide
The Atlanta Rhythm Section: Live at the Savoy, New York, October 27, 1981 showcases the Southern rock stylists at the peak of their impressive 30-year career. The disc contains 10 excellent tracks and features the original ARS lineup of Barry Bailey (guitar), Ronnie Hammond (vocals), Paul Goddard (bass), Robert Nix (drums), J.R. Cobb (guitar) and Dean Daughtry (keyboards). If there is any skepticism as to the quality of the recording, it is quickly washed away as their opener "Champagne Jam" comes through with surprising clarity, with every instrument perfectly placed in the mix. While some bands tend to slice-and-dice their material for live performances, ARS doesn't stray very far from the original album versions. But like their Southern rock contemporaries, The Allman Brothers, they always leave room for semi-extended improvisation. Guitarist Barry Bailey happily accommodates, filling the space with biting, but tasteful blues/rock solos seasoned with his signature pinched harmonics. Frontman Ronnie Hammond certainly brings his A-game to the Savoy with outstanding vocal performances on every track, not to mention his knack for constantly keeping the crowd involved with his wisecracking banter. But for ARS it's all about the music. The band meticulously reproduces their biggest hits with effortless virtuosity. Songs like "Imaginary Lover," "I'm Not Going to Let It Bother Me Tonight," "So Into You," and the excellent cover of the Classics IV smash "Spooky" are just a few reasons that the band maintained a place atop the charts from 1977-81. The disc also features the Lynyrd Skynyrd-inspired boogie romp "Large Time," as well "Alien," "Homesick," "Higher" and a rather humorous take on Little Richard's "Long Tall Sally." Live at the Savoy serves as a wonderful time capsule that testifies to the excellence of the Atlanta Rhythm Section. This is one disc that shouldn't be overlooked by fans of the boys from Doraville. Not to mention a giant thumbs up for Phoenix Gems for bringing this and other classic performances out of the vaults and into our lives. © Scott Hudson, © 1999-2008 PopMatters.com. All rights reserved.
BIO (Wikipedia)

Atlanta Rhythm Section, sometimes abbreviated ARS, is an American southern rock band. The band unofficially formed in 1970 as former members of the Candymen and the Classics IV became the session band for the newly opened Studio One in Doraville, Georgia, near Atlanta. After playing on other artists' recordings, they decided to become a true band in their own right. The members of the original band were Rodney Justo (singer), Barry Bailey (guitarist), Paul Goddard (bassist), Dean Daughtry (keyboardist) and Robert Nix(drummer) J.R. Cobb joined the band in early 1972. Justo left the band after the first album and was replaced by Ronnie Hammond. Buddy Buie, the band's manager and producer, is listed first on almost all of their songwriting credits of the band's songs. Noted Christian Music artist and southern rocker Mylon LeFevre appeared on the "Jesus Hearted People", from the band's album Third Annual Pipe Dream. Before they became founding members of Atlanta Rhythm Section, members of Mylons backup band included Barry Bailey, Paul Goddard and Dean Daughtry. While ARS didn't reach the commercial success of Lynyrd Skynyrd or The Allman Brothers, the group had a strong following in the South and charted a number of major & minor hits such as "Doraville", "I'm Not Gonna Let It Bother Me Tonight", "Champagne Jam", "So Into You", "Imaginary Lover", "Angel", "Do It Or Die", "Neon Nites", and a remake of a Classics IV hit, "Spooky", plus a number of fan favorites such as "Boogie Smoogie", "Jukin'" and "Georgia Rhythm". The band also influenced a number of rock and country artists, notably Travis Tritt, who recorded a cover of the ARS songs, "Back Up Against the Wall" and "Homesick". The group Shudder to Think covered "So Into You". The bandstill tours with some of its original members, playing mostly festivals and other nostalgia-themed concerts.