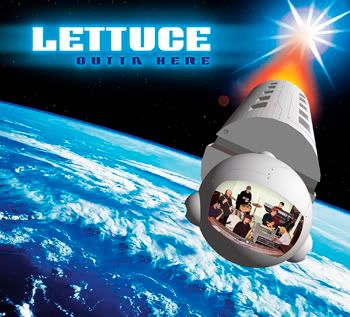 Lettuce -
Outta Here -
2002 -
Velour Recordings

Lettuce were formed during a summer program at the Berklee School of Music. At the time, the band's members were only 15, but they began taking over clubs all over Boston, storming the stage to play hard funk whenever they could. Since that time, Lettuce's members have gone on to play prominent roles in Soulive, the John Scofield Band, Average White Band, and Rustic Overtones. The album includes guest appearances by John Scofield, Neal Evans of Soulive, and Fred Wesley of the JBs. This is a very good funk/acid jazz album, and very enjoyable. You will really "get into the groove" with "Outta Here." Check out their 2004 "Live in Tokyo! album for more great funk grooves.
TRACKS / COMPOSERS
1.Outta Here - A.Deitch
2 The Dump - Soul Vibrations
3 Squadlive - A.Smirnoff/C.Haynes/M.Kelly
4 Back In Effect - Lettuce
5 Twisted - Lettuce/Thomassina Smith
6 Superfred - Lettuce
7 Reunion - Lettuce
8 The Flu - A.Smirnoff/E.Coomes
9 Nyack - A.Deitch/E.Krasno
10 Hang Up Your Hangups - H.Hancock
11 Nyack (Live)- A.Deitch/E.Krasno
N.B: There is a short hidden track (unnamed instrumental) 12.38 into Track 11
BAND

Adam Deitch: Drums
Adam Smirnoff: Guitar
Eric Krasno: Guitar
Erick Coomes: Bass
Jeff Bhasker: Keyboards
Ryan Zoidis: Tenor Sax
Sam Kinninger: Alto Sax
GUESTS

John Scofield: Guitar on #4 and #8
Fred Wesley: Trombone on #1 and #6
Neal Evans: Hammond B-3 on #1
Tonni Smith: Vocals on #5
Brett Sroka: Trombone on #11
Atticus Cole: Percussion on #11
ALBUM INFO.
Executive Producers: Sean Hoess & Jeff Krasno
Produced by Adam Smirrnoff & Lettuce
Recorded and mixed by Ari Raskin except:
"Squadlive" mixed by Seth Waldmann
"Nyack" mixed by Hiro Sanada
"Nyack (live)" recorded by Peter Costello
REVIEW

With their new Velour Recordings release Outta Here Lettuce comes raw: no fluff nothing smooth just hard funk. The record combines the grit of the Meters the harmonic textures of Herbie Hancock and the hyper-tempo funk of live James Brown. Back in `92 the guys met at the Berklee summer program and were drawn together by their love of classic funk. Only 15 years old they began taking over clubs and jam sessions in Boston storming the stage whenever they could. Underage and with no gear everywhere they went it was Let us borrow your drum kit and simply Let us play. And Lettuce (Let us) was born. Since that summer the guys have all had success -- Eric Sam play with Soulive Adam drums for AWB and the John Scofield Band Erick produces for Sunshine Anderson Ryan was a founding member of Rustic Overtones -- but theyve all waited for this long-overdue reunion. On the new record Lettuce is joined by some of their heroes. Guitar great John Scofield rips on Flu the Coop and Back in Effect to which Neal Evans of Soulive lends his B-3 chops. Trombone legend Fred Wesley lends some funk to the James Brown-inspired Superfred and the title track Outta Here. Despite the records title Lettuce is anything but outta here. The band is focused on their upcoming tour of the U.S. and Japan. Its been ten years in the making but Lettuces bid to re-land the funk mothership on planet Earth has begun. © 2006-2008. unlockaustin.com. All Rights Reserved
ABOUT THE BAND / ALBUM

Lettuce is the group that began the careers of several noted "jam band" musicians: Eric Krasno of Soulive, Adam Deitch of the John Scofield Band, Adam Smirnoff of the Squad, Jeff Bhayshk of Kudu, Ryan Zoidis of Rustic Overtones, and Eric Coomes, now a Los Angeles-based producer. Outta Here is essentially a reunion project featuring these players and several special guests, including trombonist Fred Wesley, Soulive organist Neal Evans, and John Scofield himself. Toni Smith also contributes an alluring R&B vocal on "Twisted." Although the album is overly reliant on funk clichés, there are some captivating moments, mostly toward the end of the disc. The groove on "Nyack" is something else -- so good that a bonus live version closes out the disc, giving the listener a good sense of what the band does on stage (hint: it cooks). Keep the disc playing and you'll hear a 45-second snippet of horns and drums getting down as well. © David R. Adler © 2007 Microsoft Corporation. All rights reserved