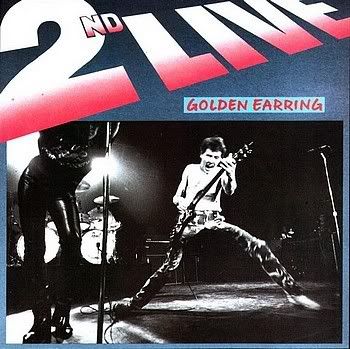 Golden Earring -
2nd Live -
1981 -
Polydor
Good live album from the seemingly immortal Golden Earring who originally formed in 1961 in The Netherlands, and are still hard rockin' around the world. This album was recorded on their "Prisoner Of The Night" tour in Roosendaal, Holland in 1981. Sound quality could be better, but if you are an Earring fan, this won't spoil your enjoyment. Arguably, not as strong as their 1977 "Live" album, and "Radar Love" is not on the album, but it still has the great vibrancy of one of the world's greatest live bands. There are terrific versions of "Save Your Skin," "Sleepwalkin'", and "Slow Down." Buy their brilliant "Bloody Buccaneers" album, and there is info on their "Continuing Story Of Radar Love" album @
GE/CSORL
TRACKS

"Don't Stop the Show"
"My Town"
"No For an Answer"
"Heartbeat"
"Save Your Skin"
"I Don't Wanna Be Nobody Else"
"Long Blond Animal"
"Prisoner of the Night"
"Weekend Love"
"Sleepwalkin'"
"I Do Rock N Roll"
"Slow Down"
"Buddy Joe"
"Back Home"
Composers listed on CD back cover jpeg
BAND

Rinus Gerritsen - bass, keyboard
Barry Hay - flute, vocals
George Kooymans - guitar, vocals
Cesar Zuiderwijk - drums
ABOUT THE BAND

Best known in the U.S. for its hard rock material, Golden Earring has been the most popular homegrown band in the Netherlands since the mid-'60s, when they were primarily a pop group. The group was founded by guitarist/vocalist George Kooymans and bassist/vocalist Rinus Gerritsen, then schoolboys, in 1961; several years and personnel shifts later, they had their first Dutch hit, "Please Go," and in 1968 hit the top of the Dutch charts for the first of many times with "Dong-Dong-Di-Ki-Di-Gi-Dong," a song that broadened their European appeal. By 1969, the rest of the lineup had stabilized, with lead vocalist and multi-instrumentalist Barry Hay and drummer Cesar Zuiderwijk. They experimented with their style for several years before settling on straightforward hard rock initially much like that of the Who, who invited them to open their 1972 European tour. Golden Earring signed to the Who's Track label, which released a compilation of Dutch singles, Hearing Earring, helping the group break through in England. 1974's Moontan LP spawned the single "Radar Love," a Dutch number one, U.K. Top Ten, and U.S. number thirteen hit. The group toured America opening for the Doobie Brothers and Santana, but the lack of a follow-up ensured that their popularity remained short-lived in America, even though they remained a top draw in Europe over the rest of the 1970s. 1982 saw a brief American comeback with the album Cut and the Top Ten single "Twilight Zone," but as before, Golden Earring could not sustain its momentum and faded away in the U.S. marketplace. All of Golden Earring's basic lineup has recorded as solo artists in Europe. "Radar Love" enjoyed a second round of popularity when pop-metal band White Lion covered the song in 1989. © Steve Huey, All Music Guide
BIO (Wikipedia)

Golden Earring is a Dutch rock band, founded in 1961 in The Hague as the Golden Earrings (the 's' was dropped in 1969). They had international chart success with the songs Eight Miles High in 1969, Radar Love in 1973, Twilight Zone in 1982, and When The Lady Smiles in 1984. In their home country, they had over 40 hits and made over 30 gold and platinum albums. Current members of Golden Earring are Barry Hay (vocals, guitar, flute and saxophone, member since 1968), George Kooymans (vocals and guitar, founder of band), Rinus Gerritsen (bass and keyboard, founding member), and Cesar Zuiderwijk (drums and percussion, member since 1970). Golden Earring have sold millions of albums worldwide, and are perhaps the oldest rock band in the world that is still performing. March 13th and 14th 2009 Golden Earring celebrates its comeback in the UK with concerts in London and Ipswich after the upcoming release of their latest studio-album. Golden Earrings was formed in 1961 in The Hague by 13-year-old George Kooymans and his 15-year-old neighbour, Rinus Gerritsen. Originally called The Tornados, the name was changed to Golden Earrings when they discovered that The Tornados was already in use by another group. The name Golden Earrings was taken from a song, originally sung by Marlene Dietrich in 1947 and a hit for Peggy Lee in 1948, with which they opened their concerts. Initially a pop rock band with Frans Krassenburg as lead singer, Golden Earrings had their first chart success with their debut single Please Go, recorded in 1965. It reached number 9 on the music charts in The Netherlands. Unsatisfied with Dutch recording studios, the band's manager and co-discoverer Fred Haayen arranged for the next single to be recorded at the Pye Records studios in London. The record cut at Pye, That Day, reached number two on the Dutch charts, prevented from reaching number one by The Beatles' Michelle. In 1968, the band earned their first number one hit in the Netherlands with the pop song Dong Dong Diki Diki Dong. This was followed by a successful psychedelic album Eight Miles High, which featured an eighteen-minute version of the title track, itself a cover of the 1966 hit song by The Byrds. The live version, which could last 45 minutes, was considered by some to be a highlight in their first and second American tours, in the middle of the hippie and flower power era in the same year Woodstock was organised:1969. Golden Earring embarked on their first major US tour in 1969 - 1970, and were among the first European bands to do so. Due to American influences, their music evolved towards hard rock, and they performed along with Led Zeppelin, Eric Clapton and Jimi Hendrix. Between 1969 and 1984, Golden Earring completed thirteen US tours. During this period, they performed as the opening act for Santana, The Doobie Brothers, Rush and .38 Special. In the early seventies, when Radar Love was a hit, they had KISS and Aerosmith as their opening act. They enjoyed a brief period of US stardom but were unable to secure further chart success until 1982's Twilight Zone. After a disappointing reaction in the US to When the Lady Smiles in 1984, Golden Earring turned their focus towards Europe where they continue to attract standing-room-only crowds. Golden Earring have recorded over 30 gold and platinum albums and singles. A number of artists like U2, White Lion, R.E.M. and Bryan Adams have covered their international hit and rock classic Radar Love. In total, over 200 covers exist of this song. In 1991, Golden Earring scored another hit in the Netherlands with "Going To The Run", a rock-ballad about a Hell's Angels motorclub member who was a friend of the band and died in a crash. The 'run' is how the Angels call their meetings, when they go driving their bikes together somewhere. The Russian rock band Aria made a successful cover of "Going To The Run". From 1992 to 2004, the band released three acoustic live unplugged albums, which became an instant success. Since 1992, they have performed acoustic unplugged theater-shows which continue to this date and usually sell out. The acoustic albums feature unplugged versions of famous hits of the band. Known for their powerful live performances, Golden Earring perform over 200 concerts a year, mainly in their home country of the Netherlands and occasionally in Belgium, Germany and the UK. These energetic live performances have been recorded on several live albums - Live, recorded at London's Rainbow Theater in 1977; 2nd Live, 1981; Something Heavy Going Down, 1984 (also released on DVD as Live from the Twilight Zone); and Last Blast of the Century, a live recording of their last concert of the 20th century (available on both CD and DVD). Furthermore, there are the acoustic live albums The Naked Truth (1992), Naked II (1997) and Naked III (2005). Their latest live album, Live from Ahoy 2006, is a DVD with bonus CD. Golden Earring have not toured in North America and other continents since 1984, however they still maintain a core group of loyal fans. They have never toured Asia, South America or Australia, although their music has always been released worldwide. It is still played on US, Canadian, British, Australian and other radio stations, and receives many awards. Their songs continue to top-rank in music polls, and are covered by many colleagues who are inspired by them. A new American and European tour is rumoured for 2009, although nothing has been announced officially yet. Currently, the band is working on their latest studio release, their first studio album since the 2003 album Millbrook USA. This album was recorded in Millbrook, New York state, at the studio of fellow musician Frank Carillo, indicating that the band has not lost touch with the US over the years. The new album is due for release at the end of 2008-early 2009. To promote the release of the album, Golden Earring will do two gigs in the UK fot the first ime in thirty years. One concert on the 14th of March 2009 at The Shepherd's Bush Empire in London and one show at Ipswich Regent theatre on March 13th 2009. Later in 2009, the band will possibly cross the Atlantic again and do a short promotional tour in the USA. Golden Earring celebrated their 47th anniversary in 2008 and have been performing almost continuously since their foundation in 1961. They have had the same unchanged line-up of the same four musicians and friends since 1970, augmented time to time with a fifth member. Along with the Rolling Stones, the Beach Boys, and Germany's The Lords, Golden Earring are one of the oldest rock bands that are still performing, and Golden Earring has arguably the most stable lineup of these veteran bands. For now, Golden Earring's gigs are scheduled on a "one month on - one month off" basis. The reason for this is mainly due to lead singer Barry Hay's relocation to the Dutch Antilles island of Curacao in the Caribbean, where he put up his new residence and lives during the band's time off. Golden Earring was one of the first major European rock bands to tour the United States, in 1969. They were at first inspired by The Beatles and other typical sixties pop groups like The Kinks. In 1966, Golden Earring performed together with The Kinks (famous for 'Lola') during a legendary concert in The Hague, Holland. On their first USA tour bands like Led Zeppelin and The Doors inspired Golden Earring's music and professionality. They saw that the Americans had very good soundsystems and electrical equipment. Later they were influenced by Pink Floyd, Santana, The Who when they performed together during their many American tours. In total, the band has been in over 40 US states, including Hawaii. Golden Earring has utilized many styles of rock and pop music; and in many of the over 400 songs they have recorded, you can hear influences of hard rock, rap, disco, folk, country, gospel and even Latin. In the past, their music was more psychedelic and progressive; this you can hear on albums like 'Moontan', 'Wall of Dolls' and 'Eight Miles High'. Golden Earring always seek ways to experiment with new styles and variations in the music they make. The band has always used the newest fashion in gear and equipment and were also experimenting with several PA systems, like quadrophonia, which would make Barry's flute sing trough the whole venue from all four directions where the speakers were positioned. Usually they are their own producers, backed up by other professionals. The band has developed a strong influence in the studio, because it is very important to 'catch' the typical Earring-sound in the recording-studio. This is why the band often plays together 'live' in the studio, so the original live sound is approached in the best way possible, instead of recording every vocal and instrument separately and putting them together in the final mix. Interestingly though, some of the best albums were not produced by the band themselves alone, but in association with 'fresh' producers with a cutting edge who have not been familiar with the typical Earring style and thus have been able to deliver groundbreaking performances.