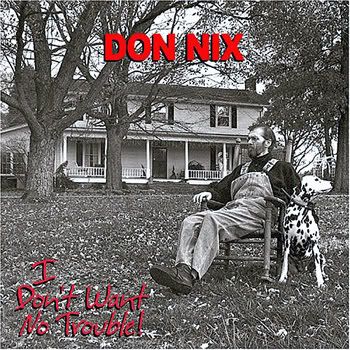 Don Nix
-
I Don't Want No Trouble -
2006
-
Section Eight Prod
A terrific blues rock boogie album with the Memphis touch from the little known songwriter, musician, vocalist, and producer, Don Nix. He has worked with some of the greats of rock, including Albert King, Jeff Beck, John Mayall, George Harrison, Eric Clapton and Isaac Hayes. Check out his great "Skyrider" album on which he contributes vocals, guitar and sax.
TRACKS
1 Hole in the Sky (3:06)
2 One Step Ahead of the Blues (3:09)
3 Hurt Somebody (3:58)
4 Memphis Man (3:02)
5 Smack Dab in the Middle (2:43)
6 Let the Wind Blwo (3:33)
7 Just About Had It (2:41)
8 Subject to Change (2:42)
9 Crazy from the Heat (2:56)
10 Hungry (3:01)
11 Addicted to You (3:44)
12 Getting on Board (3:57)
All songs composed by Don Nix
MUSICIANS
Larry Raspberry Bass, Keyboards
Russell Wheeler Keyboards
Greg Redding Keyboards
Jay Spell Fiddle, Keyboards
Jim Spake Saxophone
Ryan Cobb Harmonica
Greg "Fingers" Taylor Harmonica
Joel Williams Drums
Dave Cochran Bass
Dave Smith Bass
Marc Franklin Trumpet
Susan Marshall Vocals (Background)
Stacie Plunk Vocals (Background)
Jackie Johnson Vocals (Background)
Don Nix Vocals
REVIEW
Straight ahead Southern Fried Rockin' Roll Blues by the man who helped create it. Don Nix, is widely regarded as one of the founders of the Memphis Sound. Growing up in Memphis, he acquired a broad taste in music. The Mar-keys, "a Messick high school band" formed by Messick high school students, Steve Cropper, Don Nix, Donald "Duck" Dunn, and Packey Axton. They made a record intended for local radio--Last Night. It became an internaional hit in 1961, establishing the foundation of STAX RECORDS. The group had follow-up hits (The Morning After and Popeye Stroll). After years of touring with the Mar-keys, Nix found his nitch creating and directing music production behind the scenes. Some of his productions include, Freddie King, Albert King, Jeff Beck, John Mayall, Delaney & Bonnie, Bruce Channell, Joe Cocker and Leon Russell. In 1971, George Harrison asked Don Nix to put together a background soul choir for,"The Concert For Bangladesh." After that, Nix started his own recording career with Shelter Records. Since then, he has released 10 albums which continue to receive world-wide acclaim. This latest release is considered by all to be his best yet. cdbaby.com
ALBUM INFO / BIO
Songwriter Don Nix's latest CD, I Don't Want No Trouble, should attract a wide audience of music fans. Nix, an obscure music hero, helped create 'The Memphis Sound' by playing with Booker T & The MGs and other STAX musicians like Carla Thomas and William Bell. In one way or another, Nix has worked with The Muscle Shoals Rhythm Band, The Staple Singers, Albert King, Furry Lewis, Lonnie Mack, George Harrison, Charlie Musselwhite, Little Milton, Leon Russell, Freddy King, Eric Clapton, Isaac Hayes and Delaney & Bonnie. Nix wrote all the songs on I Don't Want No Trouble, his first studio release in 12 years. These 12 tunes concoct a low-to-the-ground tone. Nix augments a solid beat, bar-room piano, thick bass, gritty slide guitar and Memphis Horns into one strong brew. Nix wastes no notes on this collection. Nix knows the face of decadence, but now he plays the role of the ornery storyteller. Most of these songs could pass for STAX b-sides, and shames most contemporary rock bands who pretend they're authentic. Nix, like most great songwriters, operated as a student of American music; he learned all the styles before he began to play his own songs. On "Memphis Man" Nix sings: "Soaked in rock and roll/Dipped in country music/Divided by the blues" indicating he fishes where all the musical streams converge. Nix's mean slide guitar echoes through every song. "Subject To Change" sounds like some lost Allman Brothers song from 1971, while "Getting On Board" tells a tale of a wandering spirit whose ship finally came in. Solid albums like this by an old veteren should inspire music fans to go back and study the moves which got Nix to this point. You didn't get to hang around STAX sessions unless you really had something to say, or play...and those musicians left Nix a key to the office. I Don't Want No Trouble proves why Don Nix played with so many influential musicians. James Calemine, swampland.com
BIO (Wikiprdia)
Don Nix (born September 27, 1941, Memphis, TN) is a songwriter, composer, arranger, musician, and author. Although cited as being "obscure", he is a key figure in several genres of Southern Rock and Soul, R&B, and the Blues. He was instrumental in the creation of the trademark "Memphis soul" and Stax Records. A native of Memphis, Tennessee, Nix began his career playing saxophone for The Mar-Keys, which also featured Steve Cropper, Duck Dunn and others. The hit instrumental single Last Night (composed by the band as a whole) was the first of many successful hits to Nix's credit. Without Nix, The Mar-Keys later evolved into Booker T & The MG's. As a producer, Nix worked with other artists and producers such as Leon Russell of Shelter Records, Gary Lewis and the Playboys in Dick Clark's Caravan of Stars, The Beatles' George Harrison and John Mayall and the Bluesbreakers. One notable achievement was the collaboration with Harrison, Russell and many others in the production of The Concert for Bangladesh - a star-studded benefit concert at Madison Square Garden in 1971. Throughout his career, Nix worked behind the scenes as producer, arranger, musician and many other roles for artists such as Lonnie Mack, Furry Lewis, Freddy King, Albert King, Delaney, Bonnie & Friends, Isaac Hayes, The Staple Singers, Jeff Beck, Brian May, Eric Clapton and many others. He wrote and produced many solo albums and with groups Don Nix and the Alabama State Troopers, John Mayall and the Bluesbreakers, the Muscle Shoals Rhythm Band and Larry Rasberry and the Highsteppers. The song "Goin' Down" became a blues standard and was covered by Deep Purple, Marc Ford, Pearl Jam, Gov't Mule and many others.