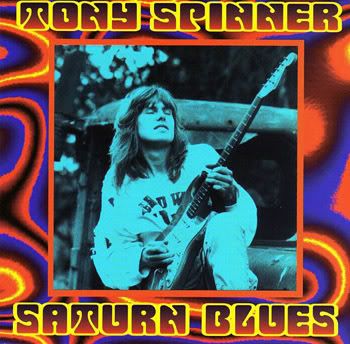 Tony Spinner
-
Saturn Blues
-
1993
-
Roadrunner Records
(The Netherlands)
[Also released on Blues Bureau International: in 1993]

A Grade A blues / hard rock album from a guy with an amazing voice and an incredible guitar technique. Tony's early influences include Ray Charles, Jimi Hendrix, and Muddy Waters, but you can also hear definite SRV and Rory Gallagher influences here as well. Tomy has played with Toto, and has toured as guitarist and background vocalist with the great Pat Travers Band. He has released several albums of his own on the Blues Bureau International Label. His other work includes a brilliant cover of "Up From the Skies" on the 2003 "Voodoo Crossing" Jimi Hendrix tribute CD, and has also recorded for tribute albums to Stevie Ray Vaughan and Albert King. Buy his great "Crosstown Sessions" album, and give this great artist the credit he richly deserves. "Saturn Blues" is a terrific album, and HR by
A.O.O.F.C.

TRACKS

1 Atomic Blast (4:51)
2 She's My Everything (4:34)
3 Freedom (3:53)
4 Hey Zombie (4:53)
5 Angeline (4:59)
6 Make It Throught (5:33)
7 Delilah (6:44)
8 World Fall Down (5:39)
9 Hello California (7:15)
10 Drivin' All Night (4:37)
All songs composed by Tony Spinner
Recorded and mixed at Prairie Sun Studios, Cotati, CA.
BAND

Bass - John Onder
Drums - Aynsley Dunbar
Vocals, Guitar - Tony Spinner
Background Vocals - Mike Onesko
Backing Vocals - Mike Varney (Track 6)
REVIEWS

Arkansas guitar slinger Tony Spinner's album Saturn Blues shows off his outstanding songwriting abilities as well as his stylish guitar prowess. Tony's influences shine through this inspired debut reminiscent of Jimi Hendrix and Rory Gallagher. Don't miss this one! © 2004 - 2008 Tony Spinner, www.tonyspinner.com/discography/tony-spinner/saturn-blues
Tony Spinner is a bluesman once removed – he plays hard-driving rock influenced by blues, the kind of music once practiced by such '70s bands as Uriah Heap, Wishbone Ash and Humble Pie (and still practiced by Aerosmith). His guitar features lots of feedback and effects, and the whole '70s flashback feeling is reinforced by the psychedelic packaging of the album. Spinner is a hell of a guitarist; he's a master of his numerous effects boxes, not a slave to them, and with just his one instrument can create a wall of sound that grips the listener. Good stuff, sure, but it's kind of a stretch to market it as blues. © Jim Trageser, 2008. All rights reserved. [This review first appeared in the Fall 1994 edition of Blues Revue magazine.] www.trageser.com/music/album-spinner.php
BIO

"Don't try to impress with fancy guitar licks, but always play from the heart!" - Tony Spinner, musician, guitarist and vocalist is not only a blues player through and through who lives and breaths blues music, he is also blessed with an incredible voice as well as an amazing guitar technique. That's what makes him such an exciting performer to see live! Let's dig into the career of this unbelievable talented guitarist to find out what Tony is all about! Tony was born in Cape Girardeau, MO on June 9, 1963. His family wasn't musical as far as playing instruments, but they listened to music a lot especially Marty Robbins, Elvis Presley, Tom Jones and a wide variety of others. Tony always got excited when a tv show would have a musical guest. He loved to watch shows like Sonny and Cher, Dean Martin and Glen Campbell. Tony always liked music as far back as he can remember: "I started off liking '50's rock-n-roll celebrities such as Little Richard and Chuck Berry who I still like today and I also remember liking songs that told stories like "Bad, Bad Leroy Brown" by Jim Groce and "Uneasy Rider" by the Charlie Daniels Band." At the age of 8 he took guitar and piano lessons for a short time but he really wanted to play the saxophone, because it always was the lead solo instrument in most of the '50's music that he listened to at the time. At age 14 Tony really got serious with guitar after watching the movie "Woodstock" and seeing Alvin Lee with 10 Years After and Jimi Hendrix. Tony tried out for a jazz band but it only lasted a day and a half on guitar: "On the second day of rehearsal the band leader figured out that I couldn't read music and sent me on my way. He said I couldn't play in the jazz band without learning to read music. I still can't read and I still don't play jazz!" During his highschool period Tony and his buddies always had a band. They changed the name of the band almost every week, because they couldn't agree on a name! They played hard rock like Van Halen, Ted Nugent and Queen. The musician that influenced him most was Chuck Berry: "His music still gets me excited when I listen to it. He really wrote some great lyrics. Jimi Hendrix was very influential because he was so expressive with his music. Stevie Ray Vaughan got me out of hard rock and back into the blues and boogie that was my first love and of course Rory Gallagher was a big influence, because he taught me to play from the heart and not to think too much with your head. Don't worry about trying to impress people with fancy guitar licks...but play from your heart!" © 2004 - 2008 Tony Spinner, www.tonyspinner.com/biography-mark-fender.php
MORE ABOUT TONY SPINNER
Tony is currently a touring member of Toto since 1999, singing background vocals (high harmonies) plus electric and acoustic guitar. Toto will be touring Europe extensively throughout 2003. He appears on the Toto record "Livefields," recorded during the Toto Mindfields 2000 tour in Europe and Japan. Since 1998, he has also performed on two records and toured with Paul Gilbert, formerly of Mr. Big, playing electric and acoustic guitar and singing background vocals. Prior to 1998, Tony toured as guitarist and background vocalist for the Pat Travers Band. He also has three records of his own on the Blues Bureau International Label. Tony's first record, "Saturn Blues" was recorded in 1993, "My '64" in 1995, and "Crosstown Sessions" in 1996. He was also chosen to record on the label's tribute albums to Stevie Ray Vaughan and Albert King, "Hat's Off to Stevie Ray," and "Fit for A. King." Tony is currently writing and recording songs for a fourth album, and also recently recorded two songs for Vanguard Records which is a tribute album to Jimi Hendrix. He also plays in the United States with his own band, "The Tony Spinner Band" when he is not touring with Toto.