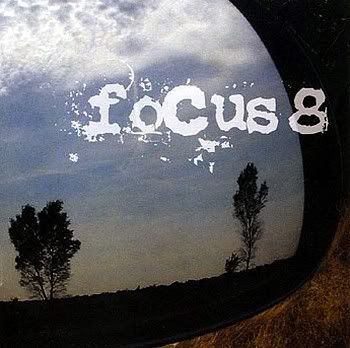 Focus
-
Focus 8
-
2002
-
Musea
Great album from a revamped Focus. On this recording, Thijs Van Leer is the only original Focus member, but he somehow manages to recreate the great seventies Focus sound on many of the tracks. This album is HR by
A.O.O.F.C.
Listen to the majestic Focus "Live at the Rainbow" album, and there is info on Jan Akkerman's 1977 self titled album @
JAKKERERMAN
TRACKS / COMPOSERS
1. Rock & Rio 3:27 (Van Leer)
2. Tamara's Move 5:17 (Dumee)
3. Fretless Love 4:15 (Van Leer)
4. Hurkey Turkey 4:15 (Van Leer)
5. De Ti O De Mi 6:30 (Jacobs)
6. Focus 8 6:19 (Van Leer)
7. Sto Ces Raditi Ostatac Zivota 5:26 (Dumee)
8. Neurotika 3:47 (Van Leer)
9. Brother 5:39 (Van Leer)
10. Blizu Tebe 6:38 (Dumee)
11. Flower Shower (Thijs Van Leer, Bert Smaak, Bobby Jacobs) - bonus track 5:41
MUSICIANS

Thijs Van Leer -organ; flute; vocals & vocalizes
Jan Dumee - electric & acoustic guitars; vocalizes
Bobby Jacobs - basses; synthesizers
Bert Smaak - drums
Ruben Van Roon - drums (on track 8)
REVIEWS

PREAMBLE -
Certainly, like all of you, I salute Thijs Van Leer (welcome back to the Prog scene!), the founder and permanent leader of Focus, and thank him for reviving this legendary name by joining one of Focus's cover bands. Now however, let's see what the music of Focus MK-VIII is about.
THE ALBUM -
I don't know why the titles of a few tracks of this album are written in one of the East European Slavonic languages (and not even in Dutch!), but I can try to translate them into English. The meaning of De Ti O De Mi (5) should be the same as that of "I'm there where you are". Sto Ces Raditi Ostatac Zivota (7) sounds most likely equal to "Do everything to survive your life". Finally, Blizu Tebe (10) is nothing else but "Closer to you". And now, I can start to describe the new Focus album and, in addition, put into words my thoughts upon it. Stylistically, the music that is presented here brings to the listener not only the familiar, distinctively original, and immediately recognizable spirit of this Legend, but also a decent dose of something new, which wasn't typical for a 'classic' Focus. Above all, this concerns the sound of today's Focus, which, overall, is heavier than ever before, even though there is only one track on the album, the stylistics of which represents a real fusion of Classic Symphonic Art-Rock and Prog-Metal. This is the album's opener, Rock & Rio, which, at the same time, is much in the vein of Hocus Pocus from "Moving Waves" and, of course, includes inimitable joking vocalizes by maestro Van Leer and highly virtuosi (just brilliant!) arrangements that, moreover, are full of magic. Honest! By the way, all the eleven tracks on the new Focus album are either excellent compositions or masterpieces. No merely good tracks here, not to mention mediocre ones! While created in Focus's best traditions, most of the compositions on the album are, however, richer in the elements of Prog-Metal than in those of Jazz-Fusion. (Whereas before, the elements of Jazz-Fusion were much more typical for Focus than those of Prog-Metal.) In short, "Focus 8" sounds by no means like being the mould of Focus's classic style, but is a really fresh album by the band that is still capable to amaze. Here are the tracks, the contents of which completely conform to the predominant stylistics of the album, which is certainly Classic Art-Rock with elements of Prog-Metal and bits of Jazz-Fusion: Tamara's Move, Fretless Love, Hurkey Turkey, Sto Ces Raditi Ostatac Zivota, Neurotika, and Brother (2, 3, 4, 7, & 9). Two of them, Hurkey Turkey and Neurotica (4 & 7), are, on the whole, much in the vein of the aforementioned Rock & Rio (1) and Hocus Pocus and feature joking vocalizes as well. Structurally though, these two, and especially the second one, are closer to the band's most popular song than the album's opening track. Tamara's Move (2) is the only real song on "Focus 8". However, it features only a few vocal parts, all of which are of a quiet character and are in many ways similar to those on the title track of "Moving Waves". The album's bonus track, Flower Shower (11), is about a pure Classic Art-Rock where, however, everything sounds like being an excellent musical joke, even though the vocals, performed here by the two unknown, male and female, guest singers (lyrics are in German), are clearly operatic. Finally, all three of the following compositions: De Ti O De Mi, Focus 8, and Blizu Tebe (5, 6, & 10), sound like the classic Focus ballads (and these are the Classic Art-Rock ballads), though the second half of the album's title track is both slow and heavy. Also, these three are the only compositions on the album that don't contain any solos of flute. Here, the main soloing 'battles' develop between solos of guitar (that, by the way, are often not unlike those of Jan Akkerman) and those of Hammond organ. It must be said that varied interplay between solos of organ and those of electric guitar (most of which are harsh), along with solos of flute and, rather often, of bass as well, play a prominent role on most of the album's tracks. Unlike those of organ, there is the only bright solo of synthesizer on "Focus 8" - on the album's opening track, while the passages of electric piano are present only on the title track of the album. The solos and passages of acoustic guitar play a very significant role in the arrangements on Fretless.
SUMMARY -
What a wonderful return! The renovated Focus won't remind you of some of one decrepit Prog-Dinosaur decided to get back and make money on the wave of a revived interest to Progressive Rock. So, unlike PFM, Greenslade, and many others, Focus bravely stepped into the 'afterlife' and immediately took the bull by the horns with their truly hard-edged and highly progressive album "Focus 8". I heartily recommend this masterpiece and undoubtedly one of the best Symphonic Art-Rock albums released in the new millennium to all of the true Progressive Rock lovers. © VM: November 27, 2002, www.progressor.net/review/focus_2002.html
Focus 8 is a fantastic record by Thijs van Leer, Jan Dumée, Bobby Jacobs, and Bert Smaak, the new-millennium version of the band Focus. The instrumentals show real spirit and creativity without the bombast of the 1973 opus "Hocus Pocus," which branded the group forever as "progressive rock." Yes, it is still arty King Crimson meets Jethro Tull stuff, the flute taking even more of the space than an Ian Anderson might grant it, but there is something about this album that takes hold and makes for a surprising listening experience. The quartet somehow keeps the ostentatious aspect of the genre down to a minimum and puts the emphasis on serious explorations of what it does best. For an hour's worth of mostly instrumental prowess, it is quite an achievement. Where Tull's A Passion Play was a tedious listen, every title here rings out with its own personality, "Hurkey Turkey" speaking in tongues as the keyboards/guitar/drums converge with the bass and some strange vocal improvisations. "Blizu Tebe" also has great merit, the album displaying a cohesion one expects from Phish and other jam bands, a format one doesn't consider when thinking of Focus. The result is a dreamy blend of majestic instrumental melodies, a really stunning achievement for an entity that has gone through so many evolutions. It may be just another day at the office for this group, but it is quite a day, and with sufficient exposure, Focus 8 could bring in an entirely new audience in for this veteran act. A really special release. © Joe Viglione, All Music Guide
Who would have thought that an album credited to Focus would see the light of day in 2002? Not too many people, though one has to admit that the name is carried by one man alone, Thijs Van Leer. Originally there was talk of a Focus tribute band playing and recording material, though it seems that Van Leer opted to join in and subsequently also lent the name of Focus to the finished material. Technically this is a great album with proficient musicians, though one also has to admit that such a move also exposes all band members and their material to comparisons with any of the material that Focus had recorded in the past. A limited edition of 500 copies was hurriedly released prior to the band's Whitchurch festival with the same eleven tracks (including the bonus track!) featured on it finding their place on the finalised version. Apart from Thijs Van Leer the new Focus lineup thus features guitarist Jan Dumée, bassist Bobby Jacobs and drummer Bert Smaak. The only member of the band who remotely has some form of connection with the "old" Focus is Bobby Jacobs whose father was bass player and producer on Van Leer's Introspection solo albums. Admittedly I was slightly hesitant and apprehensive as to what I would find on this album, having heard much of the band's legendary works and being somewhat prejudiced by the name Focus. From the opening number, however, I was pleasantly surprised that even though most of the cogs in the wheel had been changed, the wheel was still turning in the right direction! The introductory Rock & Rio immediately sets the pace with remnants of Hocus Pocus feeding their way through with that characteristic yodel. However what really stands out is the way the band manage to conjure up that ear-friendly backdrop, enriched with strong blues roots in true Focus fashion. Tamara's Move is the right type of piece that allows Van Leer to step forward with his flute playing. The track itself has a number of folk references and is played out in an acoustic vein with the occasional pause via which the warm sound of the Hammond breaks forth. The same happens on Fretless Love which has classic Focus (Focus II to be precise!) written all over it as Van Leers' flute and organ playing combine beautifully with Dumée's guitar work which has a definite presence and feel. In fact one has to admit that the band on the album have stuck to a formula which seems to work well, though it does at times become slightly repetitive as happens on pieces such as Hurkey Turkey. As I said the presence of Jan Akkerman inevitably hangs over the band, and with pieces such as De To O De Mi and Focus 8, Jan Dumée shows all that he is actually more than capable of playing these intricate parts. Furthermore his contribution within the songwriting department does not go unnoticed. The titles are seemingly Croatian (Sto Ces Raditi Ostatac Zivota? and Blizu Tébe) and of course have the guitar as the main featured instrument. The mood is somewhat more jazzier and placid with a pleasant acoustic backdrop. The rehearsal take of Neurotika has much in common with Rock & Rio, as well as classic Focus and seems to have been included as a tribute to Ruben Van Roon who was the original drummer and it seems was the mastermind behind the original tribute band. Brother, on the other hand, is not new to the Focus faithful having appeared on the Focus Con Proby and is carried off admirably while Tamara's Move has 1974's Hamburger Concerto written all over it. The light-hearted nature of the recordings as well as the mood within the band is apparent when one listens to the bonus track Flower Shower, an undescribable piece of humorous banter that could have almost been attributed to the Bonzo Dog Doo-Dah Band! Though not a masterpiece, this album is an impressive return to form for the name Focus. The band are touring and might be one of the last chances to hear classical progressive rock music being played by one of the classical greats. Regarding the album, it is a definite worthy addition to anyone's progressive rock collection. Conclusion: 8 out of 10 © Nigel Camilleri www.dprp.net/reviews/200302.html#focus
Based on an idea to form a Focus tribute band as a surprise for Thijs Van Leer, the soon to be launched Hocus Pocus tribute band suddenly got another dimension when Thijs, amazed at what he heard, decided to join the band and, why not, call the band Focus, because that's exactly what it was. And because a new album would be the 8th official Focus album, why not make it easy and call the shiny silver disc 8? Prior to the official release of the album, a limited run of 500 numbered copies were pressed in time for the band's performance at the Whitchurch Festival. So will the same eleven tracks finally make it onto the official album? God only knows! We can only hope so because every single track on this album (except maybe the bonus track), breathes, lives and sounds like only Focus can. Whether the song is a Thijs Van Leer original or written by newcomer guitarist Jan Dumée, these guys deliver a sound quality only one band can produce and that's Focus! Van Leer still plays the flute, wrestles with the organ, hums and whistles as if we'd find ourselves merely a week after the band's memorable concert at the Rainbow Theatre in London. But that was ... 5th May 1973! Almost thirty years ago! So what about the new music? The yodelling is right in place for the opening track "Rock & Rio" which illustrates the band's enthusiasm regarding their South-American tour. And boy does that new guitarist smoke! Who needs Akkerman? Over the years, Van Leer has developped a way of playing the flute which is his very own, as if he's the Hendrix of the flute. It's exactly that distinctive sound which could make "Tamara's Move," the new "Hocus Pocus;" in other words a true classic in the making. As it's a song written by Jan Dumée, it illustrates how well the "new" Jan is acquainted with the Focus legacy. In fact, sometimes he's been listening so good that certain new songs get damn close to some "older" Focus material. Take the intro for "Fretless Love,"which sounds very much like "Focus II" from the Making Waves album. Based on a rhythmic backbone courtesy of Bobby Jacobs, Thijs' stepson, "De Ti O De Mi" once again evolves into pure vintage Focus material once organ and guitar step in, almost sounding like a "Hamburger Concerto" outtake. In a similar way we can approach what is the core of the album, the title track "Focus 8." Soft jazzy and acoustic guitar touches govern another Dumée composition: "Sto Ces Raditi Zivota" where Van Leer adds both organ and flute in order to give it that distinct Focus flavour. As kind of a tribute to drummer Ruben Van Roon who started the whole re-union idea, a rehearsal take of "Neurotika" is added, which is exactly the kind of song which fuses all of the highlights of the entire Focus career into one ball of renewed Focus energy. During live gigs Thijs Van Leer introduces the track "Brother" as one of his all-time favourite Focus tracks. Originally sung by P.J. Proby on the Focus Con Proby album, the band has decided to give the song a second chance this time with the flute replacing the vocal passages (although live it is Thijs who sings the by now immortal lines!). In his own "Blizu Tébe" (where does he get those names from?), Jan Dumée illustrates what a great asset to the band he really is. The album closes with a humorous operetta written and conceived in the shower. "Flower Shower" is indeed a funny thing to listen to, maybe hence the wording 'bonus track' as indeed it has very little to do with the rest of the album. It nevertheless illustrates the enthusiasm which can be found in this younger version of Focus. Maybe not all the material on Focus 8 is strong enough to be transferred onto disc straight away but that same enthusiasm simply drove these four people into the studio. Growing even closer together after the numerous concerts they have planned no doubt the new Focus is ready for a next chapter in its already well documented life. For sure Focus 9 is already cooking in their little minds, yet for the time being "it feels good to have you back guys!" © John "Bo Bo" Bollenberg, September 2002 © Copyright 2002 ProgressiveWorld.net
SHORT BIO
Best remembered for their bizarre chart smash "Hocus Pocus," Dutch progressive rock band Focus was formed in Amsterdam in 1969 by vocalist/keyboardist/flutist Thijs van Leer, bassist Martin Dresden, and drummer Hans Cleuver. With the subsequent addition of guitarist Jan Akkerman, the group issued its debut LP, In and Out of Focus, in 1970, earning a European cult following thanks to the single "House of the King." Dresden and Cleuver were replaced by bassist Cyril Havermanns and drummer Pierre Van der Linden for the English-language follow-up, Moving Waves; the record generated the hit "Hocus Pocus," a hallucinatory epic distinguished by Akkerman's guitar pyrotechnics and van Leer's demented yodeling. Easily one of the flat-out strangest songs ever to crack the American pop charts, the single peaked at number nine in the spring of 1973, by which time Focus had already exchanged Havermanns for bassist Bert Ruiter and issued their third album, Focus III, which yielded the minor hit "Sylvia." In the wake of 1974's Hamburger Concert, the band streamlined the classical aspirations of earlier efforts to pursue a more pop-oriented approach on records like Ship of Memories and Mother Focus; though roster changes regularly plagued Focus throughout the period, none was more pivotal than the 1976 exit of Akkerman, who was replaced by guitarist Philip Catherine for 1978's Focus con Proby, cut with British pop singer P.J. Proby. Focus then disbanded, with the original lineup reuniting in 1990 for a Dutch television special. © Jason Ankeny, All Music Guide