Liquorice John Death
(Procol Harum)
- Ain't Nothin' To Get Excited About -
1997 -
Sony
[Re-released in 2002 on Repertoire and in 2005 by Friday Music]]

Ain't Nothin' to Get Excited About is an album of rock and roll songs recorded in 1970 at the Abbey Road studios by the members of Procol Harum under the name Liquorice John Death. It was not released until 1997. It's a bit of rarity, and regarded by many as a "fun project," it is full of great Rock 'N' Roll standards, and shows a very different side to Procol Harum. It also features Jack Lancaster from the great blues rock band, Blodwyn Pig on two tracks. A very unusual album from Procol Harum, but a very good one, and HR by
A.O.O.F.C.
There is info on Procol Harum's great "Home" album @
PHARUM/HOME
and Gary Brooker's brilliant "Lead Me To The Water" album @
GBROOKER/LMTTW
TRACKS / COMPOSERS / RECORDING DETAILS

1. High School Confidential - Hargrave / Lewis - (studio, with Procol Harum)
2. Kansas City - Lieber / Stoller - (studio, with Procol Harum)
3. Lucille - Collins / Penniman - (studio, with Procol Harum)
4. Brand New Cadillac - Taylor - (studio, with Procol Harum)
5. Matchbox - Perkins - (studio, with Procol Harum)
6. Breathless - Blackwell - (studio, with Procol Harum)
7. Everything I Do Is Wrong - Rich - (studio, with Procol Harum)
8. Old Black Joe - Foster, arr. Brooker / Trower / Wilson / Copping - (studio, with Procol Harum)
9. Shopping For Clothes - Harris - (studio, with Procol Harum)
10. Well I - Brooker / Trower / Wilson / Copping / Mundy - (studio, with Procol Harum)
11. I'm Ready - Domino / Lewis / Bradford - (studio, with Procol Harum)
12. Girl Can't Help It - Troup - (studio, with Procol Harum)
13. Keep a Knockin' - Penniman - (studio, with Procol Harum)
BAND
Chris Copping - organ, bass guitar
B.J. Wilson - drums
Robin Trower - guitar
Gary Brooker - piano and vocals
Jack Lancaster - saxophone on "Shopping for Clothes" and "The Girl Can't Help It"
REVIEW

Not ornate, stately, or even faintly progressive by Procol Harum standards, Liquorice John Death's Ain't Nothin' to Get Excited About brings Whiskey Train – the most volcanic rock cut that PH did outside Simple Sister – into focus as an Elvis cop plated with Brit heaviness and played by guys who plainly didn't always want to be restricted to In Held 'Twas in I. John Death, then, was a garage-pure R&R band given a pass in Abbey Road to loosen up for Procol's 1970 album Home. Having been known as the Paramounts prior to Harum stuffiness, John Death allowed Gary Brooker to slum as a rich man's Little Richard. Drummer BJ Wilson, by the evidence, did boogies and shuffles better than most Texans. And Robin Trower played a Les Paul – which still makes him Trower, only slightly thicker sounding, like a proto-metal BB King. Eighteen months later, the guitarist split to make more money in America, as a solo act playing barbiturate-flavored stuff far more like this than like A Salty Dog. In any case, Kansas City and Matchbox show the band could do reverence and roots things louder than the Beatles and heavier than the Stones when they wanted to, if not as recklessly as the Who. Plus, Brand New Cadillac coined Clash-rock about eight years before there was a Joe Strummer. The album cover was painted by a mentally ill fellow: Dave Mundy, furloughed from the nut hatch on afternoons by his good friends in the band. He gave them the odd name because it was more "rock and roll" than the Paramounts, then subsequently killed himself, and the boys wrote a song in his memory: For Liquorice John, which they put on Grand Hotel. Now there's a sad but still quietly affirming story. © George Smith in NY's Village Voice, 1 July 2003
LINER NOTES BY CHRIS THOMAS

In 1970 Gary Brooker asked me to produce Procol Harum's fourth album, Home. By now the line up consisted entirely of ex-members of the 60s R&B group The Paramounts. The most unsettling port of any recording session in those days was always achieving the best sound on each instrument – my aim was hopefully to make the instrument sound better in the control room than in the studio itself, as wished for by The Troggs on their legendary documentary recording of a recording – 'I've got a fucking sound in 'ere ...' When you are about to cut a new track and you just want to get on with it, you don't really want the producer to ask the drummer to hit the snare drum for the next 15 minutes in order to analyse or correct what needs to be done, so copying what I'd seen at Beatles sessions where they would go through their old favourites, I asked Procol to play anything they liked while we did what we needed to do. Gary was and is totally in his element singing this kind of stuff and I was quite happy to listen and not interrupt, even once we were ready to start the song we had to cut that night. From this was born the idea of hiring a studio for one night to put their old repertoire down. A few months after Home was released we booked Abbey Rood No 2 from 7 pm to 7am to record as much as we could and have a laugh in the process. We put Gary's vocals through a PA in the studio complete with Watkins copycat echo and invited Jack Lancaster from Blodwyn Pig to play sax and gave each song one take, including a new song that the boys had written specifically for the night. By 6.30 am they started Keep a Knocking – you can hear the results – time for bed. Sometime later during the construction of Air Studios in Oxford Circus they were giving the Neve desk in No.1 a trial before the studio area was completed. I took the tapes in and mixed about a dozen of my favourites and took a seven and a half inch copy for myself. A few years later Roger Scott at Capitol Radio heard of these tapes, and I lent them out for broadcast, never seeing them again until Gary phoned me a couple of weeks ago to tell me he had found some tapes and did I know anything about them. Well, they are my long-lost copies which you are listening to now. If someone somewhere is holding on to the masters – you're too late! © Chris Thomas 1998, from www.procolharum.com/so_liqjohn2.htm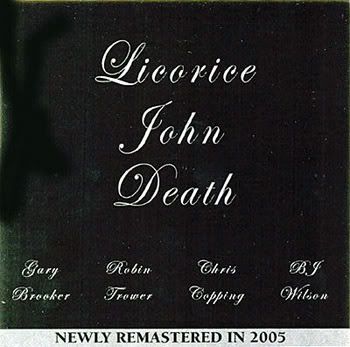 ABOUT BAND / ALBUM

In 1969, after finishing A Salty Dog, organist Matthew Fisher and bassist Dave Knights decided to exit the lineup of Procol Harum. The remaining members -- Gary Brooker, Robin Trower, and B.J. Wilson, in the course of reshaping the band -- added Chris Copping, who played both bass and keyboards had been part of the original lineup of the Paramounts, whence the rest of Procol Harum had come. The new version of the band was still working out their sound with neophyte producer Chris Thomas and in mid-January of 1970 decided to head to Abbey Road Studios for a series of informal demo sessions, devoted to straight-ahead rock & roll of the kind that they'd played as the Paramounts. The sessions, which were never intended for release but more as practice for all concerned, were jokingly credited to Licorice John Death & the All-Stars, a name once suggested by Dave Mundy, a session singer and an old friend of Gary Brooker's. The 38 songs from the sessions yielded 13 tracks that Thomas mixed, six of which were released (with the blessing of the participants) by EMI 28 years later in tandem with the original Paramounts' tracks on Abbey Road Decade 1963-1970 CD. Interestingly, these sides may have been informal demos to work out the group's sound and give Thomas a chance to practice working with the band, but they did anticipate the harder rockingsound that the reconstituted Procol Harum debuted on its next album, Home. © Bruce Eder, All Music Guide
WIKIPEDIA INFO.

Strictly speaking, this is not a Procol Harum album; it was recorded shortly after the band had finished working on their 1970 album Home. During these recording sessions, producer Chris Thomas asked the band to play some old favourites while he set up the equipment for recording. The band enjoyed playing these older songs, so a few months later Thomas booked the Abbey Road recording studio, and the band recorded all the tracks on this album in a single night. "We staggered out at dawn, having attempted about 45 songs. We didn't finish them all. I think the drummer collapsed half way through with laughter." "Well, I..." is the only song they played that was written by the group, and is drummer B.J. Wilson's sole songwriting credit. Although some tracks from the recording session were played by disc jockey Roger Scott on Capital Radio, to whom a tape was given, the fifteen-inch master tape was lost. The quarter-inch copy given to Scott also disappeared until the end of the 1990s, when it turened up in a box of tapes returned to the band by EMI-Chrysalis. A friend of the musicians called Dave Mundy was responsible for the name of the band and of the album, as well as for the album cover. In the early 1960s, the musicians had performed these songs around Southend as The Paramounts, a name given to them by their manager. Mundy had objected to this name, and devised one of his own for them, Liquorice John Death. After his suicide in 1972, it was found that Mundy had left all his possessions to Robin Trower, guitarist in The Paramounts and Procol Harum. These included a painting of an album cover for Liquorice John Death's Ain't Nothin' to Get Excited About. When the band found themselves able to release the album, they felt that there was no alternative but to use Mundy's ideas and cover. Mundy is remembered in the song For Liquorice John (think 'Fall Icarus John') on Procol Harum's 1973 album Grand Hotel.
PROCOL HARUM BIO

Procol Harum is arguably the most successful "accidental" group creation -- that is, a band originally assembled to take advantage of the success of a record created in the studio -- in the history of progressive rock. With "A Whiter Shade of Pale" a monster hit right out of the box, the band evolved from a studio ensemble into a successful live act, their music built around an eclectic mix of blues-based rock riffs and grand classical themes. With singer/pianist Gary Brooker and lyricist Keith Reid providing the band's entire repertory, their music evolved in decidedly linear fashion, the only major surprises coming from the periodic lineup changes that added a new instrumental voice to the proceedings. At their most accessible, as on "A Whiter Shade of Pale" and "Conquistador," they were one of the most popular of progressive rock bands, their singles outselling all rivals, and their most ambitious album tracks still have a strong following. Procol Harum's roots and origins are as convoluted as its success -- especially between 1967 and 1973 -- was pronounced. Pianist Gary Brooker (b. May 29, 1945, Southend, Essex, England) had formed a group at school called the Paramounts at age 14, with guitarist Robin Trower (b. Mar. 9, 1945, Southend, Essex) and bassist Chris Copping (b. Aug. 29, 1945 Southend, Essex), with singer Bob Scott and drummer Mick Brownlee. After achieving a certain degree of success at local youth clubs and dances, covering established rock & roll hits, Brooker took over the vocalist spot from the departed Scott, and the group continued working after its members graduated -- by 1962, they were doing formidable (by British standards) covers of American R&B, and got a residency at the Shades Club in Southend. Brownlee exited the band in early 1963 and was replaced by Barry J. (B.J.) Wilson (b. Mar. 18, 1947, Southend, Essex), who auditioned after answering an ad in Melody Maker. Nine months later, in September of 1963, bassist Chris Copping opted out of the professional musicians' corps to attend Leicester University, and he was replaced by Diz Derrick. The following month, the Paramounts demo record, consisting of covers of the Coasters' "Poison Ivy" and Bobby Bland's "Farther on up the Road," got them an audition at EMI. This resulted in their being signed to the Parlophone label, with their producer, Ron Richards, the recording manager best-known for his many years of work with the Hollies. The Paramounts' first single, "Poison Ivy," released in January of 1964, reached number 35 on the British charts. The group also got an important endorsement from the Rolling Stones, with whom they'd worked on the television show Thank Your Lucky Stars, who called the Paramounts their favorite British R&B band. Unfortunately, none of the group's subsequent Parlophone singles over the next 18 months found any chart success, and by mid-'66, the Paramounts had been reduced to serving as a backing band for popsters Sandy Shaw and Chris Andrews. In September of 1966, the Paramounts went their separate ways; Derrick out of the business, Trower and Wilson to gigs with other bands, and, most fortuitously, Gary Brooker decided to develop his career as a songwriter. This led Brooker into a partnership with lyricist Keith Reid (b. Oct. 19, 1945), whom he met through a mutual acquaintance, R&B impresario Guy Stevens. By the spring of 1967, they had a considerable body of songs prepared and began looking for a band to play them. An advertisement in Melody Maker led to the formation of a band initially called the Pinewoods, with Brooker as pianist/singer, Matthew Fisher (b. Mar. 7, 1946, Croydon, Surrey) on organ, Ray Royer (b. Oct. 8, 1945) on guitar, Dave Knights (b. June 28, 1945, London) on bass, and Bobby Harrison (b. June 28, 1943, London) on drums. Their first recording, produced by Denny Cordell, was of a piece of surreal Reid poetry called "A Whiter Shade Of Pale," which Brooker set to music loosely derived from Johann Sebastian Bach's Air on a G String from the Suite No. 3 in D Major. By the time this recording was ready for release, the Pinewoods had been rechristened Procol Harum, a name derived, as alternate stories tell it, either from Stevens' cat's birth certificate, Procol Harun, or the Latin "procul" for "far from these things" (hey, it was the mid-'60s, and either is possible). In early May of 1967, the group performed "A Whiter Shade of Pale" at the Speakeasy Club in London, while Cordell arranged for a release of the single on English Decca (London Records in America), on the companies' Deram label. Ironically, Cordell's one-time clients the Moody Blues were about to break out of a long commercial tail-spin on the very same label with a similar, classically-tinged pair of recordings, "Nights in White Satin" and "Days of Future Passed," and between the two groups and their breakthrough hits, Deram Records would be permanently characterized as a progressive rock imprint. Cordell had also sent a copy of "A Whiter Shade of Pale" to Radio London, one of England's legendary off-shore pirate radio stations (they competed with the staid BBC, which had the official broadcast monopoly, and were infinitely more beloved by the teenagers and most bands), which played the record. Not only was Radio London deluged with listener requests for more plays, but Deram suddenly found itself with orders for a record not scheduled for release for another month -- before May was half over, it was pushed up on the schedule and rushed into shops. Meanwhile, the prototypal Procol Harum made its concert debut in London opening for Jimi Hendrix at the Saville Theater on June 4, 1967. Four days later, "A Whiter Shade of Pale" reached the top of the British charts for the first of a six-week run in the top spot, making Procol Harum only the sixth recording act in the history of British popular music to reach the number one spot on its first release (not even the Beatles did that). The following month, the record reached number five on the American charts, with sales in the United States rising to over a million copies (and six million copies worldwide). All of this seemed to bode well for the band, except for the fact that it had only a single song in its repertory and no real stage act -- literal one-hit wonders. The same month that the record peaked in the United States, Royer and Harrison were sacked and replaced by Brooker's former Paramounts bandmates Robin Trower and B.J. Wilson on guitar and drums, respectively. The "real" Procol Harum band was now in place and a second single, "Homburg," was duly recorded. Reminiscent of "Whiter Shade of Pale" in its tone of dark grandeur, this single, released in October of 1967 on EMI's Regal Zonophone label, got to number six on the British charts. The group's debut album, entitled Procol Harum, managed to reach number 47 in America during October of 1967, based on "A Whiter Shade of Pale" being among its tracks (which included the first version of "Conquistador") -- but a British version of the LP, issued over there without the hit, failed to attract any significant sales. The single "Homburg," however, got no higher than number 34 in America a month later. On March 26, 1968, "A Whiter Shade of Pale" won the International Song of the Year award at the 13th Annual Ivor Novello Awards (sort of the British equivalent of the Grammys). The group's newest single, "Quite Rightly So," however, only reached the number 50 spot in England in April of that year. A new contract for the group was secured with A&M Records in America (they remained on Regal Zonophone in England), and by November, a second album, Shine on Brightly, highlighted by an 18-minute epic entitled "In Held 'Twas I," was finished and in the stores, and rose to number 24 in America but failed to chart in England. The next month, they were playing the Miami Pop Festival in front of 100,000 people, on a bill that included Chuck Berry, Canned Heat, the blues version of Fleetwood Mac, and the Turtles, among others. In March of 1969, David Knights and Matthew Fisher exited the lineup shortly after finishing work on the group's new album, A Salty Dog, preferring management and production to the performing side of the music business. Knights' departure opened the way for bassist Chris Copping to join Procol Harum (thus re-creating the lineup of the Paramounts), playing bass and organ. Another American tour followed the next month, and in June of 1969 A Salty Dog was issued. This record, considered by many to be the original group's best work, combined high-energy blues and classical influences on a grand scale, and returned the band to the U.S. charts at number 32, while the title song ascended the British charts to number 44. The album subsequently reached number 27 in England, the group's first long-player to chart in their own country. Despite the group's moderate sales in England and America, they remained among the more popular progressive rock bands, capable of reaching more middle-brow listeners who didn't have the patience for Emerson, Lake & Palmer or King Crimson. Robin Trower's flashy guitar quickly made him the star of the group, as much as singer/pianist Brooker, and he was considered in the same league with Alvin Lee and any number of late-'60s/early-'70s British blues axemen. Matthew Fisher's stately, cathedral-like organ had been a seminal part of the band's sound, juxtaposed with Trower's blues-based riffing and Reid's unusual, darkly witty lyrics as voiced by Brooker. Following Fisher's departure, the group took on a more straightforward rock sound, but Trower's playing remained a major attraction to the majority of fans. "Whaling Stories" was an example of quintessential Procol Harum, a mix of 19th century oratorio that sounds like it came out of a Victorian-era cathedral, with fiery blues riffs blazing at its center. And being soaked in Reid's dark, eerie, regret-filled lyrics didn't stop "A Salty Dog" from becoming one of the group's most popular songs. It was a year before their next album, Home, was released, in June of 1970, ascending to the American number 34 and the British 49 spot. This marked the end of the group's contract with Regal Zonophone/EMI, and on the release of their next LP in July of 1971, they were now on Chrysalis in England. Broken Barricades reached number 32 in America and 41 in England, but it also marked the departure of Robin Trower. The founding guitarist left that month and subsequently organized his own group, with a sound modeled along lines similar to Jimi Hendrix, which had great success in America throughout the 1970s. Trower's replacement, Dave Ball (b. Mar. 30, 1950), joined the same month, and the lineup expanded by one with the addition of Alan Cartwright on bass, which freed Chris Copping to concentrate full-time on the organ. The group returned to something of the sound it had before Fisher's departure, although Trower was a tough act to follow. It was this version of the band that performed on August 6, 1971 in a concert with the Edmonton Symphony Orchestra and the DaCamera Singers in Edmonton, Alberta, Canada -- the concert was a bold and expansive, richly orchestrated re-consideration of earlier material (though not "A Whiter Shade of Pale") from the group's repertory, and, released as an official live album in 1972, proved to be the group's most successful LP release, peaking at number five and drawing in thousands of new fans. In England, Procol Harum Live: In Concert With the Edmonton Symphony Orchestra only rose to number 48 in May of 1972, but it was competing with a reissue of the group's debut album (retitled A Whiter Shade of Pale, with the single added) paired with A Salty Dog, which outperformed it considerably, reaching number 26. A single lifted from the live record, "Conquistador," redone in a rich and dramatic version, shot to number 16 in America and 22 in England that summer. Soon after, the U.S. distributor of the debut album, London Records, got further play from that record by re-releasing it with a sticker announcing the presence of "the original version of "Conquistador." Amid all of this success, the group's lineup again was thrown into turmoil in September when Dave Ball left Procol Harum to join Long John Baldry's band. He was replaced by Mick Grabham, formerly of the bands Plastic Penny and Cochise. The band's next album, Grand Hotel, was a delightfully melodic and decadent collection (anticipating Bryan Ferry and Roxy Music in some respects) that featured guest backing vocals by Christianne Legrand of the a cappella singing group the Swingle Singers. That record, their first released on Chrysalis in America as well as England, peaked at number 21. Six months later, A&M released the first compilation of the band's material, Best of Procol Harum, which only made it to number 131 on the charts. The group's next two albums, Exotic Birds and Fruit (May 1974) and Procol's Ninth (September 1975), the latter produced by rock & roll songsmiths Jerry Leiber and Mike Stoller, performed moderately well, and "Pandora's Box" from Procol's Ninth became one of their bigger hits in England, rising to number 16. July of 1976 saw a departure and a lateral shift in the group's lineup, as Alan Cartwright left the band and Chris Copping took over on bass, while Pete Solley joined as keyboard player. By this time, the band's string had run out, as everyone seemed to know. A new album, Something Magic, barely scraped the U.S. charts in April of 1977, and the band split up following a final tour and a farewell concert at New York's Academy of Music on May 15, 1977. Only five months later, the band was back together for a one-off performance of "A Whiter Shade of Pale," which had taken on a life of its own separate from the group -- the song was named joint winner (along with "Bohemian Rhapsody") of the Best British Pop Single 1952-1977, at the Britannia Awards to mark Queen Elizabeth II's Silver Jubilee, and the band performed it live at the awards ceremony. Apart from Trower, Gary Brooker was the most successful and visible of all ex-Procol Harum members, releasing three solo albums between 1979 and 1985. Fear of Flying (1979) on Chrysalis, produced by George Martin, attracted the most attention, but Lead Me to the Water (1982) on Mercury had some notable guest artists, including Eric Clapton and Phil Collins, while Echoes in the Night (1985) was co-produced by Brooker's former bandmate Matthew Fisher. During the late '80s, however, Brooker had turned to writing orchestral music, principally ballet material, but this didn't stop him from turning up as a guest at one of the annual Fairport Convention reunions (Procol Harum and Fairport had played some important early gigs together) at Cropredy, Oxfordshire, in August of 1990 to sing "A Whiter Shade of Pale." Still, Procol Harum had faded from the consciousness of the music world by the end of the 1980s. The death of B.J. Wilson in 1990 went largely unreported, to the chagrin of many fans, and it seemed as though the group was a closed book. Then, in August of 1991, Brooker re-formed Procol Harum with Trower, Fisher, Reid, and drummer Mark Brzezicki. An album, Prodigal Stranger, was recorded and released, and an 11-city tour of North America took place in September of 1991. Although this lineup didn't last -- Trower and company, after all, were pushing 50 at the time -- Brooker has kept a new version of Procol Harum together, in the guise of himself, guitarist Geoffrey Whitehorn, keyboardman Don Snow, and Brzezicki on drums, which toured the United States in 1992. © Bruce Eder, AMG