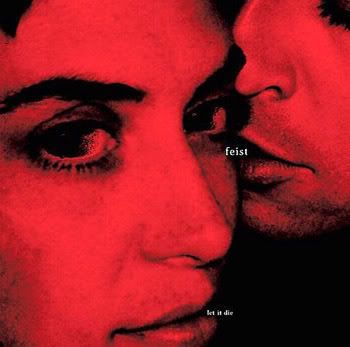 Feist -
Let It Die -
2004 -
Polydor -
(Germany)

There are at least five different versions of this album. The original album was released on vinyl in 2004 in Canada on the Arts & Crafts International label. That LP featured a track called "L'Amour Ne Dure Pas Toujours " not on this release. It also excluded the track, "Tout doucement" This Polydor version is an amazing album of well-orchestrated songs. Some are jazz tinged, with a hint of soul. Others lean towards the bluesy, spiritual side. There is even an uptempo disco flavour. Listen to the Bee Gees' ""Inside and Out" track. A great album, and well above the average pop release. If you can find it give her 1999 album, "Monarch (Lay Your Jewelled Head Down)" a listen. It is also worthwhile listening to the "Riot on an Empty Street" album by the Norwegian band, Kings of Convenience. This album includes two song collaborations with Feist. It is a great album with some beautiful subtle, acoustic jazzy tracks, and like "Let It Die," a breath of fresh air in the "pop" music scene.
WIKIPEDIA ALBUM INFO
Let It Die is the second album by Canadian singer-songwriter Feist. It was recorded in Paris during 2002 and 2003 and released in 2004. The album is considered a combination of jazz, bossa nova and indie rock. Let It Die was hailed as one of the best Canadian pop albums of 2004, and garnered three Juno Award nominations in 2005—winning Best Alternative Album and Best New Artist. Let It Die was nominated once again in the 2006 Juno Awards; this time for "Inside and Out" as Single of the Year. Let It Die has attracted a significant international audience. The album was originally divided into original compositions on the first half and cover versions on the second, though a reissue later in 2004 added a further original composition as the penultimate track. The single "Mushaboom" is a pun on sh-boom as a refrain, and the Canadian coastal community east of Halifax, Nova Scotia, the province where Feist was born. The song was used in a Lacoste commercial.
TRACKS / COMPOSERS

"Gatekeeper" (Feist, Gonzales) – 2:16
"Mushaboom" (Feist) – 3:44
"Let It Die" (Feist) – 2:55
"One Evening" (Feist, Gonzales) – 3:36
"Leisure Suite" (Feist, Gonzales) – 4:07
"Lonely Lonely" (music by Tony Scherr, lyrics by Feist) – 4:10
"When I Was a Young Girl" (traditional, inspired by Texas Gladden) – 3:08
"Secret Heart" (Ron Sexsmith) – 3:49
"Inside and Out" (Barry Gibb, Maurice Gibb, Robin Gibb) – 4:17
"Tout doucement" (Clausier, Mercadier) – 2:31
"Now at Last" (Bob Haymes) – 3:16
MUSICIANS

Piano, Various Instruments - Gonzales
Guitar - Feist
Saxophone - Frédéric Couderc
Trombone - Julien Chirol
REVIEWS
Anyone who has ever seen Broken Social Scene perform in their A1 configuration knows that Leslie Feist\n\ (singer of You Forgot It in People's \"Almost Crimes") has roughly six backrooms worth of charisma\n\ stockpiled in her lighter pocket alone. Yet, despite that her tenure in the scene-stealing department extends back to her days with the middling indie rock outfit By Divine Right, Feist has always approached\n\ her solo career with agonizing apprehension. Her solo debut, Monarch, appeared in 1999, and while\ a serviceable indie rock record, it did little to communicate the swaggery gleam of her stage persona. Nearly five years removed from that debut, Let It Die finds Feist in a radically different state of mind, completely abandoning her guitars-and-strings indie rock shorthand in favor of folk, jazz, French pop, and disco accoutrements. While her propensity for serial genre-hopping makes it difficult for the album to congeal into a whole (Let It Die's scattered closing trilogy comprises covers of songs by Ron Sexsmith, The Bee Gees and 1940s vocalist Dick Haymes), it is nonetheless held together by her wistful song selection and an airy, summery aesthetic. Although many of its originals were sparked in Toronto, where Feist first cut them as four-track demos, the bulk of Let It Die was realized and recorded in Paris with the assistance of fellow Canadian expat Jason Beck, better known as Peaches collaborator Chilly Gonzales. Emblazoned with jazzy guitar shapes, droning vibes, crisp percussion, toothless synths, smoothed-out samples and Feist's slippery vocals, the music sloshes around the stereo channel like liquid in a canister. It's no wonder that, despite her protestation, reviewers have quite reasonably taken to calling it Feist's French pop album; whether intentional or not, Let It Die shares all sorts of characteristics with our archetypal vision of Paris. "Whimsical," "romantic" and "adventurous" are all adjectives that apply. With five original songs followed by six covers, Let It Die intimates its own Side A/B divide, of\ which the former is undoubtedly the stronger half. We begin with "Gatekeeper", a sparse, jazzy lament on love's inconstancy that at once establishes the album's central theme; namely, the juggling act involved\ in reconciling boundless romanticism and optimism for the future with the soured relationships and broken hearts of the past. One of the summer's gentlest, most natural pop melodies follows with first single "Mushaboom", from which we're gently airlifted into the title track. Featuring a funereal organ line and\n\ a weak pulse of a drum beat, "Let It Die" yields one of the album's stillest moments. Equal parts relationship swansong, a reproach to a former lover, and a hardening act (chorus: "The saddest part of a broken heart isn't the ending so much as the start"), it is also the album's emotional centerpiece. Comprising covers of material by Francoise Hardy, Sexsmith and others, Side B is decidedly less rewarding. Among Feist's least essential readings is her version of Sexsmith's "Secret Heart\", which, although lovingly rendered, betrays the original's vulnerability to a tangle of cutesy string plucks and whiz-bang synth sounds. When things work, as they do on her softly lit, glossy rendition of The Bee Gees' "Inside Out\" and her black-and-white take on Haynes' black-and-white piano ballad "Now at Last", they verge on inspired, but I too often found myself willfully ignoring the implications of her aggregate five original songs over the last four years and stubbornly unwishing some of the more extraneous covers in favor of more of her own material. Ultimately, however, Feist's charm is such that it doesn't matter all that much who writes the songs so long as they're the right ones. Indeed, one of the major reasons Let It Die hits is because Feist finally knows precisely what she's aiming at. For that quantum leap in wisdom, we'll grant her the aforementioned five-year hiatus, but after this record, we're not likely to be as patient again. © Mark Pytlik, July 14, 2004, www.pitchforkmedia.com
Somewhere in between living with Peaches, playing guitar with By Divine Right, rapping with Chilly Gonzales, and singing with Broken Social Scene and Apostle of Hustle, Canadian songstress Feist started a solo career. Following up 1999's self-released Monarch, Let It Die was recorded in Paris between 2002 and 2003. The romance of the City of Lights glows throughout as a combination of folk, bossa nova, jazz-pop, and indie rock finds its place among the 11-track song list. She'll woo you with her sultry vocals throughout, a delicate and sweet voice that feels cozy. From the warm shimmy and shake of "Gatekeeper" and "Mushaboom" to the classy R&B grooves of "One Evening" and "Leisure Suite," Feist explores various musical worlds without getting lost. She reels you into different soundscapes and it's an exciting adventure. Dare yourself to imagine Patrice Rushen, Ivy's Dominique Durand, and Astrud Gilberto in a group, and that's basically the beginning threads of Let It Die. Feist never holds back sonically or musically; however, Let It Die isn't an extravagant first album. She's playful with her design and the overall composition flows nicely. Feist has varied styles and sounds just right, and that's what makes Let It Die the secret treasure that it is. Her rendition of Ron Sexsmith's "Secret Heart" is a cinematic outing for a dewy spring day. The Bee Gees' "Inside and Out" gets a foxy makeover for what is probably the album's finest moment. Feist's soft touch makes magic on these particular covers, and the bittersweet loveliness of Blossom Dearie's "Now at Last" ties it all together to make Let It Die a storybook romance. © MacKenzie Wilson, www.allmusic.com
As far as indie rock pedigrees go, Leslie Feist's is as distinguished as they get: Her high school punk band opened for the Ramones; potty-mouthed punk-disco diva Peaches was once her roommate; and she's an occasional member of the acclaimed collective Broken Social Scene. So it may come as a surprise that her solo work consists almost entirely of jazzy pop that would probably go down well with fans of Everything But the Girl or Norah Jones. But when you possess a voice as smoky and sultry as Feist's, it makes perfect sense, and Let It Die is a schmaltz-free showcase for her powerful pipes. Letting the mood and emotion of the songs dictate the proceedings, the arrangements are near-perfect, whether it's a lone acoustic guitar on the Gilberto-esque "Gatekeeper," the handclap percussion and warm brass of "Mushaboom," or the lush, sexy "One Evening," equal parts Steely Dan and Sade. Feist brings the same passion and good taste to the work of others. The second half of Let It Die is devoted solely to covers, where she ably tackles songs by American folk icon Texas Gladden, cabaret legend Blossom Dearie, and the Bee Gees, whose "Inside and Out" gets the full-on disco treatment. Perhaps the finest moment, however, is the elegiac title track, on which she urges her brokenhearted self to just move on. You needn't pay attention to the lyrics to know that, though. Her expressive voice says it all. © Bill Pearis, Barnes & Noble
With a career history that includes stints with Peaches, Broken Social Scene and Kings of Convenience, Canada's Lesley Feist brings uncommon breadth and individuality to the swoony indie lounge pop of her U.S. debut. Her hushed croon evokes the jazz tingle of Peggy Lee and her melodicism hearkens back to Tin Pan Alley, but Feist proves she's a modern gal with a sparse yet varied sound that draws from chamber pop, chill-out, postmodern folk, Burt Bacharach and beyond. Feist's own songs on the disc's first half segue imperceptibly into a string of well-chosen cover tunes that confirm her nuanced good taste, particularly as she gently renders Ron Sexsmith's "Secret Heart" and the Bee Gees' "Love You Inside Out" as if they were penned by the same lovesick soul: herself. © BARRY WALTERS, (Posted: Jul 28, 2005), © 2008 Rolling Stone
BIO (Wikipedia)

Leslie Feist (born February 13, 1976 in Amherst, Nova Scotia, Canada) is a Juno Award-winning and Grammy-nominated Canadian singer-songwriter. She performs as a solo artist under the name Feist and as a member of the indie rock supergroup Broken Social Scene. At the 2008 Juno Awards on April 6, 2008 in Calgary, Alberta, she was the top winner with five awards, including Songwriter, Artist, Pop Album, Album and Single of the Year. Feist's parents were both artists. Her father, American Harold Feist, is an abstract expressionist painter and worked at both the Alberta College of Art and Design and Mount Allison University in Sackville, New Brunswick. Her mother Lyn Feist was a student of ceramics. Their first child, Ben was born (Ben is now a software engineer at Sapient in Toronto) and the family soon moved to Sackville in the Maritimes. Leslie Feist was born on Feb 13, 1976 in Amherst, Nova Scotia which borders Sackville and at the time, had the closest maternity wing. Her parents divorced soon after, and Leslie, Ben, and their mother moved to Regina, Saskatchewan, where they lived with her grandparents, and later to Calgary, Alberta. She aspired to be a writer, and spent most of her youth singing in choirs. At the age of twelve Feist performed as one of 1000 dancers in the opening ceremonies of the Calgary Winter Olympics, which she cites as inspiration for the video "1234". She also has two half-siblings, Emily and Jackson, from her father's later marriage. Feist has dual Canadian-American citizenship due to her American father, though she joked in a televised interview on The Colbert Report that she was given American citizenship as part of a deal with Apple. In 1991, at age fifteen, Feist got her start in music when she founded, and was the lead vocalist for a Calgary punk band called Placebo (not to be confused with the British band Placebo). She and her bandmates won a local Battle of the Bands competition and were awarded the opening slot at the festival Infest 1993, featuring the Ramones. At this concert she met Brendan Canning and Kevin Drew, with whom she formed Broken Social Scene ten years later. In 1995, Feist was forced to take time off from music to recover from vocal-cord damage. She moved from Calgary to Toronto in 1996. That year she was asked by Noah Mintz of hHead to play bass in his solo project Noah's Arkweld. She played the bass guitar in Noah's Arkweld for a year despite never having played bass before. In 1998, she became the rhythm guitarist for the band By Divine Right and toured with them throughout 1998, 1999, and 2000. In 1999, Feist moved in with a friend of a friend, Merrill Nisker, who then began to perform as an electro-punk musician Peaches; Feist worked the back of the stage at Peaches' shows, using a sock puppet and calling herself "Bitch Lap Lap". The two also toured together in England from 2000-2001, staying with Justine Frischmann of Elastica and Feist appeared as a guest vocalist on The Teaches of Peaches. She also met musician Gonzales during this time, and a long-term collaboration formed. Feist's solo début album, Monarch (Lay Your Jewelled Head Down), was released in 1999. Composed of 10 songs, it is a companion to her two recent and better known albums Let it Die and The Reminder. The album contains the songs "Monarch" and "That's What I Say, It's Not What I Mean". Monarch (Lay Your Jewelled Head Down) was produced by Dan Kurtz who would later form Dragonette. In the summer of 2001, Feist self-produced seven songs at home which she called The Red Demos, which have never been released commercially. She spent more than two years touring throughout Europe with Gonzales. In that same year she and a group of old friends formed Toronto indie rock supergroup Broken Social Scene and subsequently recorded You Forgot It in People. While on tour in Europe with Gonzales, they began recording new versions of her home recorded Red Demos, which would later become her major label debut Let It Die. Let It Die featured both original compositions and covers, and Feist has been noted both as a songwriter and as an innovative interpreter of other artists' songs. After the recording of Let It Die, Feist moved to Paris. While in Europe, she collaborated with Norwegian duo Kings of Convenience as co-writer and guest vocalist on their album Riot on an Empty Street, as well as co-writing and singing as a duet "The Simple Story" with Jane Birkin on her album Rendezvous. Feist toured during 2004, 2005 and 2006 through North America, Europe, Asia, and Australia supporting Let It Die. She won two Canadian Juno Awards for "Best New Artist" and "Best Alternative Rock Album" in 2004. Sales of Let It Die totaled 500,000 internationally, and she was awarded a platinum record in Canada, as well as a gold album in France. In 2005, Feist contributed to the UNICEF benefit song "Do They Know It's Hallowe'en?" In early 2006, Feist returned to Europe to record a followup to Let It Die at LaFrette Studios with Gonzales, Mocky, Jamie Lidell, and Renaud Letang, as well as her touring band Bryden Baird, Jesse Baird, Julian Brown of Apostle of Hustle, and Afie Jurvanen of Paso Mino. An album of remixes and collaborations, Open Season, was released on April 18, 2006. Feist's third solo album, The Reminder, was released on April 23, 2007 in Europe, and on May 1, 2007 in Canada, the USA, and the rest of the world. She toured worldwide to promote the album. The album features "1234", a song co-written by New Buffalo's Sally Seltmann, that became a surprise hit after being featured in a commercial for the iPod nano, hitting #8 in the US, a rare feat for indie rock musicians and even more notable since it hit the Top Ten on the strength of downloads alone. She has been lauded in the press and was featured on the cover of the New York Times arts section in June 2007. The Reminder had sold worldwide over 1,000,000 copies and is certified gold in the U.S. The album also won a 2008 Juno Award for "Album of the Year" on April 6th, 2008 in Calgary, Alberta. "1234" - Prior to the Apple iPod Nano commercial airing, The Reminder was selling at approximately 6,000 copies per week, and "1234" at 2,000 downloads per week. Following the commercial, the song passed 73,000 total downloads and reached No. 7 on Hot Digital Songs and No. 28 on the Billboard Hot 100; The Reminder jumped from No. 36 to No. 28 on the Billboard 200, with sales of 19,000. Following the television advertisement for the iPod nano in the UK, the single beat its original chart position of 102 to become number 8 in the UK charts. Time magazine named "1234" one of The 10 Best Songs of 2007, ranking it at #2. Writer Josh Tyrangiel called the song a "masterpiece," praising Feist for singing it "with a mixture of wisdom and exuberance that's all her own." On April 6th, 2008, Feist won a Juno Award for the single as "Single of the Year". The track titled My Moon, My Man was also released as a single and the intro was featured on a Verizon commercial for the LG Chocolate VX8550 in 2007.