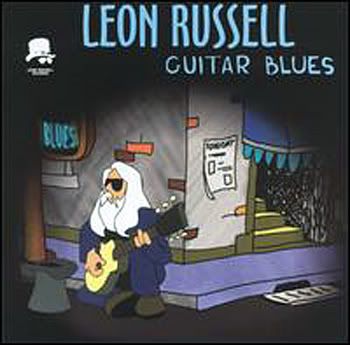 Leon Russell -
Guitar Blues -
1995 -
Leon Russell Records
A good album from the extremely talented Leon Russell. The guy has incredible credentials in the blues/rock/gospel sphere. He has played with, and produced some of the giants of rock music. He is also a great songwriter, and musician. This album is in no way pure or roots blues, but it has a great bluesy feel to it, and demonstrates Leon Russell's great musicianship and songwriting talents. Check out his brilliant self titled "Leon Russell" album. His album , "Carney" is another good early seventies album of roots/psychedelic rock.
TRACKS

1. Ways of a Woman
2. House of Blues
3. Rip Van Winkle
4. This Love I Have for You
5. Lost Inside the Blues
6. Dark Carousel
7. It's Impossible
8. My Hard Times
9. Strange Power of Love
10. Make Everything Alright
11. The Same Old Song
12. End of the Road
MUSICIANS

Leon Russell: Piano, Guitar, Bass Vocals
Teddy Jack, Buster Phillips: Drums
ABOUT LEON RUSSELL
The ultimate rock & roll session man, Leon Russell's long and storied career includes collaborations with a virtual who's who of music icons spanning from Jerry Lee Lewis to Phil Spector to the Rolling Stones. A similar eclecticism and scope also surfaced in his solo work, which couched his charmingly gravelly voice in a rustic yet rich swamp pop fusion of country, blues and gospel. Born Claude Russell Bridges on April 2, 1942, in Lawton, OK, he began studying classical piano at age three, a decade later adopting the trumpet and forming his first band. At 14, Russell lied about his age to land a gig at a Tulsa nightclub, playing behind Ronnie Hawkins & the Hawks before touring in support of Jerry Lee Lewis. Two years later, he settled in Los Angeles, studying guitar under the legendary James Burton and appearing on sessions with Dorsey Burnette and Glen Campbell. As a member of Spector's renowned studio group, Russell played on many of the finest pop singles of the 1960s, also arranging classics like Ike & Tina Turner's monumental "River Deep, Mountain High"; other hits bearing his input include the Byrds' "Mr. Tambourine Man," Gary Lewis & the Playboys' "This Diamond Ring," and Herb Alpert's "A Taste of Honey." In 1967, Russell built his own recording studio, teaming with guitarist Marc Benno to record the acclaimed Look Inside the Asylum Choir LP. While touring with Delaney & Bonnie, he scored his first songwriting hit with Joe Cocker's reading of "Delta Lady," and in 1970, upon founding his own Shelter Records imprint, he also organized Cocker's legendary Mad Dogs and Englishmen tour. After the subsequent tour film earned Russell his first real mainstream notoriety, he issued a self-titled solo LP, and in 1971 appeared at George Harrison's Concert for Bangladesh following sessions for B.B. King, Eric Clapton, and Bob Dylan. After touring with the Rolling Stones, Russell increasingly focused on his solo career, reaching the number two spot with 1972's Carny and scoring his first pop hit with the single "Tight Rope." While the success of 1973's three-LP set Leon Live further established his reputation as a top concert draw, response to the country inspired studio effort Hank Wilson's Back was considerably more lukewarm, as was the reception afforded to 1974's Stop All That Jazz. 1975's Will O' the Wisp, however, restored his commercial luster, thanks in large part to the lovely single "Lady Blue." In June of 1975, Russell married singer Mary McCreary; the following year the couple collaborated on The Wedding Album, issued through his newly formed Paradise Records label. Also in 1976, the Russell-penned "This Masquerade" earned a Grammy Award for singer George Benson. He and McCreary reunited for 1977's Make Love to the Music, and upon completing the solo Americana, Russell teamed with Willie Nelson for 1979's Willie & Leon. He then spent the next two years touring with his bluegrass band, the New Grass Revival, issuing a live LP in 1981; although Paradise shut down later that year, the label was reactivated for 1984's Hank Wilson, Vol. II and Solid State. Russell spent the remainder of the decade largely outside of music and did not resurface until issuing the Bruce Hornsby produced Anything Can Happen in 1992. The album appeared to little fanfare, however, and another long period of relative inactivity followed prior to the 1998 release of Hank Wilson, Vol. 3: Legend in My Time. Face in the Crowd appeared a year later. © Jason Ankeny, All Music Guide
BIO (Wikipedia)

Leon Russell (born Claude Russell Bridges on April 2 1942 in Lawton, Oklahoma, United States) is a singer, songwriter, pianist, and guitarist. Russell attended Will Rogers High School in Tulsa, Oklahoma. He is occasionally referred to as "The Master of Space and Time," a title he acquired around the time of his collaborations with Joe Cocker. First known mostly as a session musician, Russell has played with artists as varied as Jerry Lee Lewis, Phil Spector and The Rolling Stones. With a solo career spanning the genres of rock, blues, and gospel, Russell began his musical career at 14 in Tulsa nightclubs. Two years later, after settling in Los Angeles, he studied guitar with James Burton, and worked sessions with Dorsey Burnette and Glen Campbell. After becoming a part of Phil Spector's studio group, Russell played backup on many of the most popular hits of the 1960s, including The Byrds, Gary Lewis and the Playboys, Bobby "Boris" Pickett and Herb Alpert. He also served as Snuff Garrett's assistant on numerous productions. Russell built his own recording studio in 1967, and recorded his first LP, Look Inside the Asylum Choir, in a collaboration with Marc Benno. His first songwriting hit was Joe Cocker's 1969 version of "Delta Lady", and Russell went on to organise Cocker's Mad Dogs and Englishmen tour. The Russell-written "Superstar", sung by Rita Coolidge on that tour, would go on to be a big hit by The Carpenters, Luther Vandross, and others. Shortly thereafter, Russell released a solo album, Leon Russell, which included the original version of the popular "A Song for You". Also in 1970, Russell played piano on Dave Mason's album, Alone Together (notably, on the song "Sad and Deep as You"). During the 1960s and 1970s, Russell owned the Church Recording Studio on 3rd Street in Tulsa, which is now owned by Glen Mitchell and one-time Russell studio engineer Steve Ripley of the country band The Tractors. Russell still records there frequently, while his former home on Grand Lake, in northeast Oklahoma, still contains the famous dining room table and chairs made from church pews from his Church Studio. On the property stands a private recording studio that has seen many famous names, including members of The Beatles. In the summer of 1971 Russell was asked by George Harrison to play piano on Badfinger's third album, Straight Up. The piano which complements George Harrison's slide guitar on Badfinger's radio hit "Day After Day" is played by Leon from those Apple sessions. The sessions were interrupted because many of the musicians on Straight Up left for New York City to participate in the Concert For Bangladesh, organized by George Harrison and Ravi Shankar, at which Russell performed a memorable medley of the songs "Jumpin' Jack Flash" and "Young Blood". Also in 1971 Russell played on recording sessions with B.B. King, Eric Clapton, and Bob Dylan. He also released two studio albums under his own name that year, Leon Russell And The Shelter People and Asylum Choir II. Further, Russell helped Freddie King to revive his career by collaborating with him on three of his albums for Shelter in early 1970s. In 1972, his album Carney reached #2 on the charts, fueled by the hit single "Tightrope". In addition, the LP contained a tune called "This Masquerade" that the Carpenters also recorded, and years later, would win a Grammy for George Benson. During the '70s, Russell continued to pop in occasionally and perform at the Paradise Club and other noted music spots around Tulsa. He surprised his fans one night by performing with Flash Eddy and the Eclectics at the Paradise. His 1975 album Will O' the Wisp was fairly commercially successful, as was its single "Lady Blue". Gailard Sartain, fondly remembered by Tulsans as Mezeppa Pompazoidi (a Saturday night movie host, joined many times by Gary Busey), did the cover artwork for the LP. Later that year, Russell married Mary McCreary, a former member of Sly & the Family Stone's background vocal group Little Sister. The two collaborated on The Wedding Album in 1976. In 1977, Russell and McCreary reunited for another album, and in 1979 Russell worked on a collaboration with Willie Nelson. He spent the next two years touring with the New Grass Revival, and released two more albums with Paradise before the label folded. For several years, Russell stayed largely out of the music spotlight, releasing Anything Can Happen in 1992, then two more albums in 1998 and 1999. He continues to tour at the age of 65. His bassist, Jack Wessel, has been with Russell close to 25 years. His son with McCreary, Teddy Jack (named after Gary Busey's character on Sartain's show), has also toured with his father, as have his sisters Tina Rose and Sugaree Noel.