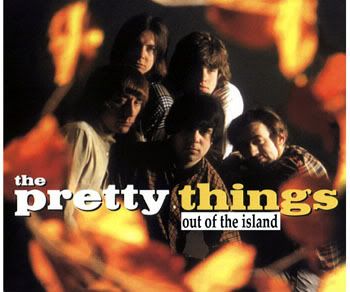 The Pretty
Things
-
Out Of The Island
-
1987
-
Inakustik Records
[ Re-issued on CD in 1998 on Inakustik/Inak Records ]

One of the great British rock and roll and rhythm and blues bands. They never had a hit in the U.S, but had large success in their native U.K, and in Australia, New Zealand, Germany, and the Netherlands in the middle of the decade. However, in the U.S., along with bands like The Yardbirds and Van Morrison's Them, they influenced many garage bands, including the great MC5 and The Seeds. On "Out Of The Island" the Pretty Things re-recorded some of their greatest songs. Buy their great "Savage Eye" album, and listen to their brilliant 1968 " S. F. Sorrow" album, which is a hugely underrated psychedelic rock classic.
TRACKS / COMPOSERS
1. Cry to Me - Russell
2. Baby Doll - Berry
3. She's Fine, She's Mine - Diddley
4. Get the Picture? - Taylor/May
5. Havana Bound - May/Tolson
6. Can't Stop - May/Engel
7. Loneliest Person/L.S.D. - Taylor/Waller/May/Alder
8. Private Sorrow - Taylor/Waller/Povey/May/Alder
9. Moon Is Rising - Reed/Abner
10. Big City - Duncan/Klein
11. Cause and Effect - May
12. Well Known Blues - Taylor/May/Engel/Shaw/Stephan
13. You Don't Believe Me - Graham/May/Morrell/Page
14. Judgement Day - Morrison (Arr. Taylor/May/Shaw/Taylor/Engels/Tervelde
BAND
Bertram Engel - Drums
Phil May - Vocals
Joe Shaw - Guitar
Steffi Stephan - Bass, Tambourine
Dick Taylor - Guitar
Roelf Ter Veld - Bass
SHORT BIO
Of all the original British Invasion groups, perhaps none are as underappreciated in the United States as the Pretty Things. Featuring the hoarse vocals of Mick Jagger-lookalike Phil May and the stinging leads of guitarist Dick Taylor (who actually played in early versions of the Rolling Stones with Jagger and Keith Richards), the Pretties recorded a clutch of raunchy R&B rockers in the mid-'60s that offer a punkier, rawer version of the early Stones sound. Their first two albums, as well as a brace of fine major and minor British hits (of which "Don't Bring Me Down" and "Honey I Need" were the biggest), feature first-rate original material and covers, and remain the group's most exciting and influential recordings. Unfortunately, the band remained virtually unknown to American audiences, most of whom would first hear "Don't Bring Me Down" on David Bowie's Pin Ups album (which also included a version of the Pretties' "Rosalyn"). After their initial run of success, the group took a sharp left turn into psychedelia with the orchestrated album Emotions (1967), impressive singles that owed more to Pink Floyd than Bo Diddley, and, most significantly, S.F. Sorrow (1968). The first rock opera, S.F. Sorrow was a major influence on Pete Townshend, who released his much more successful opera, Tommy, with the Who the following year. Founding member Taylor left shortly after S.F. Sorrow, and the group continued to record progressive rock and hard rock with less impressive results through the mid-'70s, although Parachute (1970) was named album of the year by Rolling Stone. The group reunited sporadically for occasional gigs and recordings in their early R&B vein before officially reforming to release Rage...Before Beauty in 1999. © Richie Unterberger, All Music Guide
ABOUT THE PRETTY THINGS [Encyclopedia of Popular Music, Copyright Muze UK Ltd. 1989 - 2004]

The party line on the Pretty Things is that they were early British blues-rockers as good as (or better than) the Stones but never got the same breaks. While this notion has merit, it overlooks the fact that in the late 1960s, they went on to create a concept-rock masterpiece (S.F. SORROW) on par with the artiest creations of the Beatles. Though the band went through numerous breakups and personnel changes, they emerged in the '90s with their core membership intact, playing live and releasing new material. One of England's seminal R&B bands, the Pretty Things were formed at Sidcup Art College, Kent, England, in September 1963. The original line-up featured a founder-member of the Rolling Stones, Dick Taylor (b. 28 January 1943, Dartford, Kent, England; guitar), plus Phil May (b. 9 November 1944, Dartford, Kent, England; vocals), Brian Pendleton (b. 13 April 1944, Wolverhampton, West Midlands, England, d. 25 May 2001, Maidstone, Kent, England; rhythm guitar), John Stax (b. John Edward Fulligan, 16 April 1944, Crayford, Kent, England; bass) and Peter Kitley (drums), although the latter was quickly replaced by Viv Andrews. The band secured a recording contract within months of their inception. Their label then insisted that the luckless Andrews be removed in favour of Viv Prince (b. Loughborough, Leicestershire, England), an experienced musician and ex-member of Carter-Lewis And The Southerners. The Pretty Things' debut single, "Rosalyn", scraped into the UK Top 50, but its unfettered power, coupled with the band's controversial, unkempt appearance, ensured maximum publicity. Their brash, almost destructive, approach to R&B flourished with two exciting UK Top 20 singles, "Don't Bring Me Down" and "Honey I Need'. The unit's exuberant first album offered much of the same. Skip Alan (b. Alan Skipper, 11 June 1948, London, England) replaced the erratic Prince in November 1965. Although the Pretty Things" commercial standing had declined, subsequent singles, "Midnight To Six Man" and "Come See Me', were arguably their finest works, combining power with purpose. However, first Pendleton, then Stax, left the band and sessions for a third album, Emotions, were completed with two former members of the Fenmen, Wally Allen (bass/vocals) and John Povey (b. 20 August 1944, London, England; keyboards/vocals). Initially hired on a temporary basis, the duo proved crucial to the Pretty Things" subsequent development. By late 1967 the quintet was immersed in the emergent underground scene. Their music combined harmonies with experimentation, and two exceptional singles, "Defecting Grey" and "Talking About The Good Times", are definitive examples of English "flower-power' pop. The band's new-found confidence flourished on 1968"s S.F. Sorrow, an ambitious concept album that reportedly influenced the Who's own rock opera Tommy. The set was not a commercial success, and a recurring instability - Skip Alan was replaced by former Tomorrow drummer John "Twink" Alder - only to rejoin again, also proved detrimental. Dick Taylor's departure in November 1969 was highly damaging, and although the band's subsequent album, Parachute, was lauded in Rolling Stone magazine, his distinctive guitar sound was notably absent. The Pretty Things collapsed in 1971, but re-formed under a core of May, Povey and Skip Alan to complete Freeway Madness. This trio remained central through the band's subsequent changes until May embarked on a solo career in 1976. Two years later the Emotions line-up - May, Taylor, Povey, Allen and Alan - was reunited. The same quintet, plus guitarist Peter Tolson (b. 10 September 1951, Bishops Stortford, Hertfordshire, England), completed a studio album, Cross Talk in 1980. Ten years later, a revitalized unit released a rousing cover version of Barry McGuire's 1965 US number 1 "Eve Of Destruction". By the mid-90s they were still gigging, now under the watchful eye of manager Mark St. John. He had successfully won them back rights to songs and royalties. In 1996, after dozens of changes of personnel and image the line-up was the same as the unit that recorded the stunning "Come See Me"; May, Taylor, Alan, Allan and Povey. S.F. Sorrow was given its live premiere at Abbey Road studios in September 1998, with Dave Gilmour guesting on guitar. A new studio album followed in 1999, together with a fine remastering and reissue programme from Snapper Music. DISCOGRAPHY: The Pretty Things (Fontana 1965)****, Get The Picture? (Fontana 1965)****, Emotions (Fontana 1967)**, S.F. Sorrow (EMI 1968)****, Parachute (Harvest 1970)****, Freeway Madness (Warners 1972)***, Silk Torpedo (Swan Song 1974)***, Savage Eye (Swan Song 1976)***, Live '78 (Jade 1978)**, Cross Talk (Warners 1980)**, Live At The Heartbreak Hotel (Ace 1984)**, Out Of The Island (Inak 1988)**, On Air (Band Of Joy 1992)**, Rage Before Beauty (Madfish 1999)***, Resurrection (Worldwidetribe 1999)***. The band also completed several albums of background music suitable for films: Electric Banana (De Wolfe 1967)**, More Electric Banana (De Wolfe 1968)**, Even More Electric Banana (De Wolfe 1969)**, Hot Licks (De Wolfe 1973)**, Return Of The Electric Banana (De Wolfe 1978)**. COMPILATIONS: Greatest Hits 64-67 (Philips 1975)****, The Vintage Years (Sire 1976)****, Singles A's And B's (Harvest 1977)***, Electric Banana: The Seventies (Butt 1979)**, Electric Banana: The Sixties (Butt 1980)**, The Pretty Things 1967-1971 (See For Miles 1982)****, Cries From The Midnight Circus: The Best Of The Pretty Things 1968-1971 (Harvest 1986)***, Let Me Hear The Choir Sing (Edsel 1986)***, Closed Restaurant Blues (Bam Caruso 1987)***, Unrepentant (Fragile 1995)***, Latest Writs Greatest Hits: The Best Of Pretty Things (Snapper 2000)****, Singles As & Bs (Repertoire 2002)****, The Very Best Of (Repertoire 2004)***, Still Unrepentant: The Pretty Things 1964-2004 (Snapper 2004)***. VIDEOGRAPHY: S.F. Sorrow Live At Abbey Road (Snapper 2003). BIBLIOGRAPHY: The Pretty Things: Their Own Story And The Downliners Sect Story, Mike Stax. The Pretty Things: Growing Old Disgracefully, Alan Lakey.