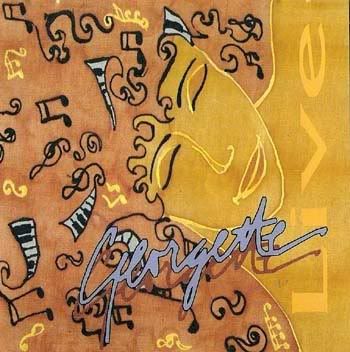 Georgette Fry - Live - 1996 - CBC Radio

" I doubt if there's a better female blues or rock vocalist in Canada…" © Andy Grigg, " © Real Blues Magazine. "With her luscious singing voice, she explores the soulful grey area between blues and jazz, where artists like Etta James and Ray Charles and Bonnie Raitt have staked their careers. © " Sandy MacDonald, Halifax Daily News.

Georgette Fry is a very talented Canadian blues jazz vocalist who deserves a wider audience. With her distinctive smoky soulful voice, she sings some great versions of well known blues/rhythm 'n' blues songs. This live album is an excellent demonstration her talent. N.B: Musicians listed here may be incorrect. A.O.O.F.C would appreciate a definitive band list. Try and locate her 1995 album, "Rites of Passage." It's blues jazz at it's best. For more jazz blues in this genre, there is info on the great Irish jazz blues vocalist, Mary Coughlan @ MCOUGHLAN/PLATCOLL

TRACKS / COMPOSERS

1. I'd Rather Go Blind - B.Foster/E.Jordan
2. I Never Fool Nobody - D.Pomus/M.Rebennack
3. 5 Months..2 Weeks..2 Days - D.Donaldson/D.Morris
4. Drown in My Own Tears - H.Glover
5. If We Can't Trust Each Other - E.Randle
6. When Love Walks Away - G.Fry
7. Don't Leave Me Guessin' - G.Fry
8. You're Not the Only One - C.Peterson
9. Just Like a Fish - P.Wood
10. Wild, Wild Young Men - Nugetre
11. Rain is a Bring Down - R.Brown
12. Living the Blues - T.Nelson/G.Nicholson

MUSICIANS

Georgette Fry - Vocals
Jim Preston - Guitar
Gerry (Dirt) Clancy - Drums
Zak Colbert - Bass

N.B: Band list is probably incorrect or incomplete. Info appreciated on musicians.

Recorded 30.5.96 in Calgary, Alberta. This album earned Georgette Fry the Jazz Report Award for Blues Musician of the Year; two Real Blues Magazine Awards for Best Canadian Blues Vocalist (1997, 1998), and two nominations for Female Vocalist of the Year from the Maple Blues Awards (1997, 1998).

ABOUT THE ARTIST

Juno nominated Georgette Fry is an accomplished blues and jazz vocalist from Kingston, Ontario. A veteran of the concert and festival circuit, she receives rave reviews for her live performances. Georgette has been described as a "powerful and expressive singer". She has received multiple nominations from Maple Blues Awards for "Female Vocalist of the Year". In January 2004 she received Real Blues Awards for "Best Blues Songwriter", "Best Blues Release – Female Artist" (Let Me Drive) and Best Canadian Blues Vocalist (Female). In 2006 CBC's "Saturday Night Blues" awarded her the "Great Canadian Blues Award". She has also been honoured to be included on the Toronto Blues Society's album "Women's Blues Revue LIVE" and on CBC's Saturday Night Blues "20 Year Compilation CD".

BIO
"I think you have to take what I do in context and look at the body of songs I play. What you see is a strong independent woman"- G.Fry. Georgette Fry was born into a Canadian Armed Forces family in St. Jerome, Quebec in 1953 and spent the first 20 years of her life regularly moving around to such places as Metz (France), Lahr (Germany) and Ottawa, Ontario. Having arrived in Kingston, Ontario in 1975 from Ottawa, Georgette joined her first band a year later and, except for a seven-year stint in London, Ontario (1987-1994), she insists on calling Kingston 'home'. Georgette began writing songs while living in London and arrived back in Kingston in November of 1994, bringing with her a recording grant from the Ontario Arts Council. This brought about the release of her Juno-nominated, debut release album "Rites of Passage" in 1995. While touring in Alberta in 1996, CBC radio set out to capture her powerful stage presence live for broadcast on Saturday Night Blues and that performance became her second release, "Georgette - Live" which earned her: the Jazz Report Award for Blues Musician of the Year; two Real Blues Magazine Awards for Best Canadian Blues Vocalist (1997, 1998), and two nominations for Female Vocalist of the Year from the Maple Blues Awards (1997, 1998). She has recently received her fourth nomination from Maple Blues Awards for "Female Vocalist of the Year". In January 2004 she received Real Blues Awards for "Best Blues Songwriter", "Best Blues Release - Female Artist" (Let Me Drive) and Best Canadian Blues Vocalist (Female). Georgette is also a talented songwriter and was awarded another grant from the Ontario Arts Council in 1998, this time in recognition of her songwriting abilities. Seven of the 12 tracks on her newest release, "Let Me Drive", are Fry originals. "I was starting to run out of tunes by other people that appealed to me" Georgette said in a recent interview. "I don't do victim tunes and I like songs that have attitude." This attitude is exemplified in the title song of the CD and has become a favourite amongst fans. John Valentyn writes, "…so good are her songs. Fry has a very good sense of what she can do with her wonderful voice and her songs, with their effective lyrics, are much stronger for it." Maple Blues Magazine. "… not content with being a powerful and expressive singer, Ms. Fry is also a better-than-average writer …". Blues Bytes, (Phoenix Blues Society). A veteran performer on the festival and concert circuit, Georgette receives critical acclaim wherever she performs. She and her band are busy with concerts and festivals around Ontario, Canada but she loves to travel and plans to tour nationally and internationally. Her recent tour of Northern Ontario met with great success. Her presence and talent moved the audiences to standing ovations after every concert. In addition to performing, Georgette is preparing her next recording with her blues band that will include seven new originals. Also in the planning stage are a jazz album and an acoustic blues recording. Georgette is a dedicated artist with a passion for writing and performing music. "Georgette and her band put on a long, entertaining show, full of great music…. Don't miss an opportunity to see her live." © Warren Dallin, Live Review, CanadianBlues.ca www.georgettefry.ca/