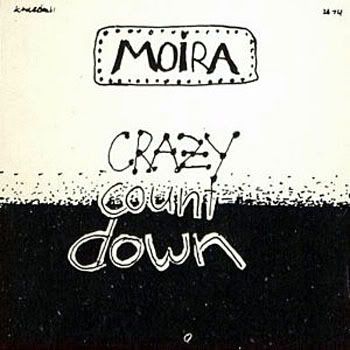 Moira
-
Crazy Countdown
-
1977
-
Schneeball

A good example of the German late seventies jazz rock tradition. The album is experimental in parts, but accessible and enjoyable. Any info on this band or album would be greatly appreciated by
A.O.O.F.C.
Edgar Hofmann played with the great Krautrock band, Embryo. Check out Embryo's great "Father Sons & Holy Ghosts" 1972 album. For music in the same genre, you should listen to Morpheus' great ""Rabenteuer" album from 1976.
TRACKS
1.Para Jofrey 8:05
2.Crazy Countdown 5:55
3.Smile 5:41
4.Mata Meme 5:45
5.Gemini 4:12
6.Always later 6:34
7.Spain Mandala 5:01
N.B: Tracks 3 & 4 may be incomplete versions of original studio tracks. Info appreciated.
BAND

Jürgen Kanwischer - guitars, [all instruments (Track 5, 6)]
Butze Fischer - drums, percussion, timbales
Rainer Frank - Bass
Edgar Hofmann - soprano saxophone, flute
Burkhard Plenge - keyboards
Jofrey Ramos - congas, percussion
BAND INFO.

Certainly one of the more obscure bands from the vast Gunderground, Moira were a fascinating progressive fusion collective formed by veterans of the Krautrock scene including Edgar Hoffman (Embryo) and Butze Fischer (Missus Beastly, Guru Guru, Embryo). Both their albums were recorded for the Schneeball label, the record consortium setup by members of Embryo and Missus Beastly. Musically, Moira fit snugly into the label's distinct school of fusion and are part of the German "M" scene of jazz rock groups (Morpheus, Missus Beastly, Munju). For the debut, "Crazy Countdown", Moira explored many of the areas that were popular at the time, including Latin-tinged jazz fusion ("Para Jofrey", "Spain Mandala"), Eastern meditation journeys with sitar and flute ("Smile"), acoustic seriousness ("Gemini"), acid cosmic space rock ("Always Later"), lounge funk ("Mata Meme"), even post-Miles Davis intense jamming (title track). During this era, the band were clearly lead by guitarist Jorgen Kanwischer, who is credited with scoring all the compositions as well as being the sole instrumentalist on "Gemini" and "Always Later". Six years later the group had completely changed hands (see below for more explanation) and actually took on an older, more retro sound when absolutely no one was doing that in 1984. In an era when every band had the most tin-sounding, Casio-like, digital keyboard and every guitarist was going for the pig-squeal guitar hero motif, could a band possibly put an album out with Hammond organ, Moog and wah-wah guitar as its main ingredients? Sounding like a long lost recording from a smoky club in Hamburg, the band let loose with an unpretentious instrumental jazz rock album not found since the glory days of 1974. A truly astonishing release that beats their already excellent debut in every way. The title track opener is a side long exercise in organ, analog synth and guitar jamming with some incredible jazz drumming and a mighty fine bass player. This is followed by the short "Oase," a flute, drum and percussion piece that would not have been out of place on Yatha Sidhra's album. Side two opens with "Kristall," a more fusion oriented piece with some dirty organ and guitar shredding. "Einsame Schatten", the only track with singing, follows with a blistering sequence that recalls the early Toto Blanke works. This track continues paradoxically with a funky jazz bit with German vocals recalling Embryo's Bad Heads and Bad Cats in their most silly mood. This section would be the album's only misstep. The too short closer "Resume" recalls the ending of Virus' Revelation album complete with echoed German recitation and acid guitars. There's been quite a bit of debate about this second album and its origins/authenticity. Anyone from Ultima Thule's Cosmic Egg professors to Schneeball label owner/Embryo icon Christian Burchard have shrugged their shoulders and said "no idea?". But the label clearly says Schneeball with a yellow background. The catalog number of 0025 was presumably used by polit-rockers Hammerfest on Hier Bei Uns, though careful steady shows that album was also on the Maulschnauz label, causing even more confusion. Then there was the small matter that neither album shared similar members. However there is a link: Some copies of Crazy Countdown come with a detailed Moira newsletter. The then current lineup of the band (1978) had already evolved and included one Eberhard Bronner on drums, who is in fact on Reise Nach Ixtlan. Both are absolute must owns for the serious Krautrock fusion collector. Tom Hayes, 01-Aug-2006 - Original review: 17-Mar-2001, Revised: 28-Jul-2006, http://gnosis2000.net/reviews/moira.htm