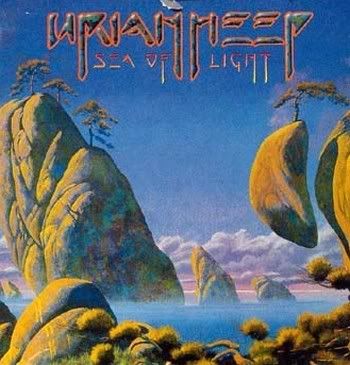 Uriah Heep
-
Sea of Light
-
1995
-
HTD
A great abum, regarded by many fans and music critics as Uriah Heep's "renaissance." All the tracks are good. The guitar work by Mick Box is tremendous. Great vocals from Bernie Shaw, and amazing keyboard work by Phil Lanzon. The Heep are back to their best on this album. Check out The Heep's classic "Demons and Wizards" and "Very 'Eavy...Very 'Umble" albums.
TRACKS / COMPOSERS
1.Against the Odds (Box/Lanzon)
2.Sweet Sugar (Bolder)
3.Time of Revelation (Box/Lanzon)
4.Mistress of All Time (Lanzon)
5.Universal Wheels (Bax/Box/Lanzon)
6.Fear of Falling (Bolder)
7.Spirit of Freedom (Box/Lanzon)
8.Logical Progression (Box/Lanzon)
9.Love in Silence (Box/Lanzon)
10.Words in the Distance (Box/Lanzon)
11.Fires of Hell (Your Only Son) (Bolder)
12.Dream on (Bolder)
MUSICIANS

Mick Box: Guitars, Vocals
Bernie Shaw: Lead Vocals
Trevor Bolder: Bass guitar, Vocals
Lee Kerslake: Drums, Vocals
Phil Lanzon: Keyboards, Vocals
Piet Sielck: Additional Keyboard Recording
"Heep's Little Helpers" Additional backing vocals: Rolf Kohler, Pete Beckett
REVIEWS

Background - 1995 saw a return to glory for eternal rock dinosaurs Uriah Heep. Talk about a topsy turvy career, littered with successes and failures. However, through all of this has been the resolve to keep releasing music, something they have no problem doing. With this particular line-up, the band have reached a level of unsurpassed stability, something they had problems with previously. Two of the key recruits were the Grand Prix pairing of Shaw and Lanzon. On 'Sea Of Light' they do make significant contributions, Shaw giving fellow frontman Graham Bonnet a run for his money in the 'vocal power' stakes, and there is a certain similarity between the two. The Songs - Opening up with the striking 'Against The Odds', Uriah Heep comfortably mix chugging guitar power with progressive keyboards supplied by Lanzon. The whole thing moving in a direction not unlike 'Back Down To Earth' era Rainbow. Again, Lanzon supplies the spiky organ blasts on 'Sweet Sugar' though lyrically the songs border on the banal. 'Time Of Revelation' is a classic hark-back to the seventies era, circa 'Look At Yourself'. 'Mistress Of All Time' sees Shaw zeroing in on Jon Anderson's vocal dabbles, which is a lovely slice of progressive balladry written by Lanzon. 'Universal Wheels' is a hard rocking track with a sound lost in the eighties (fine by me!), the guitar and keyboard interplay a feature, as is the voiceover/narration during the solo section. 'Fear Of Falling' is a tight, decisive pice of music, with Bolder's bass working overtime, while the pairing of 'Spirit Of Freedom' and 'Logical Progression' are the two highlights for me, the latter featuring some fluid bass lines from Bolder and some AOR approved guitar chords from Master Box. In Summary - Consistency is the name of the game here, and it's nice to see an overdue return to form from the Heep'sters. Not that their immediate prior albums were really bad, it's just that 'Sea Of Light' stands out more in a positive sense. The album was re-released by Spitfire Records several years later for the US market mainly. Three years later they continued the positive vibe with 'Sonic Origami', though there are more acoustic flavored moments on that one. Fans of tight melodic rock need to seek this album out. Review © gdazegod, www.glory-daze.com/readarticle.php?article_id=1542
As for me, "Sea of Light" is undoubtedly the best album in the long history of this alive legend! Quite apart from fantastically beautiful playing and singing from all of the band members all over the disc, this album also is simply a set of the excellent Hard Rock blockbusters: to begin with absolutely "progressive", daring and unexpected Against the Odds (a real Prog-killer!), then on to Universal Wheels, Logical Progression, through the powerful and energetic Time of Revelation, Fear of Falling and Words in the Distance to conclude with really witty melodic Rock-ballads like Mistress of All Time and Dream On! Summary: Frankly, I love this album, as well as I like a lot this line-up (see above). And I'm very amazed that a lot of the old band's fans lose their ears: this is Uriah Heep "at their best"! So, I understand the feelings of the band members, when I read the following words in the album's booklet: "But most important of all - our special thanks GO OUT to all our fans worldwide for their very "umble support". I agree absolutely: such a shame! Hold on, guys! You really know that we love you, because you are great musicians and Uriah Heep is one of the best Progressive Hard Rock Bands of all times! © VM. August 30, 1999 www.progressor.net/review/uriah_heep_1995.html
Although they had continued to record steadily after making a comeback with 1982's Abominog, Uriah Heep had slipped off the heavy metal world's radar by the mid-1990s. Just the same, they manage to notch up an impressive and well-received album in 1995 with Sea of Light. The key to this album's success is that it forsaked the ill-judged pop metal stylings of albums like Equator for a return to the gothic-tinged old-school metal style that highlighted classic Uriah Heep albums like Look at Yourself. A great example is "A Time of Revelation," a gutsy rock tune that glides forwards on a one-two-three punch of thick guitar work, rousing organ riffs, and several layers of operatic vocal harmonies. Meanwhile, "Against the Odds" resurrects the operatic feel of the group's early work, and "Sweet Sugar" is a gritty rocker that could have easily fit in on Return to Fantasy. However, the classic rock punch of Sea of Light is tempered with a mature lyrical outlook that forsakes the Dungeons and Dragons themes of their 1970s output and the AOR-styled love lyrics of their 1980s albums for a world-conscious outlook. Sometimes they get a bit carried away when they try for the message song ("Universal Wheels" lays it on a little too thick, especially when it starts working in faux news report sound bites about the world's problems), but the positivism expressed in tunes like "Spirit of Freedom" and "Logical Progression" is appealing, and these lyrics effectively compliment the generally anthemic tone of the music. In the end, Sea of Light may be a little too old-fashioned for rockers accustomed to Metallica and Megadeth, but those who enjoy the heavier side of classic rock will find plenty of old-school pleasures on this disc. © Donald A. Guarisco, www.allmusic.com
ABOUT URIAH HEEP
URIAH HEEP came into being in 1970, the band being largely the same as that previously known as SPICE. The multi talented Ken Hensley, who had previously been a member of CLIFF BENNETT?S TOE FAT, and also The GODS (which also featured GREG LAKE in their line up) was brought in mainly to add an organ to the band?s sound. In the early years, Hensley, together with Mick Box (guitar) and David Byron (vocals) formed the nucleus of the band. The rhythm section was somewhat transient with both bass and drums being played by a succession of band members. Of these, Paul Newton was probably the most influential member, particularly as his father was involved in managing the band. It wasn?t until their fourth album ?Demons and Wizards? that the rhythm section was finally sorted out. Le Kerslake (who had previously played with Hensley in The GODS was brought in on drums, and Gary Thain (ex KEEF HARTLEY BAND) on bass. The difference was immediately obvious, and the ?classic? line up was born. Sadly, Thain died in 1975 and later Byron died in the 1980?s, have been previously sacked by the band at different times due to drink and drug related problems respectively. Line up changes have been a feature of the band throughout their career, with John Wetton, John Lawson, and Trevor Boulder being among the lengthy list of names. These changes have not always proved to be for the better, and have at times resulted in disappointing albums, the most notorious of these being ?Conquest?. The band has on a number of occasions been on the brink of extinction, or at least given the number of line up changes, a change of name. Guitarist Mick Box has however carried the torch and ensured that even today, the songs which made URIAH HEEP one of the top acts in the world, are still performed live. The present line up of Boulder, Kerslake, Box, Lanzon, Shaw holds the distinction of having been together for the longest period of any line up in the band?s entire career. They still tour regularly, and released their latest album, ?Sonic Origami? in 1998. URIAH HEEP?s music covers a multitude of styles. In prog terms, their style is more toward progressive metal, with symphonic overtones while always retaining a strong focus on melody. Their early influences include VANILLA FUDGE, while the strong vocal harmonies of THREE DOG NIGHT are also mirrored on many tracks. URIAH HEEP have in turn had a strong influence on the music of bands such as QUEEN and more recently The DARKNESS. Sometimes the music is soft and melodic, with virtually every album containing at least one ballad. The sound most associated with the band however is that which appears on their very first track, ?Gypsy?. The heavy guitar riff is backed by a Hammond Organ, fed through Leslie speakers, a strong bass line, and tub-thumping drums. URIAH HEEP have had their share of fame and fortune over the years, being a headline act throughout the world in the 70?s. They have consistently however been derided by the critics who have always found it more convenient to simply dismiss the band?s music on the basis on uninformed preconceptions. © Bob McBeath (with thanks to the offcial URIAH HEEP website)
BIO (Wikipedia)

Uriah Heep are an English rock band, formed in December 1969 when record producer Gerry Bron invited keyboardist Ken Hensley (previously a member of The Gods and Toe Fat) to join Spice, a band signed to his own Bronze Records label. Sometimes jokingly referred to as "The Beach Boys of heavy metal" for their melodic songs, and trademark multi-part harmony backing vocals, although their music draws on diverse influences including: progressive rock, hard rock, heavy metal, jazz and even country on occasion. As one of the first bands to fuse progressive with metal, they are a precursor to the progressive metal genre. In spite of their huge popularity in Britain and continental Europe, Uriah Heep were never able to break into the American market in a big way, with the exception of three hit songs, "Easy Livin' " from the 1972 album Demons and Wizards, "Sweet Lorraine" from the 1972 album The Magician's Birthday (a top ten album in Australia), and "Stealin' " from the 1973 release Sweet Freedom. The band released several commercially successful albums in the 1970s, including the seminal Uriah Heep Live (1973), but their audience declined by the 1980s, to the point where they became essentially a cult band in the US and UK. Uriah Heep maintain a significant following in Germany, the Netherlands, the Scandinavian Peninsula, the Balkan Peninsula, Japan and Russia, where they still perform at stadium-sized venues. Their debut album, Very 'Eavy... Very 'Umble (which was self-titled in the United States), introduced a heavy organ and guitar-driven sound, with David Byron's theatrical, dynamic vocals soaring above thunderous sonic backgrounds, although acoustic and jazz elements also featured in the mix. The album's title references the signature phrase of the Dickens character Uriah Heep ("very 'umble") from the novel David Copperfield from which the band took its name. Their second album, Salisbury, was more squarely in the progressive rock genre, with its 16-minute title track featuring a 24-piece orchestra; it also included Lady in Black. Their third album, "Look at Yourself", released at the end of 1971, included the single "July Morning". Subsequent releases would find the group's ever-shifting lineup (between 1969 and 1980, the band changed drummers five times, bassists four times, and lead singers twice) frequently exploring fantasy-oriented lyrical themes, often in lengthy, multi-part compositions, largely penned by Hensley, who would eventually come to dominate the band during his tenure. On December 8th 1975, New Zealand-born former bassist, Gary Thain, was found dead in his Norwood Green home, aged 27, having overdosed on heroin. Following the 1976 replacement of vocalist David Byron (with John Lawton - formerly of the German band Lucifer's Friend), Uriah Heep turned away from fantasy-oriented lyrics and multi-part compositions back toward a more straightforward hard rock sound typical of the era. In 1977 they scored a top 40 chart hit in Australia with "Free Me" which went all the way to #1 in New Zealand. The replacement of Lawton with vocalist John Sloman for the 1980 album Conquest was not well received by most fans, and Ken Hensley's acrimonious departure in September of that year left the group in a state of collapse. It fell to guitarist Mick Box to pick up the pieces and soldier on with a new singer Pete Goalby of Trapeze fame. Two early 1980s releases, Abominog and Head First, updated the band's sound and generated a brief, newfound interest in Uriah Heep among younger glam metal fans. David Byron died of an epileptic fit and liver disease on February 28th 1985, at the age of 38. Uriah Heep still tour and release both (occasional) studio and (frequent) live albums. The lineup was unchanged from 1986 until early 2007, being veteran Mick Box at the helm, Trevor Bolder on bass, Lee Kerslake on drums, vocalist Bernie Shaw and Phil Lanzon on keyboards. Their principal tour circuit is in Germany, the Netherlands, the Scandinavian Peninsula, Japan, and Russia, although they returned to Britain for a tour or a showcase concert most years. For several years this was The Magician's Birthday Party (named for one of their most popular albums), in London. This event consists of fan gatherings at local venues featuring current and former band members, and a concert, often with guest appearances by former members. However, to date, the last Party was in 2004. Mick Box also acted as manager until, on April 5, 2005, the band retained Simon Porter as their manager. In December 2006, the band announced that they were recording a new album with producer Mike Paxman for Sanctuary Records, with release planned for 2007. In early 2007 drummer Lee Kerslake had to leave the group due to ill health. In March 2007, the band recruited Russell Gilbrook as their new drummer, and immediately started recording a new studio album entitled Wake the Sleeper. Originally slated for a Summer 2007 release, Universal Music finally released Wake the Sleeper on June 2, 2008. In their Email newsletter of November 22, 2007, Mick Box announced that songs from the upcoming album would be performed on their European tour beginning November 24th.
BIO [ © Stephen Thomas Erlewine, www.allmusic.com ]

Uriah Heep's by-the-books progressive heavy metal made the British band one of the most popular hard rock groups of the early '70s. Formed by vocalist David Byron and guitarist Mick Box in the late '60s, the group went through an astonishing number of members over the next two decades — nearly 30 different musicians passed through the band over the years. Byron and Box were members of the mid-'60s rock band called the Stalkers; once that band broke up, the duo formed another group called Spice. Spice would eventually turn into Uriah Heep in the late '60s, once Ken Hensley (guitar, keyboards, vocals) and bassist Paul Newton joined the pair. Former Spice drummer Alex Napier was the band's drummer for a brief time; he was quickly replaced by Nigel Olsson. Uriah Heep released their debut album Very 'eavy...Very 'umble (called Uriah Heep in the U.S.) in 1970. After its release, Keith Baker became the group's drummer; he recorded Salisbury, the group's second album, before deciding he couldn't keep up with the band's extensive touring and was replaced by Ian Clarke. Salisbury, featuring a 16-minute title track recorded with a 26-piece orchestra, showcased the band's more progressive tendencies. Later that year, Ian Clarke was replaced by Lee Kerslake and Mark Clarke replaced Newton; Mark Clarke quickly left the band and Gary Thain became the group's bassist. This lineup of Uriah Heep was its most stable and popular; beginning with 1972's Demons and Wizards, they released five albums between 1972 and 1975. After 1975, the band's popularity began to slip. Byron left the band in 1977 and was replaced by John Lawton, yet the group's fortunes kept declining right into the early '80s. However, Uriah Heep soldiered on, continuing to release albums into the '90s and 2000s. The album roster included Different World (1994), Sea of Light (1995), Sonic Origami (1998), and Spellbinder (1999).