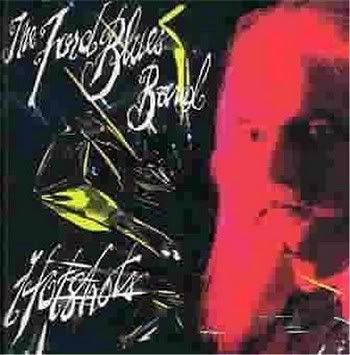 The Ford Blues Band
-
Hotshots
-
1994
-
Blue Rock'it
Here's a quote from Patrick Ford about this album's release - "Until you've walked in the boots of a wildland firefighter, you have no idea of just how much they give of themselves physically and emotionally for very little pay or appreciation. In "Mendocino Hotshot Blues" I have tried to pass along a taste of what it's like. I've seen the day turn to night as the smoke got so thick it blocked out the sun. I've seen the night turn to day as flames lit up the sky like the sun had just come back up. I've seen fear on men's faces as things got out of hand and they began to ponder the possibilities. There are all kinds of blues in this world. Some you are born into, some just happen, and others you create yourself. Firefighters chose to do what they do and must accept the consequences. We should all be very thankful that they have made that choice. This is my way of saying thanks". © 2002-2009 bandVillage Inc.
The great Ford dynasty includes many multi-talented bluesmen. The original Charles Ford Band from Ukiah, Northern California was completely dedicated to making genuine 100% blues-based music. Every song they played counted and every note was important. Even though many of their songs were composed by other established blues musicians, they were all infused with a spirit and energy, and arranged in a style that almost made the songs their own. The great Muddy Waters once tried to persuade Chess Records into offering the band a contract. The Charles Ford Band were ground breakers in blues, and were one of the most influential West Coast blues bands beginning in the early seventies. The late Charles Ford, and his sons, Patrick, Robben, and Mark have contributed immensely to blues music for many years now. There have been many variations of Ford blues bands, and a large chunk of great American blues music has been created by the great Ford clan. "Hotshots"is a no frills, unpretentious blues album, arranged by Robben Ford, with good Ford compositions, and some great covers. There are elements of "swing" blues, and R&B on the album, and if you like your jazz, listen to Gary McFarland's "Pecos Pete" which borders on fusion. Great stuff!. The guitar work from Scotty Johnson, and John Wedemeyer hroughout the album takes some beating. Check out the "Fords And Friends" and "Butterfield Bloomfield Concert" albums. Also, listen to the great Robben Ford's "Tom Cat" album. There is info on the great Gabe Ford s/t album @
GFORD/ST
Gabe is the son of Patrick Ford, naturally continuing in the great family tradition. The album includes appearances by his uncles Robben, and Mark Ford."
TRACKS / COMPOSERS
1. Blues Keeps Comin' Down - The Ford Blues Band
2. Crazy for My Baby - Little Walter
3. Just a Little Bit - The Ford Blues Band
4. Mendocino Hotshot Blues - The Ford Blues Band
5. You Upset Me - Maxwell Davis, Joe Josea
6. I Once Knew a Young Man - Patrick Ford
7. It's Hot - Patrick Ford
8. I Pity the Fool - Deadric Malone
9. Pecos Pete - Gary McFarland
10. Meetin' With Some Lovin' - Mark Ford
11. Love Me or Leave Me - The Ford Blues Band
MUSICIANS
PATRICK FORD - drums/voc/arranger/producer
ANDY JUST - hca/voc
SCOTTY JOHNSON - gtr/voc
DEWAYNE PATE - bass.
ROBBN FORD - arranger
ADDITIONAL MUSICIANS
JOHN WEDEMEYER - gtr
STAN POPLIN - bass
JOHN R. BURR - pno
STEVE SIACOTOS - voc
BIO
After leaving Ukiah, CA, and moving south to San Francisco to form the Charles Ford Band (named for their father) in the late '60s with harmonica player Gary Smith, brothers Pat (drums) and Robben (guitar) were enlisted by Charlie Musselwhite and were pivotal members of one of the best aggregations the harpist ever led. Leaving Musselwhite after recording Arhoolie's Takin' My Time, they recruited bassist Stan Poplin and younger brother Mark, then age 17, on harmonica and played under the name the Real Charles Ford Band. Heavily influenced by the original Butterfield Blues Band and the Chess catalog, the quartet was famous for their live jazz explorations -- often jamming for 30 minutes or more on a John Coltrane and George Benson tune -- and hear-a pin-drop dynamics (with Mark abandoning mike and amp to play acoustically into the room or Robben turning the volume all the way off on his fat-body Gibson L-5). Muddy Waters sat in with and praised the young band, and Chess Records even came courting, but the brothers split on New Year's Eve, 1971, recording their sole LP posthumously, as it were. Robben went on to major cult status via session work and sporadic solo releases, and after lengthy hiatuses Mark and Pat continue to gig around the Bay Area and Europe. Pat founded his own Blue Rock'it label, on which albums like The Ford Blues Band, Hot Shots and 1999 were released. The band's influence in Northern California is still enormous, particularly among guitar players who continue to ape licks Robben forgot two decades ago. © Dan Forte, All Music Guide