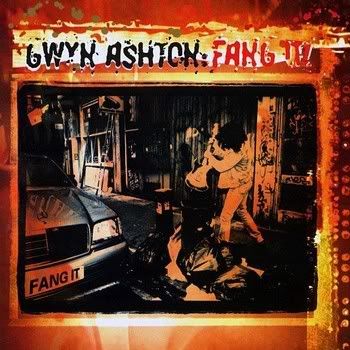 Gwyn Ashton
-
Fang It!
-
2000
-
Riverside
"Ashton doesn't just sing and play, he grabs his music by the throat and squeezes every ounce of life out of it." © Maverick
" ...unlike many of his contemporaries Ashton does not resort to cliché, pomp and bluster, but lays down terrific riffs and inserts just enough light and shade to make him a leader in this genre. Add into this heady mix a more than useful songwriter and impassioned vocalist and he is a triple threat…this is top drawer stuff." © Blues Matters
Welsh born Gwyn Ashton migrated to Adelaide, South Australia in the mid-sixties. He began to play guitar in 1972.. He has jammed with the legendary Canned Heat, and Chris Duarte, and has toured with Junior Wells, Rory Gallagher, Peter Green, Dr Feelgood, Nine Below Zero, Sam Brown, Bernie Marsden, Micky Moody, and Albert Lee. He performs globally, and has regularly toured Europe since 1996 where he set up base in England, playing with bassist, Gerry McAvoy, and drummer, Brendan O'Neill, who were great sidemen to the legendary late, great Irish bluesman, Rory Gallagher. Rory would have appreciated this great album. Buy Gwyn's brilliant "Beg, Borrow and Steel" album.
TRACKS
1. Breaking All The Rules
2. Living On A Faultline
3. Gettin' On Down
4. How Can I Leave You (If You're Gonna Come Too?)
5. Gettin' Better
6. Cold As Ice (Tribute to Albert Collins)
7. Leave That Girl Alone
8. Hot In Here
9. I Boogied
10. Who's That Comin'?
11. Faded Memory
All songs composed by Gwyn Ashton, except "Who's That Coming?" by Rory Gallagher
BAND
Gwyn Ashton - guitar, vocals
Gerry McAvoy - bass
Brendan O'Neill - drums
N.B
:
p/w
if required is
aoofc

REVIEWS
"Fang It!" showcases all aspects of Gwyn Ashton's talent: from hard-rocking tracks "Breakin' All The Rules", "I Boogied", "Getting Better" and "How Can I Leave You", which are packed with energy, and are indicative of the band's powerful performances on stage, to slower blues/jazzy songs such as "Hot in Here", which are steeped in the greatest of musical authenticity. Gwyn also shines on the closing acoustic number "Faded Memory", with soulful, emotion fuelled vocals. "Fang It!" promises to be an even bigger showstopper than Gwyn's critically acclaimed debut album "Feel the Heat", acknowledging Gwyn as one of the fastest rising guitarists on the rock/blues scene today. © http://cdbaby.com/
Gwyn Ashton recorded his second album "Fang It!" at Matrix Studios in London with ex-Rory Gallagher sidemen Gerry McAvoy on bass and Brendan O'Neill on drums. The album was produced by Nine Below Zero's Dennis Greaves and engineered by Kenny Jones (Oasis, Robbie Williams…). Gwyn Ashton composed ten of the eleven songs on "Fang It!" which reveals his immense talent as a musician and songwriter. The rendition of Rory Gallagher's "Who's That Coming" is the ultimate tribute to the great Irish musician, recorded with Gerry and Brendan, Rory's killer rhythm section. "Fang It!" showcases all aspects of Gwyn Ashton's talent: from hard-rocking tracks "Breakin' All The Rules", "I Boogied", "Getting Better" and "How Can I Leave You", which are packed with energy, and are indicative of the band's powerful performances on stage, to slower blues/jazzy songs such as "Hot in Here", which are steeped in the greatest of musical authenticity. Gwyn also shines on the closing acoustic number "Faded Memory", with soulful, emotion fuelled vocals. "Fang It!" promises to be an even bigger showstopper than Gwyn's critically acclaimed debut album "Feel the Heat", acknowledging Gwyn as one of the fastest rising guitarists on the rock/blues scene today. © 1996-2009, Amazon.com
BIO
Gwyn Ashton's one-man-band solo show is a blend of alternative swamp blues and boogie, all played on his resonator, lap-slide, 6 & 12 string guitars, harmonica and a homemade foot stomp board. His latest project is an alternative guitar and drums blues and roots/rock power duo with drummer Kev Hickman, making creative use of fuzzed-out bottleneck slide, octave dividers, delays, loops and drums, kicking the blues into the 21st century. Like a band possessed, Ashton's ­fiery 2-man combo pulls no punches and delivers the goods every time. These guys are Lo-Fi, analogue, wild and dangerous, as witnessed in Berlin at Popkomm '08, broadcast across Europe by ZDF television. From opening for blues legends such as BB King and Buddy Guy to sharing the stage and recording with members of Rainbow, Black Sabbath and Whitesnake, Ashton is one of the few musicians today who can hold their own in either capacity and is responsible for turning a lot of younger people onto the blues, as well as appealing to an older audience. He has been praised by such luminaries as Robert Plant, Johnny Winter and Eric Johnson. Over the years Ashton has played onstage with Mick Fleetwood, Hubert Sumlin, Marc Ford, Jon Paris, Canned Heat and has opened for Rory Gallagher, Ray Charles, Robin Trower, Vanilla Fudge, Wishbone Ash, Van Morrison, Jeff­ Healey, Tony Joe White, Johnny Winter, Mick Taylor, Peter Green, John Hammond and Pat Travers. He also appears and gives tutorials in numerous guitar magazines, has two of his songs in movie soundtracks in France and Asia, conducts masterclasses in Australia and Europe (inc GIT and Guitar X, London) and performs live on radio and television worldwide. From supercharged four-on-the-floor rockers to gritty blues, Ashton's playing, songwriting and singing are in top form. This is in full evidence on his last release, Prohibition, whose guests include Chris Glen, Ted McKenna (Sensational Alex Harvey Band, Michael Schenker Group, Ian Gillan rhythm section) and Deep Purple keys man, Don Airey. Welsh-born Gwyn Ashton migrated to Adelaide, South Australia in the '60s, picked up a guitar at 12 and from the age of 16, played every bar, festival and seedy biker show imaginable. Aussie audiences are tough and like their rock & roll loud, hard and fast. This is where Ashton learned how to play his ass off­. Entertain or be beer bottled! In the '90s he moved to Melbourne, played shows with Jim Keays and Mick Pealing, recorded his first two albums and opened for Junior Wells, Rory Gallagher, Steve Morse and Albert Lee. He relocated to Sydney in the '80s, playing stints with Swanee and Stevie Wright. With his own band, he carved up stages nationwide - some in the middle of nowhere, fronted with chicken wire, sometimes driving for days through the outback to get to the next show. In the 90s he moved to Melbourne, played with Jim Keays and Mick Pealing, recorded his fi‑rst 2 albums and opened for Junior Wells, Rory Gallagher, Steve Morse and Albert Lee. Promoting his then current album Feel The Heat, Ashton's band opened for UK rock icons Status Quo on their 15-date British arena tour in '99. This included dates at Birmingham NEC and Wembley Arena. In 2000 Ashton recorded Fang It! with Gerry McAvoy and Brendan O'Neil, former Rory Gallagher rhythm section now with Nine Below Zero. He then fronted Band of Friends, replacing ex Motörhead guitarist Brian Robertson. This was a tribute to Rory, with Gerry, Brendan, Lou Martin, Mark Feltham and Ted McKenna who all played with Rory over the years. © www.gwynashton.com
MORE ABOUT GWYN ASHTON
Blues guitarist, singer, and songwriter Gwyn Ashton was born in Wales and raised in South Australia. At an early age he developed a love for blues and rock music that was fueled as a result of recordings by renowned artists like Chuck Berry, Jimi Hendrix, Buddy Holly, Rory Gallagher, Muddy Waters, and many others. At the age of 11, Ashton picked up his first guitar and began the chore of learning to play the instrument. His natural talent didn't take long to show through. When he was a teenager, he teamed up with a couple of friends to form his first professional band. He stood in as frontman. The little group often managed to land jobs at local blues clubs and bars. After building a small fan base and landing some positive press, Ashton took his act on the road across Australia. He also spent time serving as a member with other groups now and then. In 1993, Ashton finished recording his debut album, Feel the Heat. It took three long years before his sophomore full-length offering, Beg, Borrow and Steel, was released. By now he was touring and performing in countries worldwide, including finding a market in the United States for his slide guitar-filled blues-rock. Some of the musicians who have been part of his recording band along the way include drummers Brendan O'Neill, Rick Tredrea, and Michael Wiedrich; along with bassists Geoff Brown, Sambor Kansy, and Gerry McAvoy. © Charlotte Dillon, allmusic.com