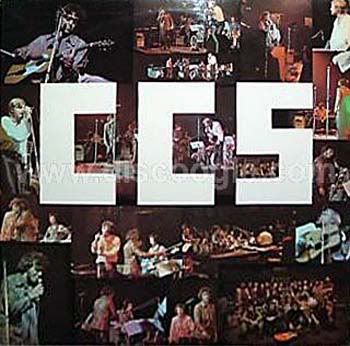 C.C.S
-
C.C.S second,
aka
C.C.S 2
-
1972
-
RAK
Formed by the late Alexis Korner, the legendary R&B revivalist, and his friend, Peter Thorup, C.C.S was a sensational 25-member British jazz rock big band ensemble in the early seventies, and featured some of the most talented session musicians in Britain. They played jazz, rock, & big band numbers, and were a a major force in British jazz rock during their very short life span from 1970 to 1973. Alexis Korner, through his personality and exuberance provided the focal point for C.C.S. He had a wonderful smoky voice and a natural love for the blues. His influence on the development of the British rock and blues scene was immense.This is early seventies British jazz rock of the highest calibre. Do some research into C.C.S, and Alexis Korner for a good insight into the revival of British R&B, and jazz rock. If you can find the band's first s/t,"CCS"'album, give it a good hearing.It's a rare example of top quality early seventies British big band jazz rock at it's finest. It's a pity there were so few album releases from this great ensemble. You can find the band's 1973 "The Best Band In The Land" album @
CCS/BBITL
Also check out the early "Blood Sweat, & Tears" albums for a similar musical style.
Side 1

TRACKS / COMPOSERS
1. Brother (Cameron/Korner) 3:24
2. Black Dog (Page/Plant/Jones) 4:07
3. I Want You Back (CCS, Gordy, Berry Jr. 3.42
4. Running Out Of Sky (Sky Diver) (Cameron) 3:57
5. Whole Lotta Rock 'N' Roll 6:11 (A: School Day (Berry), B: Lucille (Penniman/Collins), C: Long Tall Sally (Penniman/Johnson), D: Whole Lotta Love (Page/Plant/Jones/Bonham)
N.B:
Track 5, " Whole Lotta Rock 'N' Roll" varies from the track compilation given on the original 1972 LP

Side 2

TRACKS / COMPOSERS
1. a) Chaos (Cameron/Korner): b) Can't We Ever Get It Back (Cameron) 8:54
2. This Is My Life (Thorup) 3:52
3. Misunderstood (Cameron/Korner) 2:46
4. Maggie's Song (Cameron/Korner) 3:40
5. City (Cameron) 3:35
N.B:
The 2000 Repertoire Record CD release has two bonus tracks as follows -

11. Mister What You Can't Have (Cameron) 4.08 from 1972
12. Sixteen Tons (Travis) 2:55 from 1972
Both tracks are included in this post
MUSICIANS
Alexis Korner: vocals, acoustic guitar
Peter Thorup: vocals, acoustic guitar
Plus various members of The CCS Band [ The powerful rhythm section included Barry Morgan and Tony Carr (drums) and Bill Le Sage (percussion). Although the line-up would be subject to change, the bold, brassy CCS sound was sustained over three albums for Mickie Most's Rak label including their debut with 'CCS' (1970), and 'The Best Band In The Land' (1973).]
BIO (Wikipedia)

Collective Consciousness Society, more commonly known as CCS, were a British musical group, led by blues guitarist Alexis Korner. Formed in 1970 by musical director John Cameron and record producer Mickie Most, CCS consisted largely of session musicians, and was created primarily as a recording outfit. The personnel also included Peter Thorup, vocals; Alan Parker, guitar; Harold McNair, flute; Herbie Flowers, bass; Roger Coulam, keyboards; Barry Morgan, drums; plus Don Lusher and Bill Geldard, trombone. Some of the musicians were also members of Blue Mink. CCS are best known for their instrumental version of Led Zeppelin's 1969 track "Whole Lotta Love", which got into in the UK Singles Chart in 1970,[1] and was used as the theme music for the BBC pop programme Top of the Pops for most of the 1970s, and, in a remixed version, between 1997 and 2003. Technically, the TOTP theme was not by CCS, but was recorded by the TOTP orchestra one morning before the day's rehearsals. Having said that, the band was conducted by John Cameron on that occasion and many of the musicians were CCS regulars. This enabled the production to tailor the tune to the correct duration and, more importantly, avoided the weekly payment of royalties to the record label. Their highest-charting singles were the Donovan song "Walkin'", and "Tap Turns on the Water". They also recorded three albums, including cover versions of the old blues standard "Boom Boom", "Living in the Past", and "(I Can't Get No) Satisfaction" as well as original material. A retrospective compilation album, Singles As, Bs and Rarities was released in 2004.
MORE ABOUT C.C.S

Formed in 1970 around bluesman Alexis Korner and vocalist Peter Thorup. The rest of the line-up was rather loose and depended on people's availability but it included the likes of Tony Carr (drums), Harold Beckett (trumpet), Herbie Flowers (bass), Henry Lowther (trumpet) and Harold McNair (woodwind) to name but a few. They were among the first groups to record on Mickie Most's new Rak label and John Cameron arranged their albums. They had several hit singles, commencing with a cover of Led Zeppelin's 'Whole Lotta Love', which was used as the theme for BBC's 'Top Of The Pops' in this era. This also got to No. 58 in the US, where their debut album made No. 197. Their music was characterised by Korner's unique growling vocals. They split in 1973 when Korner and Thorup teamed up with former King Crimson members Boz Burrell and Ian Wallace to form Snape. [ Taken from The Tapestry of Delights - The Comprehensive Guide to British Music of the Beat, R&B, Psychedelic and Progressive Eras 1963-1976, Vernon Joynson ISBN 1 899855 04 1]
ABOUT ALEXIS KORNER
Without Alexis Korner, there still might have been a British blues scene in the early 1960s, but chances are that it would have been very different from the one that spawned the Rolling Stones, nurtured the early talents of Eric Clapton and made it possible for figures such as John Mayall to reach an audience. Born of mixed Turkish/Greek/Austrian descent, Alexis Korner spent the first decade of his life in France, Switzerland, and North Africa, and arrived in London in May of 1940, just in time for the German blitz, during which Korner discovered American blues. One of the most vivid memories of his teen years was listening to a record of bluesman Jimmy Yancey during a German air raid. "From then on," he recalled in an interview, "all I wanted to do was play the blues." After the war, Korner started playing piano and then guitar, and in 1947 he tried playing electric blues, but didn't like the sound of the pick-ups that were then in use, and returned to acoustic playing. In 1949 he joined Chris Barber's Jazz Band and in 1952 he became part of the much larger Ken Colyer Jazz Group, which had merged with Barber's band. Among those that Korner crossed paths with during this era was Cyril Davies, a guitarist and harmonica player. The two found their interests in American blues completely complementary, and in 1954 they began making the rounds of the jazz clubs as an electric blues duo. They started the London Blues and Barrelhouse Club, where, in addition to their own performances, Korner and Davies brought visiting American bluesmen to listen and play. Very soon they were attracting blues enthusiasts from all over England. Korner and Davies made their first record in 1957, and in early 1962, they formed Blues Incorporated, a "supergroup" (for its time) consisting of the best players on the early '60s British blues scene. Korner (guitar, vocals), Davies (harmonica, vocals), Ken Scott (piano), and Dick Heckstall-Smith (saxophone) formed the core, with a revolving membership featuring Charlie Watts or Graham Burbridge on drums, Spike Heatley or Jack Bruce on bass, and a rotating coterie of guest vocalists including Long John Baldry, Ronnie Jones, and Art Wood (older brother of Ron Wood). Most London jazz clubs were closed to them, so in March of 1962 they opened their own club, which quickly began attracting large crowds of young enthusiasts, among them Mick Jagger, Keith Richards, and Brian Jones, all of whom participated at some point with the group's performances—others included Ian Stewart, Steve Marriott, Paul Jones, and Manfred Mann. In May of 1962, Blues Incorporated was invited to a regular residency at London's Marquee Club, where the crowds grew even bigger and more enthusiastic. John Mayall later credited Blues Incorporated with giving him the inspiration to form his own Bluesbreakers group. Record producers began to take notice, and in June of 1962 producer Jack Good arranged to record a live performance by the band. The resulting record, R&B from the Marquee, the first full-length album ever made by a British blues band, was released in November of 1962. The album consisted of largely of American standards, especially Willie Dixon numbers, rounded out with a few originals. At virtually the same time that Blues Incorporated's debut was going into stores, Cyril Davies left the group over Korner's decision to add horns to their sound. Korner soldiered on, but the explosion of British rock in 1963, and the wave of blues-based rock bands that followed, including the Rolling Stones, the Animals, and the Yardbirds undercut any chance he had for commercial success. His more studied brand of blues was left stranded in a commercial backwater—there were still regular gigs and recordings, but no chart hits, and not much recognition. While his one-time acolytes the Rolling Stones and the Cream made the front pages of music magazines all over the world, Korner was relegated to the blues pages of England's music papers, and, though not yet 40, to the role of "elder statesman." For a time, Korner hosted Five O'Clock Club, a children's television show that introduced a whole new generation of British youth to American blues and jazz. He also wrote about blues for the music papers, and was a detractor of the flashy, psychedelic and commercialized blues rock of the late 1960s, which he resented for its focus on extended solos and its fixation on Chicago blues. He continued recording as well, cutting a never-completed album with future Led Zeppelin vocalist Robert Plant in early 1968. Korner's performing career in England was limited, but he could always play to large audiences in Europe, especially in Scandinavia, and there were always new Korner records coming out. It was while touring Scandinavia that he first hooked up with vocalist Peter Thorup, who became Korner's collaborator over the next several years in the band New Church. After his dismissal from the Rolling Stones, Brian Jones considered joining New Church; Korner, however, rejected the idea, because he didn't want his new band to be caught up in any controversy. In 1972, he became peripherally involved in the breakup of another band, inheriting the services of Boz Burrell, Mel Collins, and Ian Wallace when they quit King Crimson. It was during the 1970s that Korner had his only major hit, as leader (with Peter Thorup) of the 25-member big band ensemble CCS. Their version of Led Zeppelin's "Whole Lotta Love" charted in England, and led to a tour and television appearances. In response, Korner released Bootleg Him, a retrospective compiled from tapes in his personal collection, including recordings with Robert Plant, Mick Jagger, and Charlie Watts. Korner played on the "supersession" album B.B. King in London, and cut his own, similar album, Get Off My Cloud, with Keith Richards, Peter Frampton, Nicky Hopkins, and members of Joe Cocker's Grease Band. When Mick Taylor left the Rolling Stones in 1975, Korner was mentioned as a possible replacement, but the spot eventually went to Ron Wood. In 1978, for Korner's 50th birthday, an all-star concert was held featuring Eric Clapton, Paul Jones, Chris Farlowe, and Zoot Money, which was later released as a video. In 1981, Korner formed the last and greatest "supergroup" of his career, Rocket 88, featuring himself on guitar, Jack Bruce on upright bass, Ian Stewart on piano, and Charlie Watts on drums, backed by trombonists and saxmen, and one or two additional keyboard players. They toured Europe and recorded several gigs, the highlights of which were included on a self-titled album released by Atlantic Records. In contrast to the many blues-rock fusion records with which Korner had been associated, Rocket 88 mixed blues with boogie-woogie jazz, the group's repertory consisting largely of songs written by W. C. Handy and Pete Johnson. After a well-received appearance at the Cambridge Folk Festival in the early 1980s, there were rumors afterward that he intended to become more active musically, but his health was in decline by this time. A chain smoker all of his life, Korner died of lung cancer at the beginning of 1984. © Bruce Eder, allmusic.com