The Hunter Ronson Band
-
BBC Live in Concert
-
1995
-
Windsong
Recorded live at the Dominion Theatre, London, England on 15 February 1989, this is a powerful Rock'N'Roll album from the ex-Mott The Hoople frontman, Ian Hunter, and the late, great "Ziggy Stardust" and "Aladdin Sane" guitarist, Mick Ronson. This album is what great Rock'N'Roll is all about. The album includes "Once Bitten Twice Shy", "All The Way From Memphis", and "Sweet Dreamer". Ian Hunter is one of the world's great rock artists. As the main man in Mott The Hoople, he wrote some of the greatest Rock'N'Roll songs of the seventies, and some of his solo albums show just how talented this guy is. Sadly, the brilliant English rock guitarist, Mick Ronson died at a young age. He had given a lot to music, and had so much talent, that without doubt he would have added his brilliance to many more classic albums. Listen to Mick's "Slaughter On 10th Avenue" and "Heaven And Hull" albums, - powerful stuff. And you must listen to David Bowie's landmark "Aladdin Sane" album where Mick plays some of his greatest guitar work. Has anybody not heard "Aladdin Sane" ? Read Mick's bio. He packed a lot into his short forty-six year lifespan. Check out the Hunter/Ronson 1980 album "Welcome To The Club", which is similar to the BBC album, - full of classic ,and powerful Rock'N'Roll. If you haven't heard Ian Hunter's "All American Alien Boy" album, you can find it at
IHUNTR/AAAB
Ian's great "You're Never Alone With A Schizophrenic" album is at
IHUNTR/YNAWAS
These posts will also give you info on some of Mott The Hoople's great albums, including "Mott".
TRACKS
Once Bitten Twice Shy
How Much More Can I Take
Beg A Little Love
Following In Your Footsteps
Just Another Night
Sweet Dreamer
(Give Me Back My) Wings
Standin' In My Light
Bastard
Loner
You're Never Too Old To Hit The Big Time
All The Way From Memphis
Irene Wilde
All songs composed by Ian Hunter, except "Following In Your Footsteps" by Ian Hunter, & Mick Ronson, and "Beg A Little Love" by Hunter, McNasty.

BAND
Ian Hunter - Vocals, Guitar
Mick Ronson - Guitar, Backing Vocals
Patrick Kilbride - Bass
Howard Helm - Keyboards
Steve Holly - Drums
REVIEW
Ian Hunter and Mick Ronson were coming back from half a decade of semi-retirement when they toured without a record contract in early 1989. But at the time of their stop at the Dominion Theatre in London on February 15, chronicled on this 73 1/2-minute, 13-track disc, they had already begun to compile the new material that would be included on their excellent Y U I ORTA album. So, the show consisted of old Hunter favorites like the U.K. Top Ten hit by his old group Mott The Hoople, "All The Way From Memphis," and his own U.K. Top 40 hit "Once Bitten Twice Shy," plus six songs that would turn up on the album, including powerful Hunter compositions like "Following In Your Footsteps" and "Big Time" (which was misidentified here as "You're Never Too Old To Hit The Big Time"--the chorus line is actually "You're never too small to hit the big time"). The Hunter/Ronson live sound previously had been displayed on the 1980 album Welcome To The Club, with which this set shared many selections, and it remained an effective combination, with Ronson playing powerful hard rock lead guitar to support Hunter, the frontman, and his plaintive, autobiographical songs. If anyone feared that the/two had lost their rock 'n' roll fervor after the lay-off, this concert dispelled that notion. It's no surprise they earned another record contract soon after. © William Ruhlmann, All Music Guide
BIO MICK RONSON (Wikipedia)

Mick Ronson (26 May 1946 – 29 April 1993) was an English guitarist, composer, multi-instrumentalist, arranger and producer. He is most well known for his work with David Bowie from 1970 to 1973, Bowie's glam rock period, including being part of Ziggy Stardust's Spiders from Mars band.. He also had a solo career, the most notable example of which was his Slaughter On 10th Avenue album, that reached No 9 on the UK album charts. Ronson also guested on various different bands' releases after his time with Bowie. He was named the 64th greatest guitarist of all time by Rolling Stone. Michael Ronson was born on Beverley Road, Hull, East Riding of Yorkshire in 1946, then moved to live in Greatfield, Hull. As a child he played piano, recorder, violin, and harmonium. He initially wanted to be a cellist, but moved to guitar when he got hooked on Duane Eddy and The Yardbirds. He joined his first band, The Mariners, in November 1963 at the age of 17. His stage debut with The Mariners was in support of the Keith Herd Band at Elloughton Village Hall, a gig for which the band travelled 35 miles and got paid 10 shillings (50p). While Ronson was working with The Mariners, another local Hull group - The Crestas - recruited him on the advice of The Mariners' bassist Johnny Griffin. With Ronson on board the Crestas gained a solid reputation, making regular appearances at local halls: Mondays at the Halfway House in Hull, Thursdays at the Ferryboat Hotel, Fridays at the Regal Ballroom in Beverley, and Sundays at the Duke of Cumberland in North Ferriby. In 1965, Ronson left The Crestas to try his luck in London. He took a part time job as a mechanic, and before long, he teamed up with a band called The Voice, replacing Miller Anderson. Soon afterward, Crestas' drummer Dave Bradfield made the trip down to London when the Voice's drummer left. After playing just a few dates with the group, Ronson and Bradfield returned from a weekend in Hull to find their gear piled at their flat and a note explaining that the rest of the group had gone to the Bahamas. Ronson stayed in London and teamed up briefly with a soul band called The Wanted, before eventually returning to Hull. In 1966, Mick Ronson joined Hull's top local band, The Rats, joining singer Benny Marshall, bassist Jeff Appleby, and drummer Jim Simpson (who was subsequently replaced by Clive Taylor and then John Cambridge). The group played the local circuit, and also made a few unsuccessful trips to London and Paris. In 1967 The Rats recorded the one-off psychedelic track, "The Rise And Fall Of Bernie Gripplestone" at Fairview Studios in Hull, and can be heard on the 2008 release Front Room Masters - Fairview Studios 1966-1973 (Front Room Masters). 1968 saw the band change their name briefly to Treacle and book another recording session at Fairview Studios in 1969, before reverting to their original name. Around this time, Ronson was recommended by Rick Kemp to play guitar on Michael Chapman's Fully Qualified Survivor LP. When John Cambridge left The Rats to join his former Hullabaloos bandmate Mick Wayne in Junior's Eyes, he was replaced by Mick "Woody" Woodmansey. In November 1969, the band recorded a final session at Fairview, taping "Telephone Blues" and "Early In Spring". In March 1970, during the recording sessions for Elton John's album Tumbleweed Connection, Mick Ronson played guitar on the track 'Madman Across the Water'. This song however was not included in the original release. The recording featuring Ronson only saw the light of day on the 1995 reissue of Tumbleweed Connection. Early in 1970, John Cambridge came back to Hull in search of Mick Ronson, intent upon recruiting him for a new David Bowie backing band called The Hype. He found Ronson marking out a rugby pitch, one of his duties as a Parks Department gardener for Hull City Council. Having failed in his earlier attempts in London, Ronson was reluctant, but eventually agreed to accompany Cambridge to a meeting with David Bowie. Two days later, on 5 February, Ronson made his debut with Bowie on John Peel's national BBC Radio 1 Sunday Show. The Hype played their first gig at The Roundhouse on 22 February with a line-up that included Bowie, Ronson, Cambridge, and producer/bassist Tony Visconti. The group dressed up in superhero costumes, with Bowie as Rainbowman, Visconti as Hypeman, Ronson as Gangsterman, and Cambridge as Cowboyman. This performance was filmed and recorded and is currently in the vaults owned by MainMan. Also on the bill that day were Bachdenkel, Groundhog and Caravan. The following day they performed at the Streatham Arms in London under the pseudonym of 'Harry The Butcher'. They also performed on 28 February at the Basildon Arts Lab experimental music club at the Basildon Arts Centre in Essex. Billed as 'David Bowie's New Electric Band' so new they haven't got a name yet! Also on the bill were High Tide, Overson and Iron Butterfly. Strawbs were due to perform but were replaced by David Bowie's New Electric Band. John Cambridge departed on 30 March, again replaced by Woody Woodmansey. In April 1970, Ronson, Woodmansey, and Tony Visconti commenced recording Bowie's The Man Who Sold The World album, with Ronson's Jeff Beck-influenced guitar work to the fore. During the sessions for The Man Who Sold The World, the trio of Ronson, Visconti, and Woodmansey - still under The Hype moniker - signed to Vertigo Records. The group recruited Benny Marshall from The Rats as vocalist, and entered the studio to record an album. By the time a single appeared, The Hype had been re-christened Ronno. "The Fourth Hour of My Sleep" was released on Vertigo to an indifferent reception in January 1971. The song was written by Tucker Zimmerman, a friend of Visconti's, and not Bob Dylan as many sources have suggested. The B-side was a Ronson/Marshall composition called "Powers of Darkness". The Ronno album was never completed. David Bowie's backing ensemble, which by now included Trevor Bolder who had replaced Tony Visconti on bass guitar duties and keyboardist Rick Wakeman, were used in the recording of Hunky Dory. The departure of Visconti also meant that Ronson, with Bowie, took over the arrangements, whilst Ken Scott co-produced with Bowie. Very different from the heavy rock of the preceding album, Ronson's orchestral arrangements showcased a far more melodic batch of Bowie compositions. Hunky Dory was perhaps their most collaborative album, which the sleeve notes acknowledge. It was this band, minus Rick Wakeman, that became known as The Spiders From Mars from the title of the next Bowie album. Again, Ronson was a key part of The Rise and Fall of Ziggy Stardust and the Spiders from Mars album, providing string arrangements and various instrumentation, as well as handling the lead guitar duties. This album returned to the rock oriented music of the earlier album, with Ronson's guitar heroics providing the perfect frame for Bowie's doomed rock star role. Ronson and Bowie achieved some notoriety over the concerts promoting this album, when Bowie would simulate fellatio on Ronson's guitar as he played. Ronson co-produced Lou Reed's album Transformer with Bowie, playing lead guitar on the album and piano on the song "Perfect Day". Again with Bowie, he recut the track "The Man Who Sold The World" for Lulu, released as a single in the UK, and played on a few tracks on the Dana Gillespie album Weren't Born a Man. Ronson appeared on the 1972 country-rock album Bustin' Out by Pure Prairie League, where he did the string ensemble arrangements and contributed guitar and vocals on several tracks. His guitar work was next heard on Bowie's Aladdin Sane and 1973's covers album Pin Ups. Many people had begun to believe that Ronson's contribution to Bowie's output was becoming indispensable, so it was quite a surprise that he was absent from the Diamond Dogs album (although he played on the "1980 Floor Show", featuring songs which appeared on the record). After leaving Bowie's entourage after the "Farewell Concert" in 1973, Ronson released three solo albums. His solo debut Slaughter On 10th Avenue, featured a brave version of Elvis Presley's song, "Love Me Tender", as well as Ronson's most famous solo track - "Only After Dark". In addition, his sister, Margaret Ronson, provided the backing vocals for the set. Between this and the 1975 follow-up, Ronson had a short-lived stint with Mott the Hoople. He then became a long-time collaborator with former Mott the Hoople leader Ian Hunter, commencing with the album Ian Hunter and featuring the UK singles chart hit "Once Bitten, Twice Shy", including a spell touring as the Hunter Ronson Band. In 1980, the live album Welcome to the Club was released, including a couple of Ronson showcases, which curiously also had a few new studio tracks - one being a Hunter/Ronson song. In 1990, Ronson again collaborated with Hunter on the album, Yui Orta, this time getting joint credit - the album was detailed as being by "Hunter/Ronson". In 1993, he again appeared on a David Bowie album; Black Tie White Noise playing on the track "I Feel Free", originally recorded by Cream. Ronson and Bowie had already covered this track live some 20 years earlier whilst touring as Ziggy Stardust and the Spiders from Mars. His second and third solo albums were Play Don't Worry in 1975, and Heaven And Hull in 1994. The latter set was only partly completed at the time of Ronson's demise, and was released posthumously. Besides Bowie and Hunter, Mick Ronson went on to work as a musician, writer and record producer with many other acts including Slaughter & The Dogs (who took their name from the Ronson album Slaughter on 10th Avenue), Morrissey, The Wildhearts, The Rich Kids (featuring post-Sex Pistols Glen Matlock and post-Slik/pre-Ultravox Midge Ure), Elton John, Johnny Cougar, T-Bone Burnett, Dalbello, Benny Mardones, Iron City Houserockers and the Italian band Moda, which featured Andrea Chimenti on vocals. He did not restrict his influence behind the recording desk to just established acts. His production work appears on albums by more obscure artists, such as The Payolas, Phil Rambow and Los Illegals. Ronson produced the The Visible Targets, a Seattle group, on their 1983 5-track EP "Autistic Savant." He had a lifetime passion for helping unheralded artists get a chance to shine, and he assisted many local bands along the way. Ronson was also a member of Bob Dylan's "Rolling Thunder Revue" live band, and can be seen both on and off-stage in the film of the tour. He also made a connection with ex-Byrd Roger McGuinn during this time, which led to him producing and contributing guitar and arrangements to McGuinn's 1976 solo album Cardiff Rose. In 1982, he participated on lead guitar in a short lived band with Hilly Michaels on drums and Les Fradkin on Bass Guitar. One of their recordings from this group ("Spare Change") appears on the 2006 CD: Les Fradkin- "Goin' Back". In 1987, Ronson made an appearance on a record by Geffen band, The Toll. Ronson plays signature riffs on the band's song, "Stand In Winter", from the album titled, "The Price of Progression", produced by Steve Thompson and Michael Barbiero. In 1992 he produced Morrissey's Your Arsenal album, helping to redirect Morrissey's career after the album Kill Uncle. His last, high profile, live performance was his famed appearance at The Freddie Mercury Tribute Concert in 1992. Poignantly, he played on "All The Young Dudes" with David Bowie and Ian Hunter, and "Heroes" with Bowie. Ronson's last ever recorded session was as a guest on the 1993 Wildhearts album Earth Vs The Wildhearts, where he played the guitar solo on the song "My Baby Is A Headfuck". Ronson was a member of The Church of Jesus Christ of Latter-day Saints, but had grown disenchanted with the faith before his death. Ronson died of liver cancer on 29April 1993 at the age of 46. In his memory, the Mick Ronson Memorial Stage was constructed in Queens Gardens in his hometown of Hull.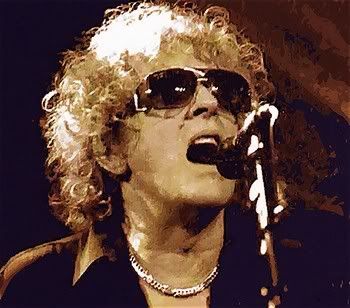 ABOUT IAN HUNTER
With Mott the Hoople, guitarist/vocalist Ian Hunter established himself as one of the toughest and most inventive hard rock songwriters of the early '70s, setting the stage for punk rock with his edgy, intelligent songs. As a solo artist, Hunter never attained the commercial heights of Mott the Hoople, but he cultivated a dedicated cult following. Hunter was born in Owestry, Shropshire, but was raised in cities throughout England since his father worked in the British Intelligence agency called MI5 and had to move frequently. Eventually, the family returned to Shrewsbury, where the teenaged Hunter joined a band called Silence in the early '60s. Silence released an album, but it received no attention. In the years following Silence, Hunter played in a handful of local bands and worked a variety of jobs. In 1968, Hunter began playing bass with Freddie "Fingers" Lee and the duo played around Germany. Shortly afterward, Hunter became the vocalist for Mott the Hoople. During the next six years, Hunter sang and played piano and guitar with the band, becoming its lead songwriter within a few albums. Although few of their records sold, Mott the Hoople was one of the most popular live bands in England. In 1972, David Bowie produced their breakthrough album, All the Young Dudes, which brought the band into the British Top Ten and the American Top 40. For the next two years, the group had a consistent stream of hits in both the U.K. and the U.S. Toward the end of 1973, the band began to fall apart, as founding member and lead guitarist Mick Ralphs left the band. Hunter carried on through another album, but he left the group in late 1974, taking along former Bowie guitarist Mick Ronson, who had just joined Mott. Just prior to leaving the group, Hunter published Diary of a Rock Star, an account of his years leading Mott the Hoople, in June 1974. Hunter moved to New York, where he and Ronson began working on his solo debut. Released in 1975, Ian Hunter spawned "Once Bitten, Twice Shy," a Top 20 U.K. hit. Following its release, Hunter and Ronson embarked on a tour. After its completion, the pair parted ways, although they would reunite later in the '80s. All-American Alien Boy, Hunter's second solo album, was recorded with a variety of all-star and session musicians, including members of Queen. Released in the summer of 1976, All-American Alien Boy was a commercial failure. It was followed in 1977 by Overnight Angels, an album that saw Hunter moving closer to straightforward rock & roll; disappointed with the completed album, Hunter decided to leave the album unreleased in America. Following the mainstream approach of Overnight Angels, Hunter became involved with England's burgeoning punk rock movement, producing Generation X's second album, 1979's Beyond the Valley of the Dolls. For Hunter's next solo album, he reunited with Mick Ronson, who produced and arranged 1979's You're Never Alone with a Schizophrenic. The album was a hit, especially in America, where it peaked at number 35. Hunter and Ronson set out on another tour, which resulted in the 1980 double live album, Ian Hunter Live/Welcome to the Club. In 1981, Hunter released Short Back N' Sides, which was produced by the Clash's Mick Jones. Two years later, he released All of the Good Ones Are Taken. After its release, Ian Hunter became a recluse, spending the next six years in silence; occasionally, he contributed a song to a movie soundtrack. In 1989, Hunter resumed recording, releasing YUI Orta with Ronson. After its release, Hunter remained quiet during the '90s, appearing only on Ronson's posthumous 1994 album Heaven and Hull and at tribute concerts for Ronson in 1994 and Freddie Mercury in 1992. Hunter returned to recording with Artful Dodger, which was released in Britain and Europe in the spring of 1997. After a Columbia/Legacy compilation titled Once Bitten Twice Shy offered a wealth of Ian Hunter solo titles in the year 2000, much attention was paid to 2001's fine Rant. In 2002, Hunter performed a pair of semi-acoustic concerts in Oslo, Norway, which were recorded for later release on CD and home video; the resulting project, called Strings Attached, included some new songs, including "Twisted Steel," inspired by the events of September 11, 2001. Shrunken Heads, a collection of all-new material, was released in 2007 on the Yep Roc label. © Stephen Thomas Erlewine, allmusic.com