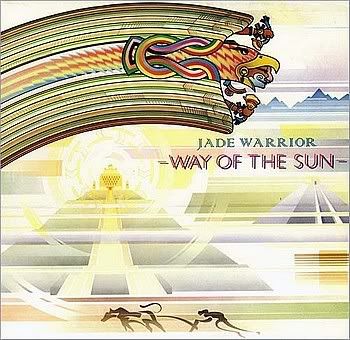 Jade Warrior
-
Way of the Sun
-
1978
-
Antilles Records
(U.S.A)

A wonderful, inventive blend of rock, jazz, classical and world music, full of dreamy, atmospheric, melodic passages, and reminiscent of some of Brian Eno's works. This album is regarded by many people as a progressive rock/electronica masterpiece. Jade Warrior were ahead of their time, musically, and this album is a highly original instrumental work of electronic/progressive rock. For similar albums, listen to the brilliant "The Snow Goose" by Camel, and buy Jade Warrior's terrific and imaginative "Last Autumn's Dream" album. It is also worth hearing Brian Eno's wonderful "Another Green World", which has some similarities to ""Way of the Sun". You can fin info on Jade Warrior's "Waves" album @
JWAR/WAVES
TRACKS
01 - Sun Ra
02 - Sun child
03 - Moontears
04 - Heaven stone
05 - Way of the sun
06 - River song
07 - Carnival
08 - Dance of the sun
09 - Death of Ra
All tracks composed by Jon Field, & Tony Duhig,
MUSICIANS
Tony Duhig - guitars, percussion
Jon Field – percussion, flutes
John Dentith - drums (on Sun Ra and Carnival)
Graham Morgan - drums (on Dance Of The Sun)
Bill Smith - bass (on Carnival)
Skalia Kanga - harp (on Sun Child)
Gowan Turnbull - sax (on Carnival)
Dick Cuthell - flugel horn (on Sun Ra)
Godfrey, Kuma, Alan – drums, bass, congas (on Way Of The Sun)
REVIEWS
If you don't fall in love with the place this music takes you, you won't like anything else in my music collection. Jade Warrior, in their moments of clarity, exist outside your imagination - calling you to a bright, sunny, English hillside in summer, with the reassuring warmth of your Mum's cooking, floating above the scent of freshly mown lawns. If you want to be direct about it, there's a hint of Santana about the more lively tracks on Way of the Sun, like 'Carnival' - but immediately followed by the powerful and cinematic 'Dance of the Sun' - with a vague hint of Kate Bush, circa 'Jig of Life' and a side order of pre-electronic Ozric Tentacles. Frank Zappa once said, "Talking about music, is like fishing about architecture" and if any album by any artist sums that statement up, it's this. Simply said - just buy it! If the Mahavishnu freak in you doesn't love it with all your heart, you probably need help - consult your nearest dealer. © Jim Gardner 1973, © 2006-2008 MOG Inc. All Rights Reserved
Eclectic Discs are pleased to release the classic albums recorded by the legendary Jade Warrior for Island records between 1974 and 1978. The duo of guitarist Tony Duhig and virtuoso flautist and woodwind player Jon Field were signed to Island records in 1974, following the recent break up of the four piece Jade Warrior (who recorded three albums for Vertigo records between 1970 and 1973). Island founder Chris Blackwell signed the duo upon the recommendation of Steve Winwood, declaring Jade Warrior to be "an ornament to my label". Blackwell gave Duhig and Field access to unlimited studio time to create four albums that were later hailed as instrumental masterpieces, all of which fused ethnic African and far eastern influences with superbly innovative rock guitar playing by Tony Duhig. Way of the Sun was perhaps the band's most fully realised work, drawing upon South American musical influences which blended effortlessly with western rock. Way Of The Sun has been re-mastered from the original master tapes and features extensive liner notes, deluxe slip case packaging and fully restored artwork. © amazon.com
To Central America and the world of the Aztecs, 1978's Way Of The Sun captures a more vibrant and festive feel, with upbeat melodies and percussive intensity. Here the music shines boldly like the sun god it seems to worship, with an almost-orchestral fervency and driving spirit. This was unlike anything the band had done before. Tracks like "Carnival", "Dance of the Sun" and the title track are at once overtly rhythmic and infused with a strong multifaceted melodic sensibility. Other pieces, like "Moontears" and "Heaven Stone" explore other sides of their sound in a more subtle and relaxed atmosphere, while the closer "Death of Ra" has an almost pensive melodic figure, full of emotion and imagination, like an unforgettable soundtrack theme. This would be Jade Warrior's final release for the Island label. © Peter Thelen 9-April-2001, http://gnosis2000.net/reviews/jadewarrior.htm
Each of Jade Warrior's Island albums was a revelation, both musically and thematically. Floating World's exploration of the Japanese philosophy of Ukiyo, Waves' oceanic voyage, the ninth century Buddhist monk whose story is told on the B-side of Kites (and who takes airy flight across the flip) — all were extraordinary expeditions into the Orient. Having conquered the East, Warrior now turned their Jade eye westward, toward Latin America. By this time, Jade were already moving toward a more orchestral sound, as Kites had evidenced, but Way of the Sun was positively cinematic. Within, the duo — aided by a host of guest musicians — created an incredibly vibrant set that quivers with emotion and life itself. Dawn announces itself with a clap of thunder on "Sun Ra," waking the earth's denizens from their slumbers. Birds soar into the sky, creatures large and small scamper through the meadows and woods, while overhead the sun majestically rises, all of which Jade bring to vivid life across both "Sun Ra" and "Sun Child." "Heaven Stone" and the title track are similarly interconnected, both thematically and musically, and tied to the spiritual beliefs of the continent's indigenous peoples, while broadly hinting at the coming of the conquistadors and their conquering culture. But even as the Spanish laid waste to the land and its peoples, they too would be changed by them, which is reflected by "Carnival" and "Dance of the Sun," songs melding together indigenous and Spanish traditions. The album ends with the haunting "Death of Ra," as the sun sinks below the horizon. Although Latin styles predominate across the set, Warrior weave in myriad other musical threads — Eastern, jazz, surf, and more. The album itself was arguably Jade Warrior's best, their apotheosis, or at least their grand finale, for after its release, Island promptly dumped the duo. John Dentith and Graham Morgan now went their separate ways, and the Warrior were no more. © Jo-Ann Greene, allmusic.com
BIO
Jade Warrior was an eclectic group led by Jon Field and Tony Duhig, who met during the 1960s while working in a factory. The two did not immediately but spent several years improving their musical skills, Field on percussion, Duhig on guitar. They finally created a group named July, with Tom Newman, Chris Jackson and Alan James. Newman would later engineer (Mike Oldfield's landmark album Tubular Bells. July released one album of eccentric psychedelic pop in 1968, then folded. After the demise of July, Duhig traveled to Iran, where he met guitarist and future bandmate Glyn Havard. Field remained in England, learned to play flute and created the Jade Warrior identity while writing music for a friend's dance drama. Jade warriors were the samurai of ancient Japan, cultured killers well schooled in arts ranging from poetry to murder. Duhig and Havard returned from the Middle East and contacted Field. The trio adopted the Jade Warrior name. Duhig and Field created most of the music, with Havard playing bass and contributing lyrics and vocals. This initial formation, supplemented at times by guitarist David Duhig and drummer Alan Price, signed with Vertigo Records and released three albums in three years: Jade Warrior, Released and Last Autumn's Dream. The band's sound combined a straightforward rock style with the sudden tempo changes and experimental instrumentation typical of early '70s art rock bands. Jade Warrior developed a loyal but small following. Vertigo canceled its contract, although the band had recorded nearly two albums worth of followup material. Most of this work was squelched for 25 years. The albums Eclipse and Fifth Element were recorded in 1973 but not released until 1998. The group was on the verge of breaking up when Island Records offered a three album deal that eventually stretched to four records. But the change in labels reflected a similar shift in the band's sound. Island wanted to emphasize instrumentals. This left little room for Havard, who left the band. Jade Warrior became a duo, as Duhig and Field played numerous instruments to realize their increasingly exotic musical vision. The music became increasingly dreamlike, pushing a lighter jazz sound to the forefront. During the Island period of 1974 through 1978, Jade Warrior albums featured myriad percussive sounds but drum kits were rarely in evidence. The band liked to create a soothing, ethereal feel, then shatter it with gongs and unexpectedly raucous electric guitar, usually from guest David Duhig, Tony's brother. The albums featured occasional celebrity guests such as Steve Winwood, but Jade Warrior had a style of its own. The band's foray into what would later be labeled world and ambient music parallels the excursions of Brian Eno, who described Floating World as an important album. During the 1980s, Field and Tony Duhig released a pair of albums, Horizon (1984) and At Peace (1989) but couldn't rise beyond cult status. Duhig was under a great deal of stress during much of this period. He opened a recording studio, mortgaging his house for funds. The studio flopped and Duhig's lender foreclosed the house. Field became a session player, but after meeting bassist Dave Sturt, he took steps to revive Jade Warrior. He recruited guitarist Colin Henson. Tony Duhig was about to rejoin the fold when he died of a heart attack. Field and the others carried on, releasing two albums on Red Hot Records, Breathing the Storm and Distant Echoes, the latter featuring a guest appearance by former King Crimson violinist David Cross. The band began another album in 1996, but it has never been finished. Field, Henson and Sturt scattered to live in different parts of England and showed no inclination to finish the project. © Casey Elston, allmusic.com
BIO (Wikipedia)
Jade Warrior are a British music group that were formed in 1970, evolving out of the band July. The founding members were Tony Duhig (Guitar), Jon Field (Flute, Percussion, Keyboards) and Glyn Havard (Vocals, Bass). Their self-titled first album Jade Warrior was released in 1971 on the Vertigo label and establishes their trademark sound of soft/loud contrasts, and Fields multi-layered flutes and percussion vying with Duhig's cutting guitar. This was followed in the same year by Released and then in 1972 by Last Autumn's Dream, both with appearances from Dave Duhig (solo Guitar) and Allan Price (Drums). (Price is not to be confused with Alan Price of The Animals.) Material for another two albums, Eclipse and Fifth Element was also recorded during 1973, but Vertigo cancelled the contract and these projects were shelved, not to see the light of day, until their subsequent release in 1998. In 1974, Steve Winwood (of Traffic) urged Chris Blackwell of Island Records to listen to Jade Warrior, he did, but would only sign them as an instrumental duo, which meant there was no place for bassist/singer Glyn Havard. Tony Duhig and Jon Field (who also provided flute on Mike Oldfield's Tubular Bells) were to create four albums on Island Records, with their sonic arsenal now expanded to include choirs, harp, and a string quartet. Guest musicians on these albums included Steve Winwood (Keyboards), Fred Frith of Henry Cow (Violin) and Tony Duhig's brother Dave (solo Guitar). The four albums were Floating World (1974), Waves (1975), Kites (1976), and the final album on Island, the 1978 release Way Of The Sun. Personal issues, illness, and Duhig moving house to set up a studio, meant that the next album to be released was the 1979 compilation Reflections taken from their Vertigo years and containing some (at the time) unreleased tracks, and it was not until 1984 that any new material emerged with the release of Horizen and then, in 1989, At Peace which was performed solely by the duo. This was followed by another long hiatus until Jade Warrior were to start their next project with new band members, Colin Henson on Guitar and Dave Sturt on Fretless bass. However, they were dealt a tragic blow by the sudden death of guitarist Tony Duhig in 1990 before he could contribute to the album. The band decided to continue on with the album, which became the 1992 release Breathing The Storm on the Voiceprint label. This trio then released a follow-up album Distant Echoes in 1993 with guest appearances from Theo Travis of Gong (Saxophone), David Cross of King Crimson (Violin) and Tom Newman. It seemed for a while that Jade Warrior may have disbanded as their only output was the previously mentioned Eclipse and Fifth Element, but these were recently joined by the re-issue of all four Island albums in 2006. And in 2008 Jade Warrior, with Glyn Havard back in the band, released their 14th studio album NOW on the WindWeaver label.
THE HISTORY OF JADE WARRIOR
[ History compiled from writings © Dave Platt and Charles Wilkinson. © www.jadewarrior.com/journey.htm ]

The (very) early days... The core membership of Jade Warrior is/was Jon Field (flute etc.) and Tony Duhig (guitar). During their youths, Jon and Tony independently developed an interest in Jazz, African music, and Latin American music. They met in the early 1960s while driving forklift trucks in a factory, and soon learned that they shared musical interests and intentions. At the time, they were just beginning to play instruments themselves (Jon a set of congas, and Tony a cheap guitar which he tuned quite unconventionally to open C). Each of them bought a quarter-track tape recorder, capable of sound-on-sound "pingponging". They began composing their own music, and experimenting with building up multi-layered overdubbed amalgams of the sorts of music which moved them... all done with practically no money. Jon has described this process as "our training... trying to build a cathedral with the sort of things you'd find in your back yard." This complex layered and overdubbed sound would be a hallmark of Jade Warrior's music throughout their entire career to date. They spent the next years going to clubs, listening to jazz and blues, and in 1965 formed a rhythm & blues band called "Second Thoughts" headed up by lead singer Patrick Lyons. Second Thoughts released one four-song EP. During the same period, Tom Newman (later the engineer for Mike Oldfield's Tubular Bells), Alan James, Pete Cook and Chris Jackson had formed the first incarnation of the "Tomcats" (one of several bands known to have used this name). In 1965, both of these two bands split up. Patrick Lyons departed, joining up with Alex Spyropoulos in a duo named "Nirvana" which subsequently released an on-the-charts single "Rainbow Chaser" and a total of five LPs (with Jade Warrior members performing on one of them: 1971's Local Anaesthetic). The Tomcats re-formed with a new line-up: Tom Newman, Alan James, Chris Jackson, Jon Field and Tony Duhig. The band spent the best part of 1965 and 1966 in Spain, acting as a spearhead for British pop music in that country. They released four EPs which did very well on the Spanish charts. The four EPs by The Tomcats were collected onto a single LP by Acme Records, and a pressing of The Second Thoughts' four-song EP was included. After returning to England in 1966, the Tomcats were re-named "July", playing psychedelic-pop/rock written mostly by Tom Newman. July issued one album, which has been released in three different versions. The original version was July. A later release Second of July contains alternate versions and additional outtakes, and a third release Dandelion Seeds is a re-release of July plus the outtakes. July disbanded in 1968. Tony Duhig auditioned successfully for a role in a band called Unit Four Plus Two (a group which had released a hit song "Concrete and Clay" a few years earlier but had since lost all of its original members save the lead singer). Other recent additions to Unit Four Plus Two were bass guitarist and vocalist Glyn Havard, and drummer Allan Price. This line-up of Unit Four Plus Two did a brief club tour in the U.K., and then broke up. Musical ideas continued to develop and they hooked up with Glyn again to work them in to songs. The first piece they worked on became 'The Traveller' (released on the first Vertigo album). They called the band Jade Warrior after one of the dance dramas they had composed for a London drama school. The Vertigo Years - Jade Warrior put together some demonstration material, shopped it around and were signed to a record deal with Vertigo in the early seventies. According to Glyn Havard, this signing was due in part to the fact that they were being managed by Mother Mistro, the same company which was managing the "Afro-rock" band Assagai which was being actively pursued by Vertigo. Mother Mistro said "If you want a deal with Assagai, you'll have to sign Jade Warrior as well" and Vertigo agreed. This may have been helped along by the fact that their old band-mate Patrick Lyons - now Patrick Campbell-Lyons - had become an important producer and talent-spotter for Vertigo. This left Jade Warrior with a signed contract, but one with a record company which had little actual interest in the band and very little willingness to support or promote them. With this basic line-up (with Tony's brother David Duhig, Allan Price, and Dave Conners also taking part at times) they released three albums in as many years on the Vertigo label: Jade Warrior, Released, and Last Autumn's Dream. They toured the U.S. once, as the opening band for Dave Mason and Earthquake. The tour was promoted by Mercury Records, which was pleased with Jade Warrior's sales in the United States. Mercury also arranged for Billy Gaff's Gaff-Masters Management to take over responsibility for the band, replacing Mother Mistro which hadn't done much since arranging the signing with Vertigo. The band was apparently captured on film during this period. They, along with Rod Stewart, and several other bands were filmed at The Marquee Club in London as part of an event put on by Gaff-Masters Management. The whereabouts of this film are unknown. After the end of the American tour, the band went back into the studio, and entered a rather troubled time marked by personal and musical disagreements among the members of the band. They completed an additional set of tracks, selected an album's worth and did a test pressing of Eclipse. Before the album was actually manufactured, Vertigo Records shelved it and cancelled the band's contract. At about the same time, the band began a second tour (of Holland this time), but it did not go well and was cancelled partway through. As a result of the contract cancellation, and of the disagreements and pressures which had developed within the band, Jade Warrior dissolved. The band's first era was over. The Vertigo albums were followed by a retrospective/compilation album Reflections which includes tracks from Released and Last Autumn's Dream, and three tracks originally recorded for Eclipse. Reflections was released on Butt Records. Two other tracks from Eclipse were released on various versions of a Vertigo Records sampler LP called Suck It And See. These "first era" albums are characterized by a style which has its base in rock music (some tracks are basically straightforward rock) with a Jethro Tull flavour, and significant admixtures of what we'd probably call "world music" influence today. Many of the characteristic "signatures" of Jade Warrior music were present from the beginning... rapid dynamic shifts between quiet and suddenly-very-loud-and-percussive, Jon's flute playing off against Tony's guitar, the use of the "wordless chorus" and the cyclical bell-tree themes, and a complexity of composition which reminds me at times of some classical music. Your average garage-rock band, these guys are NOT. The three Vertigo albums were released on CD by the German label LINE in 1988. The CD transfers are disappointing - the sound is dull, distant, and muddy, with no liveness or sparkle – avoid – and go for the recent, much better, Repertoire releases. Reflections has not been released on CD. The Eclipse album has been released by Acme Records, as both a limited-pressing LP and a CD. The post-Eclipse material (eight tracks, 36 minutes) has been released on the Background label by Hi-Note Music under the title Fifth Element. Jade Warrior did some movie soundtrack work during these years: they wrote and performed the main theme song of "Bad Man's River" (a re-spin of "Too Many Heroes" from the Eclipse album, with different lyrics), and also did the music for "Game for Vultures". The Assagai Connection - Jade Warrior had some interesting interactions with fellow Vertigo band Assagai during this time. Assagai was anchored by respected African musicians Louis Moholo, Mongezi Feza, and Dudu Pukwana, and was signed by Vertigo in the label's attempt to capitalize on the popularity of Afro-rock bands such as Osibisa. Assagai released two albums; the first (self-titled) contained their cover version of Jade Warrior's "Telephone Girl", and a song "Irin Ajolawa" co-written by Tony Duhig. The second album (released originally as "Zimbabwe", and re-issued by a different label under the name "AfroRock") contains covers of Jade Warrior's "Barazinbar" (from Released) and "Sanga" (from Eclipse), and a song titled "Kinzambi" written by Tony Duhig.Duhig, Field, and Havard are credited with performances on the second Assagai album. They recorded one session together with several of the members of Assagai, under the band name of "Simba". Two songs from this session were released on a 45 single, and later issued on a multi-band collection LP entitled "Afro Rock Festival". The songs: "Movin' On" and "Louie Louie"! The Island Years - Steve Winwood (of Traffic fame) had heard Jade Warrior's music, and had been quite impressed with it. He urged Chris Blackwell of Island Records to give Jade Warrior a hearing and consider signing them up to do some instrumental albums once they were available. Blackwell did so, liked what he heard and proposed that Jon and Tony re-form the band and sign a contract for three albums (later expanded to four) "as an ornament to my label". He was interested in a primarily instrumental sound (possibly as an Island label equivalent to the music of Virgin Records' new artist Mike Oldfield), and the contract offered by Island was not extended to include Glyn Havard. On these Island albums Jon and Tony reorganized a bit, and took their music in a direction which was less overtly rock-oriented (but still uses many rock techniques) and towards a more theme-oriented approach to doing their albums. Once again, David Duhig played an occasional track, and there was a large and changing bill of associate musicians (including Steve Winwood and Fred Frith). The four Island albums were released between 1974 and 1978 and were, almost without exception, VERY hard to get here in the U.S., and even harder to get in the U.K. Island's U.S. affiliate had lousy distribution and really fouled up the pressings and quality control in several cases. 1974's Floating World is a musical exploration of the Japanese concept of Ukiyo - floating along, free of cares, accepting life as it comes and conscious of beauty all around. The album's second side is punctuated by a striking "Monkey Chant" which combines a Balinese kecak chant with a Hendrix-influenced guitar solo by David Duhig. Waves, in 1975, carries us through dawn-lit countryside full of birdsong, downriver to the ocean, and out among the great whales. With Kites, in 1976, we drift through the aeolean landscapes of Paul Klee, and get a glimpse at 9th Century China and the wandering Zen master Teh Ch'eng. 1978's Way of the Sun arrives, like a thunder-filled dawn, in Central America before and after the arrival of the Hispanic conquerors. In all four of these albums, the characteristic Jade Warrior sound and skills are applied to good ends. These albums have a similar sound, and yet they're individually unique. Jon Field has described this relationship as being like "...digging into a mountain, to find a pot of gold... you'd never quite get there, so you'd back off and come in again from a different angle." These albums have been re-released on CD on Island, Island Masters, and/or PolyGram. Floating World and Way of the Sun are excellent CD transfers, available on the Island Masters label from the U.K. These two CDs were remastered by Jon Field, recovering the wide dynamic range that he and Tony wanted to achieve but were unable to capture on vinyl. Kites and Waves are rumoured to have been re-released individually on CD, but I've never been able to get any solid information about these alleged re-releases, and believe that this is an urban legend. All four albums have been released by Island/PolyGram in a single two-CD set Elements. This set includes a retrospective essay and history of Jade Warrior, written by Vivian Goldman. Elements was issued by PolyGram without any prior notice to the band - in fact, PolyGram mistakenly believed that Jade Warrior had completely disbanded after Way of the Sun and had never recorded again. The albums were remastered for CD by PolyGram without Jon's creative input, and for this reason the result does not reflect Jon's desire to recapture the original dynamics that he and Tony had envisioned. They have recently been re-released on Eclectic records. At some point during this period, Island Records' Chris Blackwell commissioned a live performance of the band. The performance would have included the band itself, and selected orchestral assistance. Some additional material was written and rehearsed, a venue was selected and rented... and the performance was cancelled shortly before its scheduled date, due to serious confusion and lack of follow-through at Island Records. To the best of my knowledge, Jade Warrior never again performed in a live venue. The "missing years" There was a long hiatus after 1978's Way of the Sun... long enough that I thought that Jade Warrior must have gone completely out of the business (not the first time I made that mistake, and not the last). During this time, Jon got divorced, and moved out of London to the country. Tony became ill, decided that he too was fed up with living in London, and moved to Glastonbury, first buying a house and then setting up a commercial studio a stone's throw away from Glastonbury Abbey. Two albums were released during this period. Horizen was released in 1984 on Pulse Records, and didn't see release on CD until February of 2001. It's a darker and moodier album than the previous few, due in part to the "Dune" theme of one side. Horizen was almost entirely a Tony Duhig project - he wrote all of the music, and Jon performed on only a few of the tracks. In 1989, At Peace was released on the British label Earthsounds. At Peace is perhaps the least typical of the Jade Warrior albums in many respects... it's far quieter, meditative, and could be classed as "ambient" music or even as "new age" (whatever that means). The composition and performance was simply credited to Jade Warrior; this album was apparently a Field/Duhig project with no additional musicians. According to one report, this album was recorded at Tony's studio, in only four days. Jon Field is not particularly happy with either of these albums... He feels that he and Tony were not "following the rules" that made their musical collaboration so successful, and he does not consider either of these albums to be truly representative of Jade Warrior. The Red Hot era - Jon sold his country house and moved back to London, doing session work on a bunch of pop recordings, playing at jazz clubs around town, and eventually setting up a small studio. While doing some session work at his studio, Jon met Dave Sturt, a young bassist from northern England. He was so struck by Dave's sound and music that he asked Dave to join his jazz combo, and then raised the subject of Jade Warrior. Jon hoped that he, Dave, and Tony could get Jade Warrior "back on track". Jon and Dave were joined in London by Colin Henson, a guitarist that Jon had met through his girlfriend Carol Bellingham. They began "putting together some bits", sent some tapes up to Tony to listen to, and actually got together with Tony as a foursome for an evening of "light jamming". Colin says that this first jam, although "nothing that would ever have made it to CD", showed real potential for the new group line-up. Before Tony was able to contribute to the new album Breathing the Storm, he had a massive and fatal heart attack. This was a hard blow for Jon - he remains very sad to this day about Tony's loss and about the fact that Tony was never able to play as part of the new Jade Warrior line-up. Breathing the Storm was released in 1992 on the Red Hot Records label. Its theme is one of chaos, in the mathematical and physical sense - the fact that one small change somewhere in the world can have large, unexpected effects elsewhere. The album captured a relaxed and sometimes sombre mood. The addition of Colin's precise guitar playing and Dave's distinctive fretless bass provided new dimensions to the band's sound and has been critically acclaimed. Late 1993 brings us to Distant Echoes, also on Red Hot Records. This album's theme reaches back to our ancestors: our human and pre-human forbearers who walked the earth long ago. The group line-up was augmented by a host of guest musicians including Theo Travis (of Gong and Soft Machine Legacy) and David Cross (of King Crimson). This album revisited some of the world music influences and extreme dynamics of the Island era and joined Breathing the Storm in receiving great reviews. Work began on another album but various pressures resulted in the work being shelved. The band lay dormant for a decade but momentum built up over the last few years and musical ideas were passed around. After a few preliminary recording sessions a meeting was arranged with original vocalist Glyn Havard and he was invited to rejoin the fold. As the album progressed it became clear that Colin was not comfortable with the direction the band were moving in and so he decided to leave. A New era - Their latest album NOW was released in 2008 on the WindWeaver Music label. It features guest appearances from Tim Stone on guitar, Jeff Davenport on drums, saxophonists Theo Travis and Gowan Turnbull, pianist Chris Ingham, and Jon's daughter Charlotte, which musically reflects all eras of Jade Warrior with it's blend of classic seventies psychedelia, modern rock and orchestral arrangements. On October 23rd 2008 Jade Warrior performed live at the Astoria2 after a 35 year absence from the live circuit.