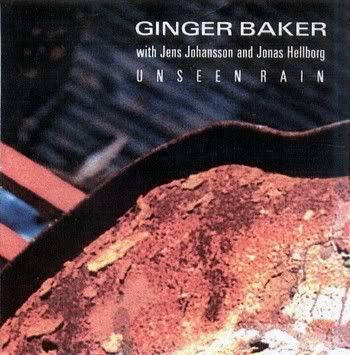 Ginger Baker
-
Unseen Rain
-
1992
-
Day Eight
This is an instrumental trio album with drummer Ginger Baker as leader and also featuring bassist Jonas Hellborg, who played with John McLaughlin, and pianist Jens Johansson. Baker is characteristically busy at the drum kit, but the three play off each other well, creating what is in essence a free-form jazz date. © William Ruhlmann, All Music Guide
Jonas Hellborg recorded this obscure album with Ginger Baker and the great pianist, Jens Johansson in the late 80's and early 90's. It was released on Hellborg's own DEM label . It's a wonderful "jazz" album by the brilliant Ginger Baker, the legendary ex-Cream drummer and the great Swedish musicians, Jens Johansson and Jonas Hellborg. The album is not a very well known recording, even with Ginger Baker's name on the cover. Although there are three great musicians involved in the recording, it is Ginger Baker's drumming which lays down the foundation of the grooves on this album. The music could be classified as avant garde/free form jazz, jazz fusion, ethnic fusion, or even world music. The genre is irrelevant here, as the music is masterful, enjoyable, and totally accessible, and a great lesson in how this type of music can be made sound so good. Many people avoid albums with elements of fusion, ethnic, and world music, dismissing them as complex rambling musical works with no beginning and no end, This is a pity as although many albums in the "free form" jazz genre have these traits, a lot of them are brilliant innovative recordings, with wonderful playing, and incredible compositional skills, and have so much to offer. Artists like Ginger Baker were never associated with "rubbish" music. This neglected album is definitely Ginger's most inventive and enjoyable "jazz" album, and like Jan Akkerman, and Peter Green, the versatility of the ex-Cream and Blind Faith man is astonishing. Check out Jonas Hellborg's albums, "Kollectiv Featuring Jonas Hellborg" and "Personae". And try to hear Jens Johansson's "Anders Johansson, Jens Johansson and Allan Holdsworth: Heavy Machinery" and "¨Trial By Fire" albums. You can find info on the following albums associated with Ginger Baker - "The Baker Gurvitz Army - The Collection" album @
BGA/COLL
"BBM (Baker, Bruce, & Moore) - Around The Next Dream" albun @
BB&M/ATND
and the "Cream - Cream Gold" album @
CREAM/GOLD
TRACKS

1. Rain And The Rhinoceros
2. Worlds Within Worlds
3. Open Secret
4. Great Festival Of Destruction
5. Time Of No Room
6. Sign
7. Mirror Of Steel
8. To Each His Darkness
All tracks written by Ginger Baker, Jens Johansson and Jonas Hellborg

MUSICIANS
Ginger Baker (drums)
Jens Johansson (piano)
Jonas Hellborg (Wechter acoustic bass guitar)
N.B:
This album has been released under different titles, all with the same track listing. Many of the releases credit the album to Jonas Hellborg

EDITORIAL REVIEWS
4 Stars - Very Good - ...the context is less layered or production-oriented, and more about the magic that can spring up with empathic improvisers flung into a room together....a dark, exotic beauty emerges from the album...Down Beat (05/01/1993)
...constant variations of dense, polyrhythmic grooves...rhythm freaks and fans of these musicians will find a lot to listen to...Option (01/01/1993)
3 Stars - Good - ...a surprisingly cohesive and strangely magnetic album....[Baker's] vibrant polyrythmic pulse and resonant metallic percussion are the dominant features...Q (03/01/1993)
4 Stars - Very Good - ...the context is less layered or production-oriented, and more about the magic that can spring up with empathic improvisers flung into a room together....a dark, exotic beauty emerges from the album...Option (Jan.-Feb./93, p. 81) - ...constant variations of dense, polyrhythmic grooves...rhythm freaks and fans of these musicians will find a lot to listen to...Q (3/93, p.83) - 3 Stars - Good - ...a surprisingly cohesive and strangely magnetic album....[Baker's] vibrant polyrythmic pulse and resonant metallic percussion are the dominant features...Down Beat (05/01/1993)
BIO (GINGER BAKER)
Ginger Baker was rock's first superstar drummer and the most influential percussionist of the 1960s. There were other drummers who were well-known to the public before him, including the Beatles' Ringo Starr and, in England at the end of the 1950s, the Shadows' Tony Meehan, but they were famous primarily for the groups in which they played and for attributes beyond their musicianship. Baker made his name entirely on his playing, initially as showcased in Cream, but far transcending even that trio's relatively brief existence. Though he only cut top-selling records for a period of about three years at the end of the 1960s, virtually every drummer of every heavy metal band that has followed since that time has sought to emulate some aspect of Baker's playing. He was born Peter Edward Baker in Lewisham, London, in 1939. The nickname "Ginger" came along later, a result of his red hair. As a boy, Baker had a special interest in bicycle racing, but by his mid-teens, his interests had switched to music, especially percussion. A rebel even at that age, he became devoted to modern art and contemporary jazz, transforming himself into something of a beatnik during the mid- to late '50s. A natural musician, he talked himself into his first professional gig when he was 16 and was on the road that year, working full-time. Baker's idol during the late '50s was Phil Seaman, a jazz drummer who was probably the best percussion player in England; his own playing tended toward an aggressiveness and articulation that were unusual in juxtaposition with each other. By the end of the 1950s, Baker had passed through several of what were known in England as trad jazz bands -- "trad" was the English designation given to what Americans and the rest of the world know as Dixieland jazz. It was the dominant form of popular jazz in England from the mid-'50s onward and it provided employment. He'd been a member of Terry Lightfoot's and Acker Bilk's bands, but the fit was an awkward one, owing to the passion that Baker often displayed in his work and his own, personally outspoken nature. Instead, he turned toward the budding British blues scene coalescing around the work of Alexis Korner and Cyril Davies -- less bound in tradition and built largely around younger players, this music was growing and being played in a much more open environment. In 1962, on the recommendation of Charlie Watts, Baker was selected as the latter's replacement in Blues Incorporated, the band started by Korner and Davies. It was here that Baker first crossed paths with two musicians -- saxman and organist Graham Bond and bassist Jack Bruce -- that were to play a key role in his professional career. Their work with Blues Incorporated was successful enough, but it was while the two were playing with a side group, the Johnny Birch Octet, that they began jamming with saxophonist Dick Heckstall-Smith (another Blues Incorporated alumnus) and began getting a very positive response from the crowds. It was out of those jams that Baker, Bond, Bruce, and (joining a little later) Heckstall-Smith formed the Graham Bond Organization in 1963, the former three quitting Korner's group all at once. The Graham Bond Organisation was never as popular as such Blues Incorporated offshoots as the Rolling Stones or the Small Faces, being more jazz-oriented in their approach to R&B, and, thus, a little too complex to find a huge audience, but they were successful and respected on stage; Baker's reputation among blues aficionados and more scholarly British rock listeners can be traced to his work with the group. Their recordings, however -- with the obvious exception of the Klooks Kleek concert album -- were never as exciting as their live performances. Its name aside, Ginger Baker was the de facto leader of the Graham Bond Organization. Bond himself was temperamentally unsuited to a leadership role, a condition made worse by the spells of substance abuse and addiction that blighted his life. The Bond group also hooked Baker up in the same rhythm section with Jack Bruce for an extended period of time, and few relationships between constant bandmates -- with the exception of siblings Jimmy and Tommy Dorsey's efforts at working together in the early '30s -- have been so tumultuous and productive. The two genuinely hated each other on a personal level, and stories of each wrecking (or trying to wreck) the other's instruments and attacking each other on stage abound. Still, the group's sound was extraordinary, a jazz-based R&B built around four powerful players, each displaying varying degrees of virtuosity and assertiveness that was quite daringly complex. And their manager, Robert Stigwood, saw them all as talents worth keeping an eye on in the future. Baker eventually fired Bruce, who jumped to John Mayall's Bluesbreakers, which, fatefully, allowed him to cross paths with Eric Clapton for a short time, and then to Manfred Mann, as well as doing session work that even had him playing on records by the Hollies. By early 1966, the Graham Bond Organization had run its commercial course (though it was still sufficiently viable to turn up on a poster outside of the club that David Hemmings' character enters in Blow Up), and Baker was searching for a new gig. He'd observed John Mayall & the Bluesbreakers in action and had known lead guitarist Eric Clapton for a couple of years, having jammed with him once in 1964 as part of the Graham Bond Organization, and approached him initially to write together and perhaps form a group. Baker had, in effect, been running the Graham Bond Organization while Clapton had emerged in Mayall's group so far into the spotlight that he'd eclipsed Mayall himself; they discovered that they were in exactly the same place. The great irony was that Clapton, impressed with Bruce's musicianship in both the Bluesbreakers and a short-lived group called Eric Clapton & the Powerhouse, insisted that the bassist come aboard as the third member of the trio. Baker agreed, somewhat reluctantly, acknowledging Bruce's daunting musical ability and willing to overlook their past animosities. The proposed trio, christened Cream, was signed up by Reaction Records, a record label founded by Robert Stigwood, who had been the manager of the Graham Bond Organization, knew of Baker's and Bruce's virtuosity intimately, and was equally impressed by Clapton and as eager as any executive in England to get the three together and see what would happen. What happened initially was "Wrapping Paper," a pop-style single released in late 1966 that didn't impress too many people -- although even there, one could hear a swing element to the group's sound, reminiscent of '40s jazz, that showed off one (albeit minor) component of what went into their sound. Baker was barely audible in the mix, though what one could hear of the drumming did have a signature of sorts, a loose, jazzy element that was unusual. Within the next year, the band would become a chart-topping act and then a cultural phenomenon, however, and at its core was Baker. He and Bruce continued to argue without let-up while Clapton mediated and refereed, and on their records everyone got to shine, but Baker's playing was special even in that context -- on "Rollin' & Tumblin'," a Muddy Waters blues standard that the trio took into the stratosphere from the first note, Baker's playing sounded like it was on another planet, matching Clapton's rapid-fire quoting of the main riff and Bruce's frenzied singing and quietly overpowering the listener; his playing on "I'm So Glad," by contrast, had a lyrical, almost melodic quality, like a veiled orchestral accompaniment to the bass and guitar -- he kept a beat, but his drumming also played the kind of role that a harpsichord continuo played in Baroque music. And then there was "Toad," in its original studio version, an offshoot of several pieces dating back to the Graham Bond days that featured Baker in a solo; here, as on "Oh Baby" from the first Graham Bond album, Baker made his drum kit sing. In concert, the piece would become the basis for a ten-minute drum solo that was no less impressive. The trio's live sound was, alas, limited somewhat by the technology of the day, especially when they become too popular to play small clubs (which was very early), but Baker set a new standard for playing on record, and at those shows, that every drummer with more than an ounce of ambition sought to emulate. A lot of critics in later years also felt that Baker also had a lot to answer for -- that the 15-minute live version of "Toad," 13 minutes of which was Baker solo, opened the way to gargantuan drum solos by the metal bands that came up after Cream, culminating with the infamous (and extremely funny) drum solo interlude in the movie This Is Spinal Tap. Baker can hardly be faulted, however, for the excesses of those who followed after him -- his studio work with Cream, and at least the live material that was authorized for release, never showed him playing lengthy solos for their own sake but rather depicted a drummer coaxing beautiful voices out of his instrument. The mere fact that he could do it for ten minutes or more at a stretch was impressive, to say the least. Cream made (and still generates) a huge amount of money, but couldn't last long with the egos involved -- in just over two years, they were history. It turned Baker into a permanent superstar, however. Such was his influence that he was able to turn young admirers of his playing onto older drummers such as Gene Krupa and Buddy Rich, whose careers dated to the 1930s and 1940s, respectively. For a time at the end of the 1960s, teenagers who hadn't even been born when Krupa retired the last of his big bands were seeking out the drummer's work, all based on Baker's professed admiration for him. What followed next for Baker was Blind Faith, one of the most celebrated still-born bands in history -- many millions of records sold, and millions of dollars earned, despite their having only about an eight-song repertory of their own. Initially planned as a linkup between Clapton and singer/guitarist/keyboard player Steve Winwood, Baker came along and cashed in Clapton's promise to include him in his next project and the resulting business and publicity frenzy pushed the band too far, too quickly. In seven months they were gone, but out of the ashes of Blind Faith rose the group eventually known as Ginger Baker's Air Force. Ironically, Air Force's history was an exact reversal of that of Blind Faith -- initially put together for two live gigs in England, the group suddenly found its life extended to a tour and a second album; in contrast to Blind Faith, however, whose hype had merely reflected an expectant audience eager to see a band made up of two superstars (Clapton and Baker) and one star (Winwood), Air Force's hype was the product of promoters desperately hoping that it would be another Blind Faith. The group, which included Baker's mentor Phil Seaman and his old bandmate Graham Bond, was much too eclectic ever to have achieved the kind of popularity that Cream or Blind Faith had enjoyed, embracing jazz, traditional African music, blues, folk, and rock. The ten-piece band lasted less than a year before breaking up, leaving behind a genuinely fascinating and exciting live album and an interesting studio LP (both combined on the Ginger Baker double-CD set Do What You Like. In 1971, Baker decided to indulge his longtime fascination with African music first-hand and moved to Nigeria, where he built the first modern recording studio in western Africa. Over the next three years, he worked with a huge range of acts, including Fela and Paul McCartney's Wings, as well as recording the solo album Stratavarious -- he ultimately lost the studio and most of his money (and has claimed that McCartney stiffed him for the use of the studio in the recording of Band on the Run). During 1974, Baker formed the Baker-Gurvitz Army Band with guitarist Adrian Gurvitz and bassist Paul Gurvitz, which made an initial splash in America before fading out commercially over the next three years. He finally re-emerged in 1986, with bassist/guitarist Bill Laswell on the album Horses & Trees. By that time, a new generation of star drummers had emerged, most notably Carl Palmer of Emerson, Lake & Palmer and Bill Bruford of Yes and King Crimson, but Baker's reputation, thanks to the continued catalog sales of Cream's work, continued to resonate with fans and casual listeners. Over the next few years, Baker reappeared through various projects, including Ginger Baker's African Force and Middle Passage, that freely mixed African and Western musical influences. And in 1991, Baker surprised all onlookers with the release of Unseen Rain, a free-form instrumental album done almost entirely on acoustic instruments. Finally, in 1994, he returned to Atlantic Records -- which had been the U.S. outlet for Cream's recordings -- and to what he realized were his jazz roots with the triumphant Going Back Home, which featured the Ginger Baker Trio. Baker has hooked up with jazz trumpeter Ron Miles on Coward of the County, a hugely successful showcase for his jazz side and also includes a tribute to the late Cyril Davies, the British blues enthusiast who co-founded Blues Incorporated in the early '60s. Ginger Baker, like his ex-bandmates, has seen fit since the 1970s to keep the legacy of Cream at arm's length or further -- the trio's induction into the Rock & Roll Hall of Fame reportedly did little to change his feelings, and he is also said to be astonished at the emergence of Eric Clapton to mega-stardom during the 1990s. Despite some of the financial and other troubles that have dogged him since the 1960s, he has been content to go his own way musically for the benefit of any who care to hear. © Bruce Eder, All Music Guide
BIO (JONAS HELLBORG)

JONAS HELLBORG was born 1958 in Gothenburg, Sweden. He taught himself to play the bass at age 12. Influenced by artists such as Jimi Hendrix, Cream, and Deep Purple, HELLBORG played mainly blues and heavy rock. In 1972 he heard a record that changed his perception of music. 'The Inner Mounting Flame', by the MAHAVISHNU ORCHESTRA would not only influence his music, but his career as well. Formal studies in jazz and classical music started at the age of sixteen. At this time he became involved with a free form group. He particularly listened to recordings of ALBERT AYLER and JOHN COLTRANE. He studied MILES DAVIS'S development from the early part of his career through the beginning of the 70's when Davis produced 'In A Silent Way', and 'Bitches Brew'. In this context, HELLBORG became reintroduced to the work of JOHN MCLAUGHLIN. MCLAUGHLIN would serve as the main influence for HELLBORG who was exploring a jazz/rock idiom, playing small clubs in the south of Sweden. JONAS HELLBORG'S command of his instrument flabbergasted musicians when he first performed in Sweden in the early 1980's. His gleefully flamboyant virtuosity was made the more startling by his punk stage presence. He may have acted as a rock musician initially – and to a considerable extent he still is - but he cornered all those slumming jazz cats in matters of improvisational daring and originality. He is fast - how many other bass players could play unisons with full-tilt MCLAUGHLIN - but what are acknowledged by his peers, include his slap technique, lead lines and revolutionary chordal approach, serving to extend his instrument's potential The wider chords, for example, pointed toward a keyboard-like role for the bass, and reflected his studies of MCCOY TYNER's music. The intervallic leaps in his solo's have almost as much to do with COLTRANE than HENDRIX and scarcely relate to traditional bass technique at all. JONAS is on record too as learning from the under-acknowledged BACK DOOR bass guitarist, COLIN HODGKINSON. Otherwise, on his chosen instrument he is his own man entirely and one of the very best 4 string electric and acoustic bass guitarists on this planet. Dissatisfied with the various rock groups he had been working, HELLBORG turned to more challenging music and solo concerts. In 1981, he was invited to play at the Montreux Jazz Festival. MICHAEL BRECKER was impressed by JONAS HELLBORG'S playing there and introduced him to many of the jazz greats including JONAS'S long time idol, JOHN MCLAUGHLIN. Subsequently HELLBORG sent him some tapes of his music. Later in 1981, BRECKER invited HELLBORG to New York to open for STEPS AHEAD on several club dates. Upon his return to Europe from the USA, HELLBORG was approached by percussion great, REEBOP KWAKU BAAH of TRAFFIC and AIRFORCE fame. The two worked for a year in London on a recording project that was halted by REEBOP'S tragic death in the latter part of 1982. In 1982 HELLBORG created his own record label, Day Eight Music (DEM), in order to allow himself and others to record with full artistic freedom: the subsequent numbers of albums released covering a very broad range of music, reflect this objective. The first record was HELLBORG'S first solo bass release, 'The Bassist Thing'. In February 1983 JONAS HELLBORG went back to London to complete the project started with REEBOP, releasing an album entitled 'Melodies In A Jungle Man's Head' (DEM). In May 1983, HELLBORG joined avant-garde pianist MICHAEL J. SMITH and drummer MICHAEL SHRIEVE (ex. SANTANA) to record the label's second release, 'All Our Steps'. Shortly after this, JOHN MCLAUGHLIN invited HELLBORG to join the reforming MAHAVISHNU ORCHESTRA. The first performance HELLBORG did with MCLAUGHLIN was a television show in Paris where they played in trio with BILLY COBHAM on drums. Early 1984 saw the addition of saxophonist BILL EVANS and keyboardist MITCH FOREMAN and the group released the self-titled album 'Mahavishnu' (Warners). At the same time JONAS HELLBORG released his second solo bass album 'Elegant Punk'. Before the first MAHAVISHNU tour drummer DANNY GOTTLIEB (ex-PAT METHENY GROUP), replaced BILLY COBHAM; the group completed two World tours. In 1984, at the start of MAHAVISHNU'S USA tour, MICHAEL SHRIEVE introduced JONAS HELLBORG to BILL LASWELL. At the time the musician and producer (nowadays a renown jazz-album remixer), LASWELL was recording DEADLINE'S 'Down By Law', and invited HELLBORG to play on it: the album is special in that it holds probably last recordings of JACO PASTORIUS and PAUL BUTTERFIELD. In 1985 LASWELL managed to dig out GINGER BAKER from retirement in Italy, to have him play on the atypical PIL's recording, 'Compact Disc', (also called 'Cassette', or 'Album', depending on the format it was sold originally; Virgin Records). So while passing through New York on tour again, HELLBORG also contributed to this album, along with STEVE VAI and TONY WILLIAMS – much to the apparent and subsequent chagrin of JOHN "ROTTEN" LYDON!! In 1985 HELLBORG and MCLAUGHLIN started playing duet concerts. In an effort to explore a different musical mood, the two created an intimate chamber music kind of jazz/funk that was almost classical in its texture. In same year, HELLBORG also recorded 'Axis' with PARLIAMENT/FUNKADELIC player BERNIE WORRELL (keyboards), BERNARD FOWLER (vocals) and ANTON FIER (drums). 1986 saw the release of the second MAHAVISHNU album, 'Adventures In Radioland' (recorded in Milan, Italy) and another world tour. In 1987, the MCLAUGHLIN-HELLBORG duo toured throughout Japan, the US and Europe. Later the same year HELLBORG teamed up with WORRELL and GINGER BAKER to record 'Bass' and tour Europe. JONAS HELLBORG also found time to guest on an album by the German free jazz group KOLLECTIV, 'Kollectiv Featuring Jonas Hellborg' (ITM Records). A limited edition release, a compilation of previously heard Hellborg recordings, was issued 'Onkyo Presents Jonas' (DEM, 1987) In 1988 MCLAUGHLIN and HELLBORG were joined by Indian percussionist TRILOK GURTU for a tour of the USA. HELLBORG can be heard on a couple tracks of TRILOK GURTU'S album 'Usfret' (1988, CMP Records). The 1989 HELLBORG release 'Adfa' featured a variety of musicians including TRILOK GURTU (percussion)). After this tour HELLBORG left MCLAUGHLIN, moved to New York and formed his own trio with Turkish AYDIN ESEN (keyboards) and KENWOOD DENNARD (drums). This first version of the JONAS HELLBORG GROUP toured Europe doing concerts and TV shows but made no recordings. The second version was formed with brothers JENS JOHANSSON (keyboards) and ANDERS JOHANSSON (drums), both from YNGWIE MALMSTEEN'S RISING FORCE. (During this period, in 1990 JENS joined DIO for a record and a tour). Also during this time HELLBORG toured and recorded a mix of heavy rock and jazz. The resulting album, 'The Jonas Hellborg Group' (DEM, Day Eight Music Records), had an experimental group consisting of two bass players (HELLBORG on 4 string, and ANDERS NORD on 6 string basses) and drummer JAMIE SALAZAR, later of the FLOWER KINGS, (electronic drums). In 1990 JONAS HELLBORG and BILL LASWELL created the Greenpoint Recording Studio in New York. They also worked together on several recordings. HELLBORG played on the LASWELL produced album by GINGER BAKER 'Middle Passage'. In 1991 they collaborated on DEADLINE'S 'Dissident' (DEM). LASWELL produced HELLBORG'S 'The Word' (Axiom), a record where HELLBORG (acoustic bass guitar) and famed TONY WILLIAMS (drums) are backed by a string quartet. This album was also the first feature of a unique instrument that HELLBORG took delivery of in 1989, the Wechter acoustic bass guitar, built by luthier Abraham Wechter between 1986 and '89. This instrument was also used on HELLBORG's third solo bass album, 'The Silent Life' (DEM). In 1991 HELLBORG produced JENS JOHANSSON'S 'Fjäderlösa Tvåfotingar' (Amigo Records; experimental, synth-lead, jazz fusion) and GINGER BAKER'S 'Unseen Rain' with HELLBORG (acoustic bass guitar) and JENS JOHANSSON (acoustic piano) (DEM). In early 1992 the trio of HELLBORG, BAKER, JOHANSSON toured Europe. In addition HELLBORG recorded several records in '92: · RAF's 'Ode To A Tractor' (DEM), an avant-garde recording featured LASWELL and fellow LAST EXIT colleague PETER BROTZMAN, plus JENS JOHANSSON and others; · SHINING PATH'S 'No Other World' (DEM), thrash metal rock played near perfectly by HELLBORG and the JOHANSSON brothers, featuring singer GARY "MUDBONE" COOPER – the album has a controversial sleeve photo; · ANDERS JOHANSSON'S 'Shu-Tka' (Heptagon Records), · His own 'Octave Of The Holy Innocents' (DEM; subsequently remixed, remastered and released by Bardo in 2005), with MICHAEL SHRIEVE (drums) and BUCKETHEAD (acoustic guitar). In January 93 HELLBORG moved to Paris and had a year off from recording, although he toured extensively doing both solo concerts, working with a group of middle eastern musicians, with MICHAEL SHRIEVE as well as playing duos with several other percussionists, and concerts together with the JOHANSSON brothers. In 1994 he recorded two new albums: 'Ars Moriende' (DEM), with the New York-based frame drum player and percussionist GLEN VELEZ, and 'Abstract Logic' (DEM) with guitarist SHAWN LANE and drummer KOFI BAKER (Ginger's son). He also worked on pieces for string quartet and a suite for cello and piano called 'Hell Bop', which had its first performance at a concert at the Swedish Culture Centre in Paris. HELLBORG went to China 1995 in January for recordings with different Chinese musicians including flute player DU CI WEN. This was followed by recordings with MICHAEL SHRIEVE and SHAWN LANE, on SHRIEVE's 'Two Doors' (CMP Records). LANE and ANDERS JOHANSSON joined HELLBORG for a tour of China in September and the first for a western "fusion" group. The Swedish National Ballet Company, Cullberg Baletten, decided to use music from the record 'Ode To A Tractor' for a piece choreographed by Lars Max Bethke. (One is recommended to be wary of the 1995 release NIELS & THE NY STREET PERCUSSIONISTS; although HELLBORG'S name is used on the front cover with equal billing to NIELS, it seems he only produced the album but did not play). HELLBORG'S main project through the late 90's has been with SHAWN LANE (guitars) and JEFF SIPE (aka APT Q-258, drums), with the release of a number of albums and extensive world touring. Musically the trio's music has been predominately been in the jazz rock fusion field, releasing some of the best jazz rock albums of the 90's: · 'Temporal Analogues Of Paradise' (1996, Bardo); · 'Time Is The Enemy' (Bardo 1997, reissued with extra tracks in 2004). · 'Personae' (2002, Bardo). In addition there have been the world jazz fusion albums: · HELLBORG and LANE'S 'Zen House' (2000, Bardo); · HELLBORG, LANE, with V. SELVAGANESH (kanjeera) on 'Good People In Times Of Evil' (Bardo 2000); The soundtrack of HELLBORG's performance on Syrian TV with traditional Arab musicians, was released as 'Aram Of Two River: Live In Syria' (Bardo 1999). With eastern influences now strongly evident in their music, (including the Sufi Qawwalis music of the Khans,) HELLBORG and LANE worked with southern Indian musicians, V. UMAMAHESH (vocals) V. SELVAGANESH (kanjeera) and V. UMASHANKAR (ghatam) recorded and released 'Icon' (Bardo) and 'Paris' (Bardo DVD). Only the premature death of Shawn Lane in 2003, curtailed the longest collaboration of HELLBORG'S career. There have been several sightings of HELLBORG since LANE'S untimely death, including work with free jazz musicians. Early in 2005 GARY HUSBAND and guitarist STEVE TOPPING (replacing ALLAN HOLDSWORTH at the last moment) toured India. At the end of 2005 HELLBORG released 'Kali's Son' (Bardo), another welcomed Indo-jazz recording in collaboration with progressive sitarist NILADRI KUMAR (zitar & sitar) and again with percussionist V. SELVAGANESH (kanjeera). The exceptional number of projects and astonishing recordings (several can be listing in the best jazz fusion of the last 20 years), in a very broadest range of musics, demonstrates JONAS HELLBORG'S unwillingness to stop in one spot for very long: the epitomy of a true progressive musician. [(Considerably updated and extended biography based on that originally offered by Bardo Records, by RJH)] © Prog Archives, All rights reserved
BIO
( JENS JOHANSSON)
-
WIKIPEDIA

Jens Johansson (born November 2, 1963 in Stockholm) is a world-renowned Swedish power metal keyboardist and pianist. He is noted as one of the first and most influential "shred" keyboardists, for his high-speed neoclassical and fusion style. Johansson is son of the well-known Swedish jazz pianist Jan Johansson and brother of the heavy metal drummer Anders Johansson. Highly influenced by classic Rock keyboardists like Don Airey, Eddie Jobson and Jon Lord. In 1982, the classically trained Johansson left the jazz fusion band Slem and joined the Swedish metal band Silver Mountain, which also included Anders. In 1983 he left Sweden for California and joined guitarist Yngwie Malmsteen as a member of his band, Rising Force. Numerous records and world tours ensued and he stayed with Yngwie until 1989. Johansson also played with the band Dio between 1989 and 1990. Like Anders, he began an ongoing collaboration with Jonas Hellborg in 1989 which has resulted in several well-received progressive and avant-garde recordings, including Dissident, Silent Run (an acoustic piano trio record with Ginger Baker on drums) and the hard core progressive fusion record, E. In 1993, Johansson co-founded a progressive blues metal project, The Johansson Brothers, and recorded a self-titled record. In 1996, with a different line-up, they recorded another album, Sonic Winter, this time under the name "Johansson", with Yngwie Malmsteen guesting on guitar. The last Johansson record, The Last Viking, a more "European metal" oriented album, was released in 1999 with special guests Michael Romeo and Göran Edman. Johansson has released several instrumental solo records such as Fjäderlösa Tvåfotingar, Ten Seasons (a piano solo album improvised in the Mark Kostabi gallery, New York), Heavy Machinery (with Anders and Allan Holdsworth) and Fission (with Anders, Shawn Lane and Mike Stern) and many collaborations with other artists, metal compilations and Berends Brothers' band Mastermind. He co-founded Heptagon Records to distribute his own recordings and that of other musicians, such as guitarist Benny Jansson and bassist Magnus Rosén. Johansson auditioned for Dream Theater after Kevin Moore left the band in 1994 but due to many delays by the band in making a decision he instead joined Stratovarius. Since 1995 he has remained in Power metal/Neo-classical metal band Stratovarius,and still releasing solo albums and appearing as a guest or session musician in other projects. Jens currently resides in New York City, where he has 3 children with his wife, Domenique Leomporra. He is also a self-confessed computer nerd, admitting to have started on an Atari ST (which he still owns), and having coded software in C, as well as his own website in Perl.