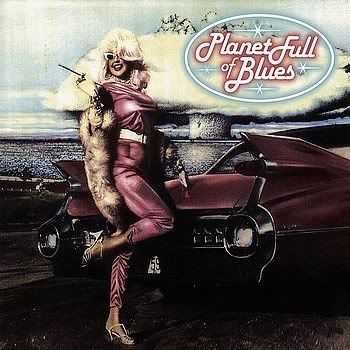 Planet Full Of Blues
-
Planet Full Of Blues
-
2008
-
Planet Full Of Blues
Imagine Stevie Ray Vaughan colliding with Blood, Sweat, & Tears and you get a new shade of blue for the 21st Century. The debut release of Planet Full Of Blues offers 11 compelling and intelligent originals that are infused with heart-stopping Kansas City horns and spacey Hammond organ. With the singing guitar tone that touches the soul and tingles the spine, the solid drumming that shakes the bones and the feets, and the strong and unique vocals that instill a sense of urgency and action, the listener will be pleasantly exposed to a new shade of blue for the 21st Century; Planet Full Of Blues. © cdbaby.com
Good album from Planet Full Of Blues, whose lead vocalist Johnny Ray Light sounds like a mixture of Joe Cocker and BS & T's David Clayton Thomas. The album is all original material, most of the tracks being written by Johnny Ray Light. The playing here is first class, with great guitar, organ, and horns. Lyrically some of the songs could be stronger, and maybe show a little more originality, but this is still an excellent album, and will appeal to fans of the AWB, BS & T', and similar bands. The band have their own sound with plenty of good funky blues, rock, soul, and R&B. This band will improve, so watch out for future releases.
TRACKS
1. Pain Will Melt Away
2. Got The Blues
3. Planet Full Of Blues
4. You Can't Always Be Right
5. Coming From A Friend
6. Miss Her Smile
7. Money
8. Dirty Pains
9. When Will You See Things My Way
10. Man Tamer
11. E-Jam
All songs composed by Johnny Ray Light
MUSICIANS
JOHNNY RAY LIGHT - Guitars, Lead Vocals
BROCK HOWE - Drums, Background Vocals
JAMES ALBRIGHT - Bass
ERIC STARK - Trumpets, Horn Arrangements
RICHARD YEAGER - Saxophones
PAUL DRAPER - Hammond B3 Organ
LARRY GANN - Percussion, Background Vocals
REVIEWS
/
BAND INFO
The nucleus of PLANET FULL OF BLUES is the duo of JOHNNY RAY LIGHT on Guitars & Lead Vocals and BROCK HOWE on Drums & Background Vocals. Their self titled release "PLANET FULL OF BLUES", which consists of eleven originals by JOHNNY, features the following special guests: JAMES ALBRIGHT on Bass; ERIC STARK on Trumpets and Horn Arrangements; RICHARD YEAGER on Saxophones; PAUL DRAPER on Hammond B3 Organ; and LARRY GANN on Percussion and Background Vocals. I'd also like to give credit to BETTY "MS. SHABOOM" CREDLE......not so much for being the discs Cover Model, but for the great sense of humor she obviously has. Seeking medical help for his ailments, JOHNNY felt a bit relieved when his doctor said "There's nothing wrong with you.....you "GOT THE BLUES". Avoiding the 'Take two aspirin and call me in the morning' remedy, Johnny's doctor flat out told him "There's nothing you can do, when you got the blues - you just gotta move your shoes". Alright Doc! This track features great vocals and hot guitar from JOHNNY
and fierce rhythm from BROCK, JAMES and PAUL on the drums, bass & Hammond. Real good stuff right here. "PLANET FULL OF BLUES", The title track and bands moniker, is one of three tracks that will have you wishing ERIC & RICHARD appeared on more than just these three - their horns are fabulous and certainly one of this tracks highlights. The others are BROCK creating a frenzy on the drums and more strong vocals and guitar from JRL. Slowing things down a bit is a beautiful ballad titled "COMING FROM A FRIEND". The whole bands fallen into a soothing groove and it sounds real nice. Although I've heard a slight resemblance to Blood, Sweat & Tears since the opening, JOHNNY'S vocals will surely perk up the David Clayton-Thomas fans ears. If you like your blues on the funky side, then here's one for your "MONEY". ERIC & RICHARD are back on the horns, and with killer company from BROCK & JAMES on drums and bass, they're funkin' this one up big time. If you're not movin' while this one's on then either you ears or your arteries are clogged. By now, you all know what it means when I say a particular track on a disc is my personal favorite. On "PLANET FULL OF BLUES", that track is "MAN TAMER" - and yes, it's 'cause it the bluesiest track of them all. With the rhythm section in just the right spot behind them, JOHNNY & PAUL shine. Of course, there are some great blues guitar licks and gritty vocals from JOHNNY and PAUL - at discs best, has that Hammond hummin'. Replays are in order here. Other tracks on "PLANET FULL OF BLUES", include: "PAIN WILL MELT AWAY", "YOU CAN'T ALWAYS BE RIGHT", "MISS HER SMILE", "DIRTY PAINS", "WHEN WILL YOU SEE THINGS MY WAY" and a fast and frenzied closing instrumental called "E-JAM". You know the drill. Now it's time for you to go to www.planetfullofblues.com to buy the disc and tell JOHNNY & BROCK that the Blewzzman sent ya. © Peter "Blewzzman" Lauro © JANUARY 2009, Mary4Music - CD Reviews
Gloucester Band's Disc Delivers Blues Chops - Gloucester's Planet Full Of Blues has released a self-titled, 11-song album that is just plain smokin' hot. Fans of Stevie Ray Vaughan's blazin' guitar licks should take note. Clad in dapper black suits, hats and shades, guitarist/singer Johnny Ray Light and drummer Brock Howe - the main ingredients in Planet - have a decidedly Blues Brothers shtick goin' on, and they've got the groove to back it up. "Got The Blues" is an infectious dance track featuring the Hammond B3 organ work of guest Paul Draper, with loads of lightening-quick six-string injections from Light. The title track and "Pain Will Melt Away" are highlighted nicely with the horn power of saxophonist Richard Yeager and trumpeter Eric Stark. "Miss Her Smile" and "Coming From A Friend" rock in a more subdued, Eric Clapton sort of way. The band plans to tour Europe in the summer, with a June 27 slot at the Voxstock Festival in Belgrade confirmed. Break Page E6. Virginia Beach, VA. © Jeff Maisey, November 14, 2008 © The Virginia Pilot. Section: The Daily
One of Virginia's hottest blues bands is Planet Full Of Blues. The three-piece band is fronted by Johnny Ray Light, who sings, plays guitar, and writes most of the songs, and is driven by a powerhouse rhythm section of Brock Howe (drums) and recent addition Mike Connell (bass). On occasion, they add a horn section to great effect. Their repertoire includes a mix of Texas and Chicago blues, Memphis soul and even rock & roll. Their self-titled, self-released debut recording backs up this claim strongly. It's an 11 song set with emphasis on high-energy blues and rock. Highlights include the horn-driven opening cut, "Pain Will Melt Away" and "Planet Full Of Blues." "Got The Blues" features plenty of Light's muscular guitar work, as does "You Can't Always Be Right," and "E-Jam," the disc's too-short closer. "Money" takes a funky turn, as does "Dirty Pains," courtesy of guest Planeteer James Albright's nasty bass (Connell was not a member when the album was recorded). The strongest pure blues cut is "Man Tamer," which borrows the "I'm A Man/Mannish Boy" riff. Other guest musicians lending a hand are Paul Draper, with some terrific Hammond B3 organ on selected tracks, Eric Stark, who plays trumpet and arranged the horns, and Richard Yeager on saxophone. Co-producer (with Light) Larry Gann also adds percussion and backing vocals. Planet Full Of Blues offers a powerful set of blues, boogie, and rock that will please their fans and any interested newcomers. Check this CD out at www.cdbaby.com or visit one of the band's websites (www.planetfullofblues.com or www.myspace. com/planetfullofblues). © Graham Clarke January 2009 © Blues Bytes - What's New
For this train jumping, AM clock radio listening free spirit, songwriter-guitarist Johnny Ray Light didn't really get serious musically until he reached thirty. Performing locally in Johnny Ray Light & the High Beams and Fully Loaded, he mixed commercial blues with his own high-powered original compositions. Light, along with drummer Brock Howe, traveled to Kansas City, funded and recorded their eleven-track musical project, Planet Full of Blues. There's a common thread that weaves throughout PFOB's maiden voyage, namely one really deep sense of rhythm. Whether it's Light's chunky chord intro to the driving rocker "You Can't Always Be Right" or his guitar blasting, boogie driven "Got The Blues," PFOB's groove is
relentless. "Man Tamer" steams along with a gutsy "I'm a Man" groove, highlighting Paul Draper's Hammond organ lines and Light's seductive vocals and fuzz-driven guitar breaks. Richard Yeager's and Eric Stark's tight horn arrangements create a spirited Blood Sweat & Tears meets Archie Bell musical backdrop on Light's gem, "Pain Will Melt Away." The radio-friendly '70s southern rocker "When Will You See Things My Way?" blends Light's tasty guitars and formidable singing (akin to BS & T's David Clayton Thomas), alongside Howe's and bassist James Albright's solid rhythms. With Light's and Howe's impressive "Back to The Future" musical approach, Southeastern Virginia's all-original Planet Full of Blues features one enthusiastic global mix of rock, funk and R&B Norfolk, VA. © Alan Kurzer, November 2008 © Natchel Blues Network - Blues News
Planet Full of Blues - Johnny Ray Light has been rocking around on the local blues scene for years. But Light has never sounded brighter than on this 11-tune collection by his band Planet Full of Blues. Light's soaring, distorted guitar work nods to the late, great Stevie Ray Vaughan. While Vaughan's Hendrix-by-way-of-Texas sound has become a cliche in recent years, Light handles it better than most. Better yet, several tunes here match his snarling string-bends with strong, pure blasts of brass. "Pain Will Melt Away," for example, is full of funky soul, with punchy horns and a bass line that hops and twists. The brass-laden title track also dredges up a classic, sweaty R&B feel. "Planet Full of Blues" is a strong statement by a veteran local musician who shows he's still got a lot to say. © Sam McDonald, October 24, 2008 © The Daily Press. Newport News, VA, Sound Check Section.
"There's a lot to like about Planet Full Of Blues' freshman effort. ....the result is a tasty set of original blues, rock and funky R & B. This is a band with promise, evidenced by what you'll hear almost throughout this fine first release. ...all in all, "Planet Full Of Blues" is a solid effort by a pair of VA musicians who have something to say that is well worth hearing." © Fall 2008 River City Blues Society. Richmond, VA. "Great songs, great arrangements, and some stellar musicianship, this is a tight CD that should definitely be on any play list." © Gordon Bulcock, September 2008 © Blues Festival E-Guide.