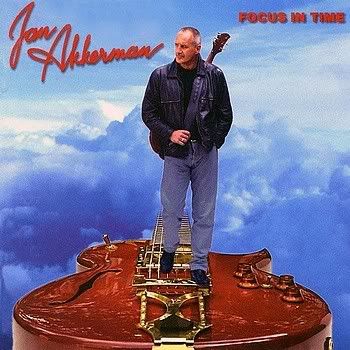 Jan Akkerman
-
Focus in Time
-
1996
-
Patio Music
An excellent album from the great Jan Akkerman. Track 1, "Home Voyage" is very reminiscent of the classic style of Focus, and is indicative of what Focus might sound like if were they were recording today. This album is a great example of Jan's many styles of guitar playing, and it should especially appeal to any diehard Focus fan. Arguably, this is one of the best Jan Akkerman solo releases. He covers blues, rock, and classical music with a breathtaking talent. It is hard to think of any guitarist, past or present who can play any guitar style equally well. Jan is at home playing Flamenco, rock, blues, jazz, and classical. You name it, he can play it. Where so many of the so called "great guitarists" are confined to playing the one genre, Jan Akkerman's guitar versatility, and virtuosity is truly astounding. It is very common to see lists of "the world's greatest guitarists". "Great" is a very general word, especialy when applied to guitarists, but with Jan Akkerman, it is easy to see what "great" really means. The guy is a guitar wizard, and a true star. Find his "fromage a trois" album @
JANAK/FRAT
His "The Noise Of Art" album can be located @
JANAK/TNOA
and check out his "Heatwave" album @
JANAK/HWAVE
As usual, when discussing Jan Akkerman, Focus' "Live At The Rainbow" album must be heard by any lover of great rock music. It is one of the great all time classic rock albums.
TRACKS
1. Home Voyage [intro 1.59, Where Would I Be 3.22, I'll Make It Up To You 1.58, Extro 0.52]
2. Saudade
3. Nail the snake
4. Apres un Reve
5. Am I losing you
6. Wildflower
7. On the table
8. Elegy
9. Laurie Anne
10. Leading me there
11. I'll find my own way home
Tracks 1,2,3 6,7,9, & 10 composed by Muleta: Tracks 4,8, & 11 composed by Muleta, Salisbury: Track 5 composed by Montoya
N.B:
Some labels classify Track 1, "Home Voyage" as four separate tracks, giving the album a total of 14 tracks The post here has included the 14 separate tracks (Track 1 is split into four separate tracks, and "faded", using mp3Trimpro software).
This album has also been released with two bonus tracks, both composed by Muleta, "Intro (10,000 Clowns)" and "Akkerstones".
MUSICIANS
Jan Akkerman / Guitars
Tom Salisbury / Keyboards
Nico Brandsen / Hammond organ
Ton Dijkman / Drums
Manuel Hugas / Bass
The Stylus Horns / Horns
BIO
Jan Akkerman was born on Christmas Eve 1946 and first picked up a guitar aged 5. Legend has it that he played accordian aged 3, and was entirely self-taught on the guitar, but in actual fact he took classical guitar lessons, studied at Amsterdam Music Lyceum for 5 years and won a scholarship. His father was a guitarist, and his mother played the accordian. He took a keen interest in group music-making, joining local bands The Friendship Sextet and The Shaking Hearts. In 1961, aged 15, he recorded his first single with his current band, Johnny & The Cellar Rockers, which also featured Pierre Van der Linden. The Cellar Rockers became the Hunters, and the first hit was scored with a cover of "Mr Tambourine Man", but an even bigger hit came from an original song called "The Russian Spy and I", inspired largely by the Shadows, but with a notable guitar solo from Akkerman. During the mid 1960s, Akkerman visited England, where he saw the guitarist Julian Bream performing Mediaeval lute music. This was an inspiration that was never to leave Akkerman. In the late 1960s, he formed Brainbox, with his old friend Van der Linden on drums, who negotiated a signing to Parlophone. During a recording session, Akkerman, who was fond of jamming and session playing, hooked up with the embryo Focus, and was ejected from Brainbox as a result. Brainbox's first (and only) album is regarded as a Dutch Prog Rock classic in some circles.
Not to be deterred, he recorded his own material, assisted by his friends from The Hunters; a solo album called "Talents for Sale", and joined Focus for recording the backing music to the musical "Hair", and their debut album "In And Out Of Focus". In 1971, Akkerman's old sparring partner Van der Linden is taken into Focus on drums, and "Moving Waves" is recorded. Despite the international success of this album, Akkerman relentlessly carried on recording his own material with the albums "Profile" and 1974's "Tabernakel", which features Akkerman's playing his newly acquired lute, and carries a Mediaeval flavour. Following "Moving Waves" and "Focus 3", Akkerman was pronounced best International guitarist by Melody Maker, in a poll that put him above Clapton, Beck and Page. In 1978, Akkerman's contract with Atlantic was ended due to the high costs involved with his insistence of hiring full symphony orchestras and low record sales, and Akkerman went off to persue other musical avenues, pausing only to attempt a Focus re-group. The album of this year "3" is an unusually funky album with very little ecelcticism. This didn't work out, so Akkerman carried on working, attempting to reform Focus once again in 1984, producing the rather raw "From the Basement". In 1989 he had a more successful collaboration with Miles Copland resulting in the successful "Noise of Art". His collaborations and various projects from then until now are too numerous to mention one by one, including work with B.B. King, Mike Kenealy, Alan Price, Charlie Byrd and Ice-T, but 1999's "Passion" is particularly notable. On February 16th 2005, Akkerman was awarded with a Golden Harp award at the Harpen Gala, proving that he is still not only going strong, with his favourite annual Dutch and UK tours, but still impressing with his skills. © Prog Archives, All rights reserved
MORE ABOUT JAN AKKERMAN
A musician of near-legendary prowess, Jan Akkerman for a time eclipsed Eric Clapton, Jimmy Page, and Jeff Beck among reader polls in England as the top guitarist in the world. Akkerman was born in Amsterdam, Holland, and showed his musical inclinations early, taking up the guitar while still in grade school. His taste and interests were extraordinarily wide-ranging, from pop-rock to classical, with room for blues, Latin, and other influences. He joined his first band, Johnny &The Cellar Rockers, in 1958, at age 11, which included his boyhood friend Pierre van der Linden, on drums. Later on, the two were members of the Hunters, an instrumental group whose sound was heavily influenced by that of the Shadows. He acquired a special interest in the lute while on a visit to England during the mid-1960's, during which he saw a performance by legendary classical guitarist Julian Bream, whose repertory of medieval works also fascinated Akkerman. This interest, which broadened to embrace a fixation on medieval England and its countryside, later manifested itself in such works as "Elspeth of Nottingham" from Focus 3. During the late 1960's, Akkerman, Van der Linden, bassist Bert Ruiter, and singer Kaz Lux formed Brainbox, who were good enough to get a recording contract with Parlophone Records. He was involved with an early incarnation of the group Focus, founded by conservatory-trained flautist Thijs Van Leer, but join until after that group had issued its unsuccessful debut album -- he took Van der Linden with him from Brainbox and, with Van Leer and bassist Cyril Havermans (later succeeded by Ruiter) from the original Focus, formed a new group of that name. With Akkerman's virtuoso guitar work and arrangments coupled to Van Leer's classical influence (and his yodeling on their breakthrough hit, "Hocus Pocus"), the new group found a large international audience beginning in 1972, which transformed Akkerman into a superstar guitarist. His solo career actually dated from 1968, though his attempt at a solo album, later titled Guitar For Sale -- containing his covers of numbers such as "What'd I Day", "Ode To Billy Joe", and "Green Onions" -was so primitive by the standards of the time, that it was deemed unreleasable until Akkerman started topping reader surveys in the mid-1970's. Profile, released in 1972 after he'd begun making some headway with his reputation, also dated from 1969 and his days with Brainbox. Akkerman's first real solo album reflecting his music and interests at the time appeared in 1974, in the form of Tabernakel, which was recorded during the summer of that year at Atlantic Recording Studios in New York -- having finally acquired a medieval lute of his own, he taught himself to play it and the results comprise more than half of this LP, made up of authentic medieval music and originals composed in a medieval mode. It was certainly the most unusual record ever to feature the playing of Tim Bogart (bass) and Carmine Appice (drums), as well as soul drummer Ray Lucas. After leaving Focus in 1976, Akkerman began releasing a stream of solo albums, which frequently embraced classical, jazz, and blues, and started leading his own bands. Much of his work during the 1980's wasn't released officially outside of Holland, but his periodic recordings with Van Leer, coupled with efforts to revive Focus with its two major stars, kept his name circulating in international music circles. The only problem that Akkerman faces derives from the sheer eclecticism of his work, which makes him very difficult to categorize -- two different branches of Tower Records in the same city list him as a jazz and a rock artist, respectively, but one could just as easily make a claim for him as a classical artist. © Bruce Eder , All Music Guide