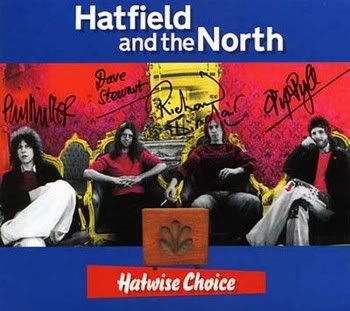 Hatfield and the North
-
Hatwise Choice
:
Archive Recordings 1973-1975
,
Vol. 1
-
2005
-
Burning Shed
Hatwise Choice is the band's own selection of unreleased material culled from their tape archive. It consists of over 68 minutes of live concert tapes and radio recordings, the latter mastered from first generation sources. The gig tapes show aspects of Hatfield's music never before heard on record - on stage, the tight control of the group's studio work is replaced by a looser, improvisatory approach. Flashes of humour give way to frightening electronic landscapes, interspersed with extended arrangements of the band's compositions and occasional moments of utter musical madness. Features selections from live concert tapes and radio shows recorded 1973-1974. Unreleased tracks include Hattitude, Strand on the Green, Dave Intro, Son Of Plate Smashing Dog, Blane Over Paris, Laundry Soup, Effing Mad Aincha and many more. A rare 1973 studio demo, made prior to recording the first album, is also included as a bonus track.
Check out the band's Canterburty Rock masterpiece album, "The Rotter's Club".
N.B
:
Track 9, "Dave Intro" seems to have "faults" (slight skips) over the first 15 seconds. It may be a fault in the CD manufacture, or on the original recording. If anybody else has noticed this, or if there is a better version of track available, any info is welcome.

TRACK INFO.
1. Absolutely Wholesome (John Peel Show 1974) (3:16)
2. La Barbe est La Barbe (Top Gear 1974) (6:51)
3. Sober Song (Top Gear 1974) (2:59)
4. Hatitude (John Peel Show 1974) (3:13)
5. Strand on the Green (John Peel Show 1974) (1:02)
6. Hotel Luna (John Peel Show 1974) (3:34)
7. The Lonely Bubbling Song (John Peel Show 1974) (1:20)
8. Stay Jung and Beautiful (John Peel Show 1974) (0:56)
9. Dave Intro (Live - London 1975) (1:55)
10. Take Your Pick (Live - London 1975) (8:09)
11. Son Of Plate Smashing Dog (Live - Emmen 1974) (1:16)
12. Thanks Mont! (Live - Emmen 1974) (2:27)
13. Amsterdamage 11/19 (Live - Amsterdam 1974) (6:20)
14. May The Farce Be With You (Live - Paris 1973) (0:39)
15. Finesse is for Fairies (Sounds Of The 70s 1973) (1:28)
16. Ethanol Nurse (Sounds Of The 70s 1973) (2:56)
17. Writhing and Grimacing (Sounds Of The 70s 1973) (3:42)
18. For Robert (Top Gear 1973) (2:09)
19. Blane over Paris (Live - Paris 1973) (6:20)
20. Laundry Soup (Top Gear 1974) (0:57)
21. Effing Mad Aincha (Live - Rotterdam 1973) (2:58)
22. Top Gear Commercial (Top Gear 1974) (1:22)
23. K Licks (Demo - Summer 1973) (2:58)
BAND
Richard Sinclair / bass, vocals
Phil Miller / guitars [R.I.P]
Pip Pyle / drums, percussion
Dave Stewart / keyboards, tone generator
p/w
is
aoofc

ABOUT HATFIELD AND THE NORTH
Emerging from the Canterbury, England musical community which also launched Gong and Kevin Ayers' the Whole World, the whimsical progressive rock unit Hatfield and the North formed in 1972. Named in honor of a motorway sign outside of London, the group's founding membership brought together a who's-who of the Canterbury art-rock scene — vocalist/bassist Richard Sinclair was a former member of Caravan, guitarist Phil Miller had tenured with Robert Wyatt in Matching Mole, and drummer Pip Pyle had served with both Gong and Delivery. After a series of line-up shuffles, keyboardist Dave Stewart (an alumnus of Egg) was brought in to complete the roster, and in tandem with the Northettes — a trio of backing vocalists consisting of Barbara Gaskin, Amanda Parsons and Ann Rosenthal — the group began gigging regularly. Upon signing to Virgin, Hatfield and the North recorded their 1974 self-titled debut LP, a jazzy, largely improvisational work halfway between melodic pop and more avant-garde stylings. A single, "Let's Eat (Real Soon)," appeared at the end of the year, and in 1975 the group resurfaced with The Rotters Club; although the record briefly landed in the U.K. charts, their commercial future looked dim, and so Hatfield and the North disbanded within months of the album's release. Sinclair soon joined Camel, while Stewart recorded with Bill Bruford before finding pop success in 1981 with ex-Zombie Colin Blunstone on a cover of the Jimmy Ruffin chestnut "What Becomes of the Broken Hearted?" In 1989, Hatfield and the North reunited, minus Stewart, for a series of live dates; a document of the performances, Live 1990, followed in 1993. © Jason Ankeny, allmusic.com
BIO (Wikipedia)
Hatfield and the North was an experimental Canterbury scene rock band that lasted from October 1972 to June 1975, with some reunions thereafter. The band grew out of a line-up of Delivery in mid-1972 consisting of Phil Miller (guitar, from Matching Mole), Steve Miller(†) (keyboards; Phil's brother), Pip Pyle(†) (drums, from Gong) and Richard Sinclair (bass and vocals, from Caravan). The band played a few live shows between July and September that year, but with Steve Miller being replaced by Dave Sinclair (from Matching Mole and Caravan), the band soon changed its name to Hatfield and the North. The Delivery line-up reunited for a BBC session in November 1972 with Steve Miller, Phil Miller, Lol Coxhill, Roy Babbington (bass), Pip Pyle, and Richard Sinclair on vocals. (Steve Miller went on to release a couple of duo albums with Coxhill in 1973/74.) Dave Sinclair left in January 1973, shortly after the band's appearance (with Robert Wyatt on guest vocals) on the French TV programme "Rockenstock", and was quickly replaced by Dave Stewart (from Egg) before the band's first recordings were made. The band recorded two albums, Hatfield and the North and The Rotters' Club. Backing vocals on the two albums were sung by The Northettes: Amanda Parsons, Barbara Gaskin and Ann Rosenthal. On the Autumn 1974 "Crisis Tour", which Hatfield co-headlined with Kevin Coyne, the opening act was a duo of Steve Miller and Lol Coxhill (also previously of Delivery) and Coxhill usually guested with Hatfield on the jamming sections of "Mumps". After disbanding, Dave Stewart joined National Health with Alan Gowen from Gilgamesh; Miller was a member throughout the band's existence, and Pyle joined in 1977. (Richard Sinclair also sat in on a couple of gigs and a BBC radio session that year.) Hatfield and the North and Gilgamesh had played a couple of shows together in late 1973, including a joint "double quartet" set, in some ways the prototype for National Health. Miller, Stewart, Pyle and Sinclair also worked together in various combinations on other projects. In March 1990, the group reformed to record a TV show with Phil Miller, Richard Sinclair and Pip Pyle joined by Sophia Domancich (keyboards, Pyle's then-girlfriend and band mate in Equip'Out). In January 2005, the band reformed again with Alex Maguire (from Pip Pyle's Bash!) on keyboards and toured between 2005 and 2006 (notable appearances included a short Japanese tour in late 2005, and the BajaProg and NEARfest festivals in North America). On a small number of European dates in June 2005, Mark Fletcher (from Miller's In Cahoots band) reinforced the band while Pyle was recuperating from a back operation and only played on part of each gig. Pyle died in August 2006 after travelling back from a Hatfield show in Groningen. Following Pyle's death, Hatfield played two previously booked gigs with Mark Fletcher on drums, including the Canterbury Festival in October 2006. In 2005/2006, the band released two archival collections, Hatwise Choice and Hattitude, featuring the classic Miller/Pyle/Sinclair/Stewart line-up and distributed by the UK label Burning Shed. Both releases contained a mixture of BBC radio sessions and live recordings, along with the odd demo. In 2007, Cuneiform Records re-released two albums by Steve Miller and Lol Coxhill with bonus material including 20 minutes of material by the proto-Hatfield and the North line-up of Delivery playing "God Song", "Bossa Nochance/Big Jobs", and "Betty" (a variation on some of the Sinclair bass riffs that also produced Hatfield's "Rifferama"). Jonathan Coe's novel The Rotters' Club takes its title from the band's second album. The novel also mentions them several times.