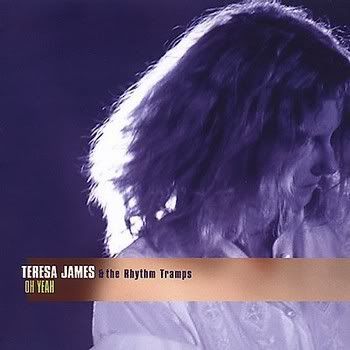 Teresa James
&
The Rhythm Tramps
-
Oh Yeah
-
2003
-
Jesilu

This is a relevant quote from a music website about Teresa James, - "Teresa is where Texas meets New Orleans-funky and greasy-and everyone has a good time! Texas-born Teresa James has been called "a singer's singer" - but she deserves wider recognition".
She certainly does. Teresa has worked with Tommy Castro, Bonnie Raitt, and Levon Helm, and has appeared on albums by Randy Newman, and Walter Trout. Her great voice takes centre stage on this album. "Oh Yeah" includes great guitar work fron Dean Parks. All the musicians are Grade A. The final album track is a cover of the late, great John Martyn's "May You Never". A "cracker"of an album from a very underrated vocalist. Talent like this has got to be rewarded. "Oh Yeah" is HR by
A.O.O.F.C
. Listen to the great "Teresa James and the Rhythm Tramps: Live" album, and buy Teresa's "The Whole Enchilada" album.
TRACKS / COMPOSERS
1 When the Winds Die Down - Wilson 3:31
2 Come Up and See Me Sometime -Timms/Seigel 3:38
3 My Heart Took a Beating - Wilson 3:09
4 Easy Come, Easy Go - Gibson/Katona 4:06
5 High Maintenance Man - Wilson/Everitt 3:47
6 Wind Cries the Blues - Wilson 6:02
7 Easier Said Than Done - Wilson 4:26
8 In and Out of Love - Wilson 4:22
9 All That I Am - Wilson 4:46
10 I'll Find Someone Who Will - James/Wilson 5:09
11 I Want It All - Clark/Swan 2:37
12 May You Never - Martyn 4:09
MUSICIANS
Teresa James - Piano, Vocals (Background)
Billy Watts - Guitar, Guitar (Rhythm), Vocals (Background)
Terry Wilson - Guitar (Acoustic), Bass, Guitar (Bass), Guitar (Rhythm), Vocals (Background), Wurlitzer, MIDI Programming, MIDI Percussion
Dean Parks, Johnny Lee Schell - Guitar
Mark Shark - Bottleneck Guitar
John "Rabbit" Bundrick - Organ (Hammond)
Dillon O'Brian - Organ (Hammond), Vocals (Background)
John Herron, Marty Grebb - Wurlitzer
Daniel Timms - Piano, Vocals (Background)
David Raven, James Cruce, Tony Braunagel, Tom Fillman - Drums
Debra Dobkin - Percussion, Vocals (Background)
Jerry Peterson - Horn, Saxophone, Horn Arrangements
Lee Thornberg - Horn, Horn Arrangements
Stevie Gurr - Harmonica
N.B
:
p/w
for all rar files is
aoofc

REVIEWS

We don't get enough of the type of gutsy, barrelhouse blues vocals that Teresa James offers here in bucketloads. A fine pianist as well as a singer, James invites comparisons with Bonnie Raitt and there's a similarly raunchy feel to numbers such as My Heart Took a Beating and the wry High Maintenance Man. But James brings her own style and some great gospel-like piano playing to cuts such as Come Up and See Me Sometime and I Want it All . But it's not all full throttle. Just When I Thought benefits from a classy, uptown soul approach and both Wind Cries the Blues and All That I Am give James a chance to show her mastery of the blues ballad. She benefits from some great backing, too, especially from her bass player and husband Terry Wilson, the guitarist Billy Watts and the horns player Jerry Peterson. Born in Texas, but now working in Los Angeles, James has already earned the approval of Raitt and Levon Helm. This, her third album, shows that for once the hype is justified. © John Clarke, 2009 Times Newspapers Ltd
"...It was as if her voice reached down deep inside me and ministered to me. People ask me in interviews all the time about that girl who sang "When The Night Rolls In" and "Drowning In The Sea Of Love". This is definitely a chapter in my life I rewind often ...working with with someone like Teresa James, who has influenced me and affected me so profoundly... © Kirk Whalum
"Teresa James is a true original. When she sings you can feel it in your bones." © Levon Helm, "The Band"
"I haven't heard pipes of this caliber in a long time... this is an amazing body of work...this lady has star written all over her." © James "the Blueshound" Nagel producer/programmer KPFT Houston
"...She is one of the most honest, gutsy, incredible singers you'll find. The Texas-bred James takes creative chances, investing amazing soul and spirit in her music." © The Pasadena Weekly
ABOUT
TERESA JANES
&
THE RHYTHM TRAMPS
Originally from Houston, Texas, Teresa now lives in Los Angeles where she works with her band, The Rhythm Tramps. They have been working together for several years in the LA area and at blues festivals around the country, and throughout Europe. The band has been a featured act the last 7 years on Delbert McClinton's Sandy Beaches Blues Cruise. Now with the release of her new cd....THE BOTTOM LINE...on New Light Entertainment Records which is distributed by Universal Records, Teresa for the first time will have major national distribution and radio promotion. She has performed live with such legendary artists as Levon Helm, Delbert McClinton, Bonnie Raitt, Kirk Whalum, Marcia Ball, Tommy Castro, Al Anderson, Asleep at the Wheel, Lee Roy Parnell, and many others. Her voice is featured on albums by Kirk Whalum, Randy Newman, Tommy Castro, Lee Roy Parnell, Walter Trout, Stephen Bruton, and Glen Clark, among many. She has sung for television and movie soundtracks; She and her band can be heard in the Disney movie, "HOLES". Teresa's band is an eclectic mix of Los Angeles based musicians who have worked with a wide range of artists including: Jimmy Reed, Eric Burdon, Jackson Browne, Taj Mahal, Bonnie Raitt, Kim Carnes, Jennifer Warnes, Was Not Was, Johnny Nash and many, many others. As one listener put it: "There are no clichés in this band." Together they have created a sound that is funky and greasy, where New Orleans meets Texas Blues and everyone has a good time. © 1998-2007 Jesilu Management, All Rights Reserved