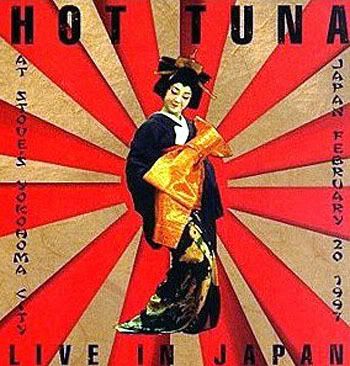 Hot Tuna
-
Live In Japan
-
1997
-
Relix Records
Hot Tuna recorded this live set on February 20th, 1997 at Stove's, Yokohama, Japan. Hot Tuna, like the Grateful Dead, and Little Feat have been around for over forty years now, and are an institution of American rock/blues. The original band, founded by Jack Casady and Jorma Kaukonen, were an offshoot of the great psychedelic rock outfit, Jefferson Airplane, which Kaukonen co-founded . Hot Tuna have undergone countless personnel changes over the last four decades, but have always managed to retain their characteristic folk/blues rock roots sound. Live in Japan is a great "barebones" acoustic set from a late nineties assembly of the band, and gives an idea of the band's no nonsense, straightforward approach to playing the blues. The Rev. Gary Davis' "Hesitation Blues" is covered here, and must be one of the most covered blues tunes of all time. Hot Tuna do it justice here. A very good album, although sound quality is sketchy in places. This album was re-mastered and re-released by Eagle Records in 2004, and included previously unreleased performances of "Parchman Farm", "Follow the Drinking Gourd", "Keep Your Lamps Trimmed & Burning" and "Folsom Prison." Three of the tracks from the original release were omitted, - "Hesitation Blues", "Candy Man" and "Keep on Truckin'". The original 1997 Relix issue is posted here. Check out Jorma Kaukonen's "Jorma" album, and Hot Tuna's great "Pair a Dice Found" album. The compilation Hot Tuna "Keep on Truckin'" album is a good introduction to the band. It contains many of their great early works.
TRACKS
/
COMPOSERS
"Hesitation Blues" (Rev. Gary Davis) – 5:33
"Walkin' Blues" (Robert Johnson) – 5:01
"True Religion" (Traditional, arranged by Jorma Kaukonen) – 5:43
"Been So Long" (Kaukonen) – 3:51
"Uncle Sam Blues" (Traditional, arranged by Kaukonen) – 5:42
"Vampire Woman" (Funny Papa Smith) – 2:54
"Candy Man" (Davis) – 7:57
"Let Us Get Together" (Davis) – 2:59
"Third Week in the Chelsea" (Kaukonen) – 5:05
"99 Year Blues" (Julius Daniels) – 7:02
"Ice Age" (Kaukonen) – 6:38
"San Francisco Bay Blues" (Jesse Fuller) – 4:24
"Mann's Fate" (Kaukonen) – 6:08
"Keep On Truckin'" (Traditional, arranged by B. Carleton) – 4:29
MUSICIANS
Jorma Kaukonen – lead guitar, vocals
Jack Casady – bass
Michael Falzarano – rhythm guitar
Pete Sears – keyboards
Harvey Sorgen – drums, percussion
REVIEWS
Live In Japan is the eighth live Hot Tuna performance released by Relix Records. It was recorded in a cramped club in Yokohama in 1997. The show was an impromptu acoustic set because the club was too small to hold the all the band's electric equipment. However don't expect the delicate, interwoven acoustic blues of 1969's Hot Tuna (Recorded Live). Even though Hot Tuna draws on much of the same material here, the treatments are up-tempo and at times a little muddy. Like many of the Relix offerings, Live In Japan has a bootleg feel that is both immediate and rough. This version of Hot Tuna features Pete Sears, formerly of Jefferson Starship, on keyboards and accordion. He gives Hot Tuna a different dimension that is not always a smooth fit. As usual, though, the finger- picking of Jorma Kaukonen and the rumbling bass of Jack Casady dominate the stage. Their talents remain undiminished. This is an exuberant performance that must have been great to see. But home listeners may find themselves saying, "I guess you had to be there." © S. Colby Miller, All Music Guide
Ho hum, yet another live Hot Tuna album, right? Not this time around. Jorma Kaukonen, Jack Casady, and company are captured in absolute peak form on this pleasant surprise. The venue is Stove's, a 50-person-capacity joint in Yokohama, Japan; the band had been in the midst of an electric tour but were forced to bust out the acoustic instruments because of space considerations. Space considerations? The place was so crowded that the band had to enter via a window behind the stage. Clearly, the intimacy of the venue inspired the quintet to great heights, especially keyboardist Pete Sears. The idea of releasing this music came only after replaying the tapes. The repertoire will be familiar to even the most causal Tuna fan--traditional blues from Rev. Gary Davis, Jesse Fuller, and Robert Johnson accompany a couple of Jefferson Airplane holdovers--but the performances passionately ebb and flow, exuding joy with every twist. © Marc Greilsamer, Amazon.com
BIO (Wikipedia)

Hot Tuna is an American blues-rock band, formed by bassist Jack Casady and guitarist Jorma Kaukonen as a spin-off of Jefferson Airplane. They play acoustic and electric versions of original and traditional blues songs. Hot Tuna began by opening Jefferson Airplane concerts, giving Kaukonen and Casady an opportunity to explore their love of traditional blues music. As Jefferson Airplane slowly wound down in the early 1970s, Hot Tuna -- for whom live performance was always of prime importance -- became an independent group. Their early repertoire was derived mainly from American country blues artists such as Rev. Gary Davis, Jelly Roll Morton, Bo Carter and Arthur Blake (Blind Blake). Originally a duo, Casady and Kaukonen added Will Scarlett on harmonica and released a live album in 1970, Hot Tuna. This album was recorded in the fall of 1969 at the New Orleans House in Berkeley and is affectionately known by Tunaphiles as the "breaking glass album", because of the sound of breaking beer glasses during the recording of "Uncle Sam Blues". This LP was followed by a long series of well received albums that played mostly to a small but devoted cult following. Aside from the six year breakup after 1978, Hot Tuna have continued to perform to the present day, and still performs much of the aforementioned country blues repertoire with which they began. Following the release of the eponymous debut album, the band went electric, adding fellow Airplane bandmates Marty Balin and Joey Covington on lead vocals and drums, respectively. This configuration was dominated by the latter two's soul-rock compositions and opened most shows for the parent band throughout late 1969 and 1970. After a string of disastrous concerts in Jamaica (from which a live album was to be compiled) marked by flaring tensions between Balin and Kaukonen - a portion of the group's advance earmarked for the singer had already been spent without his consent - Casady and Kaukonen briefly resumed their acoustic performances. In the autumn of 1970, they returned to the electric band format, adding violinist Papa John Creach and Texan drummer Sammy Piazza. This line-up was documented on the album First Pull Up, Then Pull Down (1971), recorded live at the Chateau Liberte (a nondescript club favored by the band) in Santa Cruz. The studio albums Burgers (1972) and The Phosphorescent Rat (1973) followed. These two albums featured compositions mainly of Kaukonen original material and included some of the guitarist's most delicate and poetic works. David Crosby sang supporting vocals on the Burgers track "Highway Song," and keyboards player Nick Buck made his first appearance on what would become a semi permanent tenure during the 1970s. The year 1974 marked a departure from their primarily bluesy, acoustic style when Hot Tuna morphed into a heavy rock band. The albums America's Choice (1975), Yellow Fever (1975), and Hoppkorv (1976), showcase a power trio with the addition of new drummer Bob Steeler.This trilogy is referred to by the group as their "rampage years." Kaukonen's electric guitar playing was exceptionally multi-layered as evidenced by the solos on "Funky #7" and "Serpent of Dreams" on America's Choice. This style continued on Yellow Fever, on tracks such as "Song for the Fire Maiden," "Sunrise Dance with the Devil," and the closing number "Surphase Tension." Hot Tuna live performances during this period were typified by free-flow improvisational jams and very long sets (up to six hours uninterrupted) with extended versions of their studio material. Because of this, they are often considered a forerunner of modern jam bands, such as Phish. After the release of the double live album Double Dose in 1978 and the compilation Final Vinyl in 1979, Casady and Kaukonen went their separate ways and pursued short-lived careers in the new wave bands SVT and Vital Parts, respectively. They re-formed Hot Tuna in the mid-1980s with guitarist and producer Michael Falzarano. Their first album of all new material in almost 14 years was 1990's Pair a Dice Found with New Yorker Harvey Sorgen playing drums. Kaukonen and Falzarano both contributed original songs. Throughout the 1990s, Tuna again alternated between acoustic and electric styles. The two Sweetwater albums were predominantly acoustic sets with guests Bob Weir from the Grateful Dead, singer Maria Muldaur, and ex-Rod Stewart, Jefferson Starship keyboards player Pete Sears; the latter was to join the group on a permanent basis during the decade. The 1997 release Live in Japan was in many ways reminiscent of the very first Hot Tuna album, having a minimalistic sound and being recorded live at a tiny venue (Stove's in Yokohama). Falzarano stayed with the band until 2002 when he left to release and promote his solo album The King James Sessions, which also featured Pete Sears.[4] Other musicians have come and gone over the group's several incarnations, as Hot Tuna has always been a fluid aggregation, but the name "Hot Tuna" has essentially become shorthand for "Jack Casady, Jorma Kaukonen." Most recently (2004-2006), they have toured with multi-instrumentalist Barry Mitterhoff and drummer Erik Diaz. In April 2006, Hot Tuna appeared at Merlefest, America's largest folk music festival. In 2007, they played at Bonnaroo. Throughout the band's history they garnered much fan support based on their pro-taping policy, allowing fans to record their live shows. In July 2006 the band changed their stance and no longer permit taping. As former members of Jefferson Airplane, Kaukonen and Casady are members of the Rock and Roll Hall of Fame. They became members in 1996.