Chicken Shack - The Collection - 1986 - Castle

This British blues-rock group is remembered mostly for their keyboard player, Christine Perfect, aka Christine McVie, who would join Fleetwood Mac after marrying John McVie and changing her last name. Although they were one of the more pedestrian acts of the British blues boom, Chicken Shack was quite popular for a time in the late '60s, placing two albums in the British Top 20. The front person of Chicken was not Perfect/McVie, but guitarist Stan Webb, who would excite British audiences by entering the crowds at performances, courtesy of his 100-meter-long guitar lead. They were signed to Mike Vernon's Blue Horizon label, a British blues pillar that had its biggest success with early Fleetwood Mac. Chicken Shack was actually not far behind Mac in popularity in the late '60s, purveying a more traditional brand of Chicago blues, heavily influenced by Freddie King. Although Webb took most of the songwriting and vocal duties, Christine Perfect also chipped in with occasional compositions and lead singing. In fact, she sang lead on their only British Top 20 single, "I'd Rather Go Blind" (1969). But around that time, she quit the music business to marry John McVie and become a housewife, although, as the world knows, that didn't last too long. Chicken Shack never recovered from Christine's loss, commercially or musically. Stan Webb kept Chicken Shack going, with a revolving door of other musicians, all the way into the 1980s, though he briefly disbanded the group to join Savoy Brown for a while in the mid-'70s. © Richie Unterberger, © 2007 All Media Guide, LLC. All Rights Reserved

This is an excellent compilation CD, and is a good representation of Chicken Shack's music. Check out their great 1968 album, " 40 Blue Fingers, Freshly Packed And Ready To Serve ." If you can find it, listen to the 1970 Christine Perfect self titled solo album, which features a great version of Fleetwood Mac's "When You Say."

TRACK INFO.

1.The Letter
Running Time: 4:26
2.When The Train Comes Back
Running Time: 3:31
3.Lonesome Whistle Blues
Running Time: 3:02
4.You Ain't No Good
Running Time: 3:35
5.Baby's Got Me Crying
6.The Right Way Is My Way
7.Get Like You Used To Be
8.A Woman Is The Blues
9.I Wanna See My Baby
Date Performance: 1969, Running Time: 3:31
10.Remington Ride
11.Mean Old World
12.San-Ho-Zay
Date Performance: 1968-02-05, Running Time: 3:03
Comments: Recorded at CBS Studio, New Bond Street, London.
13.The Way It Is
14.Tears In The Wind
Date Performance: 1969-05-11, Running Time: 2:41
Comments: Recorded at Morgan Studios, Willesden, London. Chart: Billboard UK Top 50/40 Singles Peak Position: 29 Peak Dates: Sep 27, 1969 Weeks On Charts: 6
15.Maudie
16.Some Other Time
17.Andalucian Blues
18.Crazy 'Bout You Baby
Date Performance: 1969, Running Time: 3:03
19.Close To Me
Date Performance: 1969, Running Time: 2:40
20.I'd Rather Go Blind
Date Performance: 1969-02-12, Running Time: 3:14
Comments: Recorded at CBS Studio, New Bond Street, London. It's unknown who plays the Tenor/Alto/Baritone Saxes.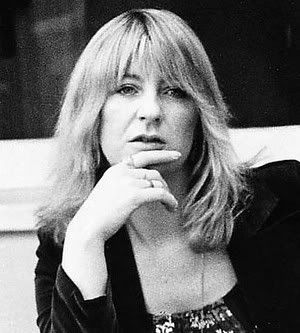 Christine McVie
©
Fleetwood Mac Photos
©
2007
www.yottamusic.com/artistsFleetwood-Mac

ABOUT THE BAND

Along with late 60's early 70's blues based bands such as Savoy Brown, Fleetwood Mac and John Mayall's Bluebreakers, Chicken Shack was a big part of the genre. Originally formed in 1965, Chicken Shack started out as, more or less, a house band at the Star Club in Hamburg, Germany. They signed a recording contract with the newly formed Blue Horizon label in '67. That same year, former Sound Of Blue vocalist/keyboardist Christine Perfect, who was at one time considered one of the U.K.'s finest blues vocalist, joined. With the release of their debut album, 1968's Forty Blue Fingers Freshly Packed And Ready To Serve, and their 1969 follow up, O.K. Ken, Chicken Shack was in the forefront of the British Blues boom of the late 60's. Although Perfect would leave the group in the summer of '69 to join Fleetwood Mac (she would marry bassist John McVie), Chicken Shack would continue with a good live reputation as at this point their shows were mostly based around the guitar and soulful theatrics of Stan Webb who would keep the group together through many personel changes but by 1973, Chicken Shack had run it's course as Webb would join Savoy Brown. After staying with Savoy Brown for one album, Webb formed Broken Glass which at one time included guitarist Robbie Blunt (later with Robert Plant) and drummer Keef Hartley. Webb would reform Chicken Shack under his own name in '77. Like John Mayall's Bluesbreakers and Savoy Brown, many musicians would pass through the various formations of Stan Webb's Chicken Shack through out the 80's. Through the 90's, Webb's Chicken Shack line up has remained pretty much intact as his devoted fans and fans of traditional British blues remain faithful.

BIO (Wikipedia)

Chicken Shack was a British blues band, primarily of the late 1960s, consisting of Christine Perfect (vocals and keyboards), Stan Webb (guitar and vocals), Andy Sylvester (bass guitar), and Alan Morley (drums). The band was formed in 1967 and reputedly named themselves after the chicken coop in Kidderminster where they rehearsed. Their first concert was at the 1967 National Blues and Jazz Festival at Windsor and they were signed by the Blue Horizon record label in the same year. Chicken Shack enjoyed modest commercial success, with Christine Perfect being voted Best Female Vocalist in the Melody Maker polls, two years running. Christine Perfect left the band in 1969 when she married John McVie of Fleetwood Mac. Pianist Paul Raymond, bassist Andy Sylvester, and drummer Dave Bidwell all left in 1971 to join Savoy Brown. Although the band went through several subsequent incarnations, it never equalled its earlier successes. However, Webb remains as its only constant band member.