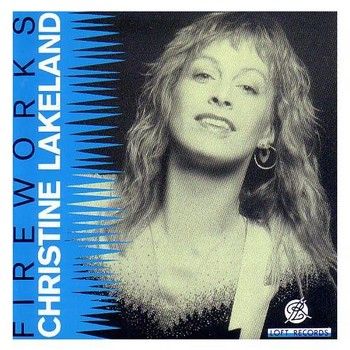 Christine Lakeland - Fireworks - 1989 - Loft

Christine Lakeland, the wife of JJ Cale, is a guitarist and vocalist with his band. She's been a vital part JJ Cale's music, and has played on most of his albums. She also played on the great JJ Cale/Clapton "Road to Escondido" album. Unfortunately, it's not easy to find out too much about her music.

According to her website, "Fireworks" was "Co-produced with Dennis Walker (Robert Cray), this entire album was cut and mixed in a matter of days by Bill Dashiell at Leon Haywood's Sunnyside studio in Los Angeles again during a break from live gigs. Eleven Lakeland originals plus a cover of an at-the-time-unreleased J.J. Cale song. "Dennis hired some musicians, I said hello and we began recording. I did bring in Tim Drummond one afternoon." James Stewart stands out on keys. Joe Sublett added sax and the truly special Francisco Aguabella, congas".

"Fireworks" is a great album. The lady is an excellent guitarist, songwriter and vocalist, and the album encompasses country, folk, soul, and electric blues. There is not a bad track on the album. Christine has released three other albums, "Turn To Me", "Reckoning", and "Live At Greenwood Ridge"

TRACKS

Details
Borrowed Time
The Kid
Dream or Cry
My Baby Blues
Temptation
Let Me Give It to You [Not on all album versions]
Everything Makes Me Nervous
Tar & Feathers
Mr. Completely [Not on all album versions]
I Think I'm Losing My Mind
Bad Habits
Roll with It [Not on all album versions]
Movin' Blues [Not on all album versions]
Everything Is OK

N.B: According to her website, it is stated tha the album includes "eleven Lakeland originals plus a cover of an at-the-time-unreleased J.J. Cale song". That makes 12 somgs. This seems to be in line with the Amazon version of the album. ""Borrowed Time" was penned by by J.J. Cale. There are 15 tracks on this album. The track "I Gotta Get Used" appears on the LadyFingers Records release, on Amazon. It is not included here. Also, the tracks, "Let Me Give It to You", "Mr. Completely", "Roll with It", and "Movin' Blues" are on the album posted here, but are not on the Amazon album version, on LadyFingers Records. Can anybody pinpoint exactly which of the songs were written by Christine ? It is known that the original US album was released independently, and the European issue was released on Loft Records. Presumably, the Loft release contains the 15 tracks posted here. There is also a Japanese edition of the album, on Village Green Records. Can anybody shed any light on the alternative versions of this album?

MUSICIANS

Christine Lakeland - vocals, guitar
Tim Drummond - bass
Eric C. Ajaye - upright bass
James Stewart - keyboards
Joe Sublett - saxophone
Francisco Aguabella - congas
N.B: Again, this list of players is most likely incomplete. A more comprehensive list would be appreciated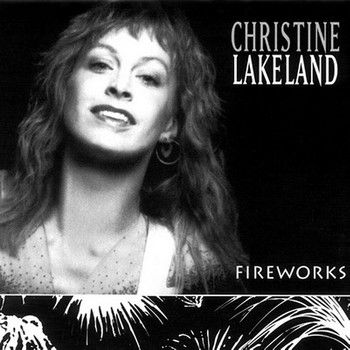 ABOUT
CHRISTINE LAKELAND
"Do something creative every day. That's one motto I live by. Do something for someone else every day. You're sure to have a good day." Not a lot of other rules for her. Christine Lakeland plays music, writes songs, sings (she calls it warbling). She also is a gear-head. "I've been fortunate to learn from some smart and special folks." Enough to record and produce song after song, lately in her Cottage By The C Songshack. She has traveled, played and recorded with famous and not-famous alike but this musician just says "I am truly lucky and blessed." The morning after high school graduation, Christine Lakeland left a midwest childhood and had a job in a bar band in Nashville within the week. Her first 'big name' gig: rhythm guitar and harmony vocal backing up Tanya Tucker. She's worked live and/or in the studio with Tucker, Hoyt Axton, Merle Haggard, Leon Russell, and many more. "I'm firmly convinced 'work begets work', 'cause every gig I was hired for was after being heard on the job." Christine Lakeland is well known to some as a veteran member of the JJ Cale road band. As the second guitarist/harmony singer she's played on every one of his albums since the late 70's, including his 2006 CD collaboration with Eric Clapton, the Grammy-winning "Road to Escondido" which boasted a stellar list of guest musicians; Billy Preston, Doyle Bramhall II, Derek Trucks, John Mayer, Albert Lee, Willie Weeks, Nathan East, Walt Richmond and more. Her own recordings and live gigs show what learning from all the right influences can add to the singer/songwriter bag. Good songs. Good grooves. She has released four cds of her own material and a limited pressing live jam cd. "The ingredients in music that matter most to me are the song, the song and the song. I am such a fan of so many great songwriters of all styles. I am all about writing a song that connects with people and sounding like myself." "It seems nearly everyone plays guitar. Like so many players I'm somewhere between the worst and the best," she laughs. It makes me glad to feel I have a kinship with, and belong with, all the guitar lovers and players out there." Having made it into her fifties, Christine Lakeland sums up the conversation by saying "I hope the second half of this life is as good as the first half has been!" Elevator Pitch: - Hook songs with lots of rhythm and a soft soul. She has been described as "the female Dire Straits with Fleetwood Mac's/Christine McVie's pop leanings." All Materials Copyright 2009 Christine Lakeland Powered by WordPress. Built on the Thematic Theme Framework
PRESS SNIPPETS
"Lakeland engagingly dovetails her blues and country instincts with Memphis soul and Motown songcraft. The less-is-more ethos is evident in her fluid, shimmering guitar lines, which seductively beckon where other players might scream." - Guitar Player Magazine
"Christine Lakeland is as good as her word. …clever, insightful songs that cut straight to the heart and parts south. Tough to pigeonhole, Lakeland's songs are textured in blues/country/soul/pop flavorings that touch familiar themes in unfamiliar ways. Delivered in an appealing, unaffected vocal manner, and driven by the snaky rhythm/lead style of her Gibson 347, her tunes stick to the ribs while leaving memorable hooks floating in your head." - Musician Magazine
"Lakeland announces her resilience and asserts the power of love as a healing force….smoky, come-hither vocals as soulful and expressive as her incisive guitar licks." - The Detroit News
"…a poised vocalist, throaty, sensual…" - San Francisco Examiner
"Christine Lakeland's steamy guitar work solidifies electric blues-woman styles. Accessible beauty and grace, lead guitar zap, vocal charm….an original act." - The Times Journal – Telluride, Colorado
"A singer-songwriter with a deep-down soul sound that is groovy enough to captivate all kinds of listeners…honest mixture of shuffle blues and country…she goes on stirring up crowds wherever she plays." - The Herald – Seattle, Washington
"A brilliant and versatile songwriter, a polished guitarist…a dynamic and engaging performer. Lakeland radiates onstage…never ceases to impress audiences with fluid and intelligent guitar lines, a solid singing voice and a suitcase full of new, memorable tunes which she writes herself…exudes a freshness and energy that shines on her audience. One of the most popular female performers to visit Portland." - BluesNotes – Portland, Oregon
"…voice is perfectly suited for the musical mix of country, pop, blues and rock…her guitar work sparkles…a superior talent." - Tulsa Oklahoma Tribune
"Christine Lakeland is an enigma. She's sleek yet demure; soft-spoken yet one tough performer. She's "folk" like Joan Baez; she's country 'n rock blues like Bonnie Raitt; she's gospel; she's deep, root blues. She is all and one. She is an original…see her if you can." - BluesNotes – Sacramento, California
"Superlatives fail trying to describe Lakeland. Excellent songwriter, great guitar player, sweet-throated songbird, beautiful person, scintillating music….you just have to hear it to believe it. She has a finely-honed sense of musicianship that sets her work apart. This artist may be the best of all possible worlds." - Music This Month – Mendocino County, California
"Christine takes the roots of the ever-changing pop genre into a sweet-driving new dimension. What comes across in the music is a seasoned blues base layered with catchy, pop-rock hooks." - Santa Fe New Mexican – Santa Fe, New Mexico
"Lakeland has defied conventions by making a strong name for herself in the blues-rock field. She shoots it straight…Memphis country gems…" - Colorado Daily – Boulder, Colorado
"…a performer who knows her roots…a talent waiting to be discovered." Oakland Tribune – Oakland, California
"A prolific songwriter, smoky songstress, and a nasty guitar player." - Downtowner – Portland, Oregon
"When Christine Lakeland arrives, the petite woman with the brawny voice, you will find a masterful singer-songwriter of pop blues, a guitar and a lot of good music." - Sacramento This Week – Sacramento, California
"Listening to Lakeland's show…she epitomized all that is good in music today. First, her voice…second, her no-show-off approach…third, her guitar playing…fourth, her material…she likes making music and that showed during every minute of her performance." - Onstage – Denver, Colorado