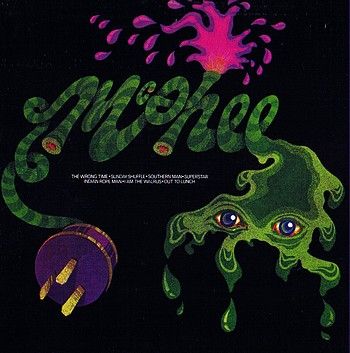 McPhee
-
McPhee
-
1970
-
Violets Holiday
There are many differing opinions concerning this album. Here are a few -
"Lots of covers, good covers, but lack of certain quality that the originals have". "Jefferson Airplane meets Nosferatu (the organ-drenched German one, not the goth band) just about sums up this Sydney outfit. Tonna-brick Hammond heaviosity, stunningly Slick female vocals, guitar heroics that impress rather than irritate - McPhee is the total package. Some wild covers here, including Richie Haven's "Indian Rope Man," Neil Young's "Southern Man," and an "I Am the Walrus" so seriously messed-up that it might give The Egg Man shivers". "This is a nice slab of early 70's rock. This Australian band's one and only album is a mixed bag of styles including blues-rock ("The Wrong Time", "Out to Lunch"), psychedelic rock ("Indian Rope Man", "I Am the Walrus"), southern rock ("Southern Man", "Superstar") and boogie rock with "Sunday Shuffle". This is standard electric guitar/keyboard driven rock similar to Deep Purple and Humble Pie. The popular cover songs are hit and miss. "Southern Man" is the hit. It's well played and sounds similar to the original with maybe a bit more heaviness to it. "I Am the Walrus", however, is a miss IMO. They tried to put a very demented psychedelic vibe into the song. For some, that may actually be a positive thing but to me it just doesn't work. The singing is laughable and grates on me. Thankfully that is the only weak track. The other tracks range from good to very good with "Superstar" being my favorite. It's a beautiful song slightly reminiscent of Procul Harum's "Whiter Shade of Pale". Nothing outstanding on the album but it's still an interesting slice of early 70's rock". "Fascinating reissue for this outstanding Australian album. This is a superb piece, filled with acid rock and early progressive frills. Covers of songs by Gary Wright, Richie Havens, Leon Russell, Lennon/McCartney and Neil Young (a stunning "Southern Man"), culminate in an amazing ten minute group improvisation that really sizzles and grooves along with swirling Hammond organ well to the fore. A most impressive album! "
A very obscure album from the early seventies' Australian band, McPhee. (Not to be confused with the Groundhog's Tony McPhee) . It was the only official studio album release from this band. Nearly forty years on, the album sounds dated, but "dated" is not a word that should deter you from listening to this, or any kind of music. It's amazing to hear the band's unusual interpretations of Neil Young's "Southern Man", Bonnie Bramlett's "Superstar", and The Beatle's psychedelic, avant garde "I Am The Walrus". There are other covers, which are done really well. The band's music has been classified as avant garde music, but good straightforward, progressive, psychedelic rock would be a better description. Somebody described the album as "sounds like a cross between Frump and Affinity. Tough, husky female vocals, chunky guitar all driven by a plowing Hammond organ". Thats a great, concise description of "McPhee. The album is a great example of early seventies Australian psychedelic rock. There are few albums from Oz of this genre, and time period, that equal this one.
A.O.O.F.C
would be interested in your opinion of "McPhee".
TRACKS / COMPOSERS
1. The Wrong Time - McCracken, Wright
2. Sunday Shuffle - B.Kaika
3. Southern Man - Neil Young
4. Indian Rope Man - Havens, Price, Roth
5. Superstar - Russell, Bramlett
6. I Am The Walrus - Lennon & McCartney
7. Out To Lunch - Tony Joyce
BAND
Tony Joce – Guitar
Benny Kaika – Bass
Jim Deverell – Hammond Organ/Electric Piano/Vocals
Terry Popple – Drums
Faye Lewis – Vocals/Percussion
with
Shauna Jensen - Harmony Vocals
Ken James - Alto & Flute
Larry Durea - Congas
REVIEWS

As written in Ian McFarlane's book on Oz Rock & Pop "this album is a defining moment in the history of Australian progressive rock". Now on CD this exciting album is being rediscovered in the new millennium by old & young". "One of the great lost treasures of Australian progressive rock. A truly fascinating artefact of tremendous scope. The tapes have now been dusted off so that you can hear this hard-hitting underground masterpiece in all it's glory" (Ian McFarlane - Encyclopedia of Australian Rock & Pop)
Side 1 reveals a group with the capabilities of playing strong rock music with hints of blues around the fringes. Their version of "Southern Man" is not great but it is adequate considering how difficult it is imitate another artists' material. "Wrong Time" is good song showing the bands strengths. Notably, Faye Lewis contributes striking vocals throughout this album. Her voice was perfect for rock songs, along the lines of Grace Slick. Side 2 does not fair so well until the last song plays. Their covers of "Superstar" and "I Am The Walrus" are terrible, however "Out To Lunch" is a fantastic instrumental that puts them on an entirely different level; in fact, one would never know it was the same band had it not been on the same album! That one song is worth reserving your seat for the show. With a blistering combination of jazz-rock-blues fusion, they demonstrate how they were an extremely talented group of musicians with tons of potential. MuzikMan (Vinyl Reviews), 2003-02-20, © 1997-2009 MusicDish LLC., all rights reserved
This was originally released in 1970 and has excellently been reissued by Akarma, who has released some box sets by classic artists such as Atomic Rooster, Ultimate Spinach, Toad, and Country Joe and the Fish. McPhee has nothing to do with Tony McPhee and the Groundhogs except that they play heavy rock that is Blues inspired. The band is fronted by female vocalist Faye Lewis, who sounds like a cross between Janis Joplin and Grace Slick but with no harsh edge to her voice. "The Wrong Time" is a great rocker. "Sunday Shuffle" is a standard R&B number. Next up is a cover of the Neil Young song, "Southern Man". Quite a good rendition with a nice jam. "Indian Rope Man" is next and is a great song with heavy guitars and organ sweeps. This song features some intense organ soloing by Jim Deverell followed by a wah guitar solo by Tony Joyce and then a drum solo by Terry Popple. You never hear drum solos on studio albums these days but back then it was not that uncommon. "Superstar" is a very 60s inspired psychedelic song, not unlike the Airplane. I was very surprised to see the song, "I Am The Walrus" by the Beatles on the CD. The band perform it as a psychedelic Blues song, which is pretty cool. The CD closes with the mostly instrumental "Out To Lunch", a song that starts as a laid back blues rock song and just takes off into jamming oblivion. A very enjoyable CD reissue from the classic days of old! One note, the company made a huge mistake with the songs timings quoted on the back of the CD. © Scott Heller, From Aural Innovations #22 (January 2003)
McPHEE 'McPHEE' In the pantheon of Australian early 70's progressive rockdom, McPhee must rank as one of its most obscure outfits. McPhee's solitary album appeared to little fanfare in early 1972 and simply sank without trace. Its likely that only 500 copies were ever pressed so it rates as a significant rarity. More importantly, 'Mc Phee' stands as one of the great lost treasures of Australias progressive rock era, a truly fascinating artefact of tremendous scope. The tapes have been dusted off so that you can hear this hard-hitting underground masterpiece in all its glory. McPhee came together in Sydney during 1970 with the line-up of Faye Lewis (vocals), Tony Joyce (lead guitar), Jim Deverell (Hammond Organ), Benny Kaika (bass) and Terry Popple (drums). Deverell and Kaika were originally from New Zealand, while Englishman Popple had been a member of late 60's UK blues-boom band Tramline, who issued a couple of albums on the Island label. McPhee played the local club and bar cicuit around Sydney and in 1971 entered producer Martin Erdman's World Of Sound studio in order to record an album. The sessions yielded material culled from the bands live repertoire including five cover versions. McPhee's influences extended from the prevailing Acid-rock trends of the day, to the emergent sounds of progressive rock with a smattering of contemporary rock hits. From the outset it is clear that McPhee is imbued with a crucial kick and gritty sense of purpose. It is brimming with acidy, wah-wah fuelled lead breaks and some of the most awesomely heavy and stunning Hammond organ playing to be heard anywhere on an Australian album. The opening cut, a groaning version of Spooky Tooth's 'The Wrong Time' (from 'The Last Puff'), sets the scene. Joyce peels off a series of clattering guitar riffs while Deverell holds the whole thing together with his growling organ bubbling away underneath. McPhee also tackle Spooky Tooths brooding arrangement of Lennon and McCartney's 'I Am The Walrus' (again from 'The Last Puff') which is pretty freaky stuff! The surging seven minute version of Richie Havens' 'Indian Rope Man' (as covered by Julie Driscoll & Brian Augers Trinity) remains the albums piece de resistance. The album ends with a Tony Joyce original titled 'Out To Lunch'. This jazz flavoured instrumental starts out innocuously enough, but the 10 minute, open-ended arrangement allows the band to stretch out in fine style. Joyce takes the spotlight with a lengthy guitar solo which eventually concedes to more organ pyrotechnics. Not long after the album appeared, the members of McPhee went their seperate ways. Popple returned to the U.K. where he joined old cohort Mick Moody in SNAFU. Deverell the keyboard wizard apparentlysuccumbed to cancer and Joyce relocated to Darwin where he played with a number of Aboriginal bands, and for several years ran the Northern Territory office of the AusMusic organisation. The chances of unearthing an original vinyl pressing of McPhee are now pretty slim. So take advantage of this reissue to savour the delights of a magnificent lost gem. © www.vicioussloth.com.au/mcphee.htm
BAND HISTORY
Sydney band McPhee, which formed in 1970, released no Singles and only one LP during its brief life, but the group has long enjoyed a cult following and rock historian Chris Spencer describes it as "one of the most collectible (and enjoyable) Australian Albums of its time". Jim Deverell and Benny Kaika were originally from New Zealand, and Deverell and Joyce had previously worked together as session players backing artists like Digby Richards, The Delltones and Little Sammy & The In People. Faye Lewis had done session singing and had been a member of Luke's Walnut, the group that replaced Tully as house band for the musical Hair in early 1970. English-born Terry Popple had been a member of late 60's UK band Tramline, who issued a couple of Albums on the Island label. He linked up with McPhee shortly after the group formed, when he travelled to Australia in early 1970, and the band began working on the Sydney club and wine bar circuit. McPhee was strongly influenced by the acid-rock and progressive styles coming from the UK, as indicated by their covers of songs done by acts like Spooky Tooth and Julie Driscoll, Brian Auger & The Trinity, as well as the emerging west coast American sounds like Neil Young. In this respect they operated in the same general area as contemporary groups like Melissa and Galadriel, although on record they were probably the hardest-hitting outfit of the three. In 1971 they went into Martin Erdman's World Of Sound studio in Sydney to record an album for erdman's independent Violet's Holiday label. The sessions yielded seven tracks that were favourites from the bands live repertoire. The two originals were the lengthy jazz-rock instrumental Out to Lunch and five cover versions, including 'heavy' renditions of Spooky Tooth's "The Wrong Time", Neil Young's "Southern Man", Ritchie Haven's "Indian Rope Man" and The Beatles' "I am The Walrus". "From the outset it is clear that McPhee is imbued with a crucial kick and gritty sense of purpose. It is brimming with acidy, wah-wah fuelled lead breaks and some of the most awesomely heavy and stunning Hammond organ playing to be heard anywhere on an Australian album. The opening cut, a groaning version of Spooky Tooth's 'The Wrong Time' (from 'The Last Puff'), sets the scene. Joyce peels off a series of clattering guitar riffs while Deverell holds the whole thing together with his growling organ bubbling away underneath. McPhee also tackle Spooky Tooths brooding arrangement of Lennon and McCartney's 'I Am The Walrus' (again from 'The Last Puff') which is pretty freaky stuff! The surging seven minute version of Richie Havens' 'Indian Rope Man' (as covered by Julie Driscoll & Brian Augers Trinity) remains the Albums piece de resistance. The album ends with a Tony Joyce original titled 'Out To Lunch'. This jazz flavoured instrumental starts out innocuously enough, but the 10 minute, open-ended arrangement allows the band to stretch out in fine style. Joyce takes the spotlight with a lengthy guitar solo which eventually concedes to more organ pyrotechnics." - Vicious Sloth website. The album's piece de resistance was the surging rendition of "Indian Rope Man" (a Richie Havens song done in the style of the cover by British soul/R&B act Julie Driscoll, Brian Auger & The Trinity) highlighted by a stunning Hammond organ solo by Jim Deverell. Released with little promotion in early 1972, the album sank without trace. Perhaps only 500 copies were ever pressed, which places it with Albums like Company Caine's fabled Dr Chop as one of the rarest of Aussie LPs of that era. Not long after the album came out, McPhee broke up. Popple returned to the UK where he joined he joined his former colleague Mick Moody in SNAFU. Lewis returned to session work and sang in an outfit called The Bondi Bitch Band. Kaika played with Jeff St John, John Robinson's band Tramp and Leo De Castro's New King Harvest. Deverell moved on to the USA and apparently died of cancer some years ago. Joyce relocated to Darwin, where he joined a number of Aboriginal bands like Under the Spell of Trees, Life on Mars and Dogboy, which featured American-born drummer Allen Murphy, who had worked with Warumpi Band and Yothu Yindi. For a number of years during the early 1990s, Joyce ran the Northern Territory office of the AusMusic organisation. Fortunately for collectors and lovers of Aussie 70s prog-rock, this highly prized album was remastered and re-issued by Vicious Sloth Collectibles several years ago. [ from www.milesago.com/Artists/mcphee.htm ]