Happy The Man
-
3rd "Better Late"
-
1983
-
Azimuth
A melodic mix of symphonic jazz and rock with superb arrangements of keyboards, guitars, bass, vocals, drums, percussions, flute and saxophone. If you like early Yes, Genesis, or Gentle Giant, then this album may appeal to you. Happy The Man played a unique type of energetic, and dynamic progressive jazz rock that is still ahead of it's time. The tracks for this album were recorded in 1979, and not released until 1983 on the Kit Watkins owned Azimuth label, based in Virginia, USA. The later CD reissue added two extra tracks from the same sessions, "Who's In Charge Here" and "Such A Warm Breeze". Both these tracks are included here. As these tracks are of the home made demo variety, there are inevitable fluctuations in audio quality, but they shouldn't lessen your enjoyment of this great album. Listen to the band's brilliant "The Muse Awakens" album, and check out the "Happy The Man Live" album @
HTM/LIVE
TRACKS / COMPOSERS
A1 Eye of the Storm - Kit Watkins
A2 The Falcon - Stanley Whitaker, Frank Wyatt
A3 At the Edge of This Thought - Frank Wyatt
A4 While Chrome Yellow Shine - Kit Watkins, Frank Wyatt
B1 Shadow Shaping - Kit Watkins, Stanley Whitaker, Frank Wyatt
B2 Run Into the Ground - Kit Watkins, Rick Kennell
B3 Footwork - Kit Watkins
B4 Labyrinth - Kit Watkins
9 Who's in Charge in Here? - Stanley Whitaker [Bonus track on 1990 Cuneiform CD reissue]
10 Such a Warm Breeze - Stanley Whitaker [Bonus track on 1990 Cuneiform CD reissue]
MUSICIANS
Stanley Whitaker - guitar, vocals
Rick Kennell - bass
Coco Roussel - drums, percussion
Frank Wyatt - keyboards, sax, flute
Kit Watkins - keyboards and flute
REVIEWS
From the liner notes: "This is the final demo tape made by Happy the Man. It was recorded in February, 1979 at the band house in Reston, Virginia, using a Teac 3340 4-track recorder. Basic tracks were recorded live by all members. Flute, sax, vocals, and some solos were overdubbed. Final mixes were made on a Revox A-77 half-track at 1 1/2 ips. Tape hiss and minor amounts of distortion were inevitable with the equipment available at the time." This is yet another posthumous release from Happy the Man. Comprised of the demos for what would have been their third album, 3rd Better Late... stands as a document of the band during their last year together. As can be expected with a demo, the sound quality is not up to par with the previous albums, but the majority of the songs were remixed by Kit Watkins in 1989. The songs here showcase the mellow, symphonic side of the band much more than on previous releases. There is also an 'easy listening' vibe present in some places that tends to leave a bad taste in my mouth. The album also features a much larger vocal presence, present on four tracks. The first six songs (with the exception of "While Chrome Yellow Shine") tend to drag along in search of ideas, and fail to reach out and grab you. The album starts to kick into gear with "Run into the Ground" which is a return to the form of the more fast paced and high energy songs. "Labyrinth" is the most successful fusion of these extremes, mellow and upbeat, into one track. When all's said and done, this album should obviously be judged on its demo nature. By the time these songs would have seen their way to a record, there would inevitably have been changes. For those of you who enjoy the first two albums and need more HtM, this is the next logical step. Just don't expect a classic. © Mike Prete [February 2001] © 2002, The Giant Progweed
3rd: Better Late... came out 11 years after these demo recordings were made, hence the second part of the album's title. As for the first part, these home sessions were conducted to put Happy the Man's third LP into pre-production. In the meantime, punk and disco discouraged record labels to pursue their contracts with progressive rock bands and Arista Records dropped the group. If the tapes are crude at times (some hiss, some distortion), sound quality is maintained at a respectable level. This is not the band's best material, but then again, it might have evolved before reaching the final stage -- a piece or two might even have been dropped. Still, it makes a worthy follow-up to Crafty Hands. The writing remains complex, polyphonic, counterpuntal. There is a bit more fusion than before. Tracks like "The Falcon," "Who's in Charge Here?," and "Shadow Shaping" (the latter very Gentle Giant-esque) are genuine Happy the Man. New drummer Coco Roussel (also featured on the Cuneiform release Live) brings more subtle percussion work, while Kit Watkins and Stanley Whitaker play better than ever. Don't get turned off by the discouraging artwork: this is strong Happy the Man material, even though newcomers should begin with the band's two original albums. © François Couture, All Music Guide
SHORT BIO
Often compared to Yes for their melodicism and Gentle Giant for the complexity of their compositions, Happy the Man add their own high-caliber musicianship, a sense of symphonic drama, odd time signatures, spacy sound, and occasional whimsy to their brand of art-rock. Although their largely instrumental oeuvre is rather inconsistent, Happy the Man still carry a devoted following on the prog-rock collectors' circuit. The group was formed in 1974 and features keyboardist Kit Watkins, keyboardist/woodwind player Frank Wyatt, guitarist and occasional vocalist Stan Whitaker, and bassist Rick Kennell, plus a rotating succession of drummers. Original vocalist Cliff Fortney left the band before it signed to Arista. Their self-titled 1977 debut was recorded with drummer Mike Beck and introduced each member's compositional style: Watkins possessed the symphonic grandeur, Wyatt gravitated towards songs with lyrics, and Whitaker allowed his sense of humor to come through on pieces such as "Stumpy Meets the Firecracker in Stencil Forest" and "Knee Bitten Nymphs in Limbo." The follow-up, Crafty Hands, featured drummer Ron Riddle and was released a year later. By the time Third: Better Late was released in 1979 with drummer Coco Roussel, Happy the Man had broken up. Kit Watkins joined Camel for two albums before fading into obscurity; some Happy the Man albums remain in print on independent labels, as well as the Retrospective collection and Beginnings, a series of early two-track studio recordings with Fortney. © Steve Huey, All Music Guide
BAND INFO
(Wikipedia)

Happy The Man are an American progressive rock band primarily from the 1970s specializing in virtuoso instrumental tracks within complex time signatures. The group formed in 1972 in Harrisonburg, VA, and recorded two albums, after which keyboardist Kit Watkins decided to leave the band to join Camel. The group put together their unreleased material and released a "final" album in 1983. The band continued to be a cult favorite in progressive rock circles even after they broke up. In 2000, the group reformed for NEARfest joined by David Rosenthal on keyboards, and they released a new album in 2004: The Muse Awakens. Whitaker and Wyatt have released another album, Pedal Giant Animals since, and have formed a new band, Oblivion Sun.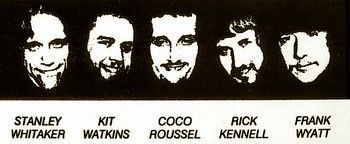 MORE ABOUT
HAPPY THE MAN
/
ALBUMS

HTM produced some of the most stirring, complex, melodic, and MUSICAL works I have ever heard, and although they are rather rare, they are certainly very accessible and you should be able to find their stuff on domestic cd without having to plop down $35+ for it. Throughout their existance as a functioning band (from 1974-1978) they recorded three marvelous LP's. The following musicians appear on each one of these: 1. Frank Wyatt - piano, el. piano, organ, flute, sax 2. Stanley Whitaker - guitars 3. Rick Kennell - bass 4. Kit Watkins - synths, piano, el. piano, organ, flute. Each album had a different drummer (seems the money-grubbing scum at Arista scared them away with their threats of having no commercial appeal as a band, or something like that....). The discography below shows the albums and who played drums on them: 1. Happy The Man - drums: Mike Beck 2. Crafty Hands - drums: Ron Riddle 3. Third: Better Late - drums: Coco Roussel. The first one is arguably the best of the three, although not by much as they are all truly spectacular. It was produced by Ken Scott, of David Bowie and Supertramp fame. This album defines the band's sound very well, one that endured throughout their career. For those of you who have never heard the HTM sound are missing something very special. The band claims to be influenced by Genesis, Yes, and Gentle Giant although they really do not sound anything like any of those bands. They were a band so far ahead of their time that, to this day, they still sound totally revolutionary. The compositions tend to be rather complex and challenging, but they cleverly avoid falling into that dissonant trap that so many bands fall in to when they try to write something complex (e.g. the mid-section of Yes' "Ritual"). HTM maintains a melodic approach to everything they write. On this album you will find: (I quote a suitably impressed music critic) "dazzling artistic vision, instrumental virtuosity, and imagination," "fresh, exhilarating and impossible to categorize (this means please do not try to put a label on this band like "progressive" - it will make a lot of us very mad)," "witness HTM's masterful use of dynamics, tonal colors, and counterpoint; their ability to execute finger-breaking time signatures with deft ease; the lattice-like melodies and ingenious thematic variations that surge and recede with unusual grace and power; and the fact that no matter how complex or demanding their music became, the band always sounded uncluttered and in total control." There. Couldn't have said it better myself. Each member of the band is exceptionally gifted...there is no one single dominant member. The writing is carried out by Watkins, Wyatt, and Whitaker. Watkins tends to write pieces with a lot of symphonic flourish, and you can bet your life there will be some awesome lead synth playing (usually done on a MiniMoog). I once thought Keith Emerson, Rick Wakeman, and Tony Banks were the best around....then I heard HTM. Kit Watkins can bury those guys with his right hand alone. You have to hear him to believe it. His Minimoog settings have an unsurpassed clarity to them, and he knows exactly how to use the pitch-bending feature of the instrument at the right time. I have an old article from Keyboard magazine, around 1982, that shows the settings he used on the MiniMoog to obtain this remarkable, unique sound. Words cannot describe his technical prowess, honest.... Whitaker writes more upbeat, punchy songs, like "Stumpy Meets the Firecracker in Stencil Forest" from the first LP. Wyatt tends to write the songs with the lyrics, which were sung by Stan Whitaker. Here's what is available on CD to date: 1. Retrospective - a compilation of most of first and second lp, with some stuff from 3rd. Great place to start. 2. HTM 3rd: Better Late 3. Beginnings - features material recorded live in 2-track studio in 1974-75. Features a singer called Cliff Fortney who left the band before being signed to Arista. Very rough recording, but some really great songs. Some are not up to their usual standard of excel- lence, however. Recommended only for die-hards. Do not start with this one. 4. HTM and Crafty Hands were released on Japanese CD, but only 500 copies of each....I have never seen one myself, but I understand they sell for nearly $250 each at shows
THE best U.S. progressive, hands down! Beginnings collects from the earliest years of the band, and is supposed to be exclusively for established fans. (Can you tell I haven't heard it?) The first actual release was the self-titled LP from 1976. Showing influence from Gentle Giant, King Crimson, yet retaining an original identity, they weave an intricate, mostly instrumental tapestry with flutes, saxes, guitar and multiple keyboards. A very impressive debut. Crafty Hands is their classic LP, almost entirely instrumental, with moments of striking beauty ("Morning Sun", "Open Book") and others of hair-raising energetic prog jamming ("Ibby It Is", "Steaming Pipes"). The unbelievable "Service With A Smile" proves that great prog numbers need not be long, it's under three minutes! And "Wind Up Doll Day Wind" is their finest vocal number, with lyrics that give Peter Sinfield a run for his money. If you can find it, don't hesitate to get it! These two albums were anthologized on the CD Retrospective. The third album, recorded sometime around 1979 but not released till the mid-eighties, is the weakest of the original three, but has enough good music to make it worth completing your collection for. "Labyrinth" is as good a song as they've ever recorded, worthy of the best of Crafty Hands. "Eye of the Storm", "Run Into The Ground" and "While Crome Yellow Shine" (huh?) are other good ones. They include a couple of weak vocal tunes ("The Falcon", "Shadow Shaping") that make this one not as desirable to own, but it's not bad. -- Mike Ohman I've have two albums by them. Beginnings and Crafty Hands. Beginnings is good, but nothing to get excited about. Crafty Hands is much better. I especially like the song "Wind Up Day Doll Wind." I kind of think of it as a cross between Genesis and Yes' "Heart of the Sunrise." A great band that didn't make it because generally people are musically stupid. Kit Watkins, the keyboardist star of the band, went on to play on a couple of Camel albums but then drifted off into obscurity. He's still making interesting albums though. Because they got signed and apparently fronted enough money, the production on their albums is phenomenal - it holds up well today. Gentle Giant-like in complexity, the musicianship is somewhat better. Kit is an amazing keyboard soloist - a speed demon with an uncanny sense of melody. They never did get a good singer so their best stuff is generally instrumental. A lot of weird and shifting time signatures. "Cosmic" sounding. This group has a very interesting and well developed sound, their first two albums which were recorded in the late 70s sound like they were recorded just yesterday, they were quite ahead of their time. I got Retrospective and liked the CD 10 times more the second time I heard it than the first time. Definately a grow-on-you group. Seems influenced by Gentle Giant sometimes, gets kind of new-age towards the end of the CD. One of the best american progressive bands, years ahead of their time - the first two albums sound as fresh and innovative today as they did fifteen years ago. The music is about 90% instrumental, with strong leanings in a jazzy direction, their music is dramatic, complex and sometimes humorously quirky, with bursts of melodic color and odd-time signature explorations throughout. Retrospective is a collection of tracks from their two albums HTM and Crafty Hands (plus a few from their posthumous 3rd), and even though a few excellent tracks from those two are left off, it is still fairly representative of their best period, and a good place to start for the uninitiated. Their 3rd album wasn't released until around 83, and is overall more low-key than the first two, and far too serious - much of the humor in their music (as evidenced so well by early tracks like "Knee Bitten Nymphs In Limbo," "Stumpy Meets The Firecracker" and "Mr Mirror") had disappeared by the third album, and in comparison it pales, although its vocal tracks are far more cohesive than most they had done before. Beginnings is a collection of early recordings from the 75-76 period, prior to their first album. The material ranges from excellent to so-so, as does the recording quality, but may show some convincing evidence of Canterbury influences in their roots. For serious collectors only. Excellent band from the USA, featuring Kit Watkins of Camel fame and Coco Roussell of Heldon fame. The music is strongly keyboard oriented and they had two keyboard players. There is also sax, flute, and guitar to round out the mix. The music ranges from dramatic to the sublime, always powerful. There is complex interplay between all the musicians such that it takes several listens to fully comprehend how intertwined the instruments are. The interplay will remind you of Gentle Giant. The melodic lines might remind you of Yes. The music will remind you of how wonderful truly innovative music is. I finally found Retrospective in a cut-out bin and thought I would have to be satisfied. Recently, however, they repressed Crafty Hands for either the third or fourth time. That should give you an indication of how popular it is. The album is everything everyone says it is and more. Snatch it up if you have the chance like I did. You will not be disappointed. The edition of these 1979 recordings (3rd, Better Late...) remind us of just how regrettable the disappearance of this excellent group is. A music that defies description and a sound that isn't the least bit outdated. Always very melodic, this unique blend of symphonic rock and jazz relies on rich arrangements of keyboards, guitars, bass, vocals, drums, percussions, flute and saxophone. The sustained use of these instruments provide much richness to the sound while solid performances provide dynamic energy. Five excellent musicians that played, we now realize, ahead of their time. -- Paul Charbonneau Arguably America's greatest progressive rock group played 4 dates in year-2000 and is on the verge of releasing a new CD. New tunes: "Barking Spiders," "A Dream of Amsterdam," "Maui Sunset". New keyboardist has replaced Kit Watkins. And a Web site, too. (see Links). © Todd Brendan Fahey, www.kinesiscd.com
In February of 2004, Joe Bergamini of 4Front joined HTM as their new drummer. They have released an album on the Inside Out label entitled The Muse Awakens. The current HTM line-up is Frank Wyatt (keyboards, original member), Stan Whitaker (guitars, original member), Rick Kennell (bass, original member), David Rosenthal (keyboards, replacing Kit Watkins, who did not want to play live) and now Joe Bergamini. © Fred Trafton, www.kinesiscd.com