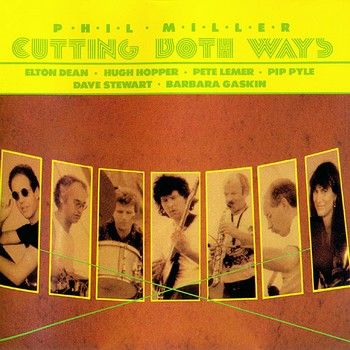 Phil Miller
-
Cutting Both Ways
-
1987
-
Cuneiform
"This album comprises two aspects of my compositional output. The first is represented by the four pieces recorded by my band, In Cahoots (with Dean, Lemer, Pyle and Hugh Hopper), and the second by the two pieces recorded in collaboration with Dave Stewart. In Cahoots has toured Europe extensively in the past two years. The music recorded here is largely a result of the live-in-the-studio approach. This contrasts with the two pieces recorded in collaboration with Dave. Here the orientation is towards multi-tracking, utilizing the latests developments in music technology." Phil Miller
'Cutting Both Ways' is one of those amazing collaborations that appeared long after the 'glory days', when the wonderful 'Canterbury Scene' had made its mark - perhaps it just continued to make its mark... This sub-genre of Prog is the one I find closest to my heart. The musicians involved always seem to deliver, album after album, therefore, I am probably not the right person to comment, but, I can only speak in utmost respect about the musicians performing here. Keyboardist Pete Lemer is a long- lost player of the genre. Canterbury afficianados are well familiar with bassist Hugh Hopper, sax player Elton Dean (bless him), drummer Pip Pyle (bless him, too - I'm shedding a tear by now..) and Phil Miller on guitars. This recording basically show-cases a 'who's who' of Canterbury-Prog, a 'Supergroup' of sorts, and is composed and played with that magical Canterbury touch. Opening with a lengthy suite, 'Green and Purple Extract/Hic Haec Hoc/A Simple Man' wastes no time in grabbing our attention - fantastic production, epic sounding progression as an intro, and great main riff. This riff features a fantastic, extended Synth solo (possibly mini-moog, Lemer's main soloing instrument) followed by Elton's sax solo. This section is played in a kind of 'laid-back' fusion mode, followed by a very reflective section where E.D. gets in some expressive Saxello playing, and Miller's guitar solo is spot-on. This then merges into some more manic soloing from Elton on sax. To read my rambling may sound tedious, but the music on this album is an amazing and breath-taking journey for sure. Difficult to discern the composed parts from improvisation, indeed if there is any - the compositions are quite rigid, however, the first 2 pieces and the last suite on the album are, according to the sleeve notes, recorded as a result of the 'live-in-the-studio' approach. When speaking of Canterbury, 'mellow, wistful, gentle, complex, quirky...' are some of the adjectives used to describe this genre, and that is what's applicable here. 'Eastern Region' is quite nice, with more synth soloing from Lemer and some lightly flanged Bass from Hopper. 'Second Sight' is a track not featured on the vinyl edition of the album, therefore I can't speak of it. 'Hard Shoulder' and 'Figures of Speech' feature Miller and the wonderful Dave Stewart on synths and programming, with some backing vocals from the lovely Barbara Gaskin on the former. These display a different approach to recording, with focus on multi- tracking and utilising the (then) latest developments in music technology, thus confirming the album's title of 'cutting both ways'. These sound a little more synthetic, but still maintain a degree of complexity, and, particularly with the lengthy 'Figures of Speech', faithful to the genre. In some ways, 'Figures of Speech' is the highlight, granted Stewart's somewhat dubious direction he decided to take with partner Gaskin (some decent material on offer there, but far from prog) it actually shows that he has not lost any of the skill and tastefulness that made him such a renowned keyboardist during the 70's. Final suite, 'Green and Purple' features more jamming, with show-offy chops from Lemer and Miller again. Being a release from such a 'sterile' year (musically speaking), 1987, it would hurt for me to award it any less than 5 stars. Fantastic album !!! © Tom Ozric, © Prog Archives, All rights reserved
"Cutting Both Ways" is a late eighties Canterbury style jazz rock album, which is as good as any of the great Canterbury rock albums of the seventies. The album features superb instrumentation, and improvisation from the vastly experienced guitarist and keyboard player, Phil Miller who appeared on many classic prog./Canterbury albums in the seventies. Sadly, Pip Pyle, Hugh Hopper, and Elton Dean, - three of the great musicians on this album are no longer with us. However some of these late artists' best work is on this album, which is arguably Phil Miller's best solo album. If you have been avoiding this type of progressive jazz rock, please give this album a listen. It may broaden your musical spectrum. "Cutting Both Ways" is an overlooked album, but is
VHR
by
A.O.O.F.C.
Check out the brilliant Hatfield & the North's "The Rotters Club" , and "Hatwise Choice" albums. Matching Mole's 1972 s/t album is also a Canterbury Rock classic. Listen to Caravan's "Waterloo Lily" album, and try and listen to Geoff Leigh and Frank Wuyt's "From Here To Drums" album. These are only a few of the albums Phil Miller has played on. If you are interested in Canterbury Rock style music, or would like a better insight into the genre, check out the
Canterbury Music Family Tree website
TRACKS
1 a) Green & Purple Extract
b) Hic Haec Hoc
c) A Simple Man
2 Eastern Region
3 Second Sight
4 Hard Shoulder
5 Figures Of Speech
6 Green & Purple
All tracks composed by Phil Miller
MUSICIANS
Phil Miller: Guitar,Synthesizer
Pete Lemer: keyboards
Elton Dean RIP: Saxophone
Pip Pyle RIP: drums
Hugh Hopper RIP: bass
Dave Stewart: Synthesizer,Emulator,DX-7
Barbara Gaskin: Voices
REVIEW
For his debut solo album, recorded in 1985/86, the erstwhile National Health, Hatfield and the North and Matching Mole guitarist PHIL MILLER teams up with PIP PYLE (drums), HUGH HOPPER (bass), ELTON DEAN (saxes) and PETE LEMER (keyboards)to perform four tracks more or less live in the studio. Two denser layered compositions featuring PHIL MILLER (guitars/guitar-synth) and DAVE STEWART (keyboards/programming)complete the CD, giving the album a satisfying breadth of style. This is a thought-provoking instrumental set which blends jazz and rock in the Canterbury tradition without falling prey to the clichés or self-indulgence that discredited the Jazz-Rock genre long ago. The result sounds rather like National Health might have done had Phil Miller taken over following the departure of Dave Stewart and Alan Gowen. For me, this is the logical next step after "D.S. Al Coda" and anyone who liked that album, the Gilgamesh records or Soft Machine 6 and 7 will love this one. Although the opening number finds the band in perhaps over-familiar territory, the rest of the album is solid gold. There is a fine balance between composition and improvisation throughout. Phil Miller and Elton Dean, particularly, shine in their solo slots while Pip Pyle propels the entire group to a higher level with his crisp, masterful drumming. Hugh Hopper's full-bodied bass takes centre stage in "Second Sight", Pete Lemer turns in deft solos on "Eastern Region" and the final track but otherwise the rhythm section concerns itself more with support, space and dynamics. Nobody over-plays, everybody serves the music faithfully without self-indulgence. The performances are relaxed and spontaneous and everyone sounds like they're enjoying themselves. These tunes are among the most memorable of Phil Miller's career and constituted the core repertoire of his band In Cahoots for many years afterwards. This record has languished in undeserved obscurity for too long; do yourself a favour and check it out. Powered by Jazzloft, LLC © 1999-2009. All Rights Reserved
BIO
Guitarist Phil Miller has long been a fixture in British progressive music. In 1971, he helped establish the band Matching Mole with drummer/vocalist Robert Wyatt of Soft Machine. Matching Mole broke up after releasing two LPs, Matching Mole and Little Red Record. Miller then formed Hatfield and the North with Dave Stewart, Richard Sinclair (Caravan), and Pip Pyle (Gong). Hatfield recorded two LPs for Virgin in the mid-'70s: Hatfield and the North and The Rotters' Club. Hatfield evolved into National Health, which recorded National Health, Of Queues and Cures, and D.S. Al Coda. All three LPs were reissued by East Side Digital on a two-CD set, Complete, and the first two discs have also been subsequently re-released, with their tracks intermixed, on another two-disc set, Dreams Wide Awake (Atom Music). East Side Digital also released a second National Health CD entitled Missing Pieces, and the Cuneiform label issued a live set, entitled Playtime, by a later incarnation of the band featuring Miller, drummer Pyle, keyboardist Alan Gowen, and bassist John Greaves. Since the breakup of National Health, Miller has worked on solo projects and with his band, In Cahoots. He has released three solo efforts on Cuneiform (Cutting Both Ways, Digging In, and All That), as well as a number of CDs on his own Crescent Discs label. © Jim Dorsch, All Music Guide
WIKIPEDIA INFO
Phil Miller (born 22 January 1949 in Barnet, Hertfordshire) is an English progressive rock/jazz guitarist who was part of the Canterbury scene. He was a member of the bands Delivery, Matching Mole, Hatfield and the North, National Health, Short Wave (with Hugh Hopper(†), Pip Pyle(†) and Didier Malherbe) and has since worked in solo projects and in his band In Cahoots, which he founded in 1982 with Richard Sinclair, Elton Dean(†), Pete Lemer and Pip Pyle. In 2005 and 2006, Miller has been touring with the re-united Hatfield and the North.