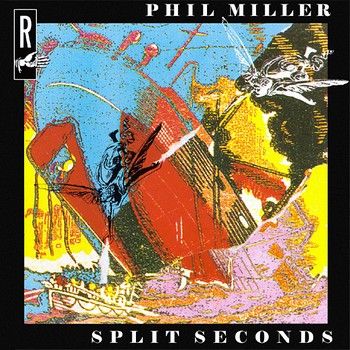 Phil Miller
-
Split Seconds
-
1988
-
Reckless Records
Phil Miller has it both ways on his second solo album, using his band IN CAHOOTS on four tracks and collaborating with programmers on four others. The conceptual split between live and sequenced music established on 'Cutting Both Ways' is thus continued. As before Dave Stewart masterminds two tracks: 'Double Talk' and 'I Remain'. On 'Dada Soul' Richard Sinclair sings and Barbara Gaskin supplies backing vocals and harmonies. Arguably the highlight of the whole collection is 'Final Call' a collaboration between Phil and composer/ percussionist John Mitchell (now sadly dead). Based on a riff of Richard Sinclair's 'Final Call' is a masterpiece of sustained, complex writing and John Mitchell's sensational orchestration rivals some of Frank Zappa's recent Synclavier pieces. Worth the price of the CD alone. [from www.philmiller-incahoots.co.uk/crescentDiscs/albums/splitSecond.htm]
Phil Miller is an English progressive rock/jazz guitarist who was part of the Canterbury scene. He was a member of the bands Delivery, Matching Mole, Hatfield and the North, National Health, Short Wave (with Hugh Hopper, Pip Pyle(†) and Didier Malherbe) and has since worked in solo projects and in his band In Cahoots, which he founded in 1982 with Richard Sinclair, Elton Dean(†), Pete Lemer and Pip Pyle. Phil Miller's guitar style has been compared to BB King, Henry Kaiser, and even Barney Kessel. This style is employed with great effect on "Split Seconds", which is high-quality Jazz Rock, with the seventies "Canterbury" touch. This is highly original progressive jazz rock, and very inventive. There is some great improvisation from Phil's In Cahoots band. If you like Canterbury Rock, good innovative jazz rock, and great music in general, "Split Seconds" is worth taking the time to listen to. The great Robert Wyatt of the brilliant Canterbury Rock band, Soft Machine, said that "Phil Miller would rather play a wrong note than a note that somebody else had ever played". This quote from Robert Wyatt says a lot about Phil Miller's great music. Phil Miller has played on an amazing number of albums. For a detailed list of all music projects involving the man, look @
DISCOGRAPHY
There is a great interview with the man @
IVIEW
Hatfield And The North's classic Canterbury Rock album, "The Rotters' Club", and Matching Mole's "Little Red Record" are two albums that Phil Miller has lent his talents to. "The Rotters' Club" is a "must listen to" masterpiece. Phil's "Cutting Both Ways" album can be found @
PHMLR/CBW
"Split Seconds" is
HR
by
A.O.O.F.C

TRACKS / PERFORMERS
1. And Thus Far - In Cahoots
2. Final Call - Phil Miller / John Mitchell
3. Dada Soul - Phil Miller / Richard Sinclair / Dave Stewart
4. Truly Yours - In Cahoots
5. Double Talk - Dave Stewart / Phil Miller / Barbara Gaskin
6. I Remain - Dave Stewart / Phil Miller / Barbara Gaskin
7. Your sqr(2) aka Your (Square Root) 2 - In Cahoots
8. Foreign Bodies - In Cahoots
N.B:
Track 8 is a bonus track on the 1988 Reckless CD release. The LP omitted the track. The album has also been released with the title "Phil Miller-In Cahoots Split Second" on Crescent Discs

COMPOSERS
Almost all of In Cahoots' material is written by Phil Miller, but there are exceptions. Live 86-89 includes Hugh Hopper's "Wanglo Saxon", Elton Dean's "Janna" and Steve Franklin's "All Is Not Lost". The studio album Recent Discoveries (1994) includes Elton Dean's "Riffy" and Fred Baker's "The Opener", while All That (2003) included two pieces first performed by the band in 1998, Peter Lemer's "Big Dick" (a tribute to saxophonist Dick Heckstall-Smith) and Fred Baker's "Upside" (a.k.a. "On The Up Side Of Things").
MUSICIANS
Phil Miller - guitars
Elton Dean - saxes (1,4,7,8)
Steve Franklin - synthesizers (1,4,7,8)
Fred Baker - bass (1,4,7,8)
Pip Pyle - drums (1,4,7,8)
Dave Stewart - keyboards/programming (3,5,6)
Barbara Gaskin - backing vocals (3,5,6)
John Mitchell - keyboards/programming (2)
Richard Sinclair - vocal/bass (3)
IN CAHOOTS are:
Phil Miller, Elton Dean, Pip Pyle, Steve Franklin, Fred Baker

ABOUT
"IN CAHOOTS"
(WIKIPEDIA)

In Cahoots is a Canterbury scene band led by guitarist Phil Miller, their main composer. The band was formed in November 1982 by Miller with Pip Pyle(†) (drums), Richard Sinclair (bass) and Elton Dean(†) (saxophone), as the Phil Miller Quartet. It was expanded to a quintet and given its definitive name when Peter Lemer (keyboards) joined in early 1983. Miller and Pyle had been working together in National Health and had been in Hatfield and the North with Sinclair before that, while Pyle and Dean were longstanding collaborators too, recently having worked together in the Weightwatchers (with pianist Keith Tippett) and Soft Heap. Early in 1985, Hugh Hopper replaced Sinclair. The band appeared on Miller's first solo album, Cutting Both Ways (released 1987). In 1987, Steve Franklin replaced Lemer, and in 1988 Fred Baker replaced Hopper. This line-up appeared on Miller's solo album Split Seconds, while In Cahoots Live 86-89 was released in 1989 (released under the name Phil Miller/In Cahoots like all their albums). In 1990, Franklin left and the band was joined by Jim Dvorak on trumpet. Baker and Lemer appeared on Miller's Digging In (1991), which also had programmed drums by Pip Pyle. In 1991, Miller and Pyle were reunited with Hopper in Short Wave. In Cahoots continued with a Japanese tour, including Lemer, documented on Live in Japan (1993). The next studio effort, Recent Discoveries, was recorded in 1993. Lemer rejoined the band in 1995 and they recorded Parallel (1996) and Out of the Blue (2001), which saw Caravan guitarist Doug Boyle sitting in on two tracks (he also took part in a brief European tour that year). In 2002, Mark Fletcher replaced Pyle and the line-up of Miller, Fletcher, Dean, Dvorak, Baker and Lemer released All That in 2003. In 2004, Dean and Dvorak left and, since then, the brass section consists of Simon Picard on tenor sax, Simon Finch on trumpet, and occasionally Gail Brand on trombone. Former Short Wave collaborator Didier Malherbe, however, was the featured saxophonist on Miller's latest effort, 2006's Conspiracy Theories, which also included guest spots by Richard Sinclair, Dave Stewart and Doug Boyle.
PHIL MILLER BIO
Guitarist Phil Miller has long been a fixture in British progressive music. In 1971, he helped establish the band Matching Mole with drummer/vocalist Robert Wyatt of Soft Machine. Matching Mole broke up after releasing two LPs, Matching Mole and Little Red Record. Miller then formed Hatfield and the North with Dave Stewart, Richard Sinclair (Caravan), and Pip Pyle (Gong). Hatfield recorded two LPs for Virgin in the mid-'70s: Hatfield and the North and The Rotters' Club. Hatfield evolved into National Health, which recorded National Health, Of Queues and Cures, and D.S. Al Coda. All three LPs were reissued by East Side Digital on a two-CD set, Complete, and the first two discs have also been subsequently re-released, with their tracks intermixed, on another two-disc set, Dreams Wide Awake (Atom Music). East Side Digital also released a second National Health CD entitled Missing Pieces, and the Cuneiform label issued a live set, entitled Playtime, by a later incarnation of the band featuring Miller, drummer Pyle, keyboardist Alan Gowen, and bassist John Greaves. Since the breakup of National Health, Miller has worked on solo projects and with his band, In Cahoots. He has released three solo efforts on Cuneiform (Cutting Both Ways, Digging In, and All That), as well as a number of CDs on his own Crescent Discs label. © Jim Dorsch, All Music Guide
WIKIPEDIA INFO
Phil Miller (born 22 January 1949 in Barnet, Hertfordshire) is an English progressive rock/jazz guitarist who was part of the Canterbury scene. He was a member of the bands Delivery, Matching Mole, Hatfield and the North, National Health, Short Wave (with Hugh Hopper(†), Pip Pyle(†) and Didier Malherbe) and has since worked in solo projects and in his band In Cahoots, which he founded in 1982 with Richard Sinclair, Elton Dean(†), Pete Lemer and Pip Pyle. In 2005 and 2006, Miller has been touring with the re-united Hatfield and the North.