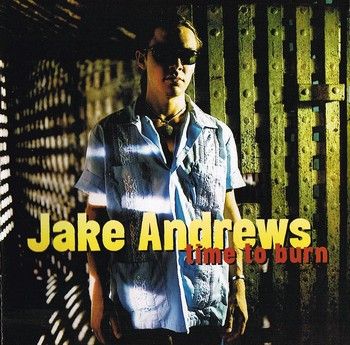 Jake Andrews
-
Time To Burn
-
1999
-
Jericho
Like many Austin musicians, Jake Andrews is a child of the blues, but he's also the child of John "Toad" Andrews, who played with Mother Earth in the '60s. That gave him an edge in the cutthroat music business, but it's just as likely that the reason why he secured a record contract at the age of 19 was the fact that teenage blues prodigies were a hot commodity in the '90s. Ever since Jonny Lang and Kenny Wayne Shepard, other labels were clamoring for their own hot shot, and Andrews was well-suited for the part, since he can play and has a weathered voice that sounds much older than 19. He also has a tendency to veer away from straightahead blues, favoring blues-rock, as well as the occasional soul song. Clearly, his biggest influence is fellow Texan Stevie Ray Vaughan, whose big, blustery guitar tone and throaty voice provides the template for Andrews' debut Time To Burn. While Andrews isn't nearly as developed or as skilled at emulation as Srv was on his debut, he is considerably younger and his technical acumen is something to behold. However, Time To Burn suffers from the same problem that plagues albums from young bluesmen -- it's impressive on the surface and even quite enjoyable, but it's not particularly nuanced or deep. Depending on your view, that may be a minor thing, since Andrews keeps it rawer than Lang and he already shows signs of branching past Srv-styled blues-rock and developing his own style. It may be a fairly conventional '90s blues-rock album on the surface, but Time To Burn nevertheless does announce the arrival of a guitarist that has the potential to become one of the leading lights of Texas blues-rock, once he matures a bit. © Stephen Thomas Erlewine, All Music Guide, © 2008 All Media Guide, LLC
It would be interesting to compile a list of the great Bluesmen, and Blueswomen who have emerged from the great state of Texas. Jake Andrews, from Austin is another great artist for the list. A brilliant guitarist, vocalist, and songwriter, Jake, on this debut album, plays the blues with an amazing guitar technique. Billboard magazine stated, "Time to Burn's mix of guitar pyrotechnics, fiery vocals and powerful new songs confirms that Jake Andrews is already blazing new paths with the torch he's been passed." His lightning fast fretboard moves are incredible, and the musicianship by artists like Jon Blondel on bass, and Tommy Eyre on Keyboards is admirable. Jake composed or co-wrote nine of the thirteen tracks here, and all the tracks are good. As usual Jake has been compared to SRV, but there are many aspiring guitarists out there who would give their eye teeth for a comparison like that. "Time to Burn" is dedicated to the great Boz Scagg's late son, Oscar. Buy Jake's great "Feelin' Good Again" album.
TRACKS / COMPOSERS
1 Time to Burn - Andrews, Brown 3:42
2 Cry Baby - Kindred 3:36
3 The Hard Way - Andrews, Grissom, Prophet 4:19
4 Just You and Me - Andrews 3:37
5 You've Got to Know - Andrews 3:57
6 I Don't Wanna Go Home - Andrews 4:39
7 It All Passed Me By - Andrews 4:53
8 Lover to Cry - Andrews, Brown 3:45
9 Nobody's Fault But Mine - Andrews 3:14
10 I'm Glad for Your Sake (But Sorry for Mine) - Lawrence, Tinturin 3:39
11 Moment to Love - Andrews 3:22
12 Drivin' Wheel - Sykes 5:02
13 Too Sorry - Bramhall 2:40
MUSICIANS
Jake Andrews - Guitar & Vocals
Mike Sconce - Bass & backing vocals (on 'Hard Way' & 'You've Got To Know')
Jon Blondel - Bass (on all other titles)
Tommy Taylor - Drums & Backing Vocals
Jon Cleary, Doug Sahm - Piano
Tommy Eyre - Keyboards
The Texacali Horns
INTERVIEW / REVIEW
The title of his band has changed from "Little Jake" Andrews to "Guitar Jake" Andrews and finally to Jake Andrews. Although he has more than doubled in age, he continues to amaze with his ability that seems to come from somewhere far beyond his years. Maybe it is the water in Austin, Texas, or maybe it is his musical lineage. His father John "Toad" played with the band Mother Earth. Andrews-the son of a ceiling fan salesman and a homemaker-has been front and center on the Austin scene for over half of his 18 years, turning countless heads with his guitar work and singing since first hitting the stage at age eight. Along the way, he has carved out a reputation as a roots-oriented guitarist and singer/songwriter with one foot anchored in the Texas blues tradition, the other stepping boldly into a musical future of his own making. Hometown hero Jimmie Vaughan (thanked on Time to Burn's liner notes), whose hard-nosed guitar sound reverberates in Andrews' playing, has said, "He reminds me a lot of myself at that age, young and full of excitement of playing the music. Jake's exactly what the blues needs to keep going-someone with a feel for the music who isn't afraid to take it to new places." Although still in his teens, Andrews' boasts a blues career many would envy. Having performed with giants Albert Collins, Buddy Guy, Otis Rush, and others, he has gigged to great acclaim at B.B. King's clubs in Memphis and Los Angeles, Antone's and the Continental Club in Austin as well as the San Francisco Blues Festival. While proud to be considered part of the tradition of Texas guitar slingers-greats like Freddie King, Denny Freeman, Stevie Ray and Jimmie Vaughan, Bugs Henderson, Anson Funderburgh, Chris Duarte and Ian Moore-Andrews has come to view the blues more as a foundation than a final musical destination. "I was one of those students enlightened by his parent's record collection," said Andrews by cell phone. "They had all the usual suspects present-Freddie, B.B. and Albert, Otis Rush, Muddy Waters, Howlin' Wolf and Johnny Winter, etc. I never went through a heavy metal/alternative/rap or country phase. I have been listening to R&B and soul and the blues since I was about two-or so I am told." Andrews said that with all the SRV comparisons, which he hears quite often, he now knows what cats like Duarte, Moore, Kenny Wayne Shepherd, Mato Nanji, and others deal with on a day-to-day basis. "It has been relentless," he said, with a quiet chuckle. "Any guitar player from Texas who plays a shuffle is automatically labeled a SRV clone these days. It is flattering, but the blues is a foundation for me. I am not looking to become the next fuckin' guitar hero for the blues/rock genre. I have more respect for myself than that. I just want to write and play positive, up-tempo music that has a splash of Texas soul and blues somewhere in the mix. And I think we accomplished that on Time to Burn." While many people feel that Jonny Lang and KWS simply act out their parts as blues players, the role seems to flow almost effortlessly for Andrews. On his 13-track album, he plays and sings the kind of rock and blues guitar that would make SRV smile. (Sorry Jake!) Andrews also has a growing legion of fans sharing the same thought. "Yeah, all over America the turnout has been great," he said. "I have not been home for quite some time-like four months or so-and we have gigs booked all the way through next year, but nobody around here is complaining one bit." Joining Andrews on the current tour is Mike Sconze on bass (Lawton, Okla. native and ex-Two Guns band member) and Alvino Bennet on drums. Sconze also played on Time to Burn. From the very first song, the title track Time to Burn, Andrews introduces his style of Texas-licks and Charlie Sexton-like vocals. ("I appreciate the comment," Andrews said. "Most cats have not caught that Sexton-vibe proudly there within my music. They always bring up the SRV insinuations. I also love anything David Grissom has ever done.") The blues are then thoroughly injected with the bluesy-stomp "Cry Baby," and the rhythm and soul of "Just You and Me" and "I Don't Wanna Go Home." The album is a mixture of Texas-stomp, blues and the lick-n-strut style of rock that made SRV famous. ("Stevie was actually out of town a lot when I was growing up," he said. "I never had the chance to see him play live or to sit on top of one of his amp cases.") On the lighter side, things slow down nicely with the more reflective and gorgeous "It All Passed Me By" and the smooth ballads "Lover To Cry" and "I'm Glad For Your Sake (But Sorry For Mine)." The sound and feel of the album is very similar to when Sexton and the surviving members of Double Trouble collaborated as Arc Angels. The music has more of a smooth flow, however, and while it sounds similar, the feel of the album is different. Andrews and John Porter (president of Jericho Records) have produced the kind of album that rock and blues fans have been looking for. Andrews provides solid guitar work that is humble and not overstated and hits quality licks and rhythms. He is patient and it shows through as each song flows freely and is not weighed down by extravagant or unnecessary solos or add-on effects. And overdubs-when they are used-are kept to a minimum. Time to Burn is dedicated to Boz Scagg's son, Oscar. "My father and Boz went to school and played in a couple of bands together as well as share a lot of memories between each other," Andrews said. "My father and I thought it would be the right thing to do considering all that happened with Oscar. Death is a hard reality to comprehend." A nice array of musical equipment lies in Andrews' arsenal. "My main axe is a 1960 Stratocaster, which is sitting in my lap as we speak," he said. "It is all original except for larger frets and a few other minor modifications. Five days ago I received a 1962 American Vintage Strat from Fender, which-in my limited time of playing-feels quite nice. I also have a 1979 re-issue Gibson Flying V. My effects are limited to an old Tube Driver and a Danelectro Dan-Echo. The Dan-Echo really sounds good. I would recommend it to anyone looking for that sweet 1960s era tape-echo. "Lately, I have been playing backline; so mostly through Marshall amps and heads provided at the shows-100-watt super lead and a PA head played through old Marshall cabinets. And I use GHS Nickel Rockers gauge .11-.52, which I personally change before every show. At home I have a sweet sounding 1957 tweed Fender Princeton as well as a 1958 tweed Fender Tremolux. Ed Reynolds fixes my guitars and Bill Ussery my amps, both live in Austin." Andrews' future looks as bright as the color of autumn leaves. "I think we are going to be doing a lot of recording and a lot of evolving," he said. "We will start work on the second project by hopefully the end of the year. It will have been a good amount of time between the first and second album, because it took awhile to get this project off the ground. The majority of Time to Burn was recorded in April of 1998, and it went through some changes. We went back in the studio in November of 1998 and cut a couple of new tracks to add to the album. But you know, bottom line, we just want to have fun with this. It is supposed to be fun. If we are not having fun, it is not something we want to be doing. The whole time that has been the focus, you know, over all these years. It was just a matter of making it a reality. I owe so much to Austin and the musicians there. I'm who I'm because of them and the love my parents have for music. I'm forever grateful." This review is © 1999 by Matt Alcott, and Blues On Stage, all rights reserved. [ Interview and CD Review Date: August 13, 1999 ]
REVIEWS
On the rockier side of the blues, newcomer Jake Andrews weighs in with some sizzling fretboard virtuosity on Time to Burn (Jericho 90002-2; 50:25). Part of the Jimi Hendrix-Stevie Ray Vaughan continuum, Andrews is a natural contender for the blues rock throne currently being occupied by Jonny Lang. But for my money, this kid cuts young Jonny both vocally and instrumentally, and with far less affectation. His take on Mike Kindred's cool shuffle "Cry Baby" is in the mode of SRV's "Cold Shot" (which Kindred also wrote) while both the title track and "Moment to Love" ring with obvious Hendrixisms. The heavy duty "Hard Way" is Andrews' freshest, most original statement on the album, though he doesn't shy away from digging in on his ax in this more pop flavored context. Andrews rocks hard with his very solid, driving band on "Just You And Me" and cops a suitably funky attitude on the organ-fueled second line groove of "I Don't Wanna Go Home." Andrews exudes a natural confidence and rhythmic assuredness on the jazzy shuffle "Lover To Cry," a hip, big production number pumped up by Hammond B-3 organ and the punchy presence of the Texacali Horns. And his raunchy take on Roosevelt Sykes' classic "Drivin' Wheel" is highly respectful of that old school Chicago tradition while taking it to more visceral territory. Nice feel, real deal. © Bill Milkowski , © 1999–2009 JazzTimes, Inc. All rights reserved
There must be something in the water in Austin Texas. Good guitar players always seem to be from Austin or have some Austin connection. Jake Andrews comes from a musical family (his father, John "Toad" Andrews played with Mother Earth) and he was known as "Little" Jake Andrews for a long time. He has dropped (or outgrown) the "Little" tag and now is competing with Jonny Lang and Kenny Wayne Shepherd. "Time To Burn" is an excellent Austin Texas inspired blues CD. The sound and style is a lot like early Ian Moore when he was doing rocking blues instead of the folky style he is doing today. The CD opens with the title cut 'Time To Burn', a solid rockin song. 'Just You and Me' is another rocker, with a Chuck Berry style rhythm. 'You've Got To Know' is solid Austin style where the vocal trades phrases with guitar licks. 'Lover to Cry' has a distinct jazzy sound to it, with some tasty guitar licks sprinkled throughout the song. Stylistically, the music is quite diverse. 'I'm Glad For Your Sake (but Sorry For Mine)' is a song straight out of the late 50's doo-wop style. The music while staying within the genre of blues throws in bits and pieces of rock and jazz to make it interesting. The song writers list looks like a who's who of Austin blues with players/writers such as David Grissom, Doyle Bramhall and more. Bottom line - this is an excellent CD, full of good Texas style blues music. One nice thing about this CD is that it does NOT sound like it was done by a Stevie Ray Vaughan clone. There are too many players out there that don't know the difference between 'inspired by' and 'copy of'. Jake Andrews does know the difference. If you like Texas style blues, then you should pick this CD up. © 1999 by Robert T. Murphy, and Blues On Stage, all rights reserved.
Looking at the cover of Jake Andrews's debut, it's easy to dismiss him as yet another blues wunderkind of the sort that have emerged with increasing frequency in the 1990s. But pop in the CD and hit play, and immediately one realizes that Andrews is no wannabe. The title track, which opens the album, contains hints of Buddy Guy in its blues-rock riffs, and no wonder: Andrews appeared onstage with Guy when he was but 8 years old. And those guitar riffs, by turns crunchy and smooth, are what to listen for on Time to Burn; Andrews isn't merely technically skilled, but has the ability to set the tone for a song from the opening line. Weak moments are few and far between here, excused by a wealth of strong material that, along with surprisingly mature lyrics, indicates that Andrews is an artist to watch. © Genevieve Williams, © 1996-2009, Amazon.com, Inc. or its affiliates
JAKE ANDREWS
BIO
(WIKIPEDIA)

Jake Andrews (born April 16, 1980) is an American blues-rock guitarist, singer and song-writer from Austin, Texas. Andrews began playing guitar at age 5, taught by his father, John Andrews of the 60s Roots Band Mother Earth with noted singer Tracy Nelson. At an early age, he began attending shows at the legendary blues venue, Antone's, to see blues legends like BB King and Albert Collins perform. At age 8, Andrews first went onstage to play guitar with Albert King. Impressed with the young guitarist, King invited him to play with him for his entire second set. The next day the Austin Chronicle reported that King and Andrews "brought the house down with fine blues playing." That moment sparked Andrews' young career, and he continued to hone his skills in the clubs of Austin, Texas regularly performing with local musicians such as Jimmie Vaughan and soaking up the sounds of the music-filled city. First known as a child guitar prodigy, Andrews has evolved into a skillful guitarist, singer and song-writer. Andrews has performed with music giants such as BB King, Buddy Guy, and Albert King. He has also performed at major festivals such as the San Francisco Blues Festival and Madison Blues Festival with Ray Charles. He has been featured on CBS, Austin City Limits, Texas Monthly, Guitar Player, and Vintage Guitar among numerous other publications. He has toured the US and Europe extensively. At the age of 17, Andrews was signed to Jericho Records, a subsidiary of Warner Brothers. Working with renowned music producer, John Porter at the Ocean Way Studios in Los Angeles, in 1999, Jake released his much anticipated debut album 'Time to Burn'. Billboard magazine stated, "Time to Burn's mix of guitar pyrotechnics, fiery vocals and powerful new songs confirms that Jake Andrews is already blazing new paths with the torch he's been passed." The first title single scored a Top Ten Rock Radio hit, and Andrews earned the award of "Breakout Rock Group" in 1999 by R&R (Radio and Records). The record was supported with a major US tour with artists including the Allman Brothers, The Doobie Brothers, Susan Tedeschi, and George Thorogood. In 2002 Andrews released a second self-titled album produced by Carla Olson (Phil Upchurch, Joe Louis Walker, Otis Rush, Barry Goldberg, Mick Taylor). The album was recorded at Willie Nelson's Perdernales Studios outside of Austin, TX. Andrews is featured on the solo album by Paul Jones released March 10, 2009. Paul Jones is known to many as the singer of the British Invasion band Manfred Mann — the voice on mid-'60s hits like "Do Wah Diddy," "Pretty Flamingo," "Come Tomorrow" and "Sha La La." The new CD is his first solo album in decades. It was released on Collectors' Choice Music. Backing Jones on the project are musicians: Eric Clapton plays guitar on two tracks ("Choose or Cop Out" and "Starting All Over Again") and is joined by Jake Andrews, guitar; Tony Marsico (Plugz, Cruzados, Neil Young, John Doe, Peter Case), bass; Alvino Bennett (LTD, Stevie Wonder, Bryan Ferry, Dave Mason), drums; Mike Thompson (Eagles, Don Henley), piano and Hammond B3 organ; Ernie Watts (Rolling Stones, Thelonious Monk, Steely Dan), saxophone; Darrell Leonard (Duane Allman, Freddie King, Smokey Robinson), trumpet; Tom Junior Moran (Percy Sledge, Mick Taylor, Phil Seymour), saxophone; Mikael Rickfors (The Hollies), backing vocals; and several others. In 2006, Andrews joined Guitar Shorty on his Alligator Release "We the People" accompanying the legendary bluesman, and former brother-in-law to Jimi Hendrix, on the album. The album won "Album of the Year" at the WC Handy awards in May 2007. Andrews hit the road with Guitar Shorty in the summer and fall of 2006 for a full US and European tour. In 2007, Andrews released his third album "Feelin' Good Again". The album was recorded in Austin, TX, and it was produced by Jake and long-time bassist Mike Sconce. Andrews wrote all of the songs and is featured as guitarist and vocalist. He enlisted drummer Alvino Bennett (Chaka Khan, Stevie Wonder, Sheena Easton, Dave Mason) and Michael Ramos (John Mellencamp, Los Lonley Boys) on keys.