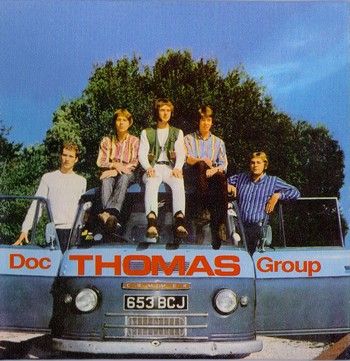 Doc Thomas Group
-
Doc Thomas Group
-
1967
-
Dischi Interrecord
(Italy)
This album would be of no interest whatsoever if two of its members had not gone on to Mott the Hoople in a few years. It's guitar-oriented R&B/soul in the mold of the Small Faces and (more obscurely) the Byrds, although lacking anything like the personality of those two outfits. The all-cover LP is heavy on well-trod soul tunes like "Rescue Me," "Barefootin'," "Harlem Shuffle," and "I Got You," done with enough spirit to convey the band's qualifications for playing clubs of the time. The vocals aren't so hot, though, and the drumming falters into near amateurishness from time to time. The album has been reissued in its entirety (and retitled The Italian Job) on a single-disc CD that also includes 15 tracks by a reunited version of the Silence, an unrecorded '60s band that went through various lineups and featured a few future members of Mott the Hoople. © Richie Unterberger, All Music Guide
This obscure Doc Thomas Group s/t album was was recorded in Turin in October 1966, and released in Italy only in January 1967. The album is typical of the band's live repertoire at the time, and was produced by Stian Giarelli. All the tracks are R&B/soul covers. There is nothing earth shattering about the album. All the tracks are well known R&B/soul standards, and have been covered much better by other bands. 42 years on, the album sounds dated, but for the time period, this was a competent band, and also in the "psychedelic sixties", it was unusual to find "all cover" albums like this. It's quite a good album. It's never dull, and two years after this album was released, two members of this band, Mick Ralphs, and Pete Watts were in a band called Mott The Hoople, along with the great Ian Hunter, Verden Allen, and Dale Griffin. All these Young Dudes taught the rock world a thing or two !
N.B:
This album was also reissued on Akarma records, and in August 1998, the album was reissued on CD by Angel Air, called "The Italian Job" and was paired with a 1990 Soulents/Silence reunion album, "Shotgun Eyes".

TRACKS / COMPOSERS
I'll Be Doggone - Robinson, Moore, Tarplin
She Was Really Saying Something - Whitfield, Stevenson, Holland
Steal Your Heart Away - Parker
My Babe - Harthfield, Medley
Please Do Something - Covay
Shake - Cooke
I Got You - Brown
Harlem Shuffle - Relf, Nelson
Talking About My Baby - Mayfield
Just Can't Go To Sleep - Davies
Barefootin' - Parker
Rescue Me - Smith, Miner
BAND
Stan Tippins - Lead Vocals
Mick Ralphs, Dave Tedstone - Guitar
Pete Watts - Bass
Bob Hall - Drums
A LITTLE ABOUT THE BAND
From the very tangled tree of about a dozen '60s bands that fed into the eventual formation of Mott the Hoople, the Doc Thomas Group were one of the most important, chiefly because they actually released an album. Future Hoople guitarist Mick Ralphs and bassist Pete Watts were both on board when the group recorded their sole LP (released only in Italy, where they were based for a time) in late 1966. Future Mott drummer Dale Griffin (aka Buffin) joined the band in the spring of 1967, although he doesn't appear on the album, which featured Stan Tippins as lead singer. The self-titled LP consisted entirely of R&B/soul covers, executed derivatively and just about competently, in the style of mod bands of the period such as the Small Faces. The Doc Thomas Group struggled on until 1968, changing their name to Silence with the addition of organist Terry (soon to become Verden) Allen; from that point, it was only a matter of recruiting Ian Hunter to replace Tippins to create Mott the Hoople in 1969. The extremely rare Doc Thomas Group album was reissued on CD in 1998, on a disc that also included a Silence "reunion" session recorded in 1990. © Richie Unterberger, All Music Guide
A LOT ABOUT THE BAND !

Long before Pete Watts and Dale Griffin teamed in in Ross-on-Wye, the roots of the Silence were planted when the Camp Road Cats formed. The Camp Road Cats were a garage band that consisted of Paul Jeffery, Lionel Jeffery, and Robert Fisher. [Robert Fisher] That was me and the Jeffrey brothers, and it was a garage band. That would have been about 1957. Those guys live in Camp Road, so we called ourselves the Camp Road Cats. We were aged about 10, 11, and 12 at the time. We had kazoos, and I played what they called a tea chest bass, you know, a broom handle thing. We used to sing shit like Rock Island Line and Freight Train and Last Train To San Fernando. We always dreamed of having a band. I was going to be a sax player at one time - of course, I couldn't afford a saxophone or anything! The Camp Road Cats eventually gave way to The Sandstorms, when Pete Watts joined Robert Fisher and the Jeffrey brothers. The Sandstorms took their name from the song Sandstorm, the b-side to the Johnny and the Hurricanes single Beatnik Fly. [Robert Fisher] The Sandstorms lasted probably two months, from about August 1962. We maybe played two gigs. We played one for the Ross Women's Institute, which was a Ladies Guild type thing, because Paul Jeffrey's mother was in it. We did that at the grammar school where we went. After the Sandstorms were finished, Pete Watts was asked to join the Hawaiianaires, fronted by American guitarist Rory Haisley. Watts was with the band from late 1962 through early 1963. The band consisted of Haisley (guitar), Pete Watts (guitar), Derek Young (steel guitar), John Sutton (bass), and Paul Philips (drums). [Robert Fisher] Watts went off into the Hawaiianaires. He was dragged into this band because he was one of the few guys who had a solid body electric guitar, and he could play stuff like that. They played mostly arrangements of songs like Apple Blossom Time done in 1960s instrumental Shadows style. That's what they wanted Watts for, because he was good at that kind of shit. I'd say it lasted three or four months. Later in 1963, Pete Watts was playing with guitarist Bob Davies, bassist John Sutton, singer Patrick O'Donnell, and drummer Pat Brooke. Dale Griffin, however, had recently caught Pete's attention with his new Premier drumkit and soon took over the drummer's stool. In the summer of 1963, they adopted the name The Anchors to reflect their new gig as the house band at the Cabin, the music bar at the Hope And Anchor. The band went through a few quick personnel changes, when Sutton, Davies, and Patrick O'Donnell left. A number of singers were auditioned before the lineup settled into Watts, Griffin, Patrick Brooke (now on vocals), Robert Fisher (second vocalist), and Paul Jeffery (guitar). The Anchors played out the summer at the Cabin and disbanded in September 1963. In October 1963 the band decided to reform to play Ross Grammar School dances, and played out 1963 as Wild Dog's Hell Hounds. (The name came from the 'Wild Dog Treble' setting on a Burns guitar.) Pete 'Wild Dog' Watts would crawl out onstage on all fours, working his way toward a dog bowl and bone. By the spring of 1964, the band had changed their name to the Soulents and gigged steadily around the Midlands during the next year. In mid 1965 they changed their name to The Silence, and could be found opening local shows for the Who, The Yardbirds, and the Zombies, among others. By late 1965, though, it was clear that Pete Watts wanted to turn pro. The other members of the Silence were not in any position to do that, and so he gave up his lead guitar and accepted a job as the bass player for a rival Hereford group, The Buddies. Buddies' bassist Cyril Townsend had decided against a professional career, and so Watts joined guitarist Mick Ralphs, singer Stan Tippins, and drummer Bob Hall in November 1965. Almost immediately, Watts found himself touring the continent with the Buddies, playing Cortina D'Ampezzio in Italy and later in Germany at The Horse Stable (Hargen), and the E and Club Europa (Marberg). Watts fell ill for a short time during the tour, and Dave Mason subbed for him. The Buddies stayed on the continent until February 1966, and after a brief return to Hereford went right back to Hamburg in April 1966. Meanwhile, The Silence limped along for a couple shows after adding ex-Beatniks guitarist Ricky Welch for a few shows, but he soon departed. Being near the Christmas holiday, Paul Jeffery was available for a couple shows, including the band's last at the 1600 Club in Hereford on December 28, 1965 before calling it quits. Fisher and Brooke went on to join the Uncertain Kind and toured Germany in 1966. In the meantime, Pete Watts' band The Buddies picked up Dave Tedstone, the former lead guitarist in the Hereford pop group Lee Starr and the Astrals. With Tedstone aboard, the band toured Italy and recorded an album in October 1966 under the name The Doc Thomas Group, which had been suggested by Dave Mason earlier. The album featured a hastily recorded set of the band's repertoire of cover songs, and was produced by Stian Giarelli. They soon returned to Hereford, picking up Dale Griffin to fill in for the departing Bob Hall. Dave Tedstone also called it quits, but was not replaced. The Doc Thomas Group LP was released in Italy in January 1967, along with the single Harlem Shuffle. The Buddies, (now known as The Problem in the UK) quickly returned to Italy to capitalize. They made a couple TV appearances in Milan in March, and soon afterward sent for keyboard player Geoff Peacey. Peacey finished the summer season with the group, but upon returning to England Geoff's parents were alarmed at how thin and gaunt he looked. As band's prospects were not looking too good, it was decided that he would quit the group. The remainder of the band continued as a four piece with an uncertain future, and finally dissolved when Mick Ralphs accepted an offer from Verden Allen to replace Kevin Gammond in the Shakedown Sound, Jimmy Cliff's backing band. Later, Buffin would also join the group, replacing Sean Jenkins for the last three weeks. When the Shakedown Sound gig ended, Ralphs, Griffin, and Allen returned to Hereford to reunite with Pete Watts and Stan Tippins, cementing the final lineup of the group before Mott The Hoople. The group continued to use the Shakedown Sound moniker in the UK, but reverted to The Doc Thomas Group wne they returned to Italy in the summer of 1968. The group played engagements at the Pinetta Club in Milano Marittima, and the Bat Caverna in Riccione. As the season ended, Pete Watts remained in Italy with his fiance, Maria Jannelli, in anticipation of joining a 'supergroup' with members of the recently split I Giganti. But I Giganti reformed, and so Pete eventually went home. Nearing the end of 1968 and back in Hereford, the band made one final push toward the big time. They bought a van and new equipment, and began using the Jay Vee agency in Swansea, Wales. They used the better known Shakedown Sound moniker while playing Hereford and the Midlands, but for gigs in Wales the band resurrected the old Silence banner. Using Buffin's contacts at Rockfield, the band recorded a demo tape, which included The Rebel and Find Your Way. Despite the effort, though, the band still foundered. They unsuccessfully auditioned for Apple under the name The Archers, and also failed to distinguish themselves at an audition to back the Swedish band Paper Dolls. Buffin auditioned for Dave Edmunds and was offered a job with Love Sculpture, but turned it down. Sensing the lack of success with Silence, Watts and Ralphs traveled to London to audition for Free, but apparently failed to impress producer Guy Stevens. When EMI rejected The Rebel at the last moment, Mick Ralphs took it to Stevens in London. The meeting went well enough for the band to scheduled an audition at Spot Studios, but on the eve of a Liverpool Cavern show Stan's jaw was broken during a scuffle. The band auditioned without Tippins, and won a second audition the next month for the entire group. In a story that has been retold tirelessly, Guy Stevens was reported to be so impressed with the band's ability to maneuver Verden's Hammond upstairs that he decided to take them on. He was not, however, impressed with Tippins, who voluntarily withdrew from the band rather than hinder the success of the others. (See the Mott The Hoople archive for the rest of the story.) In June 1989, the original Soulents - Pete Watts, Dale Griffin, Robert Fisher, Paul Jeffrey, and Patrick Brooke - got together in Acton for a few hours to relive the old days. The session went better than anticipated, so the following year the group booked Rockfield Studios in Monmouth, Wales to finally record their debut album. On October 8, 1990, the group converged on the studio and ran through a number of old cover songs, plus one new autobiographical number written by Robert Fisher and Paul Jeffrey. The album lay unissued for several years until Angel Air decided to package it, now titled Shotgun Eyes, in with their reissue of the original 1967 Doc Thomas Group album. The disc contains the entire Doc Thomas Group album, plus fifteen tracks from the 1990 silence sessions. [ from Just a Buzz - A Mott The Hoople Fan Site @ www.justabuzz.com/index.shtml ]