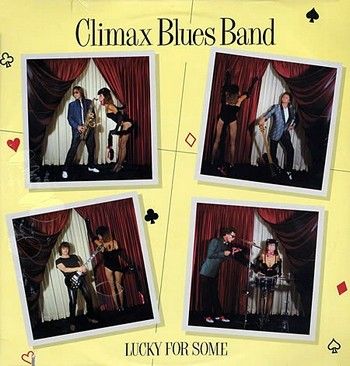 Climax
Blues
Band
-
Lucky For Some
-
1981
-
Warner Bros. Records

Like the great Canned Heat band, this veteran blues rock outfit are still going strong after more than forty years. The Climax Chicago Blues Band based in Stafford, England was formed in late 1968. They were a very underrated blues band and were usually the opening act for bands of far lesser talent. The original members were guitarists Derek Holt and Peter Haycock, keyboardist Arthur Wood, bassist Richard Jones and drummer George Newsome. The late Colin Cooper on vocals and saxophone made up the sextet. In 1970, the band shortened its name to the Climax Blues Band. Their great "Couldn't Get It Right" was a big hit for the band, but dig into their catalogue and you will find many great blues and rock compositions. 'Lucky For Some' was the last CBB album to feature the Cooper / Haycock / Holt / Cuffley line up which had played together for nine years."Lucky For Some" may not be one of the band's "best" albums but it still demonstrates the strength, energy, and technical know-how of this great band. Two of the album's strongest tracks are 'Cuttin' Up Rough', and the Gospel-like 'Last Chance Saloon 'with a great, almost hymnal organ backing plus superb guitar and sax solos. Buy their great "Stamp" and "Gold Plated" albums to hear the band at their peak, and search this blog for more related releases.
TRACKS / COMPOSERS

A1 Victim - CBB
A2 Cuttin' Up Rough - Cuffley, Holt
A3 Shake It Lucy - CBB
A4 Oceans Apart - CBB
A5 Breakdown - CBB
B1 Darlin' - CBB
B2 This Time You're The Singer - CBB
B3 Last Chance Saloon - CBB
B4 They'd Never Believe Us - CBB
BAND
Peter Haycock - Guitar, Vocals
Derek Holt - Bass, Keyboards, Vocals
Peter Filleul - Keyboards, Vocals
Nicky Hopkins - Acoustic Piano
Michael Boddicker - Synthesizers on "Darlin'"
John Cuffley - Drums, Percussion, Vocals
Colin Cooper - Saxophone, Harmonica, Vocals
Glenn Hughes - Backing Vocals on "Shake It Lucy"
SHORT BIO

Led by Colin Cooper, the former frontman of the R&B unit the Hipster Image, the Stafford, England-based Climax Chicago Blues Band were one of the leading lights of the late-'60s blues boom. A sextet also comprised of guitarists Derek Holt and Peter Haycock, keyboardist Arthur Wood, bassist Richard Jones, and drummer George Newsome, the group debuted in 1969 with a self-titled effort recalling the work of John Mayall. Prior to the release of 1969's Plays On, Jones left the group, prompting Holt to move to bass. In 1970 the Climax Chicago Blues Band moved to the Harvest label, at the same time shifting toward a more rock-oriented sound on the LP A Lot of Bottle. Around the release of 1971's Tightly Knit, Newsome was replaced by drummer John Holt; upon Wood's exit in the wake of 1972's Rich Man, the unit decided to continue on as a quartet, also dropping the "Chicago" portion of its moniker to avoid confusion with the American band of the same name. In 1974 the Climax Blues Band issued FM Live, a document of a New York radio concert. Released in 1975, Stamp was their commercial breakthrough, and 1976's Gold Plated fared even better, spurred on by the success of the hit "Couldn't Get It Right." However, the rise of punk effectively stopped the Climax Blues Band in their tracks, although they continued recording prolifically well into the 1980s; after 1988's Drastic Steps, the group was silent for a number of years, but resurfaced in 1994 with Blues from the Attic. © Jason Ankeny © 2010 Rovi Corporation. All Rights Reserved http://www.allmusic.com/artist/climax-blues-band-p16545/biography