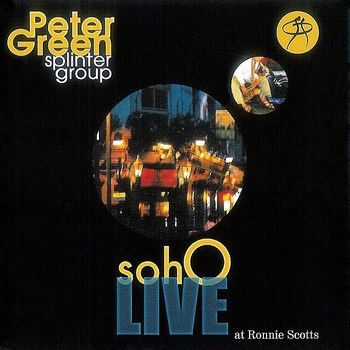 Peter Green
Splinter Group
-
Soho
Live At Ronnie Scotts
-
2001
-
Snapper Music


A wonderful 2 CD album by the Peter Green Splinter Group recorded live at Ronnie Scott's world famous jazz club in London, England, on April 5, 1998. There are 17 tracks including 'Albatross', Black Magic Woman', a brilliant version of 'Green manalishi' and 'Rattlesnake Shake' from his time with the early Fleetwood Mac. The remainder of the album is a mix of blues standards including five Robert Johnson covers. Robert Johnson was a huge influence on Peter Green. The musicianship on the album is tremendous, and the sound quality is also good. A great album from one of the world's greatest blues guitarists and
HR by A.O.O.F.C.
Listen to the band's "Destiny Road" and "Time Traders" albums, and Peter Green's "In the Skies" and "Bandit" albums. Search this blog for other Peter Green releases.
N.B:
In 1999 Peter Green Splinter Group released the "Soho Session" on Snapper Music with nineteen tracks. The album was recorded on same date and at the same venue. Extra tracks included "Terraplane Blues" and "Indians" not on this later release

TRACKS / COMPOSERS

CD 1
1 It Takes Time - Otis Rush 5:18
2 Homework - Otis Rush 3:45
3 Black Magic Woman - Peter Green 7:07
4 Hey Mama Keep Your Big Mouth Shut - Ellis McDaniel 6:18
5 The Supernatural - Peter Green 3:36
6 Rattlesnake Shake - Peter Green 4:59
7 Shake Your Hips - James Moore 5:15
8 Albatross - Peter Green 3:30
CD 2
1 Travelling Riverside Blues - Robert Johnson 3:59
2 Steady Rollin' Man - Robert Johnson 3:13
3 Honeymoon Blues - Robert Johnson 3:03
4 Last Fair Deal Gone Down - Robert Johnson 3:19
5 If I Had Possession Over Judgement Day - Robert Johnson 4:27
6 Green Manalishi - Peter Green 5:37
7 Goin' Down - Don Nix 7:35
8 Help Me - Ralph Bass; Sonny Boy Williamson, Willie Dixon 4:48
9 Look on Yonder Wall - Elmore James, Marshall Sehorn 6:46
MUSICIANS
Peter Green - (vocals, lead guitar, slide guitar, harmonica)
Nigel Watson - (vocals, lead guitar, rhythm guitar)
Roger Cotton - (piano, Hammond C3, rhythm guitar)
Neil Murray - (bass)
Larry Tolfree - (drums, percussion)
Milton Brown, Debra Lewis, Ray Shell, Charita Thomas [The Street Angels] - backing vocals]
ABOUT GIG / ALBUM
[

N.B:

Refers to the 1999 "Soho Session" album release

]


With just one week to go to the Splinter Group's showcase at Ronnie Scott's club in London Soho, Peter Green's Jaguar is cruising on the M4 motorway en route to a Sunday night gig at the Cardiff Coal Exchange. In the car cassette-player is an important tape the first mixes of four tracks from the Robert Johnson Songbook album by Green and co-guitarist Nigel Watson. As they listen, both musicians agree that there is still some work to be done on the mixing in order to bring out the jazz lounge vibe, which they accompanied by the band on certain numbers - were trying to recreate. One exception though is Watson's arrangement of 'Honeymoon Blues' with Neil Murray's walking bass lines, Larry Tolfree's brushes and Roger Cotton's relaxed lounge piano. "Ronnie Scott's, here we come," said Peter as the song ends, obviously relishing the prospect The Splinter Group are ready for their debut at the world famous Jazz venue. "Our record company" Nigel explains "was looking to promote the release of our Robert Johnson album, and so we incorporated the Splinter Group into the show. In the middle of the set we did a medley of Robert Johnson songs with the 'Street Angels' (A gospel vocal quartet), this gave the gig a freshness that everyone enjoyed". Adrenalin was really flowing during soundcheck on Sunday, April 5th 1998. Sound engineer Arthur Anderson, had to balance the sound at much lower volume levels than usual, in order to suit a venue designed for acoustic 'unplugged' acts, and not amplified electric blues bands. "We had to be careful", Peter recalls, "because it's a perfect sized Jazz club with acoustics that are incredible - so you don't need to be loud. I really enjoyed having to play quietly". After half an hour of opening the club was packed to the rafters. The crowd included many music biz people and journalists who proved to be enthusiastically attentive through the whole set (which lasted over two hours). That the band went down a storm playing for their London fans comes as no great surprise; but more objective confirmation that this was an especially successful performance was to be found in press write-ups published the following week. The Independent's James McNair was reminded - as he listened to Splinter Group's version of "Rattlesnake Shake" of Peter Green's legendary status as an innovator of guitar sounds during the 1960s; sounds which subsequently were adopted by acts such as ZZ Top. This same critic was also impressed by Green's true blues voice and the contemporary dance groove that the band nailed down as they performed R&B classics such as Bo Diddley's 'Mama, keep your big mouth shut'. What's more, Nigel Watson's crucial role in Green's 'miraculous comeback' over the past few years was very obvious, McNair asserted. Watson's mastery of Robert Johnson's often complex guitar style got a mention, as did the variety of styles that the band obviously felt comfortable playing - ranging from updates of the old Fleetwood Mac hits, to very 1990's gospel interpretations of Robert Johnson classics. For the Splinter Group, Soho Session (An Evening at Ronnie Scott's) is another milestone; for the listener it is also a yardstick charting the musical progress of a band now completing its third year in various line-ups (five so far, to be precise), A two year chunk separates the recording of the bands first live album Peter Green Splinter Group and this one. During that time the band gigged extensively in Europe, Ireland and the U.K. Most notably, in November 1997 the band did six high-profile support slots in Britain for the BB King Blues Band. When the tour reached the Fairfield Halls at Croydon the audience got an unexpected bonus - B.B. King, Peter Green and Nigel Watson on stage together for an impromptu jam. Listening to this album, Splinter Group aficionados naturally will have their own opinion on the band's development. But the chances are that anyone who caught them on the B.B. King tour, and then saw them once more just three months later on their Spring '98 UK concert hall tour will have noticed a surge in the band's confidence and attitude. So, what happened in those intervening months? Nigel Watson explains "We spent a month touring Germany and working on our sound. On several nights our tour manager Arthur recorded the gig at the sound desk and we'd listen to it afterwards back at the hotel, and on the tour bus travelling to the next gig, Larry and Roger pitched in with ideas about improving our sound and performance with the result that we came back from the tour a much tighter band". A tighter band, yes, but one which was now also defining its own unique groove for the first time. An in-your-face groove on numbers added to the set list over in Germany, these were: Slim Harpo's "Shake Your Hips", Bo Diddley's "Mama, Keep Your Big Mouth Shut" and Robert Johnson's "Terraplane Blues", along with a jazz flavoured version of Green's classic instrumental "The Supernatural". On the Harpo, Diddley and Johnson songs the Tolfree/Cotton effect is especially noticeable. Certainly, the 19 tracks on this album - 7 blues standards; 5 Peter Green classics; 6 songs from the Green/Watson Robert Johnson album; and one Watson original - confirm the band's versatility in their choice of blues-based material. But the critical acclaim and celebrations in the aftermath of Splinter Group's Ronnie Scott's gig, soon were tinged with a note of real sadness, which rings on today. Namely, that on that same night the colourful life of Cozy Powell Splinter Group's original drummer in every sense of that word - came to a tragically early end at the age of 50. Powell's car spun out of control in the small hours of Monday morning on the M4 near Bristol. So this album, as well as being a manifesto outlining the band's future (n.b. after it was recorded, Pete Stroud took over on bass last summer in time for their successful tour of the U.S.) is also a small eulogy for the supreme musician and brilliant star who played a vital role in Splinter Group's past. "We played at Ronnie Scott's" said Nigel Watson, "on the same night that Cozy was killed on the motorway, and because he was a founder member, we'd like to dedicate some of this recording to him. We will always be very grateful for his contribution in helping us start this band up". Peter Green adds: "Cozy was a very nice bloke one of the nicest people I've ever met. There were no troubles from him when he was travelling with us...a super bloke...that's all I can say". © 'Jet' Martin Celmins. Oxford, January 1999 Artisan Recordings, A Snapper Music Label © 1995-2002, Martin and Lisa Adelson, All Rights Reserved © http://www.fleetwoodmac.net/discog/discog.php?pid=571
BIO
The Peter Green Splinter Group was a band led by the blues guitarist and singer, Peter Green. Green was the leader of Fleetwood Mac until he suffered a mental breakdown during the 1970s. He was rehabilitated with the aid of Nigel Watson, the late Cozy Powell and other friends, and then began touring and recording with the Splinter Group. The group was disbanded in early 2004 with Green's departure from the group - an upcoming tour was cancelled, as was the planned release of a new album.
PETER GREEN
BIO
His career riddled by drug abuse and paranoia, Peter Green is still regarded by some fans as the greatest white blues guitarist ever, Eric Clapton notwithstanding. As he grew up in London's working-class East End, Green's early musical influences were Hank B. Marvin of the Shadows, Muddy Waters, B.B. King, Freddie King, and traditional Jewish music. Born Peter Greenbaum but calling himself Peter Green by age 15, he played bass before being invited in 1966 by keyboardist Peter Bardens to play lead in the Peter B's, whose drummer was a lanky chap named Mick Fleetwood. The 19-year-old Green was with Bardens just three months before joining John Mayall's Bluesbreakers, whose rapidly shifting personnel included bassist John McVie and drummer Aynsley Dunbar. A keen fan of Clapton, Green badgered Mayall to give him a chance when the Bluesbreakers guitarist split for an indefinite vacation in Greece. Green sounded great and, as Mayall recalls, was not amused when Clapton returned after a handful of gigs, and Green was out. When Clapton left the band for good six months later to form Cream, Mayall cajoled Green back. Fans were openly hostile because Green was not God, although they appreciated Clapton's replacement in time. Producer Mike Vernon was aghast when the Bluesbreakers showed up without Clapton to record the album A Hard Road in late 1966, but was won over by Green's playing. On many tracks you'd be hard-pressed to tell it wasn't Clapton playing. With an eerie Green instrumental called "The Supernatural," he demonstrated the beginning of his trademark fluid, haunting style so reminiscent of B.B. King. When Green left Mayall in 1967, he took McVie and Fleetwood to found Peter Green's Fleetwood Mac. Jeremy Spencer and Danny Kirwan shortly afterward gave Fleetwood Mac an unusual three-guitar front line. Green was at his peak for the albums Mr. Wonderful, English Rose, Then Play On, and a live Boston Tea Party recording. His instrumental "Albatross" was the band's first British number one single and "Black Magic Woman" was later a huge hit for Carlos Santana. But Green had been experimenting with acid and his behavior became increasingly irrational, especially after he disappeared for three days of rampant drug use in Munich. He became very religious, appearing on-stage wearing crucifixes and flowing robes. His bandmates resisted Green's suggestion to donate most of their money to charity, and he left in mid-1970 after writing a harrowing biographical tune called "The Green Manalishi." After a bitter, rambling solo album called The End of the Game, Green saddened fans when he hung up his guitar, except for helping the Mac complete a tour when Spencer suddenly joined the Children of God in Los Angeles and quit the band. Green's chaotic odyssey of almost a decade included rumors that he was a gravedigger, a bartender in Cornwall, a hospital orderly, and a member of an Israeli commune. When an accountant sent him an unwanted royalty check, Green confronted his tormentor with a gun, although it was unloaded. Green went to jail briefly before being transferred to an asylum. Green emerged in the late '70s and early '80s with albums In the Skies, Little Dreamer, White Sky, and Kolors, featuring at times Bardens, Robin Trower drummer Reg Isidore, and Fairport Convention drummer Dave Mattacks. He reprised the Then Play On Mac standard "Rattlesnake Shake" on Fleetwood's solo 1981 album, The Visitor. British author Martin Celmins wrote Green's biography in 1995. Psychologically troubled, on medication, and hardly playing the guitar for most of the '90s, the reclusive Green resumed sporadic recording in the second half of the decade. He surfaces unexpectedly from time to time, most prominently January 12, 1998, when Fleetwood Mac was inducted into the Rock & Roll Hall of Fame. In a rare, perfect moment, Green jammed with fellow inductee Santana on "Black Magic Woman." © Mark Allan © 2011 Rovi Corporation. All Rights Reserved http://www.allmusic.com/artist/peter-green-p81924