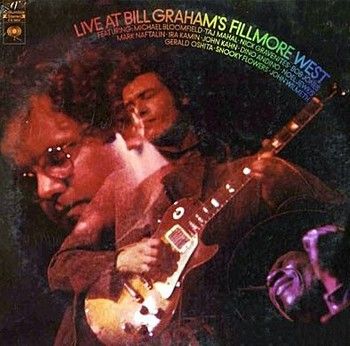 Michael Bloomfield
With
Nick Gravenites
And
Friends
-
Live At
Bill Graham's
Fillmore West
-
1969
-
Columbia
N.B:
The original 1969 LP is not credited to any one artist. The 1969 Columbia LP front cover is entitled "Live At Bill Graham's Fillmore West Featuring Michael Bloomfield, Taj Mahal, Nick Gravenites, Bob Jones, Mark Naftalin, Ira Kamin, John Kahn, Dino Andino, Noel Jewkes, Gerald Oshita, Snookey Flowers, John Wilmeth".


When Mike Bloomfield and Nick Gravenites were recorded by Columbia at the Fillmore West in early 1969, most of the tracks the label released appeared on Live at Bill Graham's Fillmore West 1969. However, not a little additional material from the same source appeared on one side of Gravenites' My Labors LP. This set doesn't contain the most notable of Bloomfield's recordings; it's not the best band he played with, nor is it the best material with which he had to work. It's best appreciated as one of numerous releases on which to hear his reliably accomplished blues-rock guitar work, although it's not as flashy or inventive as his best performances, the arrangements sometimes recalling Electric Flag due to the presence of a horn section. No less than four vocalists (Gravenites, Bloomfield, Bob Jones, and Taj Mahal, who guests on "One More Mile to Go") were featured on the original Live at Bill Graham's Fillmore West 1969 LP; this expanded version does give more weight to Gravenites' singing, as he takes lead on all four of the tracks added from My Labors. As a final bonus, the CD also includes a Bloomfield-sung cover of Ray Charles' "Mary Ann" from another Bloomfield live album of the era (The Live Adventures of Mike Bloomfield and Al Kooper). © Richie Unterberger © 2011 Rovi Corporation. All Rights Reserved http://www.allmusic.com/album/live-at-bill-grahams-fillmore-west-1969-r105598/review [
N.B
-
Review based on the expanded CD version of album
]
Bloomfield's guitar burns with a frightening intensity. The vocals are probably the least attractive aspect of the recordings, being shared between Gravenites, Bloomfield, Bob Jones and (on One More Mile To Go) special guest Taj Mahal, but there's no doubting the star of the show. Just fidget through the perfunctory verse and chorus(es) and wait for the fret-melting fireworks! Reviewed by & © Michael Heatley © http://www.recordcollectormag.com/reviews/review-detail/4278
Sound quality is a bit "crackly" but listenable. Listen to Mike's "Live at the Old Waldorf", "Analine", and "Living in the Fast Lane" albums. The Bloomfield-Kooper-Stills "Super Session" album from 1968 is also fabulous album and a genuine super music session.
TRACKS
/
MAIN VOCALISTS
/
COMPOSERS
1 It Takes Time - Nick Gravenites - Otis Rush, Willie Dixon 4:27
2 Oh Mama - Michael Bloomfield - Michael Bloomfield 2:59
3 Love Got Me - Bob Jones - Arthur Conley 2:37
4 Blues On A Westside - Nick Gravenites - Nick Gravenites 15:18
5 One More Mile To Go - Taj Mahal - Joseph Cotton 10:35
6 It's About Time - Nick Gravenites - Nick Gravenites 7:00
7 Carmelita Skiffle (Instrumental) - B. T. Jones, M. Naftalin, M. Bloomfield, N. Gravenites 5:11
MUSICIANS
Michael Bloomfield : Guitar, Vocals RIP
Nick Gravenites : Vocals, Guitar
Jesse Ed Davis : Guitar RIP
John Kahn : Bass RIP
Mark Naftalin : Keyboards, Piano
Ira Kamin : Keyboards, Organ
Bob Jones : Drums, Vocals
Reinol Andino : Percussion
Dino Andino : Congas
Gerald Oshita RIP, Cornelius "Snookey" Flowers : Baritone Saxophone
Noel Jewkes : Tenor Saxophone
John Wilmeth : Trumpet
Taj Mahal : Vocals
ABOUT
MIKE BLOOMFIELD

Michael Bloomfield was one of America's first great white blues guitarists, earning his reputation on the strength of his work in the Paul Butterfield Blues Band. His expressive, fluid solo lines and prodigious technique graced many other projects -- most notably Bob Dylan's earliest electric forays -- and he also pursued a solo career, with variable results. Uncomfortable with the reverential treatment afforded a guitar hero, Bloomfield tended to shy away from the spotlight after spending just a few years in it; he maintained a lower-visibility career during the '70s due to his distaste for fame and his worsening drug problems, which claimed his life in 1981. Michael Bernard Bloomfield was born July 28, 1943, into a well-off Jewish family on Chicago's North Side. A shy, awkward loner as a child, he became interested in music through the Southern radio stations he was able to pick up at night, which gave him a regular source for rockabilly, R&B, and blues. He received his first guitar at his bar mitzvah and he and his friends began sneaking out to hear electric blues on the South Side's fertile club scene (with the help of their families' maids). The young Bloomfield sometimes jumped on-stage to jam with the musicians and the novelty of such a spectacle soon made him a prominent scenester. Dismayed with the turn his education was taking, his parents sent him to a private boarding school on the East Coast in 1958 and he eventually graduated from a Chicago school for troubled youth. By this time, he'd embraced the beatnik subculture, frequenting hangout spots near the University of Chicago. He got a job managing a folk club and frequently booked veteran acoustic bluesmen; in the meantime, he was also playing guitar as a session man and around the Chicago club scene with several different bands. In 1964, Bloomfield was discovered through his session work by the legendary John Hammond, who signed him to CBS; however, several recordings from 1964 went unreleased as the label wasn't sure how to market a white American blues guitarist. In early 1965, Bloomfield joined several associates in the Paul Butterfield Blues Band, a racially integrated outfit with a storming, rock-tinged take on Chicago's urban electric blues sound. The group's self-titled debut for Elektra, released later that year, made them a sensation in the blues community and helped introduce white audiences to a less watered-down version of the blues. Individually, Bloomfield's lead guitar work was acclaimed as a perfectly logical bridge between Chicago blues and contemporary rock. Later, in 1965, Bloomfield was recruited for Bob Dylan's new electrified backing band; he was a prominent presence on the groundbreaking classic Highway 61 Revisited and he was also part of Dylan's epochal plugged-in performance at the 1965 Newport Folk Festival. In the meantime, Bloomfield was developing an interest in Eastern music, particularly the Indian raga form, and his preoccupation exerted a major influence on the next Butterfield album, 1966's East-West. Driven by Bloomfield's jaw-dropping extended solos on his instrumental title cut, East-West merged blues, jazz, world music, and psychedelic rock in an unprecedented fashion. The Butterfield band became a favorite live act on the emerging San Francisco music scene and in 1967, Bloomfield quit the group to permanently relocate there and pursue new projects. Bloomfield quickly formed a new band called the Electric Flag with longtime Chicago cohort Nick Gravenites on vocals. The Electric Flag was supposed to build on the innovations of East-West and accordingly featured an expanded lineup complete with a horn section, which allowed the group to add soul music to their laundry list of influences. The Electric Flag debuted at the 1967 Monterey Pop Festival and issued a proper debut album, A Long Time Comin', in 1968. Critics complimented the group's distinctive, intriguing sound, but found the record itself somewhat uneven. Unfortunately, the band was already disintegrating; rivalries between members and shortsighted management -- not to mention heroin abuse -- all took their toll. Bloomfield himself left the band he'd formed before their album was even released. He next hooked up with organist Al Kooper, whom he'd played with in the Dylan band, and cut Super Session, a jam-oriented record that spotlighted his own guitar skills on one half and those of Stephen Stills on the other. Issued in 1968, it received excellent reviews and moreover became the best-selling album of Bloomfield's career. Super Session's success led to a sequel, The Live Adventures of Mike Bloomfield and Al Kooper, which was recorded over three shows at the Fillmore West in 1968 and released the following year; it featured Bloomfield's on-record singing debut. Bloomfield, however, was wary of his commercial success and growing disenchanted with fame. He was also tired of touring and after recording the second album with Kooper, he effectively retired for a while, at least from high-profile activities. He did, however, continue to work as a session guitarist and producer, and also began writing and playing on movie soundtracks (including some pornographic films by the Mitchell Brothers). He played locally and occasionally toured with Bloomfield and Friends, which included Nick Gravenites and ex-Butterfield mate Mark Naftalin. Additionally, he returned to the studio in 1973 for a session with John Hammond and New Orleans pianist Dr. John; the result, Triumvirate, was released on Columbia, but didn't make much of a splash. Neither did Bloomfield's 1974 reunion with Electric Flag and neither did KGB, a short-lived supergroup with Barry Goldberg, Rik Grech (Traffic), and Carmine Appice that recorded for MCA in 1976. During the late '70s, Bloomfield recorded for several smaller labels (including Takoma), usually in predominantly acoustic settings; through Guitar Player magazine, he also put out an instructional album with a vast array of blues guitar styles, titled If You Love These Blues, Play 'Em as You Please. Unfortunately, Bloomfield was also plagued by alcoholism and heroin addiction for much of the '70s, which made him an unreliable concert presence and slowly cost him some of his longtime musical associations (as well as his marriage). By 1980, he had seemingly recovered enough to tour in Europe; that November, he also appeared on-stage in San Francisco with Bob Dylan for a rendition of "Like a Rolling Stone." However, on February 15, 1981, Bloomfield was found dead in his car of a drug overdose; he was only 37. © Steve Huey © 2011 Rovi Corporation. All Rights Reserved http://www.allmusic.com/artist/michael-bloomfield-p277/biography