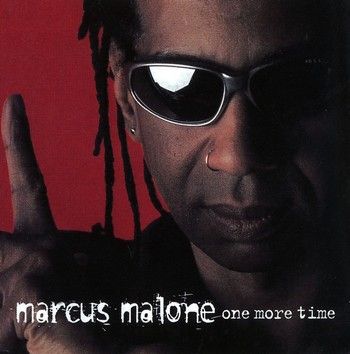 Marcus Malone
-
One More Time
-
1999
-
Redline
"Malone, a Detroit native and current UK resident, is without question one of the finest vocalists to be found in the blues, blues/rock, or rock genres. He has a very Paul Rodgers like quality to his voice which, when combined with the considerable guitar skills of Stuart Dixon, is excellent for the multiple styles of music he plays. And, after all, Marcus Malone and his music are much about excellence." © Tom Branson www.Bluesrockers.ws
"His songs and performance manage to bridge the distance between contemporary and vintage, blues, blues rock and soul with themes that are timeless rather than dated." Bill Wasserzieher © Blues Revue USA
"With his excellent band, Marcus Malone, the singer and guitarist from Detroit, delivers hard-edged guitar solos, delicate ballads, easy shuffles as well as rolling gospels. Everything that lets the heart of a modern blues fan beat faster. Malone is a flexible, excellent songwriter and singer and in some points, he doesn't deny that he admires Hendrix too." © Bluesnews, Germany
"…great voice, great words, in fact great everything" © Bill Smith/Blues in Britain UK
'A cool sophisticated soulful singer and magnificent guitarist with a bluesy feel' © www.getreadytorock.com
The difficulty is trying to say something about Marcus Malone that hasn't been said before. In short, he is a fabulous singer, an excellent songwriter and a mean guitarist. He is also a great performer, who has the ability to charm and entertain his audience. Not only does he have good pipes, but surrounds himself with solid players too. "In a better world, "One More Time" would be a hit. It's certainly radio-ready. But then, so is the entire album." © Blues Review.
The Marcus Malone Band continues to impress whenever it performs. All through, there is a demonstration of great power, energy and sheer brilliance. The quality of the writing and its delivery is as good as its gets. What a truly awesome and exceptional band. I'd recommend this CD to those who like Gary Moore's better forays into the blues. Get all the Marcus you can! © http://www.dwmmusic.com/order.asp?product=1804&artist=Marcus+Malone&title=One+More+Time&price=14%2E98
Originally from Detroit, Michigan USA, Marcus Malone lived near Hitsville and grew up listening to Motown grooves. He is now settled in the UK but his early Detroit and LA influences still flavour his music. He has opened for BB King at the Royal Albert Hall and has shared the bill with the brilliant guitarist, Walter Trout.
Marcus and many other artists on this blog are perfect examples of why you should never let anyone con you into thinking that "talent" is measured by chart positions or numbers of albums sold. Have you looked at album charts recently? Do you know anything about the artists or albums who are selling these top charting albums? You may know quite a lot about these artists and their songs. You may like their music. Everyone to their own musical tastes, and thats the way it should be. However, spare a thought for the dozens of incredibly talented artists around who are completely ignored by the media. The chances are if you heard more from artists like Marcus Malone, Kyla Brox, James McMurtry, etc. (All found on this blog), you may have a different perspective on what talent really means. Some of these overlooked artists will never be found by looking through the Top 100 in any genre!
As stated before, the aim of this blog is predominantly to promote music by the lesser known artists like Marcus Malone and others.

A.O.O.F.C

is not "ripping off " these artists. Their music is not being heard on mainstream media, and if you can't hear and sample these artists, how can you buy their albums? Sure, you can buy many albums through artists' websites, but artists still need to be promoted before people are even aware that they have a website!
"One More Time" is a great soul/blues/R&B album and
HR by A.O.O.F.C.
Guitarist Tommy Allen plays some wicked guitar on the album. He is just another of many great "unknown" British blues guitarists around. He has played with many great musicians, and is influenced by artists including T-bone Walker, Charlie Christian and Delbert McClinton. Buy Marcus' great "Hurricane" album or his "Walkin' Shoes" album which includes some of the UK's greatest blues musicians.
Promote real music.


TRACKS / COMPOSERS

1. One More Time - Malone
2. Dirty Shame - Malone
3. Redline Blues Effect - Malone
4. Testify - Malone, Allen
5. Drowning Man - Malone, Barnes
6. Pride and Joy - Malone
7. Tell Me Why - Malone
8. Ball and Chain - Malone, Allen
9. Heart for Rent - Malone
10. Yesterday Man - Malone
11. Redline Cause - Malone, Allen
MUSICIANS
Marcus Malone - Guitar, Vocals
Tommy Allen - Guitar
Phil Williams - Bass
Sam Kelley - Drums
N.B: A full list of album credits would be appreciated

BIO
Marcus - from Detroit, Michigan - was first signed by Al Teller of United Artists Records (now EMI Capitol). Taking us residence in LA he recorded the classic heavy metal 'Marcus' album which was re-released on Zoom Records throughout Europe and the US in 2001. The band consisted of Gene Black - now guitarist for Joe Cocker ; Sandy Genero - drummer for Pat Travers and Tim Bogart of Vanilla Fudge on Bass. Marcus has performed at the Royal Albert Hall, Burnley and Colne Festivals in the UK; Harlebeke Blues Festival in Belgium; the Bospop Festival in Holland; Valdagno(Vicenza)Blues Festival in Italy; and various UK Art Centres and Blues Clubs. Marcus is presently working the European blues circuit, festivals and concert halls including tours of Belgium and Holland. In 2003 Marcus performed in most of the major festivals in the UK – Colne, Maryport, Stanley, Warrington, Warners, and Darlington Festivals. Marcus has written, produced and recorded his album "One More Time" which is released by Redline Music label. The title song "One More Time" is featured on 'Blueprint 99 –The Best of The British Blues' album. The album was originally released in the UK in Jan 2000. It was remastered and released in July 2003. Marcus' second album -'Walkin' Shoes'- was released in August 2002 on the Redline Music label, and features some of the UK's finest blues musicians. The track 'Take It To Heart' is featured on Blues In Britain 2002 - 'The Best of British Blues' album. Marcus' third album 'Blue Radio' was released in early 2005. The album also features guest spots from two of Britains finest musicians Paul Jones and Papa George. The song title 'Mama Said' is featured on 'The Best of British Blues" 2005. In the summer of 2006 he appeared at several UK festivals including Blues on the Farm, Devizes, Linton, Wye and Darlington (opening for the Yardbirds). Marcus's fourth album "Hurricane" was released in March 2007 and has received great reviews in several rock publications and traditional blues magazines including 'Rock Tribune' in Belgium & 'Bluesnews' in Germany. Marcus is about to release 'Let The Sunshine In " -- his 5th album recorded in the UK August of this year. The title song was co-written by Gene Black, Marcus guitarist in the original 'Marcus' band. The album will feature the regular touring band - Stuart Dixon on guitar; Chris Nugent on drums and Johan Buys on Bass. Also featured on the album are guitarists Dan Smith - Noisettes; Julian Burdock - 24 Pesos; Robin Bibi - Robin Bibi Band; and Sean Nolan . On keys Moz Gamble - 24 Pesos. Also on drums is Richard Newman and on bass Jamie Lawrence of Jet Tricks. © marcus malone 2010 http://www.marcusmalone.com/pages/bio.html
MORE
Originally from Detroit, Michigan USA, Marcus Malone lived near Hitsville and grew up to Motown grooves. Now settled in Britain, he is a rising star, here and in Europe. He opened up at the Royal Albert Hall for BB King and has shared the bill with Walter Trout. His second UK album Walkin' Shoes, is just released. Marcus found time to speak to Bill Smith and Fran Leslie during his busy schedule. Photo by Julian Haycock. My first stage experience was at five years old in Mt Olive Baptist Church, Detroit. 'Listen to the Voice of the Savior' was the song and I was shakin. I loved it though and couldn't wait to do it again. For me right now performing live and writing music is my best way of communicating. I've always had two guitar players with me, even on my earlier Marcus album, when I got my break. As soon as we came out of high school - we started working the clubs in Detroit, Chicago and traveled south to Florida. After about three years together we got signed to United Artists Records (EMI-Capitol) and moved to Los Angeles. That was it: rock and roll,drugs, sex, travelling. We did it all. Rhythm and blues was really my first musical preference. I lived down the road from a famous club in Detroit called the Twenty Grand Ballroom which is part of the 'Chitlin' circuit where BB King, Bobby Blue Bland, James Brown, Dionne Warick and all the Motown artists played every night of the week. Playing there was my first professional experience. I did a bunch of James Brown songs and everybody loved it. They called it Blue Monday and they had me back for the next three or four weeks. My first brush with root blues was Muddy Waters, Electric Mud album. I really liked the Stones and realized the songs they were doing a lot of the time were written by Willie Dixon. That's when my blues education began. I loved Hendrix - blues at maximum volume. The first time I heard him a friend of mine had just bought a new stereo. He said, 'You gotta listen to this!' - Hendrix became my hero. At the same time, he (my friend) was into the Beatles, Zepplin and a whole barrage of music other than the Motown which I had grownup on. The UK has been good for me. I've met some really wonderful people and great musicians. The first thing I did band wise was put together 'Redhouse' with the then guitar player Adam Salkeld. We wrote some great songs together and played a lot of the rock venues in London before diversifying and doing the blues circuit where we altered the music we wrote into a more blues/rock feel versus the straight heavy rock vibe. After we broke up, I carried on in the blues/rock songwriting style. I do covers from time to time, but my show was and still is 95% to 100% original material. I've always held the view that the people that pay to see me hopefully want to hear me do my thing, my music as it were. Walkin' Shoes (the new album), as with One More Time I wrote and produced myself. It was a real pleasure to record with some of the UKs finest musicians. There are different musicians on each track to get the desired effect of a particular song. The constant feel throughout is Sam Kelley on drums and Phil Williams on bass. They kind of glue it all together. The album features Otis Grand on the title song. I learned a lot from working with him. He really knows what a good blues mix should sound like, especially if he's on the track, and was very instrumental in the final mixes of the songs he did the guitar work on. Papa George came round to check out a couple of ideas I had and we ended up tacking the acoustic duo 'Take It To Heart' which is getting some airplay. Tommy Allen, who did most of the guitar work on One More Time album, came round to lend a hot solo on one of the tracks 'Blue Jeans' as well. Robin BB put his signature on the opening song 'Good Love Gone Bad' and 'Day I've Gone' - a 6/8 blues/rock extavaganza. The basic tracks were laid down with Sam, Phil, Robin BB and Dan Smith on guitars at Denmark Studios, London. Steve Kent, the proprietor and engineer gets a great sound. He uses an old Trident board with ADATs and Pro-Tools. My studio at home is compatible with his as I have the same basics setup - ADATs, Mackie desk, digital recording capabilities. He just has more of it. I can bring the tapes home and do all the overdubs and mixing. The dream of having a studio is you can leave it for a day and come back when your ears are fresh. I do get another pair of ears in to help me out with the mixing -Rod Blake. I usually set up a basic mix and then he comes around with fresh ears to assist me. He's really excellent with the mixing process and is an essential member of my 2 man production team. We also work together as a songwriting team for other projects. The core of my regular band now is Brad Waissman - bass, Dan Smith and Stuart Dixon - guitars, Moz Gamble - keyboards, Adam Roman - drums, and whenever I can get him I use Simeon Jones on saxophone and harmonica. We've toured Holland, Germany, Belgium and Italy. In Europe, they really like their blues hard and raw, which is great for us as we tend to be on the rocky side and don't have to hold back. Songwriting is an will always be my main focus. Most of my songs are drawn from personal experiences and are autobiographical. Some of my material is being recorded by some up-and-coming signed artists. I enjoy writing with and for other acts as well as my own. I've never considered myself a great guitarist, but I do get a little divine inspiration on stage from time to time and I really enjoy playing. I - and hope others do- consider myself to be an entertainer - there's no better adrenaline rush than a good live performance to an appreciative audience. Excerpts from & © Feature Article 'Blues In Britain" July 2002 © http://www.musicforlondon.co.uk/Rhythm_and_Blues_Band.htm