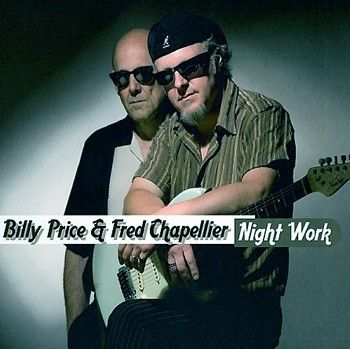 Billy Price
&
Fred Chapellier
-
Night Work
-
2009
-
DixieFrog
The partnership of veteran U.S. soul singer Billy Price and French blues guitarist Fred Chapellier might seem like an unlikely pairing, but the results -- chronicled in the song "Champagne Blues and Pittsburgh Soul" -- are an impressive, occasionally explosive meeting of the minds. Price with his strong tenor voice, similar to Robert Cray's at times, first found popular acclaim as Roy Buchanan's singer for a short while back in the mid-'70s. While guitarist Chapellier isn't in Buchanan's league, his deft touch and alternately snaking/scorching leads fit well with this set of predominantly original R&B. The guitarist gets his own showcase on the closing jam of "Skunk Shuffle" but it's on the rest of the album, dominated by tight arrangements, terrific soul-blues songs, and crisp but never forced production, that his playing makes the most impact. A three-piece horn section is along for additional punch, bringing an old-school yet never musty vibe to the peppy proceedings. The Nighthawks' frontman Mark Wenner brings his always incisive harp playing to three tracks, and Otis Clay swings by to sing lead on a spirited but somewhat unnecessary cover of Al Green's "Love and Happiness" that sticks pretty close to the original. Price and Chapellier hit their stride on the swampy grind of "Night Work," an autobiographical tune about the life of a working blues musician that manages to avoid the clichés of that shopworn topic. The midtempo "When the Lights Come On" sizzles with a memorable melody, committed singing, snappy horns, and piercing guitar work that displays Chapellier's tough chops while still servicing the song. Like Cray, Price and Chapellier are clearly inspired by the great, rather unsung soul-bluesman O.V. Wright, as they make clear on the song that bears his name and the following "All the Love in the World," which borrows from Wright's gospel influences. Price and Chapellier feed off each other's strengths throughout, yielding one of the finest -- and unfortunately most overlooked -- contemporary roots R&B albums of 2009. Hopefully they will continue their collaboration, because this is a mighty impressive start. © Hal Horowitz © 2011 Rovi Corporation. All Rights Reserved http://www.allmusic.com/album/night-work-r2049264/review
Night Work, by Pittsburgh-based blue-eyed soul singer Billy Price and French blues guitarist Fred Chapellier, was released in Europe in March 2009 on DixieFrog Records. Fans of Price's work in the 1970s with guitarist Roy Buchanan are going to love Night Work. Roy is one of Fred's biggest influences as a guitarist; in fact, Fred's last CD for DixieFrog was titled A Tribute to Roy Buchanan, and Billy Price appeared on that CD as a guest vocalist. Mark Wenner, harmonica player of the Nighthawks, plays on three songs--the title song, written by our friend Mike Sweeney from Pittsburgh; a new version of "Who You're Working For," which Price recorded with Billy Price and the Keystone Rhythm Band on the Free at Last CD in 1988; and a new song written by Price, Sweeney, Sally Tiven, and Jon Tiven titled "The Wrong Woman." Also making a guest appearance on the new CD, singing Al Green's "Love and Happiness," is Otis Clay. Price and Chapellier wrote six songs for the new CD, BP Band keyboard player Jimmy Britton and Price wrote one, and Sweeney contributed a great tribute to O.V. Wright. Speaking of O.V. Wright, no Billy Price CD would be complete without at least one O.V. Wright cover. This time, it's "Don't Let My Baby Ride." The CD is a true international collaboration. The Billy Price Band play on most of the tracks, but Fred's great band--Abder Benachour on bass, Pat Machenaud on drums, and Damien Cornelis on keyboards--play on three songs, with horns overdubbed by the Billy Price Band horn section. © 2011 Woodstock.com. All Rights Reserved http://www.woodstock.com/music-item/B001Q4N7Q8/billy-price-and-fred-chapellier-night-work/
A terrific Soul and R&B album by U.S. soul singer Billy Price and French blues guitarist Fred Chapellier. This album's got everything: Great songs, great musicianship, wonderful guitar by Fred Chapellier, and tremendous vocals by Billy Price. The album is
HR by A.O.O.F.C.
Buy Billy Price and Fred Chapellier's "Live On Stage" album. Listen to Billy Price's "East End Avenue" album. Fred Chapellier & Friends' "A Tribute To Roy Buchanan" album can be found @
FCHPELL&FS/ATRIB2ROYBUCH
TRACKS / COMPOSERS

Smart Money - Price &/or Chapellier
My Love Comes Tumbling Down - Price &/or Chapellier
Night Work - Mike Sweeney
Don't Let My Baby Ride - O.V. Wright
When the Lights Came On - Price &/or Chapellier
Love and Happiness - Al Green
Who You're Working For - Price &/or Chapellier
Under the Influence - Price &/or Chapellier
The Wrong Woman - Price, Sweeney, Sally Tiven, Jon Tiven
O.V. Wright - Price &/or Chapellier
All the Love in the World - Price &/or Chapellier
Champagne Blues and Pittsburgh Soul - Price &/or Chapellier
Skunk Shuffle - Price &/or Chapellier
MUSICIANS
Billy Price - vocals
Fred Chapellier - guitar
Steve Delach - guitar
Abder Benachour - bass
Paul Thompson - bass
Jimmy Britton - keyboards
Damien Cornelis - keyboards
Dave Dodd - drums
Pat Machenaud - drums
Rick Matt - baritone and tenor sax
Eric DeFade - tenor sax
Joe Herndon - trumpet
Mark Wenner - harmonica
Otis Clay - vocals
BILLY PRICE
BIO
(WIKI)

Billy Price is the stage name of soul singer William Pollak. Born in Fair Lawn, New Jersey in 1949, he has lived in Pittsburgh, Pennsylvania, USA since the mid 1970s. Price attracted national attention in the mid-1970s during his three-year collaboration with blues guitarist Roy Buchanan. The pair toured the U.S. and Canada, playing Carnegie Hall in New York, the Newport Jazz Festival, the Roxy and Troubadour in Los Angeles, and the Spectrum in Philadelphia. After leaving Buchanan, Price formed the Keystone Rhythm Band, which toured the Eastern US on a circuit that stretched from Boston to Atlanta with large followings in Boston, Philadelphia, Washington, DC and North Carolina. Sustaining several personnel changes, the band performed until 1990. He then formed The Billy Price Band, which currently consists of Steve Delach (guitar), Paul Thompson (bass), Dave Dodd (drums), Jimmy Britton (keyboards), Joe Herndon (trumpet), Eric DeFade (tenor sax) and Rick Matt (baritone and tenor sax). Though he works full-time in corporate communications at the Software Engineering Institute at Carnegie Mellon University, he continues to perform regularly in Pittsburgh, the eastern United States, and occasionally in Europe.
ABOUT
FRED CHAPELLIER

Fred was born in 1966 in Metz, France . He started playing drums he was 12 years old until 1981... Then, at the tender age of 15, he started playing guitar. "EUREKA" - the revelation! Immediately, he felt the call of the blues and along the years, found himself accompanying the likes of: Don Ray Johnson, Boney Fields, Audrey Madison, Tom Principato, Neal Black and many other "blues" giants (in Fred's eyes). In his search for more creative freedom, he formed his own band, "The Fred Chapellier Blues Band" with Pat Machenaud on drums, Abder Benachour on bass & Damien Cornelis on keyboards, and they recorded two albums for MOSAIC RECORDS - "Blues Devil" (2003) and "l'Oeil du Blues" (2005) ! In 2004, Fred was acclaimed "Best New Blues Artist of The Year" and "Best Guitar Player of The Year" by "Les Trophées France Blues" ... In January 2007 Fred called upon his friend - producer, arranger, composer & keyboard Maestro Jean Alain Roussel, with whom he had struck up a solid friendship while playing on different albums to produce his "tribute to Roy Buchanan" album. Jean had produced Buchanan's "you're not alone" album in 1976- Fred's main "guitar hero/reference"...Terms agreed, and songs chosen, Fred proceeded to record & engineer the basic tracks at his "Blue house Studio" in Châlons en Champagne, calling upon several long-time friends & guests, including Tom Principato, Billy Price, Neal Black, Miguel M, as well as members of Fred's own "Blues Band", to perform, with Jean assuming the "Producer" role (Jean had produced & composed for Roy Buchanan, & recorded with Cat Stevens, Bob Marley, The Police, 10cc & Thin Lizzy etc)... Then, off Fred went to Jean's "Shakti Studios" near Paris to complete the production under the guidance of Jean behind the recording console. ... The finished product was immediately picked up for France, by "DIXIEFROG RECORDS"... The album, "Fred Chapellier & friends - A Tribute to Roy Buchanan" is available now everywhere in Europe and also on I Tunes. Fred and Billy Price who sang with Roy Buchanan from 1972 to 1975 (www.billyprice.com) became good friends and, after two years of hard work, Fred's new album with his friend Billy Price "Night Work" will be out in march 2009 on DIXIEFROG RECORDS again. You wanna know what the blues is all about? Then - go to see Fred on stage! You WILL be AMAZED ! ! !..... © http://www.cdbaby.com/Artist/FREDCHAPELLIER