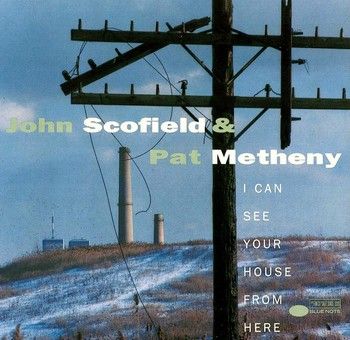 John
Scofield
&
Pat
Metheny
-
I Can See Your House From Here
-
1994
-
Blue Note
Entertainment Weekly (5/20/94, p.63) - "...gearhead jazz from two speedy guitar pros in competition form...." - Rating: B: Musician (4/94, p.81) - "...[Metheny] and Sco[field] challenge each other to uncover melodies...the guitarists don't duel as much as swap philosophies. Scofield lunges at wild, improbably asymmetrical phrases with what-the-hell gusto, while Metheny explores sweeping, lyrical, elegant summations....": Audio Magazine (6/94, p.94) - "...Scofield and Metheny find a common ground that often reveals fresh territory..."
Recorded at The Power Station, New York, New York in December 1993. Superstar jazz recording sessions generally proceed with an abundance of ego and good intentions--yet rarely if ever is the sum equal to its parts. There's simply no substitute for empathy and forethought. Or the mutual respect these master stylists display on I CAN SEE YOUR HOUSE FROM HERE. Scofield and Metheny represent two distinct takes on modern jazz and the electric guitar. Both come directly out of Jim Hall, the poet laureate of jazz guitar. Metheny's romantic "Say The Brother's Name" and "Quiet Rising," and Scofield's after hours blues "You Speak My Language" provide ardent settings for both guitarists to pay homage to their primary influence with suede, legato phrasings and supple harmonies. But where Metheny's muse (and his immensely popular band) often tends toward rich layered harmonies and percolating Brazilian rhythms, Scofield is a hard blues, hard bop player, with more than a little touch of funk in his tone. Where Metheny flows, Scofield sort of barks and bites into his lines, as reflected by such ardent, jagged themes as "One Way To Be" and "No Way Jose." Yet for all the stylistic differences, the sum of their collaboration is such that casual listeners might find it difficult to tell who's who. Scofield and Metheny touch on all sorts of dancing instrumental moods, leavened by modern jazz, flavored by rock, blues and Latin America, driven in style by bass guitarist Steve Swallow and drummer Bill Stewart. Beautifully recorded, I CAN SEE YOUR HOUSE FROM HERE is an authentic musical communion. © 1996 - 2011 CD Universe; Portions copyright 1948 - 2011 Muze Inc http://www.cduniverse.com/search/xx/music/pid/1230316/a/I+Can+See+Your+House+From+Here.htm
Guitar giants John Scofield and Pat Metheny teamed up for the first time on records for this CD. The collaboration does take awhile to get going and it is not until the fourth cut, the bluish "Everybody's Party," that the sparks begin to fly; fortunately the momentum does not let up much throughout the remainder of the CD. All of the selections (including two blues) are originals by either of the guitarists and, with the accompaniment of bassist Steve Swallow and drummer Bill Stewart, this varied set generally lives up to expectations. © Scott Yanow © 2011 Rovi Corporation. All Rights Reserved http://www.allmusic.com/album/i-can-see-your-house-from-here-r199969
Two legendary jazz guitarist's John Scofield & Pat Metheny teamed up in 1994 to produce this masterpiece. John's style of playing guitar is much different from Pats, but when you team them up, they go together like bread and butter. John's traditional sense of style combined with Pats more melodic style of playing compliment each other with the end result being a very jazzy progressive sound not commonly found in jazz music these days. Let me just begin this part of the review by saying this CD sounds awesome !!! Bottom line, no if ands or buts, the overall tonality of the recording of this CD, mastered by Blue Note, is fantastic. The cymbals from "Say The Brother's Name", sounds so real that it will freak you out. Listen to this song in the dark, lying down with your eyes closed and you will understand what I mean. The drums, while being played with a wire brush in "No Matter What" convey so much realism that it sounds as if Bill Stewart (Drummer) is playing live in your room. The dynamics from "Everybody's Party" is broad enough to tax even the most capable systems assembled. Definitely play this track when evaluating a new amp or pair of speakers. The sound quality of the CD is virtually perfect given the limitations of 44KHz 16bit PCM audio. I would be so bold to say that I prefer the sound characteristics of the CD over some of my multi channel DTS CD's. For some reason, I always find myself popping this CD into my system when I am alone late at night and I just want the music to just take me away. I highly recommend this CD for both its musical content and sound quality. You will never get listening fatigue with this CD and it will really bring out the best your system has to offer. The only grip I have regarding this CD is the last few tracks tend to get a tad repetitive for some listeners. However, if you are a jazz nut like myself, you may actually appreciate it and be mesmerized by the talent of these legendary guitarists. Check it out! by & © Gene DellaSala — last modified January 31, 2007 © 1998–2010 Audioholics, LLC. All Rights Reserved http://www.audioholics.com/reviews/software/cd-reviews/john-scofield-pat-metheny-i-can-see-your-house-from-here
Good contemporary modern jazz guitar with elements of rock, blues, Latin, hard bop, and funk by two of the best jazz guitarists around. The great bass player Steve Swallow and drummer Bill Stewart add their talents. The contrasting styles and sounds of these great guitarists are so different that you would be forgiven for thinking that this album shouldn't have worked. However, everything gels nicely, and the album is a rewarding listen. Try and listen to John Scofield's "Groove Elation" album, The Pat Metheny Group's "Letter from Home" album, Steve Swallow's "Deconstructed" album, and Bill Stewart's "Incandescence" album
N.B:
The great British progressive rock band, Camel released an album with the same title fifteen years before the album posted here. Check it out!


TRACKS
1 I Can See Your House From Here 7:43
2 The Red One 4:17
3 No Matter What 7:14
4 Everybody's Party 6:15
5 Message To My Friend 6:09
6 No Way Jose 7:18
7 Say The Brother's Name 7:18
8 S.C.O. 4:41
9 Quiet Rising 5:26
10 One Way To Be 5:45
11 You Speak My Language 6:57
Tracks 1,3,4,6,10,11 composed by John Scofield.
Tracks 2,5,7,8,9 composed by Pat Metheny


MUSICIANS
Guitar - John Scofield, Pat Metheny
Bass - Steve Swallow
Drums - Bill Stewart
ABOUT
JOHN SCOFIELD

One of the "big three" of current jazz guitarists (along with Pat Metheny and Bill Frisell), John Scofield's influence grew in the '90s. Possessor of a very distinctive rock-oriented sound that is often a bit distorted, Scofield is a masterful jazz improviser whose music generally falls somewhere between post-bop, fusion, and soul jazz. He started on guitar while at high school in Connecticut, and from 1970-1973 Scofield studied at Berklee and played in the Boston area. After recording with Gerry Mulligan and Chet Baker at Carnegie Hall, Scofield was a member of the Billy Cobham-George Duke band for two years. In 1977 he recorded with Charles Mingus, and later joined the Gary Burton quartet and Dave Liebman's quintet. His own early sessions as a leader were funk-oriented. During 1982-1985 Scofield toured the world and recorded with Miles Davis. Since that time he has led his own groups, played with Bass Desires, and recorded frequently as a leader for Gramavision and Blue Note, using such major players as Charlie Haden, Jack DeJohnette, Joe Lovano, and Eddie Harris. Scofield started a long-term relationship with the Verve label in 1996 with his acoustic album Quiet. He cut the funky A Go Go with Medeski, Martin & Wood in 1997 while 2000's Bump featured members of Sex Mob, Soul Coughing, and Deep Banana Blackout. 2001's Works for Me featured a more traditional jazz sound, but for 2002's Uberjam and 2003's Up All Night, he was back to playing fusion. Drummer Bill Stewart and bassist Steve Swallow rounded out the John Scofield Trio for 2004's cerebral and complex live album EnRoute. In 2005, Scofield paid tribute to legendary soul man Ray Charles with That's What I Say. © Scott Yanow © 2011 Rovi Corporation. All Rights Reserved
ABOUT
PAT METHENY
(WIKIPEDIA)
Patrick Bruce Metheny (born August 12, 1954 in Lee's Summit, Missouri) is a world renowned American jazz guitarist and leader of the Pat Metheny Group as well as various collaborations, duets, solo works, and other side projects. Metheny was born and raised in Missouri. Following his graduation from Lee's Summit High School, he attended the University of Miami in Coral Gables, Florida. Metheny came onto the jazz scene quickly in 1975, at the age of 21, after joining Gary Burton's band and then recording a trio record with Jaco Pastorius called Bright Size Life. Metheny's next recording, 1977's Watercolors, featured pianist Lyle Mays. Metheny's next album formalized this partnership and began the Pat Metheny Group, featuring several songs co-written with Mays; the album was released as the self-titled Pat Metheny Group on the ECM record label. Pat Metheny also has released notable solo, trio, quartet and duet recordings with musicians such as Jim Hall, Dave Holland, Roy Haynes, Gary Burton, Chick Corea, Charlie Haden, John Scofield, Jack DeJohnette, Herbie Hancock, Bill Stewart, Ornette Coleman, Brad Mehldau, and many others. Pat Metheny has also joined projects of all kinds both as a player and a writer, notably the record Song X with Ornette Coleman; Parallel Realities; and Jazz Baltica, with Ulf Wakenius and other Nordic Jazz players and plays with some great female musicians such as Silje Nergaard on Tell Me Where You're Going (1990), Noa on Noa (1994) and Anna Maria Jopek on Upojenje (2002). Pat Metheny has been touring for more than 30 years, averaging 120-240 concerts a year. Metheny has written over 200 pieces and continues to push musical limits in both his composition and performance. When working outside of the confines of the PMG, Metheny has shown different sides to his musical personality. Working with established jazz figures such as Ornette Coleman, Michael Brecker, Charlie Haden, Dave Holland, Christian McBride, David Sanchez and Roy Haynes, he has made records that have found favor with jazz critics that were disparaging of the "pastoral" or "light rock" aspects of his work with the PMG. Projects like the collaboration with Derek Bailey and Zero Tolerance for Silence have confounded critics who saw Metheny as following a path of increasing blandness with the PMG. Continuing the tradition of jazz guitarists borrowing tones and techniques from their rock counterparts, Metheny has made alterations to the jazz guitar tone palette. As a guitarist, Metheny cites Wes Montgomery as his biggest early influence. His playing (as well as his tone) also show significant influence by Jim Hall, Kenny Burrell, Joe Pass, and other classic jazz players. Metheny has often been quoted saying that he is as likely to name non-guitarists as significant stylistic influences as fellow guitar players, giving as examples players like Clifford Brown and John Coltrane. He has paid significant attention to the evolution of guitar playing across genres, however, and is familiar with the playing of notables from the likes of rocker Eddie Van Halen to Windham Hill artist Leo Kottke. In particular, he has been influenced by Brazilian music--both the European-influenced jazz sound of the bossa nova and the intensely polyrhythmic Afro-Brazilian sounds of the country's northeast. Metheny has lived in Brazil and performed with several local musicians such as Milton Nascimento and Toninho Horta. Metheny has also named Ornette Coleman as a musical influence. He has recorded Coleman compositions on a number of his records (starting with a medley of "Round Trip" and "Broadway Blues" on his debut Bright Size Life); worked extensively with Coleman collaborators such as Charlie Haden, Dewey Redman, and Billy Higgins; and has even made a record, Song X, with Coleman.
ABOUT
STEVE SWALLOW

Steve Swallow has long been many jazz critics' favorite electric bassist, for rather than playing his instrument in a rock-oriented manner, Swallow emphasizes the high notes and approaches the electric bass, to an extent, as if it were a guitar. He originally started on piano and trumpet before settling on the acoustic bass as a teenager. Swallow joined the Paul Bley trio in 1960 and with Bley was a part of an avant-garde version of the Jimmy Giuffre 3 during 1960-1962. Swallow recorded with George Russell and was a member of Art Farmer's quartet (1962-1965), Stan Getz's band (1965-1967), and an important edition of Gary Burton's quartet (1967-1970). The latter group (starting with the addition of guitarist Larry Coryell) was actually one of the first fusion groups, and it was during that time that Swallow began playing electric bass; within a few years he stopped playing acoustic altogether. Swallow spent a few years in the early '70s living in northern California during which time he mostly playing locally. After the late '70s he has been closely associated with Carla Bley's groups, although he occasionally works on other projects (including a reunion of the Jimmy Giuffre 3). Swallow has also proved to be a talented composer with "Eiderdown," "Falling Grace," "General Mojo's Well Laid Plan," and "Hotel Hello" being among his better-known pieces. The 21st century saw the release of several Swallow sets, including Damaged in Transit (2003), Histoire Du Clochard: The Bum's Tale (2004), and an intriguing set with poet Robert Creeley, So There (2006). © Scott Yanow © 2011 Rovi Corporation. All Rights http://www.allmusic.com/artist/steve-swallow-p7645/biographyReserved
ABOUT
BILL STEWART

Drummer Bill Stewart, best-known for his association with John Scofield, had a very impressive recording debut as a leader with Snide Remarks in 1995, a date featuring Scofield and Joe Lovano. Stewart first started on drums when he was seven and from an early age he listened steadily to jazz. At William Patterson College during 1986-1988, Stewart studied with Dave Samuels, Harold Mabern, Rufus Reid, and Joe Lovano. He made his first recording with tenor man Scott Kreitzer, cut a pair of best-selling albums with Maceo Parker, freelanced a bit, and then spent five years with Scofield's band. Telepathy appeared in 1997. © Scott Yanow © 2011 Rovi Corporation. All Rights Reserved http://www.allmusic.com/artist/bill-stewart-p128646