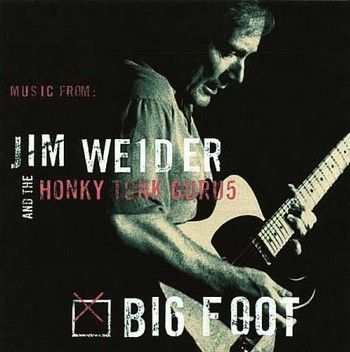 Jim Weider
And
The Honky Tonk Gurus
-
Big Foot
-
1998
-
Moon Haw

Sessioncat, Johnny Paycheck sideman, and recent inductee into the Band, Jim Weider, his Honky Tonk Gurus, and a role call of top musicians (Tony Levin, David Sancious, Garth Hudson, et al.) take on Weider's roots rock guitar instrumentals and tunes as disparate as Jimi Hendrix's "Little Miss Lover," Chuck Berry's "Deep Feeling," Bobby Womack's "I'm in Love," and the Jimmy Cliff standard "Many Rivers to Cross." With Weider's unquestionable ability to give rock, blues, and R&B the full guitar-athon treatment, the results should find him fans among contemporary blues freaks and jam-band followers. © Denise Sullivan © 2011 Rovi Corporation. All Rights Reserved http://www.allmusic.com/album/big-foot-r485237
"Make no mistake, this album isn't only for guitar connoisseurs. Keep a look out for the CD as it could be the best investment you've ever made."- Lee Gabites, Jawbone magazine
Vintage Guitar Magazine described "Big Foot" as "the highest-quality recording we've heard in a very long time. Any guitar purist will be impressed with Weider's varied styles - rock, rockabilly, slide, good old blues, and even some 'chicken-pickin' country. This is a celebration of guitar at its best."
The debut album for Jim Weider and the Honky Tonk Gurus is called Big Foot, but, really, it should be titled "Big Rockin' Sound." The group of well-known musicians from the Woodstock area have put together a recording of some of the hottest electric blues that I've heard in a long, long time. If you haven't yet heard this incarnation of a band, odds are you've heard the Honky Tonk Gurus members in various other guises. Most notably, Jim Weider, Richard Bell and Randy Ciarlante are current members of The Band, the legendary group that once backed Bob Dylan (though Weider and company joined The Band later, circa 1985). Bassist Paul LoRonde hails from the Syracuse area, where he was a member of the blues band The Kingsnakes. Knowing that much, you'll expect this band to rock, but add in a long and stellar list of guest musicians-- including Harvey Brooks, Tony Levin, Rob Leon, David Sancious, Garth Hudson, Rick Danko, Ernie Cate, Jonell Mosser, Robbie Dupree and too many others to list here-- and you've got some near-legendary performances. The songs are mostly Weider's originals, but they throw in a few well-chosen covers as well-- from Hendrix, Chuck Berry, Bobby Womack, King Floyd, and Jimmy CLiff. The emphasis throughout is on groove, with out-front highlights from Weider's guitar, which variously soars, tears, and sings. Even in the lighter moments, the Honky Tonk Guru's have a big and irrepressible sound. The album was recorded over a period of years, with band members dropping in to the studio between their other gigs, but reports from their recent live shows suggest that these guys can do the same thing on stage as they don on the CD - rock their butts off. Check area record stores for Big Foot. Rating: **** 1/2 (out of 5) By & © Philip H. Farber Posted on March 26, 1998 http://hvmusic.com/article/farber/weider/bigfoot.shtml
"Big Foot" was the first solo release from The Band's guitarist Jim Weider. Besides The Honky Tonk Gurus including Randy Ciarlante (drums, vocals) and Richard Bell (piano), all the other members of The Band appear on the album. Tony Levin of Peter Gabriel's band also appears with other great musicians including Harvey Brooks, David Sancious, Jonell Moser and others. "Big Foot" is an exceptionally good album by this often overlooked guitarist and is
VHR by A.O.O.F.C.
Listen to Jim Weider's great "Pulse" album if you can find it! You can buy many of Jim's albums through his website @ http://www.jimweider.com/merchandise.asp or through http://www.cdbaby.com/cd/jimweider1
TRACKS / COMPOSERS

1 Big Foot - Jim Weider
2 Little Miss Lover - Jimi Hendrix
3 Deepest Cut - Jim Weider
4 New Orleans Boogie - Jim Weider
5 Love's Like Rain - Jim Weider
6 Sliding Home - Jim Weider
7 Deep Feeling - Chuck Berry
8 Groove Me - King Floyd
9 I'm in Love - Bobby Womack, Jimmy D. Lane
10 Texas Shuffle - Jim Weider
11 Many Rivers to Cross - Jimmy Cliff
TRACK DESCRIPTIONS
[ © http://theband.hiof.no/albums/big_foot.html#tracks]


Big Foot
- Influenced by Paul Burlison this hard rocker has Weider performing some stinging guitar on his 1954 Fender Esquire. Robbie Dupree blows harp around open string pull-offs and country bends. A strong opener that wears a size ten.
Little Miss Lover
- Thankfully, not an obvious Hendrix cover. Funky wah wah abounds with Lamont Depew's vocal spookily close to the Hendrix original. Thundering drums and some spine-tingling guitar work.
Deepest Cut
- A slow blues that oozes with feeling and emotion. With delicate acoustic guitar, piano and organ behind Weider's heart-wrenching fluid guitar, this song really takes you places. A Jim Weider original that's an atmospheric masterpiece.
New Orleans Boogie
- The title gives this one away. Rockabilly guitar, punchy horns and barrelhouse piano from Richard Bell. With Harvey Brooks on bass, this is a good-time instrumental that gives Weider plenty of space for some guitar gymnastics.
Love's Like Rain
- A more uptempo arrangement to the Burlison version. Nashville songstress Jonell Mosser's raw, uninhibited vocal smokes alongside an insidious R&B pattern from The Band and The Uptown Horns. A great harmony vocal from Danko, unmistakable keyboard fills from Hudson and a fine horn arrangement from Tom Malone makes this song a strong contender for a single release.
Sliding Home
- A beautiful instrumental written by Jim Weider and Colin Linden. Both play slide guitar (Linden on acoustic), with bass from Tony Levin and horns by Garth Hudson. Some nice mandolin plays throughout. This track leaves you with a sense of longing and mystery. A big slice of melancholy.
Deep Feeling
- Using pedal steel bends, hammer-ons and harmonics Weider spins beautifully executed variations on the songs melody before bursting into an inspired lead solo. A Chuck Berry instrumental, this slow-burner features Stan Szelest (one of the best rock and roll piano players, ever!) and Garth Hudson on organ.
Groove Me
- Originally a US #1 R&B single for King Floyd in 1970. Jim does an instrumental version that highlights his virtuosity as a guitarist.
I'm In Love
- Written by Bobby Womack and originally released by Wilson Pickett in 1968. This soulful groove contains a magical vocal from Ernie Cate of The Cate Bros Band. David Sancious (of Bruce Springsteen & Sting fame) has sole credit for drum program, keyboard and strings, horn and song arrangements.
Texas Shuffle
- Weider gives a nod to the late, great, Stevie Ray Vaughan. A glorious mix of country blues rhythms, string snapping and screaming guitar bends. Jim pulls out all the stops on this Weider/Richard Bell original with master bassist Harvey Brooks along for the ride.
Many Rivers To Cross
- The final track that sees Weider as a consummate master of the guitar fretboard. Each note is as tearful and spiritual as the Jimmy Cliff original. Full backing vocals enhance the songs gospel quality. Harvey Brooks returns on bass, Richard Bell and Randy Ciarlante play their part
MUSICIANS
Jim Weider (acoustic, electric & slide guitars, mandolin)
Colin Linden (electric & slide guitars)
Jimmy Eppard (baritone guitar)
Tony Levin, Rob Leon, Harvey Brooks, Roger Mason (bass)
Richard Bell (piano, organ, keyboards, synthesizer, string synthesizer)
David Sancious (keyboards, synthesizer, strings, drums)
Stan Szelest (piano)
Randy Ciarlante (drums, shaker, background vocals)
Gary Burke (drums, congas, percussion)
Garth Hudson (soprano saxophone, piano, organ, synthesizer)
Crispin Cioe (saxophone)
Larry Etkin (trumpet)
Paul Branin (horns)
Robbie Dupre (harmonica)
Ernie Cate, Jonell Mosser, Lamont Depew (vocals)
Benjamin Alexander (background vocals)
JIM WEIDER
BIO


Born in Woodstock, NY, infamous sideman Jim Weider jumped into the music industry as soon as he could. The area was a hotbed for national talent, with acts like Bob Dylan and the Band recording there. He began recording and hiring himself out to songwriters for backup, eventually gathering up enough money to move to Nashville. He joined Johnny Paycheck's touring band, and supported himself through session work and playing local concerts. By the early '80s, Weider moved back to his hometown and began a tour with Robbie Dupress. When 1983 rolled around, he met former Band drummer Levon Helm, who invited him to join his touring band. Helm was very impressed by Weider, so when the Band was ready to reunite in 1985, Weider took Robbie Robertson's spot when Robertson declined the reunion. He continued to perform with the Band as the decade went on, eventually playing with the group at Roger Waters' recreation of The Wall at the Berlin Wall. In 1993, he also played with the group at Bob Dylan's tribute concert in Madison Square Garden and at Bill Clinton's Inaugural Ball. On top of these performances, he also kept himself busy playing on albums by Robbie Dupree, Artie Traum, Paul Burlison, Rick Danko, and many others. His membership in the Band actually lasted longer than Robbie Robertson's original tenure, as he stayed with the band throughout the '90s, even performing with them at Woodstock '94. When he had time off from the group, he released several best-selling instructional videos for guitar, and finally released his own solo album with the Honky Tonk Gurus entitled Big Foot in 1999. © Bradley Torreano © 2011 Rovi Corporation. All Rights Reserved http://www.allmusic.com/artist/jim-weider-p136829/biography