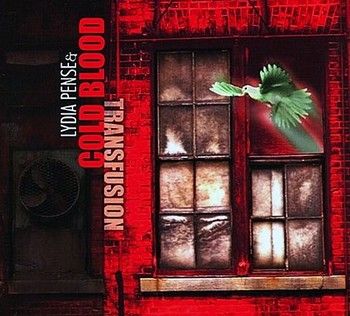 Lydia Pense & Cold Blood - Transfusion - 2005 - Dig Music

Review: It's been a long, long time! Lydia Pense and Cold Blood return with some cool new material and a couple of oldies. Baby Boomers will recall this fine Bay Area funk-rock-blues outfit. Signed by legendary producer Bill Graham in 1969, Cold Blood cranked out several good chunks of vinyl until 1974. Those albums included Sisyphus1969, First Taste Of Sin1972, Thriller1973, Vintage Blood: Live 1973 and Lydia 1974. Cold Blood rocked the Fillmore with Lydia Pense's powerful chops and a strong horn section during those vintage years. Not unlike Blood, Sweat & Tears, Chicago and others, Cold Blood featured jazz oriented reeds and brass. The years have been very kind to Lydia Pense. With a voice that reflects Janis Joplin's in power and quality, the singer matured like a vintage wine. Pense and guest keyboardist Raul Matute are the only original members of Cold Blood but many others from Tower Of Power, another Bill Graham discovery, show up on Transfusion. Tower of Power's featured singer was Lenny Williams, who later launched a brilliant solo career, joins Lydia Pense for a soulful rendition of "It Could Be Me, It Must Be You." Produced by veterans Steve Dunne and Skip Mesquite, the Transfusion CD remains true to Cold Blood's traditional burning delivery of good tunes. The pair penned many of the songs on the album. Lydia Pense's enviable chops do justice to such tunes as "Cool Drink," "You Make Me Sweat" and "Face The Music." Pense and Cold Blood make every effort to impress with their knockout reading of the band's early hit "Down To The Bone." Look for fine solo work by Steve Dunne on guitar. It's vintage stuff and worth a listen! Reviewed by & © Richard Bourcier © 1997 - 2011. All Rights Reserved © jazzreview.com http://www.jazzreview.com/cd/review-17215.html
Lydia Pense and Cold Blood work in close coordination on Transfusion, bringing forth a big, soulful sound. Pense, who handles most of the lead vocals, is a powerful, full-throated singer, reminding one of Bonnie Raitt and Toni Price. It makes sense, then, to put a fairly large group like Cold Blood behind her. The trumpet, saxophone, keyboards, bass, electric guitar, percussion, and background vocals work well with Pense's extroverted style, providing her ample cushioning for emotive flights of fancy. Transfusion gets a funky start with "Face the Music," the first of two pieces written by Steve Dunne. Interestingly, "Face the Music" runs over five minutes, but -- thanks to the perfect blending of vocals, instrumental work, and performance -- the song never feels long. With songs like "It Could Be Me It Must Be You," featuring guest vocalists Lenny Williams, Pense and Cold Blood glance back toward the '70s, capturing a groove somewhere between soul and pop. There's also an interesting guest vocal by Michelle Shocked on the last track, "Down to the Bone." Shocked and Pense concoct a fun, freewheeling duet here that's kicked into overdrive by Steve Dunne's guitar work. Filled with lots of funky instrumental work, lively vocals, and good material, Transfusion's soulful groove is easy to enjoy. © Ronnie D. Lankford, Jr. © 2011 Rovi Corporation. All Rights Reserved http://www.allmusic.com/album/transfusion-r793248/review
Between 1967 and 1977 Lydia Pense was a well known vocalist in the San Francisco/Oakland area. She has been called "the female voice of San Francisco" and was one of the best rock'n blues singer of her day. She was once produced by Steve "The Colonel" Cropper, guitarist with the legendary Booker T. & The MG's. She temporarily retired from the music scene in the '80s and early '90s, to rear a daughter, but returned with a bang to reform the great soul/jazz rock band Cold Blood, with a new line-up of some talented local Bay Area musicians. In 2005 Lydia and Cold Blood released "Transfusion" which received many positive reviews. The album featured ex-members of Cold Blood as well as members of the brilliant East Bay Grease champs Tower of Power. If you like BS&T, early Chicago and Tower of Power you may like "Transfusion" which is full of terrific jazz and soul funk grooves. Hornwork is brilliant and Lydia's vocals are special. "It Could Be Me It Must Be You" with guest vocals by Lenny Williams is perhaps too "lovey-dovey", sugary and commercial sounding and detracts slightly from the overall power of the album, but that's a minor quibble. Try and listen to Lydia Pense's 1974 "Lydia" album, and Cold Blood's 1971 "Sisyphus" album. Cold Blood's 1969 S/T album can be found on this blog

TRACKS / COMPOSERS

1. Face the Music - Steve Dunne
2. It's the Man That Makes the Clothes - Skip Mesquite
3. It Could Be Me It Must Be You - Skip Mesquite
4. Coming Back - Steve Dunne
5. Wait for You - Garth Webber
6. Guide Me Home - Skip Mesquite
7. Hooked on You - David Dessner
8. Down to My Last Heartache - Skip Mesquite
9. Cool Drink - Skip Mesquite
10. You Make Me Sweat - Skip Mesquite
11. Will This Saga Ever End - Skip Mesquite, Lydia Pense
12. Down to the Bone - Hull, Stoltie

MUSICIANS

Lydia Pense (vocals)
Steve Dunne (guitar)
Jeff Tamelier (rhythm guitar)
Bobby Vega, Evan Palmerston (bass)
David Kessner, Roger Smith, Steve Salinas (keyboards)
Raul Matute (piano)
Donny Baldwin (drums, percussion, background vocals)
David Garibaldi (drums)
Mike Morgan (percussion)
Michael Carrabello (conga, percussion)
Rob Zuckerman (alto, tenor, baritone saxes)
Skip Mesquite (saxophone, background vocals)
Joel Behrman (trumpet, trombone)
Dennis Cruzan, Mike Rose, Mic Gillette (trumpet)
Richard Armstrong (trumpet, percussion, background vocals)
Michelle Shocked (guest vocals on "Down to the Bone")
Lenny Williams (guest vocals on "It Could Be Me It Must Be You")
Lisa Battle, Leah Tysse (background vocals)

ABOUT LYDIA PENSE (WIKIPEDIA)

Lydia Pense (born Lydia Jane Pense in San Francisco, California on December 14, 1947) is an American rock-soul-jazz singer who since 1969 has performed with the band Cold Blood. Her style has been compared to powerful singers including Janis Joplin (who recommended the band to Bill Graham for their first audition), Aretha Franklin and Teena Marie. Pense's mother, the former is Miss Ramos, was born in Madrid, Spain, while her father came from Nebraska, United States. While attending Sequoia High School in Redwood City, California at the age of 16, Pense started singing with a band called The Dimensions, With Guitarist Paul C Saenz. They initially played Big Band songs, but she soon was attracted to the music of Ray Charles and Chuck Berry. Lydia joined Cold Blood in 1968. Their initial four albums, Cold Blood, Sisyphus, First Taste of Sin (produced by Donny Hathaway), and Thriller remain their best known work. The band continues to record and perform today. The band separated in the late 1970s and Pense suspended her career in the 1980s to raise her daughter before re-forming the group.

COLD BLOOD BIO (WIKIPEDIA)

Cold Blood is a long-standing soul-rock-jazz band founded by Larry Field in 1968 and originally based in the San Francisco East Bay area. They have also gone by the name "Lydia Pense and Cold Blood" due to the popularity of their lead singer, Lydia Pense. The band first came to prominence in 1969 when rock impresario Bill Graham signed them after an audition and they played the Fillmore West in San Francisco. Pense has been compared to Janis Joplin, and it was Joplin who recommended the audition to Graham. The band has often been compared to another long-standing popular Northern California group, Tower of Power, and like Tower of Power they were rare in that they featured a horn section in addition to guitar, bass and drums. The Tower of Power horn players have performed with Cold Blood on a regular basis since the early 1970s. Skip Mesquite and Mic Gillette have been members of both Tower Of Power and Cold Blood. Their fan base also overlaps with the Sons of Champlin, although their musical styles are quite different. Their initial four albums, Cold Blood, Sisyphus, First Taste of Sin (produced by Donny Hathaway), and Thriller remain their best known work. The band disbanded in the late 1970s, reformed in the 1980s and stabilized with its current membership in the 1990s. Cold Blood continues to record and perform today, and some former band members such as Raul Matute (and some from Tower of Power) appear on its most recent album. Original band members were founder Larry Field (lead guitar), Lydia Pense (vocals), Danny Hull (tenor saxophone and songwriter), Larry Jonutz (trumpet), Raul Matute (Hammond organ, piano, arranger and songwriter), Jerry Jonutz (Baritone, alto and tenor saxophone), David Padron (trumpet), Rod Ellicott (bass), Paul C Saenz (Guitar), and Frank Davis, who was replaced on drums by the legendary Sandy McKee during the Sisyphus sessions. Narada Michael Walden and Jonathan "Sugarfoot" Moffett both mention McKee on their short list of drummers most influential in their stylistic development. Over the years there have been various incarnations of the band including singer/trumpet player Max Haskett, Tower Of Power horn player Mic Gillette, Journey keyboardist Stevie "Keys" Roseman on Hammond B-3 organ, Sons Of Champlin drummer Jim Preston, guitar player Michael Sasaki, Tower Of Power guitarist Jeff Tamelier, Boz Scaggs horn player Tom Poole, Elvin Bishop sax player Bill Slais, bass player Michael White & others. Current personnel are Lydia Pense (vocals), Steve Salinas (keyboards), Steve Dunne (guitar), Mike Morgan (percussion), Evan Palmerston (bass), Rich Armstrong (trumpet, percussion), Rob Zuckerman (alto, tenor, baritone saxes) and Donny Baldwin (drums). Cold Blood is featured playing live in Fillmore, a documentary of the last concerts at The Fillmore auditorium.